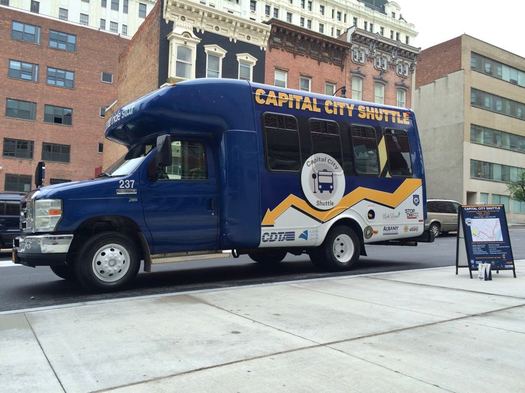 CDTA is staring up a free shuttle service this week that will run from the Warehouse District through downtown Albany to Lark Street. The "Capital City Shuttle" starts this Thursday, June 8 and will run Thursday, Friday, and Saturday nights through Labor Day.
"People come here without a car. People live here, who don't have a car. People work here who don't have a car. And they need a menu of options," said CDTA executive director Carm Basile while introducing the program Tuesday. "This is just another notch on our menu of options."
Here are a few more bits about the shuttle service, along with updates about the planned regionalization of taxi service and the upcoming bike share...
Capital City Shuttle
Here are the quick details about the Capital City Shuttle service that starts up this week: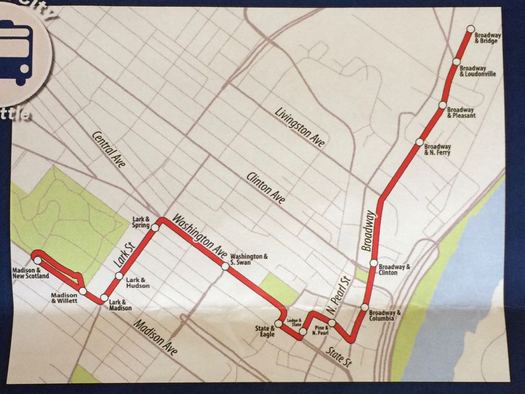 + That's the route above.
+ The shuttle will be operating Thursday, Friday, and Saturday from 5 pm to 12:30 am.
+ Pick-ups will be every 20 minutes.
+ It's free to ride.
Cityfinder app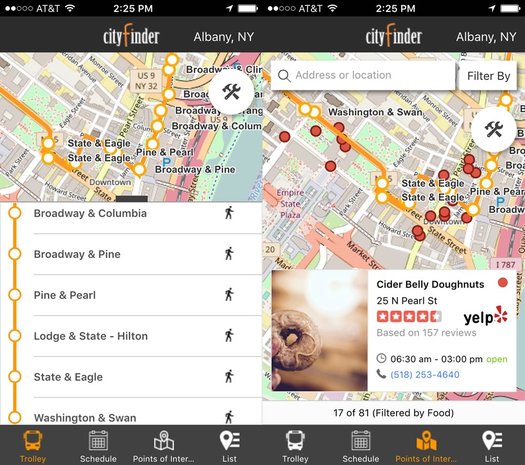 Screenshots from the Cityfinder app.
There's also a mobile app to accompany the shuttle, built by the Schenectady-based company Transfinder. The app includes a map of pick-up points, realtime tracking of where the two shuttles are, and points of interest along the route that are drawn from Yelp.
The app is available for download for iOS and Android.
One of Transfinder's main businesses is routing and tracking school buses, so this sort of app was right in its lane.
The idea behind the shuttle

That's Carm Basile in the foreground.
The idea for the shuttle is that it will allow people to easily move from one entertainment spot to another within the greater downtown Albany area -- without driving or worrying about parking.
"It's really a part of a concept that we've been working on called The Downtowner," Carm Basile said after Tuesday's announcement. "Most of our service here in Albany goes into the city and out of the city. There's a need for a connector-type concept within the city. So we've been toying with that, thinking about it, and working on it."
Basile said CDTA also has plans to roll out a similar service in Schenectady.
The route for the shuttle was chosen in a collaboration among CDTA and partners such as the Albany Parking Authority and the business improvement districts for downtown Albany and Lark Street, according to Basile.
"There's growth [in the Warehouse District]. There's growth [downtown]. How do you bring them all together? I think that routing does that nicely," he said, adding that he sees eventual expansion of the route into some sort of loop encompassing more of downtown, if the shuttle is successful.
The cost of the shuttle service this summer will be $80,000, according to CDTA -- about half of that coming from the transit org, the other half from partners such as the Albany County Sheriff's Office and the beer distributor DeCrescente.
Taxi service
The unfortunate state of taxi service in the Capital Region has been a hot topic for years and now there are two things poised to potentially shake things up: the arrival of ride hailing companies such as Uber and Lyft later this month -- and regionalization of taxi service under the the watch of CDTA.
"I know it's not moving fast enough for people, but it's moving in the right direction," Basile said of the regionalization process, which was authorized by the state last year.
Basile said a common ordinance authorizing CDTA to take up the process for a group of municipalities that includes Albany, Colonie, Rensselaer, Saratoga Springs, Schenectady, and Troy is finished. The next step will be getting the individual municipalities to adopt the ordinance. (Basile said CDTA has been working with them to draft the legislation.)
Once that happens, CDTA can then get started on setting up a code of conduct for taxis, a common fare structure, and new systems for payment.
We were curious if the impending arrival of ride hailing was putting more pressure on CDTA to move things along. Basile's answer: no.
"We don't view ride sharing as Darth Vader," he said. "We view ride sharing as another menu option. And it can work with what we do."
Basile said CDTA has had general talks with both Uber and Lyft about how the transit org and the companies can get along.
"[We're] looking for common threads, how we can work together. We don't want to work with Uber just to work with Uber. We don't want to work with Lyft just to work with Lyft. ... We want to look for ways we can deepen the mobility menu."
Bike share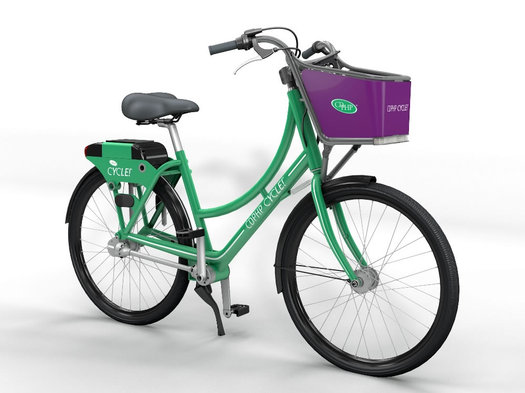 What the bike share bikes will look like. / image via CDTA
A quick update on the bike share that CDTA has planned, CDPHP Cycle. Basile said the program is still set to start up late this summer -- the actual bikes are on their way, as are the stations that will be placed around urban centers of Albany, Schenectady, Troy, and Saratoga Springs.
You might remember that CDTA had asked the public for input about the location of those bike share stations. Basile said the org has most of the station locations worked out, and the green-and-white bike docks will start showing up in a few weeks.
Earlier
+ A few more details about the upcoming CDTA bike share
CDTA advertises on AOA.
Hi there. Comments have been closed for this item. Still have something to say? Contact us.