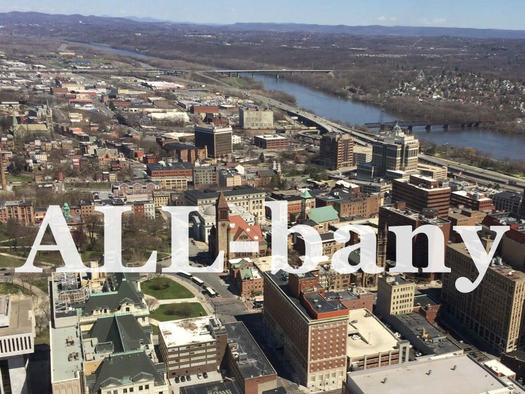 From the Department of Small Complaints: Duncan emails after watching the newest season of Orange is the New Black:
There's a scene (at the end of [Season 5: Ep. 12 "Tattoo You."]) in the "bus station" in New York City (complete with multi levels and escalators for some bizarre reason...) where two out of three announcers mispronounce Albany. (Al-bany instead of Allbany).
I always wonder how these screw ups get into shows. Is there no one on set who checks the pronunciations of cities in shows. I mean... like, Albany is a STATE CAPITAL... and of New York State no less. It's not some random city out there in our big country. This always yanks me right out of my suspended disbelief (as I'm sure it does for others).
We've gotta admit this is small thing that we find grating, too. And it's kind of odd, because the other major Albanys around the country also seem to (mostly) be pronounced the same as the city here. (Though even here there are some slight differences if you listen carefully -- ALL-bany versus AWL-bany.)
But apparently these other places struggle with the same pronunciation problem.
+ From the Atlanta Journal Constitution: "Are these 10 of Georgia's hardest-to-pronounce town names?"
+ From the Oregonian: "Are you mispronouncing these 30 Oregon words? (Probably)"
+ From an old poll at the Patch site for Albany, California: All-bany or Al-bany? You Tell Us (the poll is broken, alas)
The All-bany (as in New York) pronunciation does seem widespread.
Sharon Konopa, mayor and lifelong resident of Albany, Oregon:
Multiple people with different accents in Albany, California:
And then there's Albany, Georgia. We dug up a few videos of its mayor, Dorothy Hubbard, saying the city's name. Here's her first swearing in ceremony:
Pretty much like Albany, New York, right! And here's a Georgia tourism video with the same pronunciation. But there's also this from Georgia's state website:
Chartered on December 27, 1838, Albany, pronounced "All-ben-ny" or "Al-bain-ny", is the county seat of Dougherty County.
From the self-proclaimed Atlanta PR Guy: "Albany, Ga is pronounced 'Al-binny' not 'Awl-bun-nee'."
And from the 2003 book June Bugs Grocery and the Cornfield Jook: A South Albany Oral History: "Obviously spelled like New York State's Albany, it has a regional pronunciation feature known to residents and initiates: Albenny. People may deny it, but just listen around."
Given that some people from that part of the country have a very distinct accent -- see: Paula Deen -- it wouldn't be surprising for there also to be a different take on the pronunciation. So maybe the persistent occurrences of AL-bany trace back to Georgia.
Oh, and then there's Australia and New Zealand, where apparently the city name is also pronounced AL-bany, though with Australian and New Zealand accents:
Earlier
Say Something!
We'd really like you to take part in the conversation here at All Over Albany. But we do have a few rules here. Don't worry, they're easy. The first: be kind. The second: treat everyone else with the same respect you'd like to see in return. Cool? Great, post away. Comments are moderated so it might take a little while for your comment to show up. Thanks for being patient.