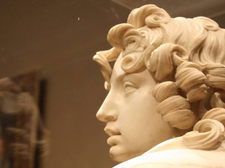 Jordan emails:
Hello. I moved to the area two years ago. I have beautiful long curly hair. I'm really picky about who I let cut it and am really protective of it. For two years I've actually flown back to my previous place to meet up with some friends, and while there, got my hair cut at my old stylist. She had 13 years of experience with a focus on curly hair and had a studio with one chair. She cut my hair perfectly, layered everything just right, everything. Comforting, knowledgeable, the whole nine. But I can't go back this year, and I need a cut. The whole thing tended to cost around $70, and I typically tip 100%, because changing a part of my body that take years and years to grow is a big deal for me.
I'm looking for a person in the area similar to her. She was affable, easy to talk too, covered in tattoos, and the 1.5 hour cut was never awkward or silent. Who in town is like this? Price isn't an issue, just skill, lots of experience, and a good positive environment.
We had a similar question in the past, but it was many years ago. And things change, shops close, stylists move.
So, got a suggestion for Jordan? Please share! And a sentence or two about why you're recommending a specific stylist can be helpful.
photo: Flickr user quinn.anya (CC BY-SA 2.0)
Hi there. Comments have been closed for this item. Still have something to say? Contact us.