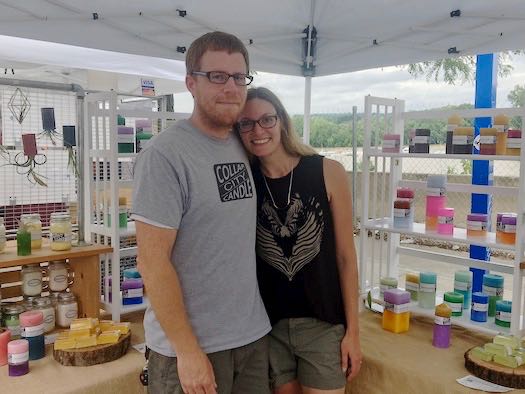 AOA is on summer break this week. So we'll have new follow-ups this week with people we've met and covered during the last year.
Collar City Candle took first place in the AOA Startup Grant contest last fall. Josh and Jamie Wallbank operate the business -- making candles, soaps, and wax containers for houseplants -- out of their home in Troy, and they started selling their products at the Troy Waterfront Farmers' Market. They're putting the $2,500 in prize money from the AOA contest toward business expansion.
We caught up with them at the farmers' market on Saturday where Jamie shared some thoughts on their progress, planning, and what makes a business more than just a business.
What's new since the contest? Catch us up.
We've been super busy. Lots of new accounts. We're working with Candlestock down in Woodstock. We're launching new cider candles with Nine Pin. Whenever they release a new can we time the candles to go with it. So far we've done Signature, Ginger, Vanilla Chai, Raspberry, and we just launched the Peach Tea last week.
We're doing Craft + Draft once a month and now we're doing bridal showers, bachelorette parties -- it's really part of our staples. That was one of our goals in the grant presentation -- to establish craft and draft as a monthly thing -- and we've done it.
What have you learned so far?
Planning ahead.
Sometimes I get caught up in day-to-day operations and in getting things done that I forget to think about the future and line up goals. Having to present [as part of the startup grant contest] to convey where I want to go is something really important to think about, but it's tough when you are just trying to get through production and day to day fill your orders, stock your inventory.
It's tough. That's where we need to find balance. The grant was wonderful, but having to sit down and work on it and think about growth was hard.
What has surprised you?
The support.
You know, I tend to think that we are just two people that like to make candles, but it's so much more than that. We have businesses that are willing to work with us, we have customers who come to see us weekly. It's so much more than just a business. The people we meet -- they become part of our lives. We see them outside of the market and we hang out with other business owners. Friendship and support.
What's a frustration that, if you could wipe it away, would make things easier?
I really think the only thing that frustrates us is the lack of time. There's always more we wish we could be doing and since candle-making is extremely time consuming we have to be really efficient in our production schedules. We're consistently balancing wholesale orders, market inventories, Craft + draft production and weddings -- which are an emerging market for us -- so if we could magically wipe away our time constraints and have unlimited time for production that would be really helpful.
I'm really happy. Sometimes we get tired. We really have no complaints to be honest. I mean... maybe it's yet to come, but we are loving life.
What has felt like a win?
Teaming up with Candlestock in Woodstock -- that's like the mecca of candle stores, so for us to be in there was really big. It's a tough store to get into.
Roost Crate -- it's a monthly subscription box. The owner goes around and puts together a farmers market delivered to your door. We are her candle maker. We've been featured in the Thanksgiving box, we were in the spring box, Mothers Day, we were in the June box, we're in the July -- we are producing quantities that we never thought we could do
Reconfiguring the Nine Pin collaboration -- at first we were doing a different style with it so I approached them and I pitched a new style for the glass jars and that was huge.
We've stared doing manufacturing for restaurants. No label, but we refill all their votives, so that has been kind of key, it sustains us. We have that weekly work that we can count on.
And the grant. That was the biggest win ever. It was life changing. We never anticipated making it past the public voting so to come in first place meant the world to us. Just seeing our supporters advocate so strongly for us was a huge win and then to be chosen unanimously by the judges was truly amazing. Of course the grant was a fantastic prize, but the advice from the judges and the strategic planning that went along with the presentation really set a strong foundation for our growth over the past several months. So there were many layers and it was a win on many levels.
What's next?
That goes back to planning ahead. Sustained growth -- just keep growing.
This interview was lightly edited and condensed.
____
More follow-ups
+ Follow up: Sunhee's Farm and Kitchen
+ Follow up: Berben and Wolff's
+ Follow up: Farm on Peaceable Pastures
Say Something!
We'd really like you to take part in the conversation here at All Over Albany. But we do have a few rules here. Don't worry, they're easy. The first: be kind. The second: treat everyone else with the same respect you'd like to see in return. Cool? Great, post away. Comments are moderated so it might take a little while for your comment to show up. Thanks for being patient.