The conversation over the design of the proposed movie theater at 1 Monument Square is ramping up again, and will continue to do so as the project goes before the Troy Planning Commission July 26. [TU]
One of the criticism of the design is, essentially, a big, windowless box that blocks the river from the street (a wide outdoor stair would connect to the street level and riverfront).
So we thought the video clip embedded above was interesting -- it's by an architectural designer from Niskayuna named Tai Xi posted the design and video earlier this year as a way offering feedback. (It was highlighted by the We Care About the Square Twitter account this week.) In the design, the movie theater space would be raised up one level to create a covered plaza that extends from the the street out toward the river.
Here's a bit more about Xi's design, and a quick thought on how we all discuss these sorts of things...
The Xi design
We got in touch with Xi this week to ask, essentially, how the design in the video came about. Xi's response via email (we've broken it into paragraphs):
Among the tri-city, Troy is the most beautiful one, thanks to the better preserved urban layout, authentic architecture and interesting topography. She deserves better buildings of both quality design and construction.
So far, to fill the void at 1 Monument Square, several winning proposals seem fall short on grasping the essence of the site. When there is no vision with clarity based on the consensus of various stake holders, all becomes a guesswork in the dark. No wonder it's so hard to pin down a good scheme. As a trained architectural designer (also a licensed Architect in Ontario, Canada), I can't help to do some critiques in my counter proposals.
In the latest Bowtie cinemas episode, I can see the most damning mistake is putting a blank big box right on the ground level of River St creates a long and tall wall facing the square. How to salvage the proposal as it is? Quite simple, elevating the cinema box to the second floor so that the street level can be freed up for more animated uses. This is a proven solution; one can find many real life examples in big cities.
This setup does cost a bit more, however, to build a landmark in a historical city has never meant to be cheap. The prestige shall worth some extra investment even in the all-for-profit business world.
Tai Xi said he reached out to the city about the design idea, but never heard back.
How we discuss this stuff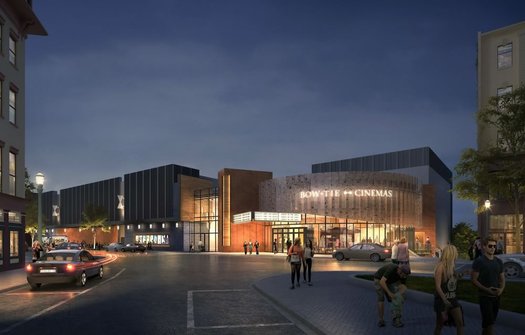 One of the renderings of the project proposed by Bonacio Construction and Bow Tie Cinemas.
In our email exchange, Xi added this point at the end: "To generate more meaningful dialogue, we need a more effective platform driven by Google Earth 3D model and graphic comments. Casual writeup without concrete graphic reference can hardly move things forward to reach a satisfactory conclusion."
We thought that was interesting because it gets at one of the frequent frictions when these sorts of projects get introduced to, and discussed by, the public: It's a lot to easier to say "I don't like this" than it is to show what people would like instead.
And that's totally understandable. There aren't a lot of people who have the skill and time to crank out their rendering of a building. And, frankly, trying to crowdsource the design of a building -- no matter how big or small -- sounds like a recipe for a bad outcome.
But there's also gotta be a better way for municipalities to gather feedback. Sure, people can go to the planning board/commission meetings and say something during the public comment periods. That's admirable and useful. Again, though, that format probably leans more toward "no, not that" and away from "more like this." People -- even critics! -- often want to offer constructive feedback. They just don't have good tools to do so.
We don't know if there's an answer for resolving this friction. It just seems like we all should be able to do better given the proliferation of digital media.
How to offer feedback
We got in touch with John Salka, the spokesman for the city of Troy, about Xi's design and offering feedback. Salka pointed to people participating in the planning commission process, and he said the commission is accepting written comments via email -- they should be sent to Chris Brown in the planning department at chris.brown@troyny.gov.
Feedback can also be submitted via mail:
City of Troy
c/o Planning Department
433 River Street
Troy, NY 12180
Say Something!
We'd really like you to take part in the conversation here at All Over Albany. But we do have a few rules here. Don't worry, they're easy. The first: be kind. The second: treat everyone else with the same respect you'd like to see in return. Cool? Great, post away. Comments are moderated so it might take a little while for your comment to show up. Thanks for being patient.