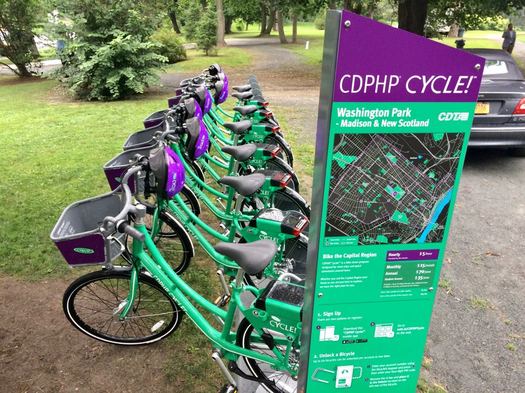 The new bike share backed by CDTA -- CDPHP Cycle -- launched Thursday. You can now sign up for an account and check out a bike from one of the stations in the Capital Region's four core cities.
Here are details about how it works, and a few thoughts after trying it out.
The basics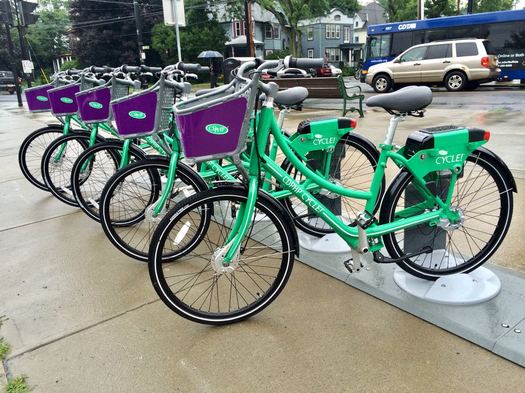 We've covered a lot of this already, so we'll quickly recap.
+ The bike share includes 160 bikes spread across 41 stations in Albany, Saratoga Springs, Schenectady, and Troy.
+ The coverage areas for the bike share are currently mostly focused on the downtown areas of these cities.
+ It's $5 per hour to use a bike, plus a $2 "out of hub" fee (you get $1 back if re-dock the bike at one of the stations). A credit card is required to take out a bike. There are also membership plans that allow you save some money by buying bike time in bulk.
+ The bikes and system to operate the program are from a company called Social Bicycles. It runs bike shares in a bunch of cities around the country.
+ The bike share will be active until November 30 of this year (depending on snow), and then will be reactivated again next spring.
"This year is really about getting people comfortable and acquainted with the program," said Lauren Bailey, who's been coordinating the program for CDTA. "And then next year when we roll out the full system, we'll have a better idea, especially of where people are riding to, what they're really using the bikes for, and what time of day they're using them. So when we roll out the full system next year we can make sure we're not throwing darts at a board."
What's it like to use the bike share?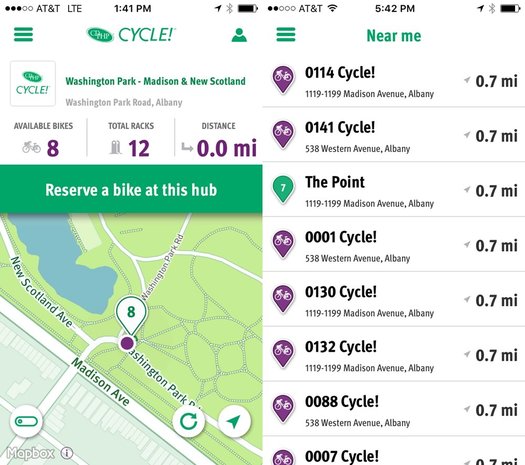 Screenshots from the app, which has info about bike availability.
We tried it out Thursday afternoon and it was relatively easy. Signing up for an account via the CDPHP Cycle app only took a minute or two. And checking out a bike at the Washington Park station went smoothly -- you punch in your account number, followed by your PIN, and the bike's u-lock unlocks from the rack. (You store the lock on the bike in a holder.)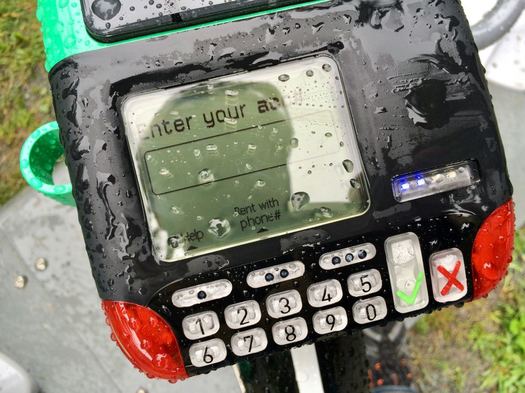 The three-speed bikes are definitely cruisers. The seat was comfy. The bike handled bumps and uneven pavement well. And the brakes were really nice. But it's heavy, there's no other way to put it. This isn't the sort of bike on which you'll be darting around from place to place or zipping up hills.
The heft of the bike is by design. They're built to handle a lot of use (and abuse), especially from people who maybe are not otherwise accustomed to riding a bike. It's fair to say the bikes are more about comfort and safety than speed. If you regularly ride something like a road bike or a hybrid, you'll notice the difference.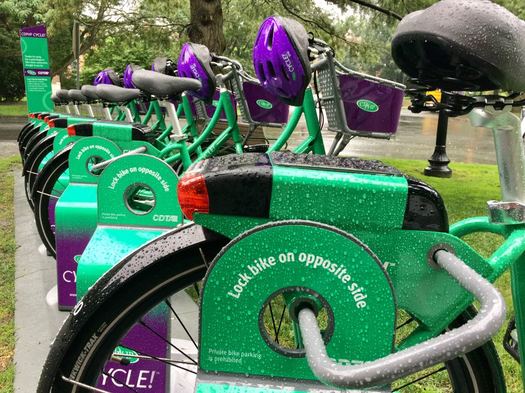 We took a ride up Madison Ave from Washington Park to the station at Madison and Western on the edge of the Albany coverage area. Docking the bike was easy -- just line up the bike with the rack and reconnect the u-lock.
Previous concerns
We've written about the bike share a bunch as it's developed over the last year or so, and along the way people have had some thoughtful concerns about the system. At Thursday's launch we took up some of these concerns with Lauren Bailey.
Compact coverage areas
When the maps of the coverage areas debuted, one of the frequent criticisms was that zones were too small and were focused on downtowns.
Bailey acknowledged the current coverage area is "tight," smaller than what CDTA would like. But the experience of bike shares in other cities suggests most people will be using the bikes for short trips -- less than three miles and/or less than 20 minutes. If the stations are spread out too far, people don't use the bikes because they don't want to travel the distance.
She said one of the goals for next year is take the data gathered from this summer and help map out how the service can be expanded farther into neighborhoods. And she said CDTA is hopeful it might be able identify locations where bikes will be able to provide service for people not currently well covered by buses.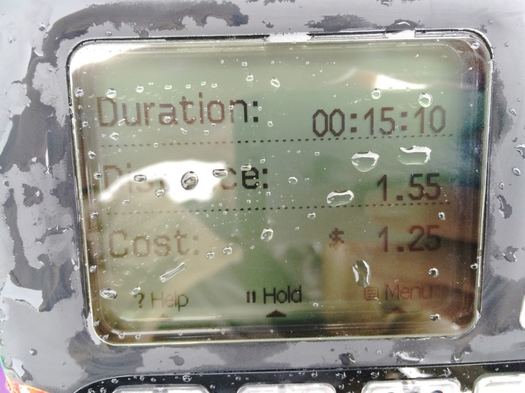 Cost
Another common concern has been about cost and access for people with low incomes, especially since the system requires a credit card.
"My winter project is sorting out low-income options for folks so we can bring parity to the system," Bailey said. "It's very frustrating because this is a slam dunk for areas that are underserved by bus systems or things like that, but having a credit card is a barrier. And we want to find a way to fix that."
She said CDTA's Navigator fare card could be a way to make progress on this problem. The cards don't currently work with the bike share, but both they and the on-board bike tech have the necessary RFID chips to talk with each other. CDTA is currently working on getting the two systems to work together, with the eventual goal that people will be able to pay for a bike via money from their Navigator cards.
A few other things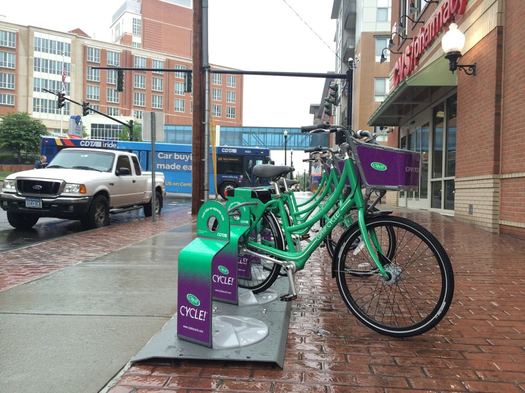 Transportation options
It's pretty clear CDTA has been pushing in recent years to evolve itself beyond "just" a bus org into something more like a platform for transportation options. The bike share is a part of that push.
"We are promoting more choices," Carm Basile, CDTA's executive director told the crowd at Thursday's launch. "Think of a day when you might ride your bike to a bus, take a bus to your destination, and take Uber home. That's the way this should go."
Another thing to keep an eye on is the taxi system regionalization that CDTA's been working on. Speculating a little bit, it's not hard to see a future in which the Navigator card could theoretically serve as a common method of payment for a bus ride, a bike ride, or a taxi ride.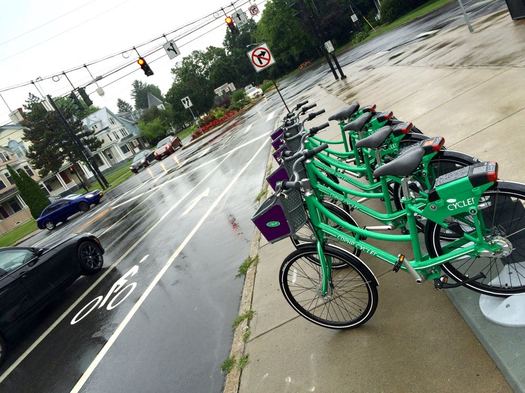 More bike infrastructure
We've said this before, and we'll say it again: One bike lane is good. But a network of bike lanes and other bike infrastructure is way better.
Research in other cities has found that building out improved, and more extensive, bike infrastructure can lead to big increases in both how often people bike, types of people who bike, and how safe they are when they do so. It's not enough to have one bike lane here, and another maybe over there. It's about building a web across the city.
If the Capital Region is going to be a place where people truly have alternative transportation options, it's going to take infrastructure. This is especially true if the pool of people using bikes is going to widen. There's gotta be space for people of a range of abilities to both be safe and feel safe while riding. And the network has to connect them to places in a useful way.
Earlier:
+ Here's how much it will cost to use one of the upcoming bike share bikes
+ Here are the station locations for the bike share starting later this summer
+ A few more details about the upcoming CDTA bike share
+ Albany's sister city bike paradise
CDTA and CDPHP advertise on AOA.
Say Something!
We'd really like you to take part in the conversation here at All Over Albany. But we do have a few rules here. Don't worry, they're easy. The first: be kind. The second: treat everyone else with the same respect you'd like to see in return. Cool? Great, post away. Comments are moderated so it might take a little while for your comment to show up. Thanks for being patient.