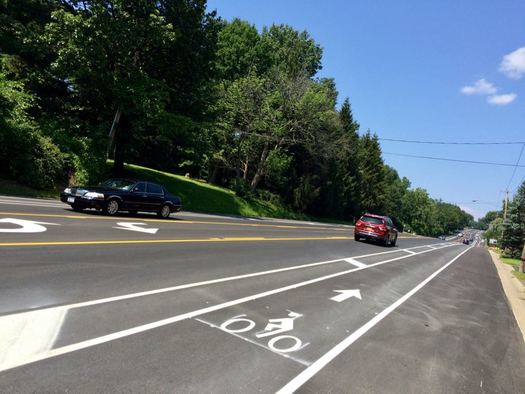 We got a chance the other day to to head over to Van Rensselaer Boulevard in Albany/Menands and check out the road diet reconfiguration there.
The state Department of Transportation paved and re-striped about one mile of the road this summer, from Northern Boulevard to Menand Road. The new configuration reduced the number of travel lanes from four to two with a center turn lane, buffered bike lanes along each side, and wide shoulders. The speed limit is now 45 mph, down from 55 mph.
A spokesman for NYSDOT says there are still a few minor details to finish up, including some signage.
The goal is to make the street -- which borders a residential neighborhood -- friendlier to pedestrians and cyclists. It was the scene of two fatal crashes in recent years, one involving a pedestrian. Neighborhood residents had been pushing for changes to make the stretch safer. [TU x2]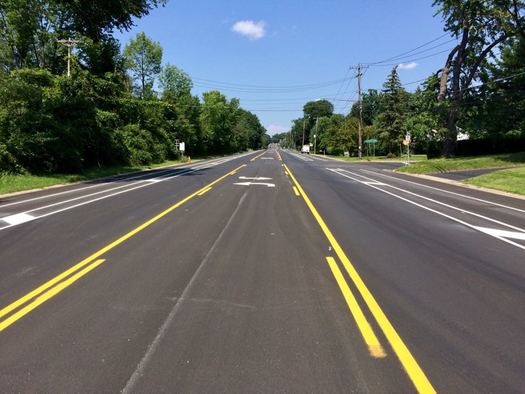 Walking along the newly reconfigured section, the road still feels *very* wide. And it'll be worth watching how the new lanes, along with the new speed limit, do or don't affect the speed of traffic. It reminded us a little bit of the situation along upper Washington Ave in Albany, where city dropped the speed limit dropped to 30 mph but, in our experience, the traffic still moves much faster, probably because the design of the road makes it feel like it should. (Driving at 30 mph along that stretch feels. very. slow.)
Madison Ave
The road diet idea -- to calm traffic by reducing travel lanes and adding pedestrian and bike amenities -- is also being applied on Albany's Madison Ave. The city announced that the second phase of that project -- which will extend the new configuration to Lark Street -- recently got started.
It'll be interesting to see whether these interventions are successful. In our experience, the reconfigured portion of Madison Ave feels much better than it did before and the transition to the old format is jarring. Will that be the case when the whole project is finished? And will traffic flow through there at a rate people find acceptable?
If the project does meet the goal, it wouldn't be surprising to see the idea applied to other streets. During the Rezone Albany neighborhood-focused look at the area around the downtown UAlbany campus, the idea of doing something similar along Washington Ave was floated. So it's something to watch.
Hi there. Comments have been closed for this item. Still have something to say? Contact us.