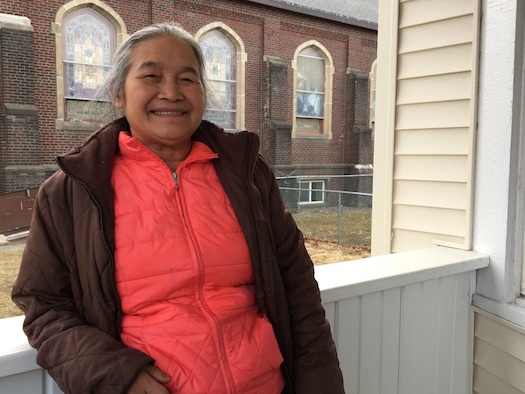 This week we're sharing the stories of a handful of refugees who have found new homes in the Capital Region.
Haeneypew Sey is from Burma, which is also known as Myanmar.
She and her family came to the United States nearly two years ago, after spending 23 years in a refugee camp.
Today she spends her time learning English, and working slowly toward becoming an American citizen.

Why did you want to come to the United States?
In my country very difficult for live, fighting, war -- government and ethnic groups fighting.
I came here three year. My son lives here so I came to live near him. In my family my daughter and myself and my son are all here.
What was your life like in Burma? What did you do there?
In Burma, only farm. I left Burma, but I was in a refugee camp for 23 years. Here I am, 58, and I cannot find job and I learn English in ESL class. I learn but I have forgotten -- not very good.
Do you like it here?
Yes I like ... this level here very high. In my country, very low level.
Home was hard, but is there anything you miss?
I miss my friend.
What surprised you about the United States?
Yes, I surprised because here there is enough for me. In my country not enough what you work and what you eat. And refugee camp when we get and eat, not enough. I am very happy to be here.
What are you hoping for?
Well, maybe when I was young I would hope a lot, but I am older. I hope I can understand English and I can speak and maybe I can get citizenship.
I hope for my country will get peace and people in my country will be happy and that life will be improved like here.
Here very, very happy because my children here get high education level. In my country not education. In my country writing and reading not. And when we went to the refugee camp children got school.
I hope my grandchildren will have better life. In my country very poor life, but here very, very good. I feel happy. I like everything and government and people help a lot of people.
____
Earlier
+ Finding refuge: Amgad Abdalla
+ Finding Refuge: Niebiha