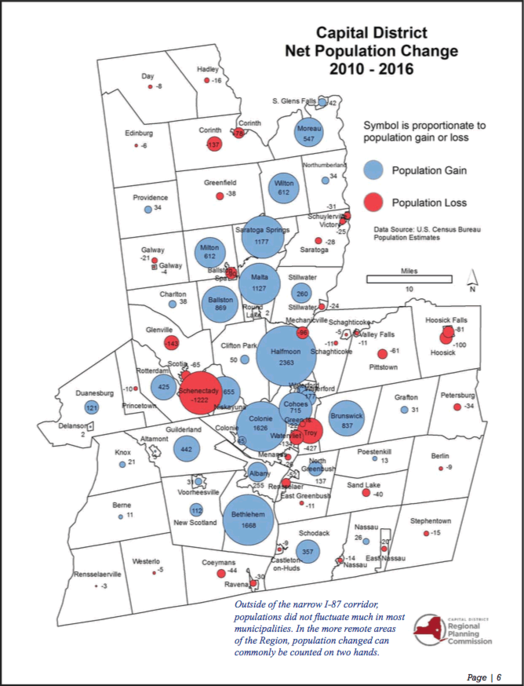 During conversations here at AOA and in other venues about the region's cities, very often the focus settles on a question that's more or less: Why can't we have (thing) in Albany/Troy/Schenectady/somewhere?
And often (thing) is something along the lines of streetcars, or densely packed blocks of retail, or downtown supermarkets -- the sorts of things that usually require relatively high population density.
So, with that in mind, this bit from the latest Capital Region Data from the Capital District Regional Planning Council caught our eye. It's about population and development patterns across the area's municipalities (emphasis added):
From 1995 to 2015, development of single family homes across the Region totaled 35,111 units, occupying 55,928 acres. Development in this 20-year period expanded the total acreage consumed by single-family housing in the Region by 38% from levels in 1994. In that same period, the population of the Region grew by roughly 7%. Quite simply, the Region consumed land at almost five and half times the rate of population growth. ... To add even more context on a micro level, from 1995 to 2015, the Region's population increased by roughly 55,000. This means that the Region developed roughly an acre of land for each new person.
As population growth continues to slow, and housing construction begins to increase, the disconnect could between the two could become larger. While new housing construction slowed significantly during the Great Recession, it has recovered to a greater degree than population growth. If these trends continue, they could amplify our Region's current pattern of sprawl without growth.
This situation is cause for concern because of the expense associated with it. Studies show that low-density development can become very expensive for a municipality. When parcels are spread-out across a large area, it becomes expensive to connect them to utilities and services. In addition, the taxes collected on single family lots often do not cover the expense of servicing them. To compensate for this, many municipalities rely on continual population growth to expand the tax-pool. But, if population growth is slowing, this strategy can become problematic.
And, of course, this spreading out of the Capital Region's population also takes its toll on the core cities as people and investment empty out of buildings and neighborhoods.
Multi-family development
One trend that's pushing back in a somewhat different direction has been the big upswing in multi-family housing development in recent years. In 2015, the number of permits issued for multi-family units was more than double that of single-family homes in the Capital Region, according to Census data. And, as Capital Region Data discusses in this same issue, while the different wasn't so stark in 2016, the number of multi-family unit permits again outpaced single-family permits.
But these new multi-family units aren't necessarily in the core cities of the region. The top 10 municipalities for multi-family permits between 2017-2016, as tallied from Census data by CDRPC: Saratoga Springs (991), Halfmoon (850), Rotterdam (805), Albany (793), Wilton (695), Bethlehem (647), Colonie (589), Malta (533), Brunswick (512), and Moreau (468).
____
Earlier:
+ The Capital Region is growing very slowly -- which is better than many other parts of the state
+ What's new? Apartments.
Hi there. Comments have been closed for this item. Still have something to say? Contact us.