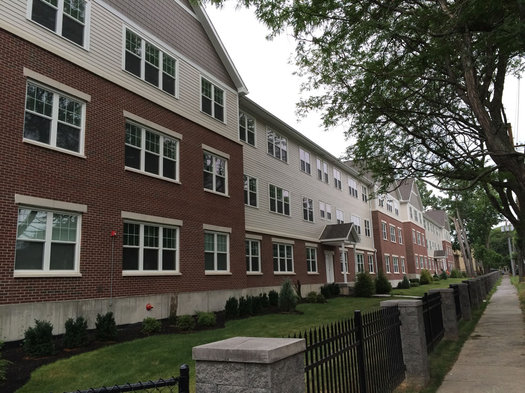 It seems like every month or so there's an announcement of some new apartment project around the Capital Region. And, as it turns out, the numbers are pointing toward a recent shift in what sort of housing gets built around here.
Last year there were permits issued for 3,601 new housing units in the Capital Region's core counties -- and 2,434 of those units (68 percent) were for homes in multi-unit buildings. And as the latest issue of the Capital Region Planning Commission's Capital Region Data points out, it is the first time in three decades the number of multi-unit homes has so drastically outnumbered single-family homes.
Here's a quick look at some of the numbers...
Graphs
There are a few graphs above in large format if you're so inclined -- click or scroll all the way up.
The numbers in the graphs, and discussed below, are collected by Census Bureau. And we were able to scoop them up thanks to CRPC's website.
A few things
New construction surge
The number of permits issued for residential units had been in a lull the last few years since the recession compared to last three decades -- and then surged in 2015. Between 2008 and 2014, the number of units for which permits were issued averaged 1785 per year. Last year it was 3601.
But not for single-family homes
That jump between 2014 and 2015 is all units in multi-family buildings -- permits for new single-family homes were down slightly.
Rise of multi-family
Multi-family buildings have been on the rise for the last years. Permits for those units slightly edged single-family units in 2011 (871 vs. 865) and have been running strong since then.
Top 20 municipalities
Here are the rankings (top 20) by municipality for the most new units permitted over the last 10 years: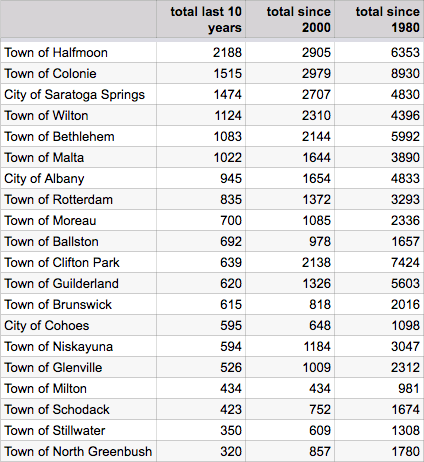 Halfmoon
Halfmoon's total over the last ten years is almost as high as all of Schenectady County (2188 vs. 2335).
Albany single family
One somewhat-unexpected thing we noticed while looking over the number since 1980: Between 1995 and 2005 permits for single-family homes in Albany averaged just 6 per year. Between 2006 and 2015: 23 per year. (Though there were just 5 in 2015.)
Albany multi-family
The city of Albany was pegged at 237 new residential units in multi-family buildings in 2015. And it appears that trend is set to continue over the next few years with new construction projects planned for area just north of downtown, Park South, and fill-in development like the planned (if still delayed) apartment project on Holland Ave.
Why the trend toward multi-family?
It's an interesting question. Developers have told us recently that new apartment units tend to rent very quickly. Some of that might be people leaning away from home-ownership since the recession. But it also might be demographics -- 20somethings and late-50something/60somethings are currently the two biggest age groups in the Capital Region. It'll be interesting to see if things change as those 20somethings enter into their 30s.
____
If you're interested in this topic, you should read that Capital District Data issue. It has a bunch of breakdowns of the number, including an interesting look at the value of the units permitted.
Say Something!
We'd really like you to take part in the conversation here at All Over Albany. But we do have a few rules here. Don't worry, they're easy. The first: be kind. The second: treat everyone else with the same respect you'd like to see in return. Cool? Great, post away. Comments are moderated so it might take a little while for your comment to show up. Thanks for being patient.