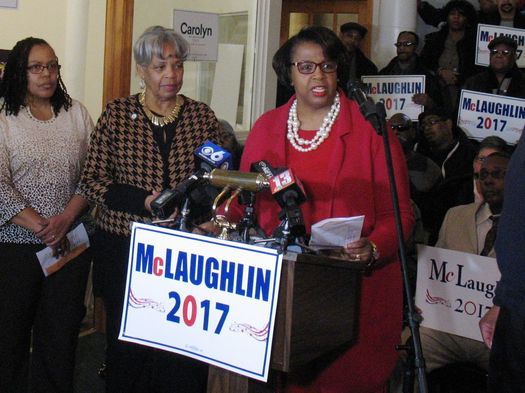 Next Tuesday, September 12, is primary day. And it will be a big day in the city of Albany because the Democratic primary will almost certainly select the person who will be mayor for the next four years.
This week we're talking with the three Democratic candidates: incumbent mayor Kathy Sheehan, and challengers Carolyn McLaughlin and Frank Commisso Jr.
And we're posting audio of the conversations so you can listen when you like -- either streamed here at AOA, or downloaded to your phone or mobile device. We'll also be pulling a handful of text clips from the conversations if you'd rather skim and read.
First up: Carolyn McLaughlin, who's currently the Albany Common Council president. We talked with her in her campaign offices on South Pearl Street.

Interview audio
Text clips
These are just a handful of text segments from the full interview. The time stamps listed with each topic refer to when in the audio text appears, in case you'd like to dip into the interview and listen for yourself.
On why voters should select her (00:10)
Because if people want to see real change in Albany, change that they can see, change that they can feel, I'm the person that needs to be mayor. Because at this point, I've been on the council 20 years. I've been a working professional for almost 40 years, 30 years with the state, and what that does I think has given me the kind of preparation for this kind of public service, at this level of public service, that other people don't have.
This is not corporate America. This is public service. And I believe with the issues that I've had to deal with in the city of Albany over the last 20 years on the council, the last eight years as president -- I mean, there's not an issue that's new to me. I think I understand the different segments of the community best. I also just believe that, you know, I'm bringing a perspective to this that lets people know that indeed it's about them, it's not about me as mayor, but it's about the people. And I mean that sincerely that the people do come first and that any decisions that we make will take that into [account], make it a top priority, the impact that it's having on a human being that lives in a city of Albany.
On potentially becoming the first African-American mayor of the city (05:34)
I've been an active participant in the operations of the city of Albany, in the improvements of the city of Albany. I've been a voice out there that has really spoken for that person or those individuals who feel like they are underestimated, undervalued, and marginalized. And those people come in all hues. You know what I'm saying.
So when I say that, I'm not just talking about African-American people, as some people try to pigeonhole me. I represent the city of Albany as president and we're all over the city, but in certain places we are in the more-challenged communities. So I do represent those people and I feel that maybe a voice needs to be stronger for whoever that person is who doesn't feel that they have a stronger voice or that people are listening to them.
And so it is important. I don't apologize for being an African-American woman who is running to be mayor of Albany. And if people take pride in that, then so be it. And I take pride in it. But I'm not running on that. And this is the first time I've ever even mentioned it throughout the campaign as something that people should be cognizant of. But I will not apologize for that fact that I would make history as the first African-American mayor in the city of Albany. I'm not going to do that because that is who I am. And that part of this community, only then will I believe that the leadership of the African-American community will be accepted in this city. Yes, that is what is going to take. Because so often, it's like as long as you stay here (motions to side), you're OK. I can't stay there.
On her frustrations with the Sheehan administration (7:59)
The council members, a majority of them, wanted to support a casino here in Albany [at the site of Route 9W]. The mayor didn't. Council members, a majority of them, wanted to support a casino in Rensselaer when it was found that we did not have the proper area to build because we had wetlands. ... But then council members wanted to support Rensselaer. We waited until two weeks before the announcement was made to give our full support to Rensselaer up to that point. The mayor was supporting East Greenbush, a place who said, governor we don't want it. They had 2000 signatures of people saying they didn't want it. But why would you as the mayor of Albany say put it there when the people said they didn't want it. And so I do believe. It's just my opinion that that had some effect on why [Rensselaer] didn't get it. And it went to Schenectady. Had it been in Rensselaer that maybe could have been some positive return for the city of Albany. As it stands now there's no return to the city of Albany. ...
(9:42) Number two, when the mayor made a proposal, whatever her strategy was, to close Ladder 1 down here in the south end of Albany. What makes you think that the neighborhood that has the most high rise buildings in the city of Albany would not need a Ladder 1 in the south of Albany. Where did that proposal come from? I don't care how much money it was going to save, you were putting lives at risk and you can't put a value on lives. That's number two.
(10:09) Number three, the red light cameras. I've never supported those. I felt that they were discriminatory in their placement, that they were not going to raise money, and to the fact they have not. Essentially right now we are working for the vendor and processing these tickets and sending all the money out of the city.
Number four, the trash fee. I did not support the trash fee. I still to this day. in its second year of implementation, I don't support it. And I said if some are going to pay, all need to pay. Again, trash fee put in communities where people can least likely afford it. No, I do not agree with that.
On affordable housing (15:02)
There's a lot of housing being built in the city of Albany, but I don't know how much has been is affordable if you're talking about $900 for a one-bedroom apartment. Gentrification is on its way to Albany if we don't do a greater job of placing emphasis on low- and moderate-income housing.
[So what's the best way to do that?]
We need to become partners with these developers that are coming into our city. We talked about inclusionary zoning as it related to the rezone. But I think that that's something that we really have to be, we have to be strong on that because we can't be just a city of people who are making six figures and providing housing for them because this is not a city of people making just six figures. This is a mixed-income city that thrives because of that, because we do have a diversity of income as well as diversity of ethnic groups in our city. And if we're going to really save our diversity and the character of our city we've got to make sure that we have housing that suits all people that have chosen to call home.
So developers that want to come in and build in our city, we need to talk to them about this and not just talk to them about it, but we need to have some bit of an executive order or what in place that says you will do. You will provide a certain number of units for low- to moderate-income people or there's an impact fee that you would pay to us so that we can build it.
On infrastructure concerns voiced by people in neighborhoods such as Buckingham Pond, the Dunes, and North Albany. (23:37)
They want sidewalks. Something as simple as a sidewalk so that they can walk safely in their neighborhood. The people up on Mount Hope -- they want sidewalks.
I was up there the other day and the lady says to me, you know, when the garbage truck comes and they pick up the garbage and then but we get all the runoff from the truck and then I want to go walk my dog and that's what I've got to walk in. You know something simple as that -- can they wash down the street after they come. Things like that. People are concerned about whether their sidewalks are safe, crumbling. People are concerned as to whether, just what the infrastructure of the city is -- and that's every neighborhood. I don't care what neighborhood you go to, there's an infrastructure issue. So we've got to be about, I believe, some longterm strategic plans to deal with our infrastructure to deal with our economic development and whether we have a director of economic development or we have capitalize on of them. It really has to be about what is going to grow the city of Albany.
On the daytime tide of commuters (25:13)
I see it as an opportunity. I really do. And you know, we work very hard to make sure that our streets are paved and our streets are cleared in the wintertime so that people can get in and get out safely.
But at the same time while you're here let's take you down State Street. Let's take you down to Pearl Street. Let's take you down either end, north or south, on Pearl Street and show you that there are some opportunities here, that there's businesses here that you might want to frequent. You're here every day and then it saves you a trip of having to go someplace else to shop if you came to downtown Albany and took care of some of your business and you help us grow.
And I think that we've got to do a better job of that. we've got to look at what some other cities have done in terms of improving their downtown. Boston seems to have done a great job. It's an historic city much like Albany. They're a growing city. They're looking at their students. They're looking at seniors. They're looking at on the professional growth in their city. Same kind of perspective we need to take on every segment of our community and see what does it take to make sure seniors are happy. What does it take to make sure that young millennial who's just getting out of college. ...
People want an affordable city. People want services at their fingertips. We want people to reduce their carbon footprint. So you therefore have to give them some stuff that they can walk to. Those services ... I've used this example for years, for women who are wearing tights or stockings. You got to get in your car to go to Stuyvesant Plaza, Colonie Center to get that, or Crossgates. Why can't we get some little shops downtown?
On what she wants voters to remember about her on primary day (34:09)
I'm the one who's always going to put you first. And I believe that it is time for a complete change of perspective in terms of the leadership of this city that's going to move everybody forward. So that's why when you go in you should think of me. I am a new voice. I have a new vision and I want you to help me clarify that vision and move it forward so that together we move Albany forward and everybody gets a share of what is going on positive in our city of Albany. If you want those kinds of things, if you want accountability, if you want integrity, if you want somebody who sees you, somebody is going to really going to listen to you and has been listening to you and has been responding to you, if you want that in the mayor. The next mayor of the city of Albany then you will vote for me because I will respond to what I hear from you.
These text clips have been lightly edited.
Earlier
+ Carolyn McLaughlin is running for Albany mayor (with announcement speech video)
+ Frank Commisso Jr. is running for Albany mayor (with announcement speech video)
+ Albany mayor Kathy Sheehan is now officially running for re-election (with announcement speech video)
Say Something!
We'd really like you to take part in the conversation here at All Over Albany. But we do have a few rules here. Don't worry, they're easy. The first: be kind. The second: treat everyone else with the same respect you'd like to see in return. Cool? Great, post away. Comments are moderated so it might take a little while for your comment to show up. Thanks for being patient.