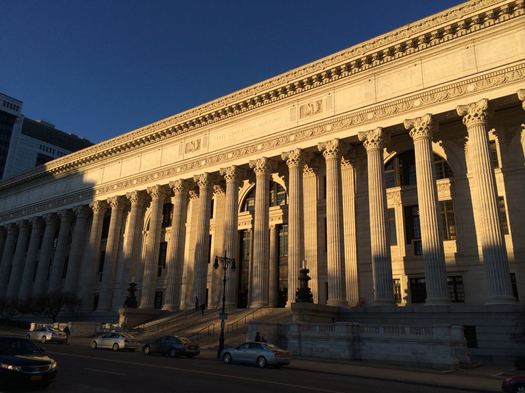 Because Albany embraces its inner architecture nerd: The State Education Building will be open for public tours each Saturday starting October 7. They're free, but you need to register ahead of time.
NYSED and OGS said the regular Saturday tours are a response to the "the overwhelming popularity" of the once-a-month Saturday tours that had been offered this fall. (You might remember us urging you to sign up because they were filling up fast.)
Tour blurbage:
New York State Museum staff lead the 45-minute Education Building tour, and visitors will have the opportunity to explore the historic Chancellors Hall, Regents Room and the Rotunda adorned with murals by Albany native Will H. Low. The tours start outdoors on the front steps of the State Education Building, which is located at 89 Washington Avenue, Albany. This year marked the first time the building has been made available for regular public tours since the State Museum and Library were moved from the Education Building to the Cultural Education Center in the 1970s. When the monthly State Education Building tours were announced to the public in July, all available reservations were booked within 24 hours.
The New York State Education Building was designed by renowned New York City architect, Henry Hornbostel, one of 63 architects to submit plans, and was constructed by the Rochester firm R. T. Ford and Company. Construction began in 1908 and the building was dedicated in 1912. At the time, the cost to construct the building amounted to approximately $4 million and covered everything from the purchase of the land to building construction. The Education Building was the first major building constructed in the United States solely as a headquarters for the administration of education. In addition to State Education Department staff, the Education Building housed the State Library and State Museum--now currently in the Cultural Education Center.
The Saturday tours are at 12:30 and 2:30 pm.