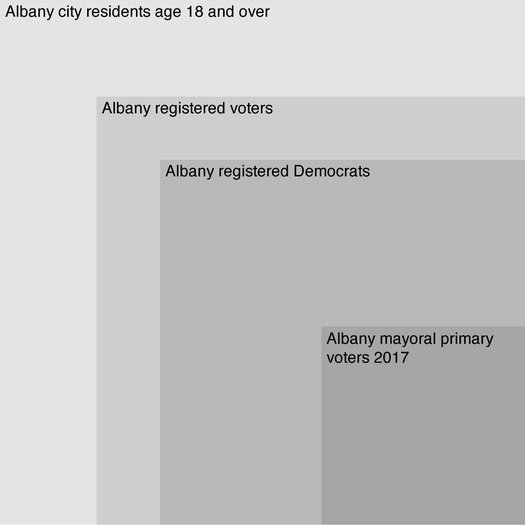 Here's another bit from last week's Albany Democratic mayoral primary: Just about 15 percent of the city's voting-age population cast a vote in the primary.
That's remarkable not only because it's relatively so few people overall, but also because the primary is the de facto election for mayor (and other city offices) because of the overwhelming enrollment advantage Democrats have in the city.
The numbers are below, but we put together the graphic above as a quick illustration. The biggest square represents the entire adult population of the city of Albany. Each successive square represents the percentage of that population in each category -- all the way down to the number of people who voted in Tuesday's mayoral primary.
Numbers
Estimated population city of Albany age 18 and older: 80,741
Number of registered voters in the city: 53,752
Registered Democrats in the city: 38,990
Number of voters in 2017 mayoral primary: 12,245
That 2017 total is bigger than 2013 when 11,363 people voted (Kathy Sheehan win over Corey Ellis), but smaller than 2009's total of 14431 (Jerry Jennings win over Ellis.
Sources, in order: Census Bureau 2016 estimate, NYS Board of Elections x2, Albany County Board of Election unofficial results.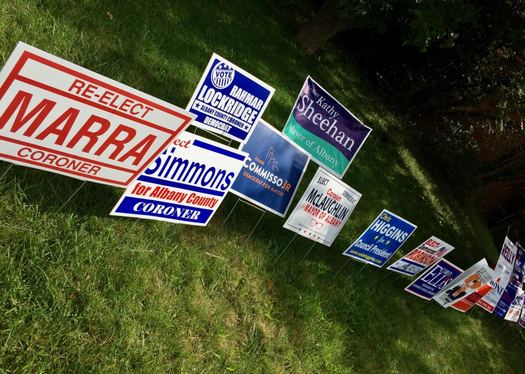 A way to shake this up?
Voter turnout in the United States in general isn't great compared to other countries. And there are all sorts of reasons people don't vote.
Different primaries
That said, one thing that might shake up the situation is to switch to some form of an open or non-partisan or "top two" primary. These take different forms in different states around the country, and they all have upsides and downsides (there's always a tradeoff). But basically the idea is to reduce the rigid political party barriers involved in narrowing the field of candidates.
California uses a "top two" system in which all the candidates for a state or Congressional office go into the same pool, regardless of party affiliation, and all voters are allowed to vote. The top two vote getters move on to the general election. So in that setup, you could have two Democrats -- or two members of whatever party -- face off in the general. (Apparently political parties in California kind of hate this system.)
Different types of voting
And while we're at it, if you wanted to shake things up even more, there could be a setup that allows voters to pick their two favorite candidates from a field with three or more people running. Such "ranked choice" or instant runoff-type elections can help address the problem of a field with many candidates in which the winner ends up not being the choice of a majority of people, which happened in a few Common Council wards this year. (Again, like any setup, these sorts of elections aren't perfect and may have their own downsides.) San Francisco uses an instant runoff system. There's currently a bill in the state legislature that would open the way for a pilot test of this concept in a handful of local elections.
These aren't the only sort of changes that might help increase participation. Expanding polling hours or allowing early voting could make it easier for people. And drawing a wider, more diverse field of candidates could also help.
None of these sorts of changes are a guarantee that more people would actually show up and vote. But when such a small slice of people is participating, it's worth thinking about how to change things up.
Albany party affiliation
Here's the breakdown of Albany voter affiliation (percent of all registered voters, rounded):
+ Democrats: 73 percent
+ Unaffiliated: 16 percent
+ Republicans: 6 percent
+ All other parties: 5 percent
Source: NYS Board of Elections
Earlier
+ A call for early voting and other ways to make it easier to vote in New York State
Hi there. Comments have been closed for this item. Still have something to say? Contact us.