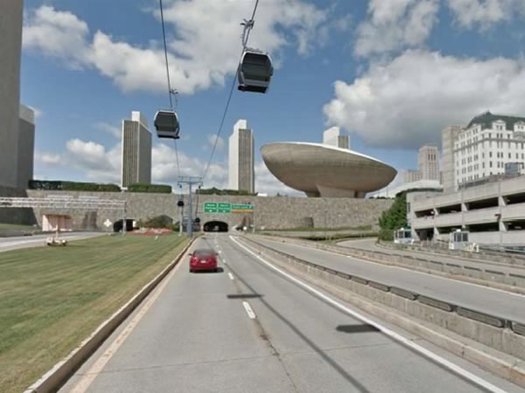 The backers of the proposed aerial gondola between the Albany-Rensselaer train station and downtown Albany are surveying people this week about the idea. If you'd like to provide input, here's the online survey -- enter code "aoa" with no quotes to access it (it's case sensitive).*
The consultancy Steer Davies Gleave is conducting the survey for the McLaren Engineering Group. The survey asks about how often people travel to downtown Albany, how they get there, what they do there. And then it proposes a series of tradeoffs -- both time and price -- between transportation options and the proposed gondola. The answers will be folded into a model to help determine what sort of demand there might be for the gondola.
Representatives will also be around downtown Albany this week handing out postcards with info about the survey. And people taking the survey will be eligible for a $100 cash prize if they're willing to share their contact info at the end of the survey.
The headlining purpose of the gondola would be to provide an easy link between the train station and downtown Albany. But some of the survey questions appear to hint at the possibility the backers are also thinking about the gondola as a way to link the Empire State Plaza (and other spots downtown) to parking/commuting across the river. Example: One of the survey questions how much people would be willing to pay for an unlimited monthly gondola pass.
And that idea makes some sense. Even though Albany-Rensselaer gets something like 800k passengers a year, it's probably a stretch to think that train station traffic alone could sustain the gondola. Having a daily stream of commuters could significantly boost ridership. And if you work at/near the ESP, the prospect of an available parking spot with a heated 5-7 minute ride into the ESP complex could be appealing.
Additional gondola project blurbage from the survey:
The Capital District Transportation Authority's (CDTA's) Rensselaer Rail Station is Amtrak's 9th busiest intermodal rail facility, utilized by over eight hundred thousand people per year. There is heavy reliance on the use of automobiles to cross over the Hudson River to travel between the cities of Rensselaer and Albany, New York.
This survey is part of a current study regarding a potential Capital District Gondola - an aerial ropeway transportation system with three stations, connecting the CDTA Rensselaer Rail Station with Downtown Albany and the Empire State Plaza. This proposed system would be primarily funded by private funds. The proposed system would consist of a one-mile long steel cable supported by fourteen towers, carrying four dozen comfortable cabins, which arrive at stations every 12 seconds to transport passengers to and from destinations in 3-7 minutes depending on your trip. Plans call for the gondola to operate 16 hours a day at a capacity rate of 3,000 passengers per hour.
The Gondola will travel from the Albany-Rensselaer Rail Station to the Empire State Plaza, with one intermediate landing in proximity to the Times Union Center. These locations can be seen in the image below.
When McLaren released the first feasibility study last year, it pegged the phase one construction budget at $17-$20 million, wit annual operating costs of approximately $2.4 million.
____
* It's pretty clear the codes are being used to track how people find the survey. Steer Davies Gleave contacted us last week about the survey because it heard from local officials that AOA's crowd is interested in these sorts of topics. (They're not wrong.) So we got an early heads up it would be arriving this week (and probably how we ended up with our own code). We are not being compensated in any way for posting about it.
Earlier
+ About that idea to connect the train station with downtown Albany via a gondola lift...
+ How we all ended up talking about a gondola between downtown Albany and the train station
Hi there. Comments have been closed for this item. Still have something to say? Contact us.