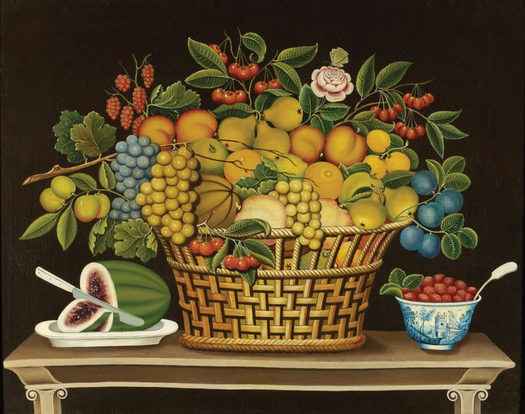 Now is a good time of year to take a drive north, and hey, look, the Hyde Collection has a new exhibit opening: The traveling show A Shared Legacy: Folk Art in America opens this weekend. It includes more than 60 works of art created between 1800 and 1925. Blurbage:
A Shared Legacy celebrates art rooted in personal and cultural identity, made by artists who were either self-taught or had received minimal formal training. Created for ordinary people rather than society's upper classes, folk art was the prevalent art form in the United States for more than a century.
A Shared Legacy showcases the extraordinary imagination and powerful design of regional folk artists, some acclaimed in their day and many now unknown. The exhibited works were made primarily in New England, the mid-Atlantic states, and the Midwest. They include a range of paintings (portraiture, still life, and landscape), sculpture, furniture, and trade signs. Among the paintings are iconic works by Edward Hicks and Ammi Phillips. Exuberantly painted furniture and decorated manuscripts from German-American communities are exhibition highlights.
The exhibit opens to the general public on Sunday, which also happens to be a "second Sunday" free admission day.
While you're in Glens Falls, there are a few other things you might be up for doing.
And, you know, there will probably be some beautiful foliage around there, too.