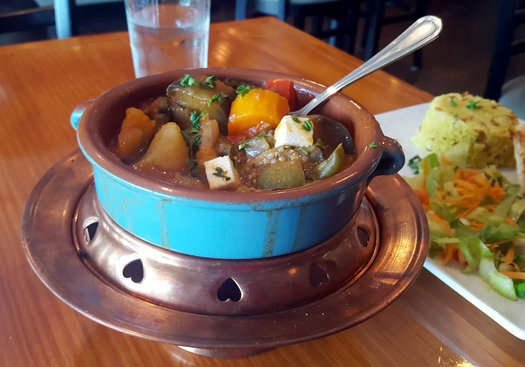 By Deanna Fox
Hey, there you are, autumn!
I've been waiting for you, patiently tapping my foot with arms crossed, hoping you would show up soon. Not that I was getting tired of all those garden tomatoes or anything, but I'm ready for colder weather and hot soup.
Kismet provides.
I was sad to see Bruegger's leave its spot at one end of Madison Avenue in Albany. It was a big part of my college years and I'm a pro at waxing nostalgic, but more than that, I was concerned that another chain would move into that corner spot at the Madison/Western "point" and ruin the vibe of the strip.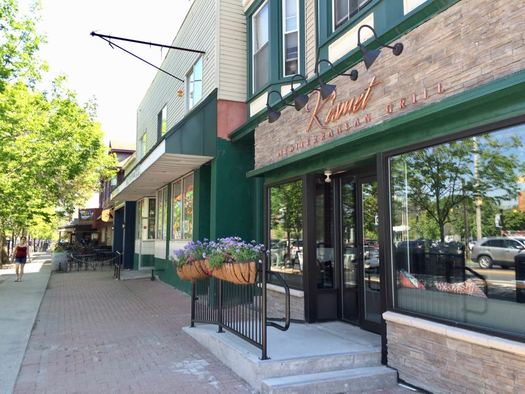 That never happened; instead, Kismet moved in, giving us a restaurant that spans the Mediterranean culinary landscape for a menu that touches on Greek, North African, and Middle Eastern classics. Saffron-tinged rice and lemony salads with a kiss of sweet vinegar are staples. Pita bread is cut into perfect triangles, ready to be dipped in cumin-infused hummus or cucumber-cool and garlicky tzatziki.
Ever since Greg first wrote about Kismet, I've been dying to go. If I had to choose one meal to eat every day for the rest of my life, it would be grilled chicken that's been marinated in citrus and herbs with a big green salad -- just like Kismet offers with its Shish Kebab Chicken ($13), available at both lunch and dinner.
When the weather dips, though, it is warm and comforting soups and stews that I crave. Kismet's veggie stew ($13, with pita, rice, and salad) is a spot-hitter with its warm spices slowly simmered to create flavors that I imagine October would feel like if October was a flavor. Carrot, eggplant, green beans, bell peppers, and potato are cut into a large dice added to a clay pot with chickpeas. A little broth, a little salt, and plenty of time work their magic to create a rich, thick stew that is topped with fresh cubes of squeaky feta cheese and sprinkled with fresh parsley.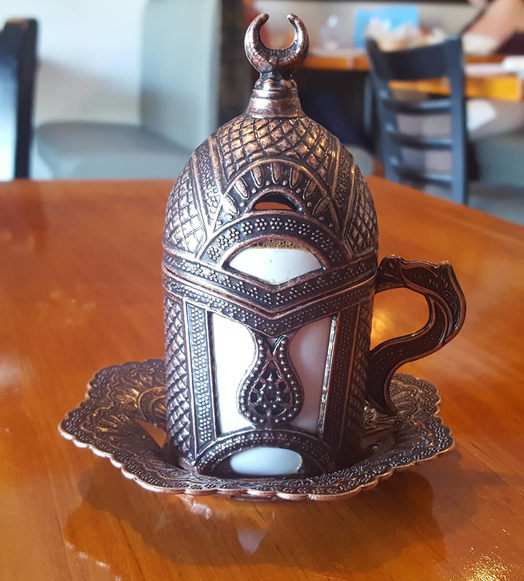 Turkish coffee.
The presentation of the dish is nearly as good as the stew itself: A Dead Sea-blue crock (in which the stew is heated) nestles into a copper warming base. That attention to service is replicated with the Turkish coffee you should definitely order ($3.50), which comes in a copper mug set that looks like a Viking battle helmet.
Kismet's already proven itself to be an outstanding member of the Pine Hills food scene, and it is a rare sight to see the restaurant empty. Stop in soon before it goes the way of Cafe Madison's long wait times.
Deanna Fox writes about many things, mostly about food. More can be found on her website, Twitter, or Instagram.
More Eat This
+ Cereal sundae from Bumpy's Polar Freeze
+ Breakfast sandwich at Wren & Rail
+ Neba Sandwich from Mike's Neba
Find It
Kismet Mediterranean Grill
1116 Madison Ave
Albany, NY 12208
Hi there. Comments have been closed for this item. Still have something to say? Contact us.