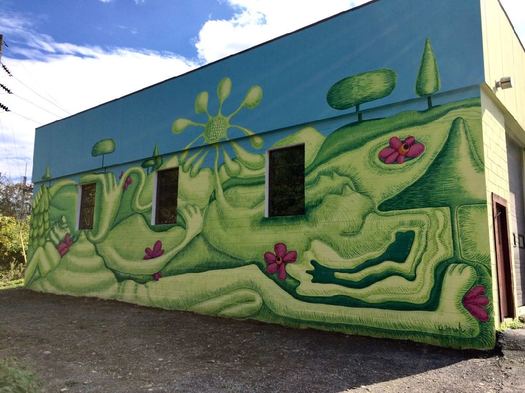 Another quick update on the Helderberg-Hudson Rail Trail mural project in Delmar: The Mohawk Hudson Land Conservancy's Art on the Rail Trail committee selected artist Andrea Hersh to create the mural, and she finished the work this past weekend.
The mural is on the side of a garage building along the trail at Adams Street and Hudson Ave. If you walk or bike that section of the path in Delmar you can't miss it.
A clip from Hersh's statement about the design:
This mural represents a lush and pristine world of imagined creatures, with rolling hills that are part humanoid trees and vegetation. I continually strive to bring balance into my art. I am a person who always sees two sides to every story, balancing family and work, society and solitude, whimsy and cold reality. There are always two sided to every story and although we see the beauty in this image there is the underlying reality of our disposable world.
There will be a formal unveiling of the mural Saturday, October 28 at 11 am. Hersh will be there and there will be refreshments.
By the way: If you haven't walked or biked the rail trail yet, try to make some time over the next few weeks. The path through the Normanskill gorge up into Bethlehem should be beautiful as the leaves change.

Hi there. Comments have been closed for this item. Still have something to say? Contact us.