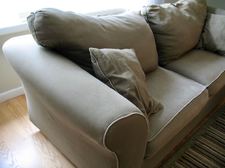 Theresa emails:
I was wondering if you could please ask your readers if anyone knows of a place to get furniture fixed. I have a wooden chair that broke and I prefer to not throw it out.
We had a similar question years ago, but things change. Businesses close. Businesses open. Businesses move.
Also: So much stuff now seems to be made with the intention of being disposable, either by design or carelessness. It's kind of gratifying when you actually fix something and extend its life.
So, got a suggestion for Theresa? Please share! And sentence or two about why you're suggesting a place can be helpful.
Hi there. Comments have been closed for this item. Still have something to say? Contact us.