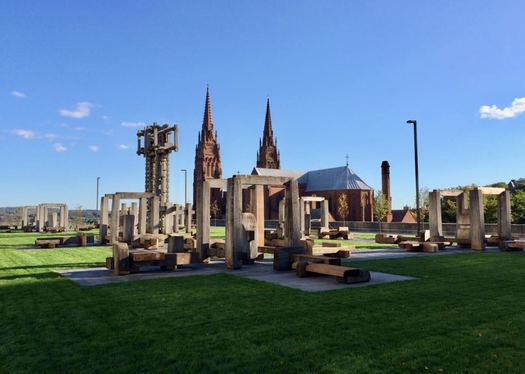 Check it out: The François Stahly Labyrinth has been returned to the Empire State Plaza southwest corner near the Corning Tower. There are a few more photos below if you'd like a look.
The Office of General Services removed the wooden structures in 2015 because they were deteriorating from exposure to the weather. The pieces were shipped off to an architectural and wood conservator in Vermont, where the damaged sections were replaced with the same type of wood, an African variety called iroko. The $400,000 job included about 230 individual pieces.
About blurbage the design by the artist, François Stahly:
Labyrinth is a one of kind object with each piece of wood hand-crafted, numbered by the artist, and designed to fit together like pieces of a puzzle. The sculpture's rounded edges and totem-like tower suggest a primitive form of architecture and stand in contrast to the steel and stone buildings that surround it.
In Labyrinth, Stahly aimed to create a sanctuary for the Empire State Plaza's workforce by constructing "a quiet place in the midst of the stress." The idea reaffirmed [Nelson] Rockefeller's belief that the everyday presence of art increases a person's quality of life -- one of the main reasons why art was chosen to be displayed throughout the Empire State Plaza.
There will be a celebration for the installation's return on Tuesday, October 24 from 5:30-7:30 pm. The event will include African drumming as well as the telling of a folk tale about the iroko wood by a reverend from Zimbabwe. It's free.
Pics
There are a few photos in large format at the top -- click or scroll all the way up.
Earlier: Old trees out, new trees soon

Hi there. Comments have been closed for this item. Still have something to say? Contact us.