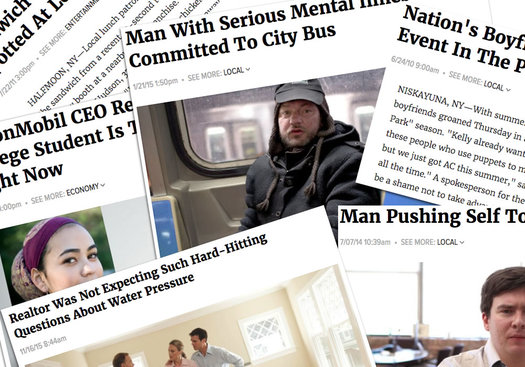 As noted earlier this week when The Onion savagely roasted the Capital Region's pitch for the Amazon headquarters, mentions of this area often pop up in the satirical outlet.
So here are 15 of those mentions, ranked by burn level.
This isn't a comprehensive listing over local mention in The Onion. We turned up at least 30-40 of them, though many are really just generic items tagged with a Capital Region dateline. Albany, Troy, Schenectady, Saratoga, Delmar, Niskayuna, East Greenbush, and Halfmoon all have been mentioned over the years.
Thanks to everyone who suggested or highlighted a story.
Realtor Was Not Expecting Such Hard-Hitting Questions About Water Pressure (Albany 2015)
Key line: "Left staggered and dumbfounded by the unexpected line of inquiry, real estate agent Jeffrey Tindell told reporters Monday he was totally unprepared for a potential buyer's hard-hitting questions about the water pressure in a local three-bedroom townhouse recently listed for sale."
Burn level: Maybe someone forgot an ingredient.
Human Head Found In Hamburger (Albany 2007)
Key line: "An Albany, New York man was surprised to find a human head in his Double Whopper at a local Burger King."
Burn level: Absurdist.
Sandwich From Television Commercial Spotted At Local Restaurant (Halfmoon 2011)
Key line: "Local lunch patrons were stunned Tuesday when they spotted the sandwich from a recent 30-second television commercial occupying the window booth at a nearby Arby's franchise."
Burn level: Surreal.
Guy On Racetrack P.A. Sounds A Little Depressed Today (Saratoga Springs 2001)
Key line: "Gordon Asheton, public-address announcer at Saratoga Racetrack, seemed a bit distant Monday, track regular Brad Herman reported."
Burn level: Heart warming.
Report: None Of Good Cousins Coming To Thanksgiving This Year (Schenectady 2014)
Key line: "In a highly disappointing development expected to put a damper on the entire holiday weekend, sources within the Cunningham family confirmed Tuesday that none of the good cousins are coming to this year's Thanksgiving gathering."
Burn level: Smile emoji.
Nation's Boyfriends Dreading 'Free Event In The Park' Season (Niskayuna 2010)
Key line: "A spokesperson for the nation's girlfriends countered that it would be a shame not to take advantage of the tons of cool-sounding cost-free events, which include a craft fair, an outdoor screening of The Wizard Of Oz, and the appearance of a modestly successful mid-90s alternative band at the Tulip Festival."
Burn level: Mild.
Man Pushing Self To Point Of Effort (Albany 2014)
Key line: "In what impressed coworkers are describing as an unprecedented application of minimal exertion, local office worker Doug Slater is reportedly just about pushing himself to the point of basic effort, sources confirmed Monday."
Burn level: A bit too long outside on a sunny day. (Mr. Dave thought this was a jab at state employees.)
ExxonMobil CEO Really Hurt That College Student Is Talking About Him Right Now (Skidmore 2011)
Key line: "According to sources within ExxonMobil's global headquarters, Rex W. Tillerson, the company's president, chairman, and CEO, was completely devastated Wednesday by what 18-year-old Skidmore College freshman Samantha Huestis was saying about him in her dorm room."
Burn level: Spicier than you might think at first.
Doctor Trying To Get Unemployed Friend A Doctor Job (Albany 2007)
Key line: "Ferris, 34, who attended Syracuse University with Grafton in the early 1990s and graduated with a bachelor's degree in communications in 1999, was reportedly laid off two weeks ago from his job as a TelePrompTer operator at the local CBS affiliate, WRGB-TV 6. Grafton said that attempting to get Ferris 'doctor work' was 'the least [he] could do' for his longtime friend."
Burn level: Toasted on both sides, for the extra dig at Syracuse's often impressed-with-itself communications program.
Cops Cleared On Corruption Charges After Implicating Decorated Police Dog (Saratoga 2012)
Key line: "I felt really conflicted about turning evidence on him, but he was somehow able to steal 18 pounds of marijuana from a bust we worked together and then hide it in my garage, so what was I supposed to do?"
Burn level: Seared.
In Need Of Dedication, Yearbook Staff Sacrifices Homecoming King (Albany 2007)
Key line: "As their deadline drew near and they realized they still lacked an event significant enough to inspire a moving yearbook dedication, the staff of Albany High School's The Annual decided to take action by brutally sacrificing star basketball forward and homecoming king Ryan Edwards last weekend, senior class officials reported Monday."
Burn level: Dark like burnt toast.
Childbirth To Be Area Woman's Least Painful Interaction With Daughter (Schenectady 2006)
Key line: "The near-indescribable pain of a 30-hour labor and the passing of an eight-pound infant through her birth canal will, over time, prove to be the least agonizing part of Virginia Quigley's relationship with her daughter, the 23-year-old first-time mother failed to realize Monday."
Burn level: Morbid, and of questionable taste in the end.
30 Miserable Lives Lost In Greyhound Bus Crash (Albany 2007)
Key line: "In response to the relative tragedy, Greyhound has agreed to donate $200 worth of rolled quarters and greasy, crumpled dollar bills they had collected as bus fare to a local charity. The casualties of the crash will also be memorialized with a small commemorative plaque that will hang at the Albany station, between an out-of-order vending machine and a set of bathrooms where customers can often be heard weeping."
Burn level: Caustically classist.
Man With Serious Mental Illness Committed To City Bus (Albany 2015)
Key line: "Citing a range of severe symptoms including hallucinations, disorientation, and disorganized speech, the Albany County Department of Mental Health said Wednesday that local man Shawn Zellicoff will be involuntarily committed to the 125 Clinton/Sand Creek city bus until further notice."
Burn level: Scorching.
Jeff Bezos' Heart Breaks A Little Reading Albany's Amazon Headquarters Pitch (Albany 2017)
Key line: "'Oh, jeez, you can tell they put a lot of work into this sad presentation--they even provided a concept sketch of our headquarters across the river from their little Amtrak station,' said Bezos, noting that the package, which included a custom-made SUNY Albany Great Danes football jersey with "AMAZON" written on the nameplate, laid out the many ways a new $5 billion campus would benefit from being situated nearby such landmarks as the New York State Museum and The Egg, a performance art center the proposal referred to as 'iconic.'"
Burn level: Thermonuclear and without mercy.
screengrabs from The Onion
Hi there. Comments have been closed for this item. Still have something to say? Contact us.