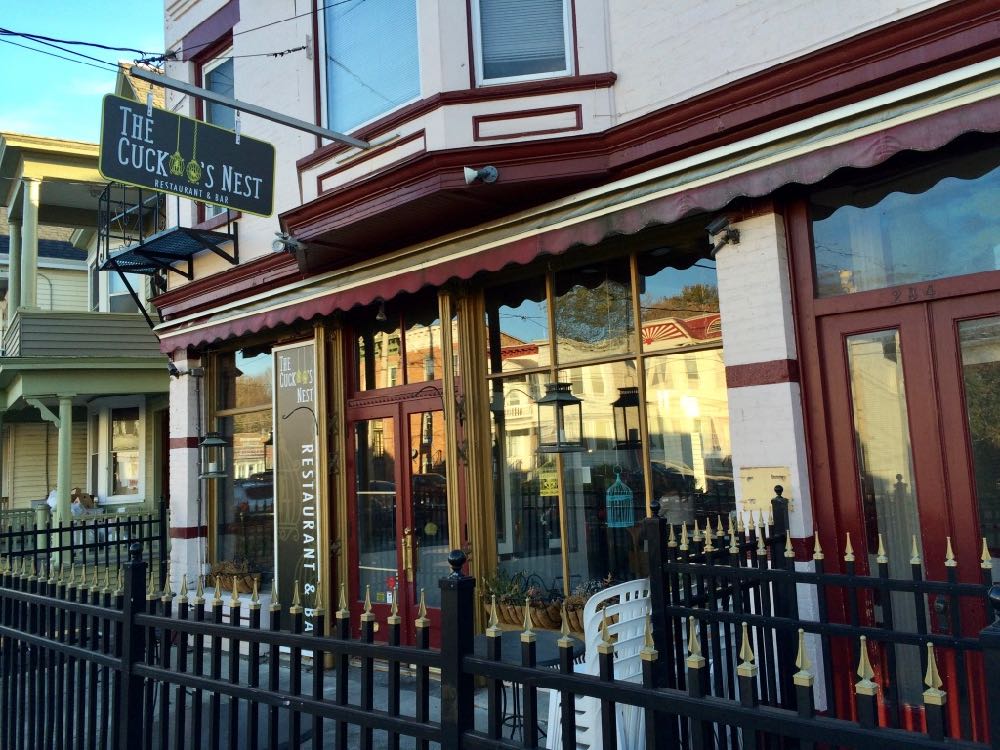 Sometimes the right spot is right across the street.
When Kaytrin Della Sala and Devin Ziemann -- owners of the Albany fast-casual burger shop Crave -- heard that the longtime home of The Gingerman was available again, the opportunity was, as Ziemann describes it, "a no-brainer."
The location is just up Western Ave from Crave, and the young restaurateurs -- Kaytrin Della Sala oversees operations, Ziemann is a chef -- had been thinking about a second restaurant.
So they jumped at the chance. And this past weekend, they opened The Cuckoo's Nest, a sit-down restaurant inspired by Southern cuisine. The menu includes riffs on items such as fried chicken, biscuits, shrimp and grits, and fried green tomatoes.
"It's been pretty much a dream of ours to open this kind of concept, with this look, since before we even opened Crave," said Della Sala on Saturday a few hours before the restaurant's first reservations from the general public started showing up. "So it just means a lot to us to see it come to life."
Photos
There are photos at the top in large format -- click or scroll all the way up.
Talking with Kaytrin Della Sala and Devin Ziemann
Was there an event or a moment that prompted you to think, we should go ahead and open another restaurant?
Kaytrin Della Sala: We always knew it would we would open up the restaurant even before we opened Crave. (laughs) It was just finding the location that worked best for us. Because he's had a couple of different opportunities to partner with other people, we've looked at other spaces where we would do it together. And then we were presented with this location which, with where Crave is located, we couldn't beat it.
Devin Ziemann: It turned out to be a no-brainer. We were debating whether doing another kind of fast casual, small scale thing. But then we decided we wanted to get into the bar game and have a full-scale restaurant. Crave was always for us something that we were passionate about, the comfort food and all that. But I also knew that that was going to be the stepping stone to build to the next level. You know. in my mind we have an empire somewhere down the line. (laugh)
So how do you feel about taking over a space that has meant a lot to so many people for so many years?
Devin: Yeah, I mean I'm honored that we get to keep this tradition going here in Albany. I think it's a gem in the neighborhood. There's not a lot of sit-down restaurants in the Pine Hills area, with parking as well. And then with the history that this building has, [the restaurant] being here for 35 years. And then the decor, we didn't have to do much because the space has got charm already. And then we just had to do a little a facelift to it.
It looks great. It's the same space, obviously. It still has that nice cozy feel, but it feels a little brighter.
Kaytrin: Warmer. That's what we were kind of going for. Bright. Warm. Comfortable. Yeah, I think we nailed it.
So why southern food?
Devin: Well, that goes back to before we opened Crave. We went on one last trip, one last little hurrah getaway, and we went to some places in Miami and we went to a Southern restaurant and we were like this needs to happen upstate. There's nothing like it.
Kaytrin: And then this past year we went to Chicago, New Orleans, Montreal, New York City, back to Miami to the same restaurant we were referring to. And all of our favorite places from all the cities were just so Southern influenced.
Devin: Just really celebrating American cuisine, I feel like the only American cuisine that is steeped in history. You know, it's got the New Orleans and the Southern food -- it's generations and generations and I think we should celebrate that.
Southern cuisine has such a long and complicated history. It means so much to people, especially depending on where they're from. So going into that, how do you make sure that you really pay tribute to that and respect to that?
Devin: So I guess the way I wanted to approach it was to not pigeonhole myself into like, you know, we're North Carolina or we're Texas or we're even Southern. We're inspired by Southern cuisine. But we're taking new approaches to certain things. Like the beet dish -- it's got curry yogurt and dukkah spice. But it's smoked beets. So we're taking some concepts of cooking technique, or the ingredient might be a Southern ingredient, we're just kind of playing with the whole idea of American food and Southern and just using techniques, ingredients, flavor profiles. I don't want to, you know, [for example] say we're south Texas barbecue, you what I mean? We're our own thing.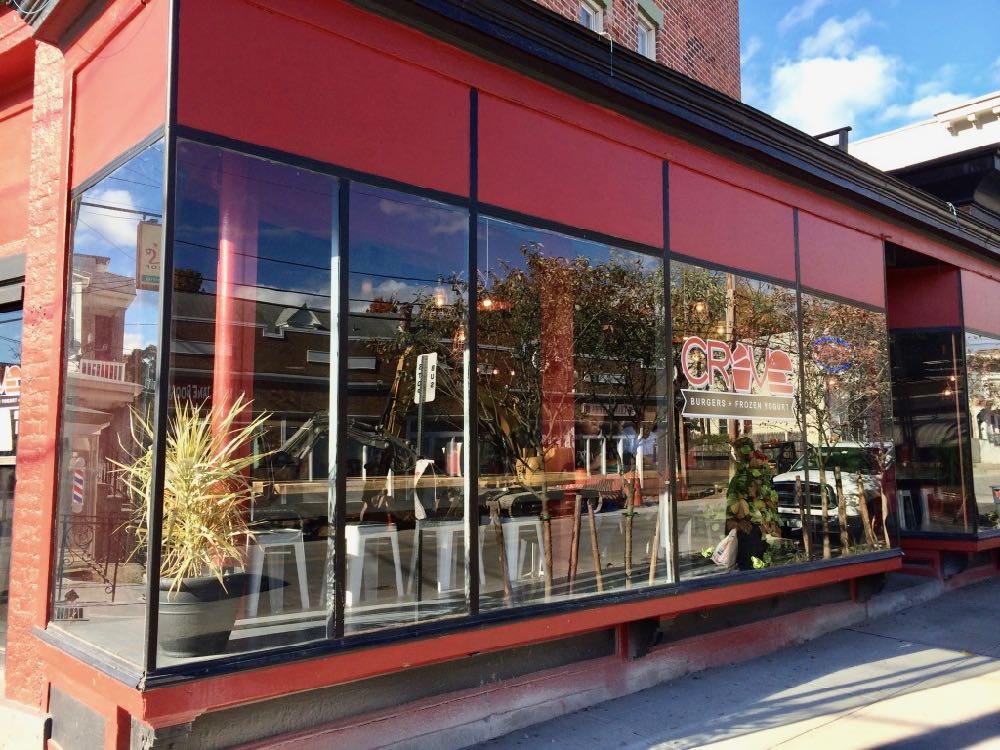 So you've run Crave for about two years -- and on top of that both of you had a lot of experience in the restaurant industry before -- now that you're opening your second restaurant do you feel like you're developing your own style as restaurateurs?
Kaytrin: Yeah, I absolutely think so. I think that we both worked in different restaurants so we've learned a lot from where we've worked. And then when we came together, I think we just worked so well together. And I think the proof [is] at Crave, we've had the same staff pretty much in the kitchen for years. A lot of our drivers, the girls in the front, they stay with us because they appreciate the way we manage, the way we run the business. We're very fair. We're very involved, very hands-on business owners. Even now we're both at Crave several times a day, even while we're opening this place. We don't let issues pile up. We like to take care of things right away. We like to make sure our employees are extremely happy.
Devin: And the customers.
Kaytrin: And the customers! (laughs) But having happy employees makes them want to care about the business. And that's important to us, because it reflects, that's what the customers see. Yeah, we have a little casual burger place -- and I hear constantly, 'Great customer service, great customer service.' And that means a lot to us. We'll carry that over here. We have standards. And I think that we're approachable owners and it makes everyone comfortable, which I think just makes everything fluid.
Devin: But, yeah, I wouldn't be doing this alone. I couldn't do it without her. So there's no way in hell that even anything could have... there would be no licenses, there would be no registers, no nothing.
So do you think you have each learned something about the other by going through this experience?
Kaytrin: Oh, yes.
Devin: She's like a line cook, sous chef extraordinaire now. I'm the one who needs to pick up. (both laughing)
Kaytrin: We both have learned so much and we learn from each other. We have constructive criticism conversations with each other...
Devin: ...daily...
Kaytrin: All the time. We were both I think so trusting with each other that we are able to talk openly about this is lacking or that's lacking or we need to work on this -- we both know it's for the benefit of our business and the benefit of our life and the things that we care about most of all. So I think that we really work well together, for sure.
This interview has been edited and condensed.
____
With Della Sala and Ziemann now split between two restaurants, they both point to the staff of each spot for helping to making things run smoothly. At the Cuckoo's Nest, the is headed up by chef Steve Kerzner -- who's been friends with Ziemann for a decade. And at Crave, it's led by chef Susannah Singh.
"She made it really possible for us to do this," said Della Sala of Singh. "Because without her leading the staff over there, taking over the kitchen, we definitely weren't going to do this if we felt like Crave couldn't stay as successful and consistent."
The Cuckoo's Nest is open for dinner Tuesday through Saturday. And starting this Thursday and Friday it'll be open for lunch. Keep an eye out for brunch in the future, too.
Earlier: The art of creating a burger
Find It
The Cuckoo's Nest
234 Western Avenue
Albany, NY 12203
Hi there. Comments have been closed for this item. Still have something to say? Contact us.