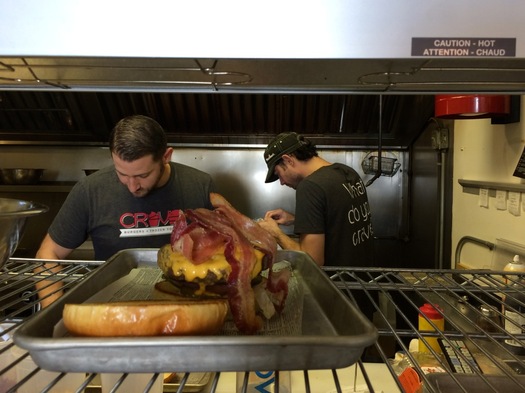 We have a string of burger-related posts this week -- let's call it a fast-casual theme week.
Burgers are burgers -- some places might execute better than others, but when you get down to it, everyone pretty much has the same thing, right?
That's not the case at Crave, which recently opened at the corner of Western Ave and Quail Street in Albany. Co-owners Devin Ziemann and Kaytrin Della Sala have created a menu of more than 20 different types of burgers that spans from the classic American cheese burger, to a lamb burger with curry mayo, to a French onion burger, to a turkey burger inspired by pastrami, to a kung pao shrimp burger.
"We get people in here three, four times a week trying to conquer the menu," says Ziemann, a chef who headed up other kitchens around the Capital Region before he and Della Sala decided to open something of their own. "The list is so big because there were so many [burgers] that we were, like, we can't get rid of that one, it's awesome."
So we thought it'd be fun to have Ziemann walk us through his thought process when creating a burger...
Inspiration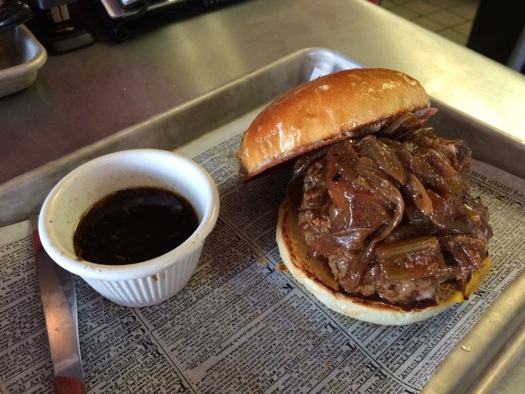 Kaytrin Della Sala, Crave's co-owner and general manager, says the French Onion Burger has become a best seller.
Ziemann says some of the early inspiration for the menu at Crave was looking around at what other burger places were doing -- and then trying not to do that. Because what he wanted, as a person eating a burger, was something different.
"I guess it's not really about what the customers want," he says to us, laughing, "it's about what I want!"
And what he and Della Serra wanted as they brainstormed ideas were burgers that were new and a little adventurous. To do that, he drew on a wide range of cuisines. So the Curry Burger was inspired by Indian flavors, the Sorta Torta from Mexican, the Kung Pao Shrimp Burger from Asian flavors, and so on.
The other source of inspiration: comfort food. And then it's a matter of using the burger as the vehicle to bring those influences together.
"Like the French onion burger," Ziemann explains. "Take the classic, comforting French onion soup and transforming that into a burger by crusting the cheese on the bun so it has that crispy cheese element on the top of the crostini there, and dipping it in the broth, and having the gooey cheese in the middle of the burger that strings out like the cheese in the French onion."
Meat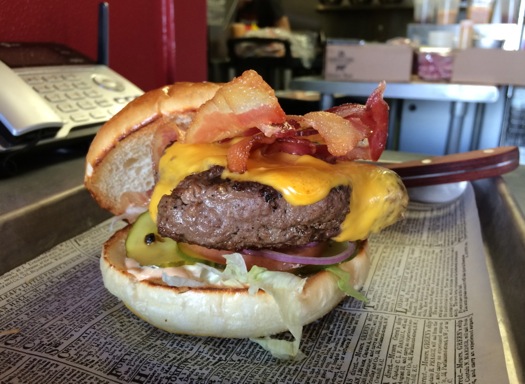 The bacon cheese burger
Custom blends for burgers involving cuts like short rib are popular now with burger spots, but Ziemann says a classic 80/20 (80 percent meat / 20 percent fat) burger grind was the most popular in a taste test with friends. "It's nothing fancy to describe it, it's just got the nicest texture and it's nice and juicy."
Where Ziemann wants to differentiate the burger patties at Crave is in their heft and how they're cooked.
"To me, I want to be able to have a temperature in that patty," he says. "So when I'm picking out the type of meat I want something with a little heftiness to it so I can give people a rare burger if that's what they want."
And the patty -- whether it's beef, or lamb, or whatever -- should have a presence in the burger and not get lost amid the bun and toppings.
"This isn't a drive-thru, dollar menu snack."
Toppings
"I want to incorporate texture, color, and contrasting flavors," he says about how he chooses toppings. "Trying to get salty, sweet, sour, those sort of opposing flavors that make every bite a little different."
He points to the curry burger, with bean sprouts, a little crunch from pickles, a red curry lime mayo, and unsweetened toasted coconut as an example. "Those flavors are classic so you're just adding the textural component to it at that point. The coconut's already in the curry aioli in the coconut milk, so I'm just sort of accentuating that flavor with the toasted coconut."
Bun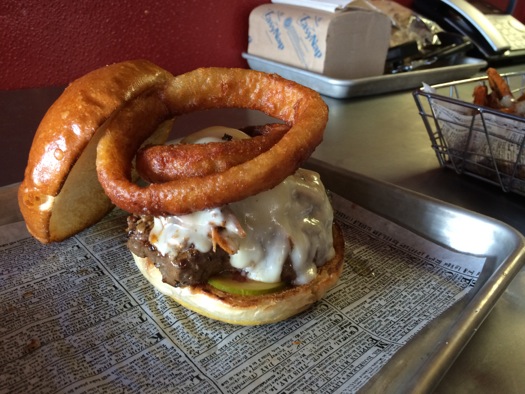 The BBQ Burger is a beef patty with pulled pork, onion rings, pickles, cheddar, and chipotle barbecue sauce.
"The bun, to me, has kind of gotta be magical," Ziemann says. "Because it's gotta be light when you eat it -- you can't be overwhelmed with this bun -- but then in the same breath it has to be sturdy enough where you can pile all these toppings on, cut the burger in the half, and have all these juices everywhere, and the bun still stays together."
Crave uses a bun that Zeimann says is a challah-brioche hybrid that they bring in. (Ziemann says they'd probably make their own fries and buns if they had the space -- as it is, the tiny kitchen is maxed out.)
"I'm using the most expensive bun I can get -- I wish I wasn't," he says with a laugh. "It's what I want to eat. Why would I give someone a burger bun that I don't think is the best?"
The overall effect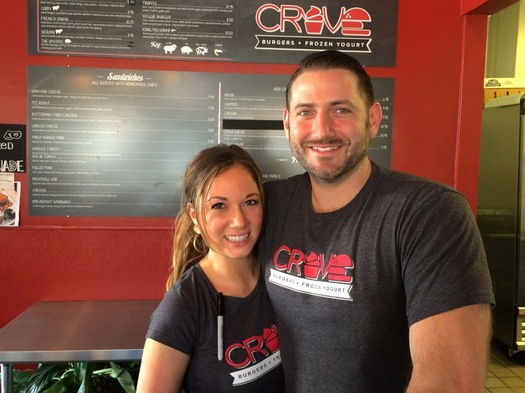 Kaytrin Della Sala and Devin Ziemann
And when all the elements come together, what should the overall effect of the burger be?
"You should be relaxed, you should be full after you eat it, and you should feel good," Ziemann says. "And maybe a little guilty here and there doesn't hurt."
____
Earlier on AOA:
+ The new-school burger chains: fries
+ A tasting tour of the new-school burger chains
+ Drawing: What's your favorite burger in the Capital Region?
Find It
Crave
217 Western Ave
Albany, NY 12203
Hi there. Comments have been closed for this item. Still have something to say? Contact us.