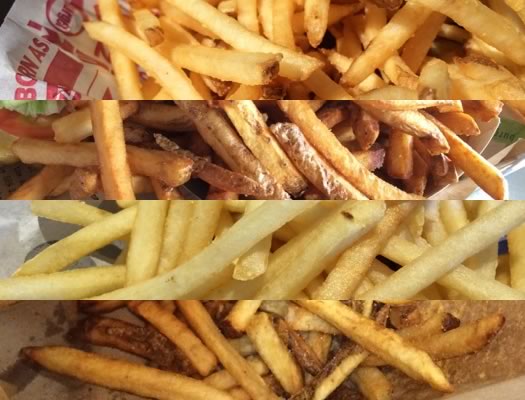 We have a string of burger-related posts this week -- let's call it a fast-casual theme week.
As we made our way along the tasting tour of the new-school burger chains, you didn't think we'd skip the fries, do you? That just wouldn't be right.
And we came to a very important conclusion in doing so. Mainly that, when confronted with mediocre fries, we'll continue eating them even though we know we shouldn't.
As for what we else we learned about fries on this burger tour...
Tasters
Again, our tasters for this tour were:
+ Albany Jane from Albany Eats.
+ Daniel B. from FUSSYlittleBLOG.
+ Jon from Jon in Albany.
+ And Kate Welshofer, local anchorlady.
A quick note about scoring
This tasting tour was all pretty casual. We ordered fries along with the burgers, ate them, and the judges wrote down some scores and notes. The scores for each category are 0-20 (each taster representing a possible 5 points), higher being better. So the highest possible score for fries at each place was 40.
This wasn't a competition -- the scores were mostly just a way of helping to organize and state preferences. There's bound to variation among burgers at the same place. And, of course, taste is very subjective. Your mileage will almost certainly vary.
BurgerFi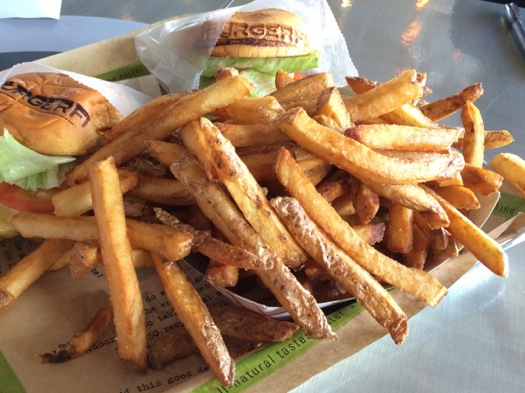 Texture
One taster described the BurgerFi fries as "starchy, crispy exterior, pillowy-soft interior ... but not shatteringly crunchy." And multiple tasters describe the interior as almost having a mashed potato texture. One taster was a big fan: "These are the kind of fries that you eat and say to your dining companion, 'If you touch these, I will kill you."
Flavor
Tasters said the fries had good potato flavor, and were not too oily. One taster wanted more salt. And another would have liked the fries a little more done.
Burger 21

Texture
Multiple tasters said the fries at Burger 21 reminded them of the fries at McDonald's in both appearance and texture. The fries were crispy and thin, and very blond. "Like McDonald's, but not as good ... I think that is the best description," said one taster.
Flavor
The tasters found the fries to be lacking in flavor, with one calling them "pretty bland overall" and another describing them as a "salt delivery device." And multiple tasters noted an oily aftertaste.
Smashburger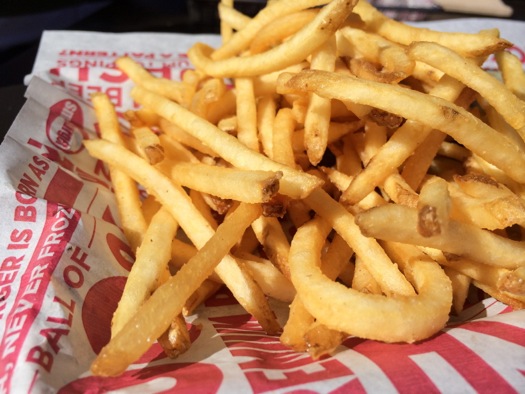 Texture
Tasters described the fries at Smashburger as thin and "very crispy," with "not a lot of interior ... more like crisp potato straws." One said the crunchiness made them "a little addictive."
Flavor
The tasters noted the fries were more texture than flavor, and what flavor was present was a kind of greasy. The fries just sort of seemed to elicit a collective shrug from the tasters.
Five Guys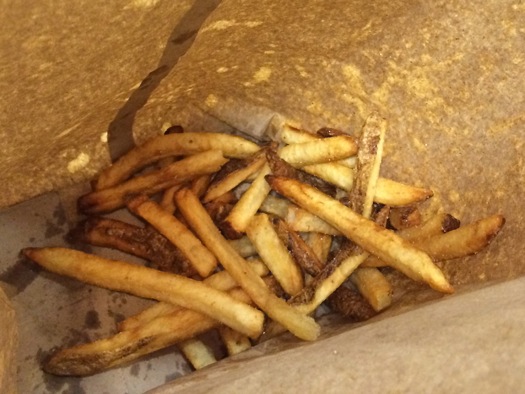 Texture
One taster called the fries at Five Guys "crunchy, yet densely soft." And another taster noted that the fries came out "so hot" and "so crispy," though another noted the crispiness faded relatively quickly.
Flavor
One taster called them "delicious" and said they tasted like "light and fluffy potatoes." Multiple tasters noted the prominent saltiness, with one saying it was just the right amount and another commenting it might have been a bit too much. The tasters seemed to enjoy them. Concluded one taster: "They're great."
Overall thoughts
Now that we're at the end of the tasting tour, some thoughts from the tasters about their favorite burgers and fries from the afternoon:
Albany Jane: "Burger 21 was my favorite patty for the fattiness and juiciness. Smashburger was second, even though there wasn't much of a noticeable crust. But it had the same rich, beefy flavor and juiciness/fattiness, plus a little more salt."
"Fries from Five Guys foreverrrr. BurrgerFi were second. If I were going out for a burger I'd skip the fries and got to Burger 21."
Daniel: "Favorite burger: Burger 21. So juicy. Nice flavor. But it wins on the fatty, tender patty with nice browning on the outside. Ideally, I'd like it on a Five Guys bun, but a good burger has to start with a good patty."
"Favorite fries: BurgerFi. Texture! I've had inferior fries at this location. But today they were fantastic. Under-seasoned fries can be corrected with salt at the table. But crisp-tender fries are why you deep fry potatoes in the first place."
Jon: "Overall, I think BurgerFi was the best. Nice space. Decent burger. And I think the burger would be better ordering on my own instead of a tasting."
"Five Guys -- good fries and burger. The food was better than I remembered it being (haven't been in years). Whole shop felt a little greasy. Not necessarily a bad thing."
"Burger 21 -- fries were weak and burger was very fatty."
"Smashburger -- burger didn't live up to the smash crust advertised. Fries were nothing special. Beef was good, but the rest of the burger was average at best."
Kate: "Overall, it's between BurgerFi and Five Guys for me. BurgerFi wins. It was the burger to beat throughout the day, in my opinion. It edges out Five Guys because of toppings -- overall better and did not overwhelm."
"I also loved their fries and was worried I should have scored them higher than I did. But Five Guys [fries] were just that little bit better."
"Basically, it comes down to this: If you have roughly three hours to burn on a Saturday, grab a few friends and do this for yourself -- judging cheeseburgers will change your life... or, at least, will be an incredibly enjoyable use of your time!"
"PS: I feel like I'm writing the letter at the end of The Breakfast Club -- only it's The Burger Club... or something. (cue Simple Minds...)"
____
And we'll just leave things right on that note. Thanks to Albany Jane, Daniel, Jon, and Kate for coming along on the tasting tour!
Earlier on AOA:
+ A tasting tour of the new-school burger chains
+ Drawing: What's your favorite burger in the Capital Region?
BurgerFi advertises on AOA.
Hi there. Comments have been closed for this item. Still have something to say? Contact us.