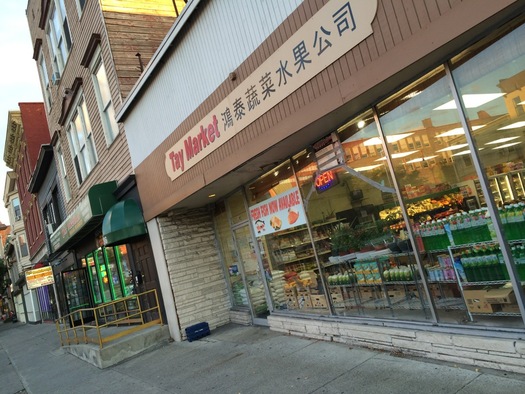 Summer noticed something during Kathy Sheehan's appearance on Fox News last week about "sanctuary" cities that stuck out to us, too:
Clearly Tucker Carlson's assertion that "40% of Albany residents are foreign born" is a made up statistic. But I'm curious... Do we know what the real number is?
Whether Carlson made that number up (possible) or was just confused (also very possible), it is not correct.
The short answer
The number of residents of the city of Albany who were born outside the United States* was 11,283, according to the US Census Bureau's 5-year American Community Survey estimates for 2015. (Margin of error: 1,158). That's 11.5 percent of the city's population. About half of those people are naturalized citizens.
If you're more of a chart person, there's a clickable treemap -- like a square pie chart -- at the top in large format.
(* In this case "outside the United States" does not include people born abroad to a US citizen parent or parents.)
The somewhat longer answer
Here's a breakdown of Albany's population by place of birth from the Census Bureau numbers:
As it happens, the Census has even more recent numbers -- 1-year ACS estimates for 2016 -- that indicate the number of foreign-born residents of the city is increasing. The figure from that set of estimates is 13,920 (+/-2,742). Those one-year estimates have relatively large margins of error, though, so they're worth taking with multiple grains of salt.
That Albany's foreign-born population is increasing wouldn't be surprising. Many refugees have settled in the city over the last decade. And the last few years it has felt like there's a more prominent immigrant presence -- example: the section of Central Ave between Lake and Quail that's full of activity.
Albany compared to other places in the Capital Region
The percent of the population born outside the United States in Albany is relatively high for the Capital Region's four core counties. But it's not the highest rate. A ranking of the top five, according to the ACS 2015 five-year estimates:
1. Schenectady - 14.5 percent (9,514 people)
2. Niskayuna - 14.3 percent (3,143 people)
3. Albany - 11.5 percent (11,283 people)
4. Halfmoon - 10.4 percent (2,365)
5. Colonie - 10.3 percent (8,532 people)
If you just ranked by total number of people born outside the US, it'd be: Albany, Schenectady, Colonie, Troy, Niskayuna, Guilderland.
Earlier
Hi there. Comments have been closed for this item. Still have something to say? Contact us.