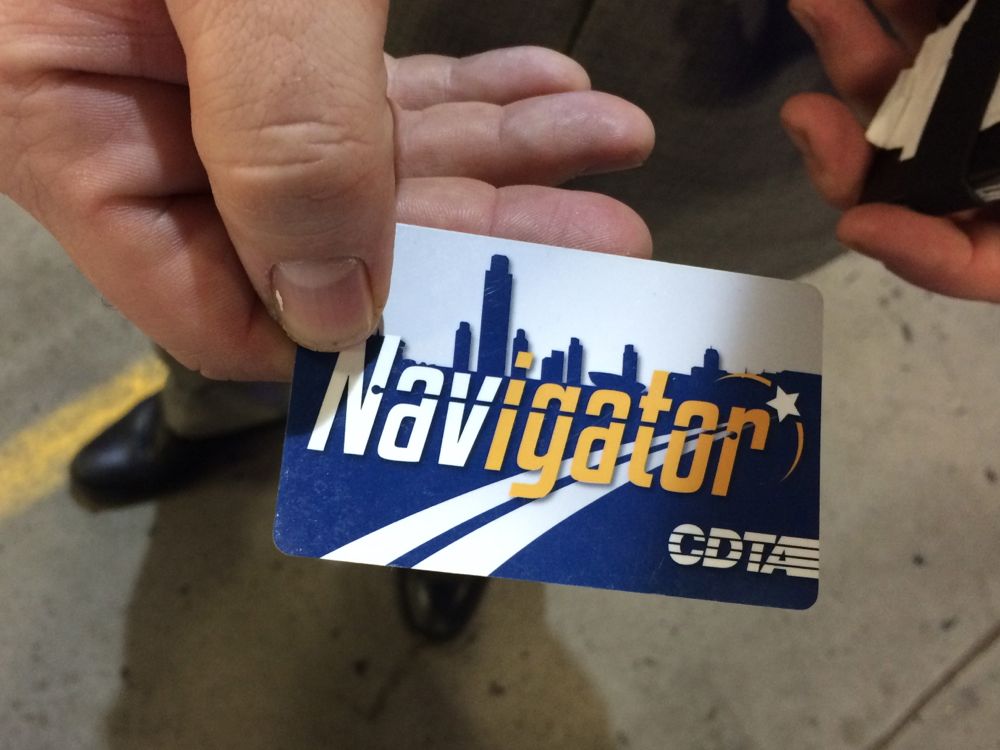 Heads up: CDTA has a big change set for the start of the new year when it will stop selling its paper "swiper" cards.
The move is part of the transit org's transition over to the new Navigator smart cards. Here are a few more bits about what's up...
The end of the swiper cards
As mentioned above, CDTA will stop selling swipers -- "magnetic-striped fare media" -- on December 31. That means no more day cards, three-day passes, ten-trip passes, weekday rolling swiper cards, and 31-day rolling swiper cards. It also means day passes and change cards will no longer be issued on buses. So come January 1, CDTA will be asking customers paying cash for a fare on a bus to have exact change because the machines will not be returning change.
If you have one of these cards -- or buy one before the end of the year -- it will still work through the end of March.
CDTA currently provides about 60,000 trips on an average weekday, according to Jonathan Scherzer, CDTA's director of marketing. Of those trips, he said about half are pre-paid. And of those pre-paid trips, about half of them -- about 25 percent of all trips -- are currently paid via Navigator cards.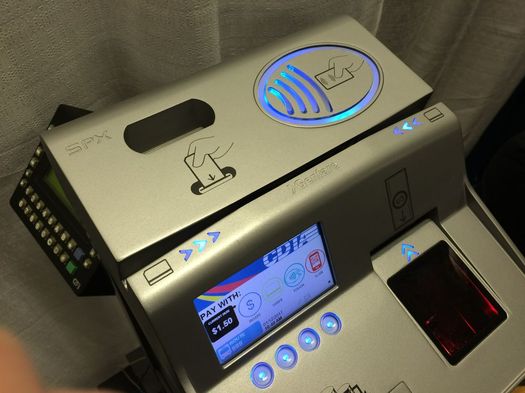 What about "swiping" IDs for colleges or other orgs?
CDTA contracts with a bunch of institutional clients to provide rides for members of those institutions. UAlbany is a prominent example.
The setup for many of these agreements involves members using their IDs to swipe for a fare on the bus. And that will still continue, even after the switch early next year. So if you currently use your institution's ID to ride the bus, that won't change.
Scherzer said CDTA now has more than 20 of these "universal access" clients. And some of them of have been set up with the new Navigator cards for their members.
What about cash?
Yep, you'll still be able to pay cash for a bus ride after the switch.
As much of a hassle handling and collecting all those coins and bills from fare boxes is, Scherzer said CDTA understands it serves a wide range of people and some will want to continue paying that way.
"Cash is always part of the deal," he said.
But, again, starting January 1, CDTA will officially be asking riders paying cash for a fare on the bus to have exact change. Scherzer said CDTA understands there will be transition period, and drivers will be talking with riders so they know what's up and work with them so people can ride.
So, about Navigator cards
All that said, CDTA would very much like people to start using the Navigator cards, which have been in use by the general public for about a year now.
On CDTA's end, the new cards represent a big step forward to a modern, much more flexible fare system. (More on that in a bit.) But the free cards -- available for order online or at 35 retail locations around the area -- also offer a lot of potential benefits to riders. Among them: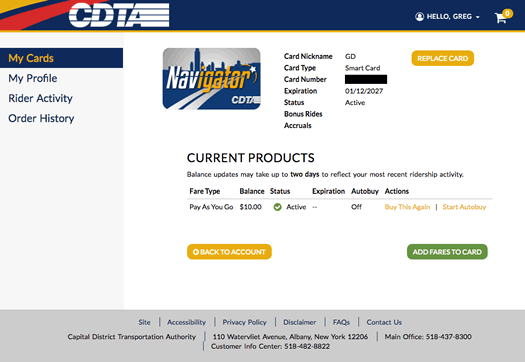 + The cards can be linked to an account with CDTA. So if a card is lost, a person can cancel it and the value attached to the account -- whether it's just a set amount of prepaid money or a monthly pass -- can be assigned to a new card.
+ Multiple cards for a family can be administered through a single account.
+ If a person adds a credit card to their account, an "autobuy" function will automatically renew passes or add prepaid value to a card when its balance drops below a certain level.
+ Rides are cheaper when paid via Navigator -- $1.30 instead of the regular $1.50 fare. The Navigator system also counts a card's rides per day, and tops out at the day-pass level ($3.90) so every ride after that is free for the day.
+ And it's possible to pay fares for multiple people on a single trip with a Navigator card. You just have to tell the bus driver you're tapping for yourself and whoever you're with. (There's a button the driver has to push.)
"We do believe [Navigator card] registration is going to be valuable for customers," Scherzer said this week. "I think the convenience of this program is going to come to bear as we get it out in the market."
We've been using the Navigator for the past year and really like it. An account-linked card is handy if you're someone who rides the bus a few times a week because you can just set up the autobuy function and never have to worry about whether you have cash or a fare card.
That said, there have been a few hiccups here and there. Stuff like a card that stopped working, and getting the hang of running the card over the fare box just so.
Scherzer said CDTA is working to make the Navigator program as simple as possible, and it's continuing to train its staff. He said if people have feedback or ideas about how to make things work better, the transit org wants to hear it.
Comping up: a new mobile payment app
One of the things that CDTA's new fare system opens the way for is a mobile payment app -- in other words, you'll be able to pay a fare by holding your mobile next to the fare box.
CDTA's been testing the app the last few months, and Scherzer said they're aiming for it to be available in the Apple and Android app stores around the start of the new year.
The new app -- which will be called Navigator, and will function like a separate Navigator card for payment purposes -- will have the functionality of CDTA's current iRide app, including schedules, maps, and realtime updates on bus arrival times.
The future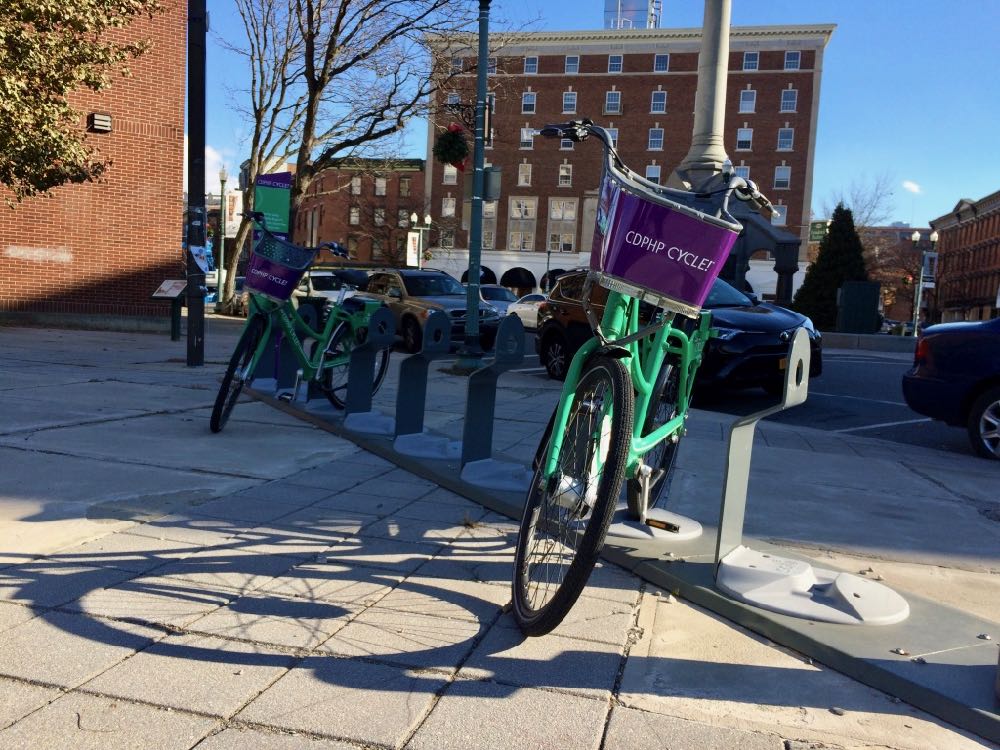 CDTA's long term aspiration is for the Navigator card to be more than just a way to pay for a bus ride. It sees the card as a common platform for paying for all sorts of transportation: buses, bike share, taxis, maybe even ride share eventually.
There are a bunch of details that need to be worked out that make sort of stuff happen. Some of it is organizational and legal -- for example, getting the common taxi system up and running for the Capital Region. And lot of it is technical, making various IT systems talk with each.
But as Jonathan Scherzer said this week, "In a perfect world, in 10 years the Navigator card is how you get around the region."
Earlier
+ CDTA's new fare smart cards are now available
+ What's next for the CDPHP Cycle bike share
CDTA advertises on AOA.
Hi there. Comments have been closed for this item. Still have something to say? Contact us.