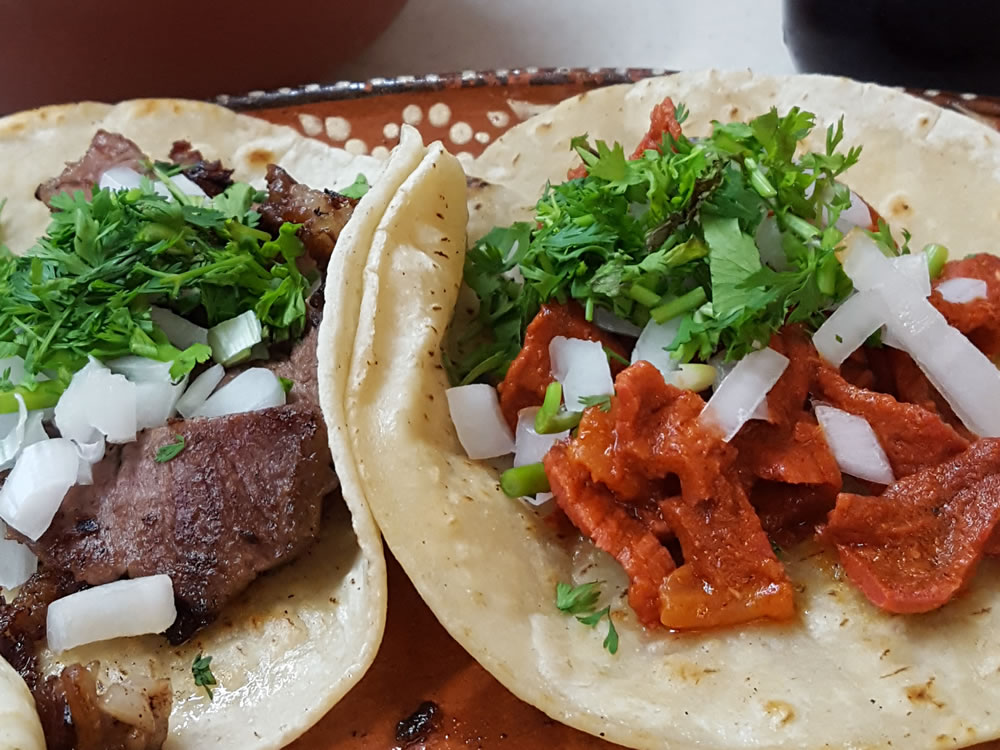 With 2017 about to end, we're talking with people about favorite/interesting things from the past year.
And, as is tradition, we asked a bunch of people around the online Neighborhood about their favorite local foods or drinks from the past year.
Mr. and Mrs. Smith, an ox tongue and tripe appetizer with chili oil served at Shu Chinese Restaurant in Guilderland. A surprisingly accessible gateway to all sorts of offal cuisine. Hats off (not to mention noses and tails) to our local diners for embracing more adventurous eating.
My favorite local food that I ate this year was the salad with sprats at My Dacha Slavonian & European Cafe. I go to a lot of restaurants, and it's not often that I don't know what to expect from a dish or that something completely surprises me. This salad accomplished both. The presentation was interesting, the flavors were really unique, and it was undeniably delicious. There were layers of vegetables, pickles, eggs, mayonnaise, and tiny smoked fish - not something that would normally jump out at me on a menu. But I can't stop telling people to go check this place out and to order the salad with sprats because it is just so interesting and unusual. I don't think there is anything else like it in the Capital District.
The injera ($27) at Umana. Served nightly, this is definitely a dish to share (burp), and it is not for the faint of heart. Colorful, creative, flavorful and kickbutt spicy (just like me). Exotic and delicious.
Hands down, without any doubt, the best thing I've chewed on this year has to be the tacos al pastor from Oaxaquena Triqui in Albany. I dream on cold winter nights about these tacos. In fact, there's a part of me that winces with potential regret for letting other people know about these sublime pineapple and adobo phenomenons, but Deanna's already let the cat out of the bag.
2017 is the year I welcomed another food enthusiast -- my daughter -- into the world. The first solid food I fed her was an apple from the tree in our yard, and since then it's been a fun adventure of new foods. Dining out has been less prominent this year than in years past, but I treasure the heart warming meals I've shared with friends as I navigate a new landscape.
I did two unorthodox things this year:
1. I convinced my now husband into having a surprise wedding.
2. We decided on Peck's Arcade as the venue.
Not only had we never eaten at Peck's Arcade, we could not choose the menu for this special occasion -- further proof that I'm not just a Type A kind of gal. We had both heard wonderful things about their food and service, so we decided to just go with the flow (as long as they did offer a vegan meal for the bride). Best decision ever! That meal was probably one of the best meals I've shared in years -- and something that our family is still talking about! My dad (a meat and potatoes kind of guy) ate raw, shaved Brussels sprouts for goodness sake! I particularly remember the warm winter pasta with vegetables and the course of mixed mushrooms. The rest of the family enjoyed the grilled octopus, braised short ribs and creamy polenta. I can't give you their specific names because I didn't choose them from a prefixed list, and that's the way I'd like to keep it: our little secret if they return to the menu next February.
Silvia from DelSo
The coconut cream pie at Mio Posto, 200 Lark St. This dessert is one that I've actually dreamed about it. The toasted coconut contrasts with the creamy and ever-so-slightly tart filling magnificently. The crust is crisp and the sweetness perfectly balanced. You want this.
Out of all the stand-out meals I've had this year, the Molten Lava Cake from Daley's on Yates pre-opening press event stood out above the rest. This was delicate, rich and the perfect combination of cake, a brownie and fudge. Basically a chocolate lover's fantasy. This was certainly the best thing I ate all year, and maybe in all of my life.
I've spent a lot of time traveling away from the Capital Region recently. Being gone has made what I miss more clear. Since the Nine Pin cidery opened I have loved their beverages. Even more so - the people that run the business care about the community. Clearly demonstrated in their commitment to local sourcing and ever-rotating flavors. Always keeping the taproom fresh with fun collaborations, events, and challenges such as becoming a 26er. I especially appreciate this business around the holiday season, as cans are often a stocking stuffer for my luckiest friends and family. Flavors such as cidre rose and blueberry peach cobbler have been fun, but my solid is always the core ginger variation, crisp and in-your-face good. It's the best drink I've had this year, last year, and next year. Nothing makes me feel more like home than the apples picked in my backyard transformed into the most delicious boozy treat.
It has been tricky narrowing down what my favorite bite of 2017 was. We had a pretty hectic year - often turning to quick, comforting food (The Bacon Cheeseburger sub at The Submaker, the Duckin U Calzone at Rusty's, Pepperoni & Onion Pizza (not COB) at Red Front all come to mind). But I think the one thing that resonated the most with me was a BLT that I had at Burger Den in Cambridge.
After moving to Vermont we decided to keep our CSA -- which had a pickup in Cambridge, close to where my mother lives. We arranged it so that we could pick up two shares every other week and met my mother for dinner after each pick-up. There weren't a ton of options in the area and we often found ourselves at the local favorite -- Burger Den -- which has an impossibly large menu of diner-style food. I'm pretty indifferent to the place -- happy to go but wouldn't tell anyone to go out of their way -- but this BLT was just about as perfect as they come.
It was towards the end of September when we had that weird late season pop on tomatoes (after a season of mediocre ones). They were thickly sliced and seasoned aggressively with salt and pepper. The bread was toasted just enough to provide the right texture but not destroy the roof of your mouth and slathered in what I would call the "right amount" of mayo (enough so that it is actually part of the sandwich, not just there for function). The bacon was crisp and not too thick -- easy to bite, offering just a hint of sweet, porky smoke. This wasn't good bacon, but perfect for this BLT. Altogether, the sandwich was greater than the sum of its parts and something very special.
It's also worth mentioning some great bites we have had in Vermont: The unpasteurized cider at Scott Farm in Dummerston -- something so wonderful we would stop at the farm multiple times a week to pick it up. The impossibly rich eggnog from McNamara Dairy in Plainfield, New Hampshire (which we buy in Brattleboro). The pastas at SoLo Farm & Table. But overall the best thing we have had in Vermont would be the Chicken Salbutes at Three Stones in Brattleboro -- which were such a breath of fresh air after a summer of "Vermont Style" tacos. The fresh pressed and gently fried tortilla provided such a beautiful texture -- lightly crisp exterior, chewy inside, and with a wonderful toasted masa flavor. The toppings were all great, but I would happily eat a stack of these tortillas with just salsa.
"The" Burger at Roux. A sorta Big Mac clone. Two thin but large and well-caramelized patties, American cheese, onions, pickles, lettuce, and "fancy sauce." It's a sloppy, juicy, intensely flavorful burger and the best burger I've eaten in the area yet. And thankfully, it continues to be on the menu despite a chef change a few months ago.
Well, it's not 100 percent local but I have been enjoying sipping my bottle of One with Life Tequila. While it is made in Mexico the company is based in Saratoga Springs. I stumbled across the brand while shopping for Thanksgiving booze. This is not "bracing yourself by licking salt off your hand and erasing the taste by chomping a lime" tequila. I'd argue it's too good to mix in a cocktail and should be sipped on its own. But if you must make a margarita with it, make it from scratch instead of using a jug of cheap mixer. If you enjoy sipping tequila, this "local" tequila is definitely worth a try.
2017 was the year I discovered the smoked breakfast sausage from Chester's Smokehouse. While I've been a fan of their spreadable liverwurst, smoked blue cheese, and beef jerky I had no idea they had a smoked breakfast sausage until April 30, 2017. This was the day Chester's Smokehouse, in partnership with Yankee Distillers, brought their wares to an Official Yelp Event in Clifton Park. They had made a special batch of smoked breakfast sausage using the distillery's bourbon. And wow. I was in love.
The smoked breakfast sausage became part of my regular order at Chester's. They made it to a school picnic for my daughter. I brought several pounds on summer vacation when we rented a house with a couple other families. Because they are smoked, they are already full cooked. And when you have to feed lots of people, it's amazing to have something so delicious that's heat and serve. Most of the time, I wouldn't even heat them, and would be very happy to munch on a link cold from the fridge.
These delicious -- and super easy to prepare -- links also made an appearance at the brunch after my son's bar mitzvah. For the occasion, I did as Chester's advised, and warmed them in a crock pot on low, with just a little water in the bottom of the machine. Man, as good as these are cold, they are even better hot. The interior fat softens up, the casing gets dry and tight, and biting into one will produce a satisfying snap, followed by a juicy burst of well seasoned and smokey pork fat.
As far as I know, Chester's is out of the bourbon-spiked breakfast sausages. However, their regular smoked breakfast sausages are still one of my favorite things to eat in 2017.
Hi there. Comments have been closed for this item. Still have something to say? Contact us.