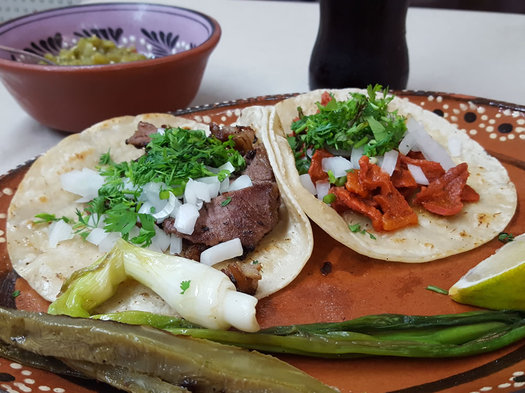 By Deanna Fox
Jerry Garcia was right: "Once in a while you get shown the light in the strangest of places if you look at it right."
Sometimes it does take looking in an unlikely spot to find the best things... like tacos.
I think we can all agree on the culinary superiority of tacos. Combining major food groups into a portable, satisfying, wholly-delicious meal makes tacos the perfect food. Find me one person who doesn't like some version of a taco and I will find you 100 more to counter argue that point.
And then let me take that one person to Oaxaquena Triqui, a tiny tacqueria sandwiched between a Mexican bodega and a can redemption center in Albany. The tacos there are cheap and made from scratch, freshly flavored, and served up quickly with a smile.
Honestly, how can you do better than that?
Oaxaquena Triqui is inconspicuously located on the corner of North Lake Avenue and Bradford Street, north of Washington Park in Albany. A half-block away is Sovrana's pizzeria, which for years has been a shining beacon in the neighborhood's food scene.
The tacqueria ios easy to miss, with nary a sign and only a few Mexican tchotchkes in a front window to indicate the storefront's purpose. Venturing inside is a delight. Griselda, the owner, greets you with a warm "Hola!" before taking your order at the register. The menu is located behind the grocery shelving and tucked in front of a pass-through window.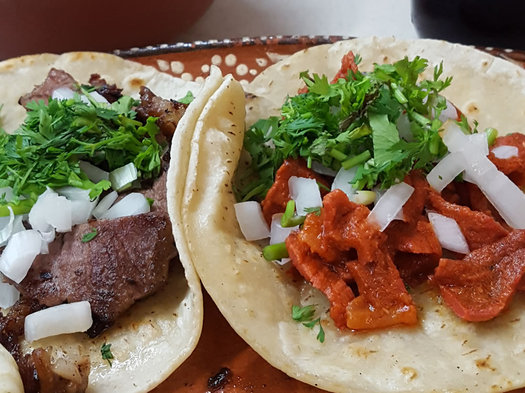 Go for the tacos. Al pastor, lengua, chopped beef, or chapulines (which I learned are tiny spiced, crunchy grasshoppers tossed with lime juice) are the protein options. All are served on a corn tortilla with lime wedge, cilantro, fresh onion, and a generous helping of tomatillo salsa in authentic Mexican pottery. Grilled scallions and cactus are served on the side.
I had pork and steak tacos with a few chapulines on the side. Flavors are indicative of Oaxaca, the southern Mexican state; warm, slightly spicy, tinged with citrus, cumin, chili, but never contrived. This is rustic, country cooking, done by Griselda's husband. (And how were the grasshoppers? Crunchy... and not really something I need to eat again.)
The tacos, paired with a Mexican Coke, were less than $10 all together.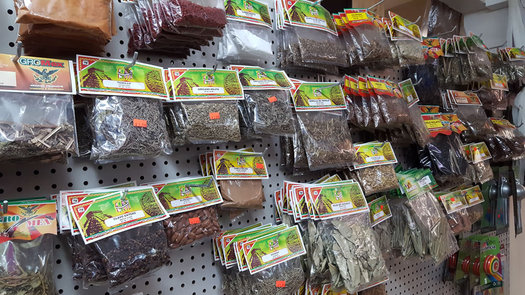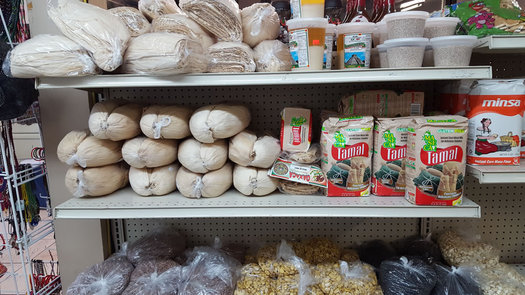 The tamarind popsicles in the freezer case by the door looked tempting. There were close to a dozen interesting flavors to choose from. And try buying your spices here, too, which are examples of the seasoning used in the tacos.
Oaxaquena Triqui is also a means to a better life. Griselda tells me they opened the store and restaurant as a chance to send their daughter to college, uncertain of how to provide a better future otherwise.
The establishment is not yet a month old, so be courteous if flaws appear, but go, and go often. This sort of mama and papi joint is fading fast.
Oaxaquena Triqui offers more than a tasty lunch. It's a reminder as to why America is so, so good.
Deanna Fox writes about many things, mostly about food. More can be found on her website, Twitter, or Instagram.
More Eat This:
+ Chicken spiedies at Excelsior Pub
+ Blackened Fish Po'Boy at Hooked Seafood Co.
+ Burgers at Crave
+ Coconut cream pie at Restaurant Navona
Find It
Oaxaquena Triqui
77 North Lake Ave
Albany, NY 12206
Hi there. Comments have been closed for this item. Still have something to say? Contact us.