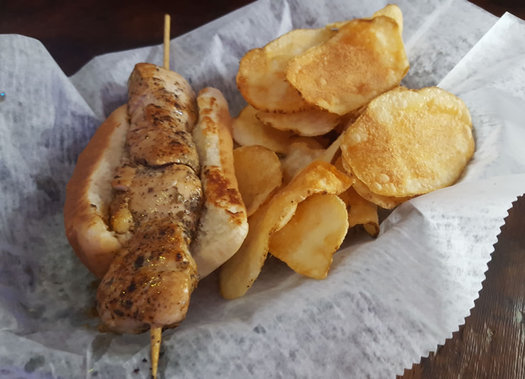 By Deanna Fox
I recently had a conversation with two chefs transplanted to this area from Manhattan. When I asked them what they thought of the Upstate food scene, they answered exactly how you think they might: "There is no good food scene outside of New York City."
I'm pretty sure my immediate reaction was an audible "pfffft" and an eyeroll so strong it shook leaves from trees.
Of course they would say that, stuck inside a tony restaurant for hours upon hours, without any chance to scope out what's unique about the food landscape here.
Fortunately they wouldn't have to travel far to sample the best parts of Upstate cuisine. Excelsior Pub, which reopened a year ago in Albany after a lengthy hiatus, serves up only New York State-produced wine, beer, and spirits -- with a food menu that hits the hallmarks of Upstate eats: Beef on weck. Hoffman's hot dogs, Buffalo wings, garbage plates.
Not to be left off the list is chicken spiedies. Not quite a sandwich and yet not something completely different from a sandwich -- sort of like a hot dog, or maybe a gyro, wherever that falls on the sandwich spectrum -- chicken spiedies are a true taste of Southern Tier food.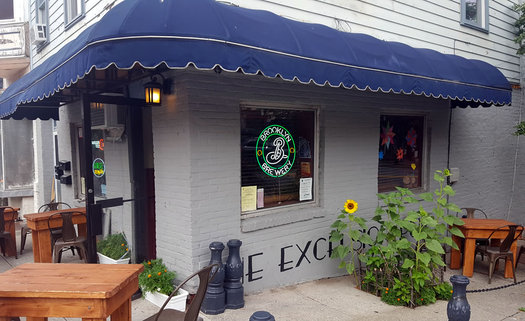 Excelsior Pub serves up chicken spiedies on a hot dog roll ($4), as most who have enjoyed this meal would recognize. Big, juicy cubes of breast meat are marinated for hours in a vinegar-based dressing, akin to the Cornell-style barbecue chicken also prominent in the Central New York area. Pronounced flavors of black pepper, lemon, and oregano mean that no sauce or other condiment is needed on this not-quite-a-sandwich sandwich. The meat is juicy enough on its own to manifest adequate bread-to-meat-to-moisture ratios.
And you can't go to Excelsior Pub without ordering off the impeccable beer list. For all those local craft beer naysayers that claim nothing good comes from the Upstate beer scene, here's your chance to drink your words. Excelsior Pub's rule of thumb for the draft list is that it will not repeat the same beer twice in a row. That means an ever-changing beer lineup that pulls from all corners of the state. To wit, the beer list on the website dates to July 5, and on my recent visit, I can't remember any of those beers being on the tap list.
(Note: Budweiser cans are available at Excelsior Pub, but since technically that beer is made in Syracuse, we'll overlook that.)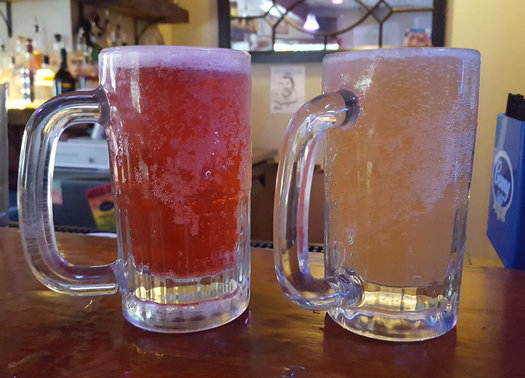 Another bonus of the draft list here is the option for a McSorley-style pour, which is basically slang for ordering two slightly smaller beers at once at a set price (in this case, $7). The name comes from McSorley's Old Ale House in NYC, where drinkers are basically limited to "light" or "dark" beer. (Kudos to Jay Bowers, Excelsior Pub's owner, for not making city-folk feeling too far out of water.)
At Excelsior Pub, mix and match and beers from the draft list you'd like. I went with Buffalo-based Resurgence Brewing Company's Lingonberry Loganberry Wit, a fizzy magenta-colored beer (hard pass) and Elizaville-based Sloop Brewing's Confliction, a tangy and sour gose (definitely order). Heck, drink them together in measured sips (as I ended up doing) to create your own unique drink.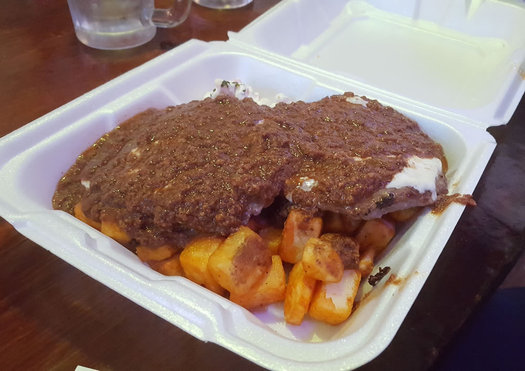 A garbage plate.
Other things to order at Excelsior Pub? The garbage plate ($9.99). My friend Craig, an expert on the subject of garbage plates (if only because he attended college in Rochester, where garbage plates originate), was skeptical at first of the GP's authenticity but quickly declared them a worthy recreation. (Skip over the deep-fried cheesecake, though. Frozen triangles of cinnamon-tinged dairy seem like a pity to eat (or serve) when Cheesecake Machismo is just a few blocks away.)
Upstate New York might not have the best fine dining options, we could all agree on that. Of course, there are stunning examples of noteworthy, innovative food speckled across the state, but for the most part, our true food culture lies in those items born from circumstance and necessity, making the best we can from what we have. Culture, immigration, and availability gave us chicken riggies and frozen custard, spiedies and hoppy beer. That's something any open-minded chef should be able to appreciate.
Deanna Fox writes about many things, mostly about food. More can be found on her website, Twitter, or Instagram.
More Eat This:
+ Blackened Fish Po'Boy at Hooked Seafood Co.
+ Burgers at Crave
+ Coconut cream pie at Restaurant Navona
+ Pulled pork plate at Middleburgers BBQ
+ Buffalo wings from 20 North Broadway Tavern
Find It
Excelsior Pub
54 Philip Street
Albany, NY 12202
Hi there. Comments have been closed for this item. Still have something to say? Contact us.