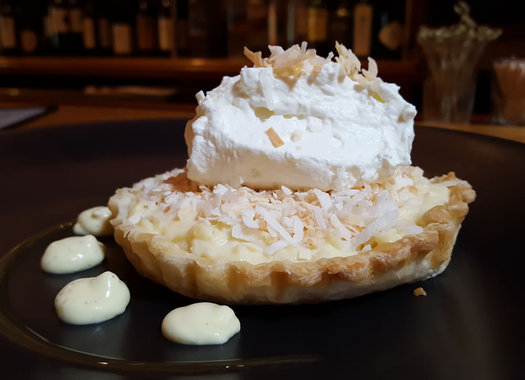 By Deanna Fox
Looking back through my entries in the Eat This archive, it seems that many of the things I suggest you go eat start off with me stating my distaste for that item as a whole. Frozen yogurt. Pastrami sandwiches. Salmon and bacon. This post isn't going to be much different.
I don't really like cream pies. Something about the texture always throws me off. I mean, I like pudding well and fine, but so many times I've had cream pie (banana, chocolate, coconut) that err on the side of flan or gelatin more than silken custard. And that's just not something I want to put in my mouth.
The first time I was offered a bite of the coconut cream pie at Restaurant Navona in Albany, I hesitated. I didn't want to cap the delightful meal I just had with something that would just put me in a cranky mood for the rest of the evening, perpetually disappointed by cream pie.
But this coconut cream pie isn't anything like I expected, and that's a good thing.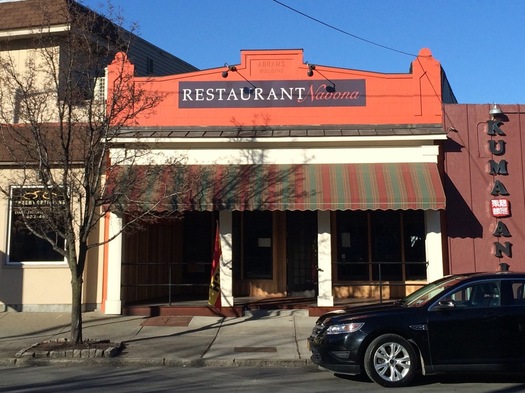 The coconut cream pie at this New Scotland Ave spot tastes more like some unfrozen solid-state creme anglaise that's been spiked with toasted coconut. Rich, smooth, and only gently sweetened, the custard is simmered with coconut for a subtle yet noticeable coconut flavor. It is perfectly thickened -- the product of patience, a good whisk, and the extra step of using a chinoise to strain out any stray bits of curdled egg.
The custard is mounded into a mini-pie crust shell of pate brisee that is tender and flaky, an all-butter version of a great pie crust. The shell is blind baked first, which keeps the bottom from getting soggy and maintains a balance of textures. For additional flavor and texture, toasted shards of coconuts are scattered on the pie and plate.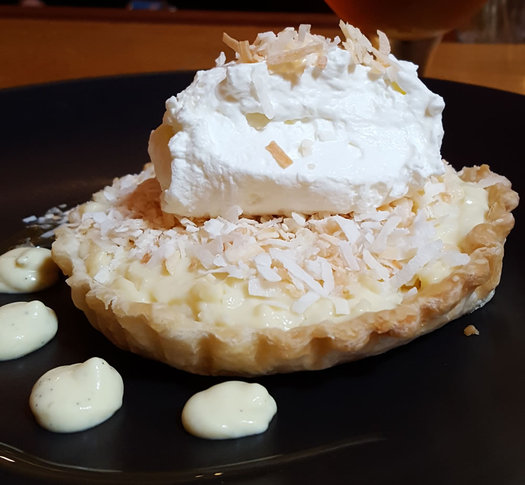 Final touches include the lightest, most flavorful dollop of whipped cream I think I've ever had. It was airy, but still someone maintained a round and rich mouthfeel -- not quite butter, not overwhipped, but also not a runny spoonful of cream that had a whisk run through it a few times. And a vanilla bean creme anglaise was placed on the plate in artful dots. (The tiny black vanilla bean seeds were visually appealing, especially against a black plate.)
I am told that Navona is considering changing the format of this pie to the format of a cream puff: Cream puff shell with the coconut cream filling piped into the center, garnished with toasted coconut. That sounds well and fine, but I hope the coconut cream pie, as it is, becomes a menu staple that serves as a staple in the local food scene, like the cotton candy at Jack's Oyster House, or Purple Haze shrimp at New World Bistro Bar.
I ordered a pint of New Belgium Citradelic beer ($6) for a nice midday pairing, bringing the total bill with generous tip to $20.15.
Deanna Fox writes about many things, mostly about food. More can be found on her website, Twitter, or Instagram.
More Eat This:
+ Pulled pork plate at Middleburgers BBQ
+ Buffalo wings from 20 North Broadway Tavern
+ Hot Plate from K-Plate at Troy Kitchen
+ Ice cream slider at Kurver Kreme
Find It
Restaurant Navona
289 New Scotland Avenue
Albany, 12208
Say Something!
We'd really like you to take part in the conversation here at All Over Albany. But we do have a few rules here. Don't worry, they're easy. The first: be kind. The second: treat everyone else with the same respect you'd like to see in return. Cool? Great, post away. Comments are moderated so it might take a little while for your comment to show up. Thanks for being patient.