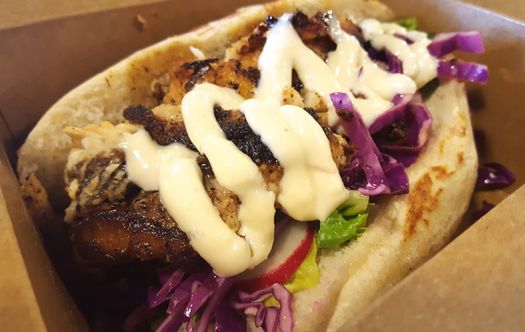 By Deanna Fox
Some people say the Capital Region food scene is behind the times, a decade behind the trends in major metropolitan areas like New York City and San Francisco.
That might be true. I think the decade span is waning, though, as social media keeps us connected to the food of elsewhere with unprecedented speed. Nevertheless, I don't mind if we are behind the curve a bit, for it keeps us from going through the same growing pains and trial-and-error slip-ups that more risk-tolerant, innovative cities experience.
Take food courts, for instance. Why not let people like Corey Nelson (of Troy Kitchen) or Richard Rosetti (of Galleria 7 Market) go and suss out what does and doesn't work other places so we can benefit and keep our bellies full of good food here?
A recent lunch at Galleria 7 Market, in Latham, cemented that thought for me. Just gazing into the oyster case at Hooked Seafood Co., which operates from the market, delivered me the option to try a fresh St. Simon oyster -- a perfect amuse bouche and gentle enticement to a lunch of blackened fish on a fresh roll.
Hooked Seafood Co. -- just to the left of the entrance when you walk into the market -- is one of the newer fishmongers to join the Capital Region purveyor scene. I'm told the fish comes in from Boston daily (that's a very broad claim and yes, I'm looking into that), but everything looks fresh and clean. The oyster selection alone would have me coming back -- that St. Simon I was offered was rich, buttery, and tinged with briny notes, as if the flesh were the treasured pearl itself.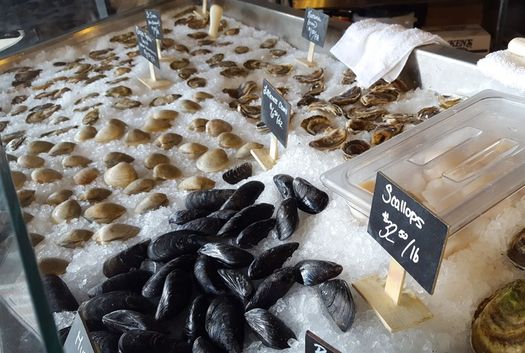 The display cases are easy to spot, but look one stall over -- past the freezer of housemade soups, chowders, and fish bits -- and you'll find the ready-to-eat restaurant section of Hooked. A succinct menu of fish and chips ($10) or lobster rolls two-ways ($15 for the cold version with tarragon mayo, $16 for the hot version with browned butter vinaigrette) is complemented with a specials menu of daily sandwiches and items like scallops Rockefeller tacos.
But the "build your own" option is what led me to this blackened fish po'boy. First, choose your vessel (field greens, lettuce cups, corn tortillas or a soft po'boy roll), then your protein (which is how your meal is priced -- choices range from blackened daily fish to seared scallops to fried oysters), add up to three toppings, and then dress with a sauce of your choice.
I opted for the $9 blackened daily fish (halibut) on a po'boy roll with sliver-thin radish, crisp romaine, and crunchy red cabbage slaw, generously slathered with ginger sesame aioli. The fish was tender and moist with a charred spice crust -- delicate, but flavorful and able to withstand the otherwise overwhelming bread and veg. (That is, it was a lot of bread.)
Altogether it was more sandwich than I could pack into my hollow leg at lunch without falling victim to the afternoon "I ate too much and now I'm sleepy" slump. But it's a sandwich I would surely return to again, if I can manage to resist the temptation of the tacos, fried oysters, or other delights.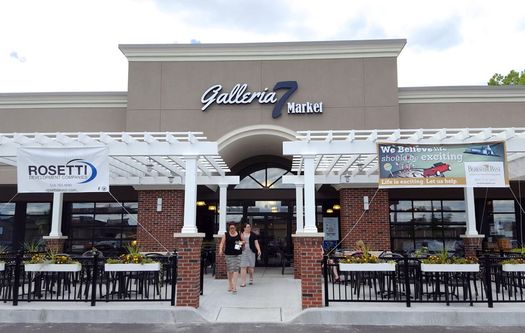 Finding a lunch venue that is quick and suits everyone is a tall order, but food courts like Galleria 7 are able to accommodate multiple preferences. Pasta, barbecue, pizza, a soon-to-open hibachi counter, superfoods-focused healthy eating stations, and a bakery are all nestled under one roof, with copious seating and a spacious patio.
And if John from accounting still whines to HR about your fish order, just stop back after work and grab something to cook at home, instead.
Deanna Fox writes about many things, mostly about food. More can be found on her website, Twitter, or Instagram.
More Eat This:
+ Burgers at Crave
+ Coconut cream pie at Restaurant Navona
+ Pulled pork plate at Middleburgers BBQ
+ Buffalo wings from 20 North Broadway Tavern
+ Hot Plate from K-Plate at Troy Kitchen
Find It
Hooked Seafood Company
1214 Troy-Schenectady Road
Latham, NY 12110
Hi there. Comments have been closed for this item. Still have something to say? Contact us.