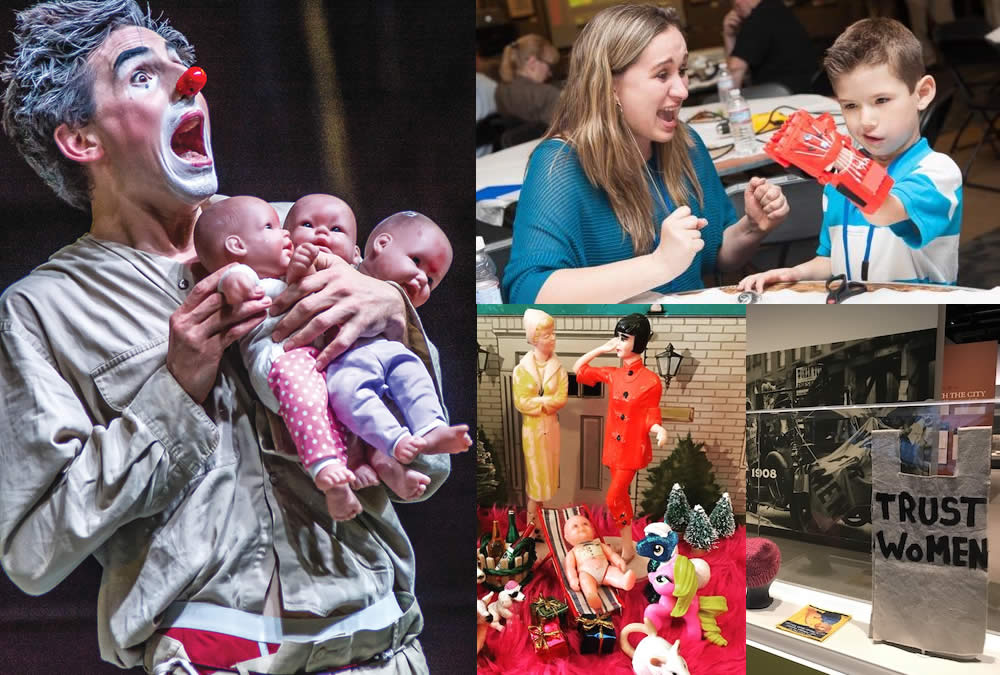 With 2017 about to end, we're talking with people about favorite/interesting things from the past year.
Today we talk with a few people about things they made in 2017.

Votes for Women photo montage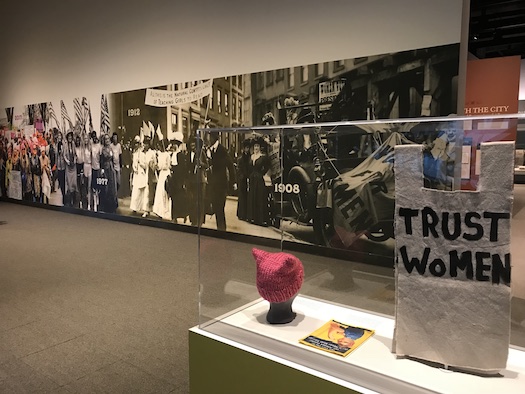 Ben Karis-Nix - graphic designer, New York State Museum
This year was my first year as a graphic designer at the New York State Museum. What I find interesting is the variety of scale we're designing for -- from small artifact labels to covering entire walls with images, such as this 40-foot photo montage for the exhibition Votes for Women: Celebrating New York's Suffrage Centennial. The women featured in the montage are at human height for an impactful introduction as visitors approach the gallery. It's a fun challenge to design and produce graphics at that scale!
Prosthetic hands at EnAlbe workshop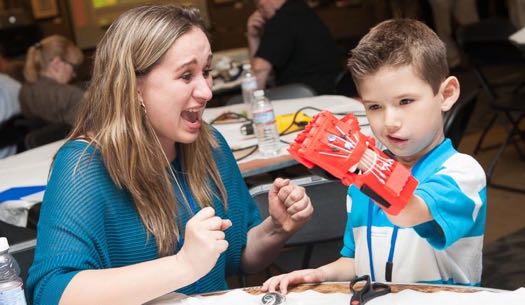 Erica Rinehart Iannotti - Former Board Chair of the Tech Valley Center of Gravity, Co-Founder of the THINQubator, and Tech to Market Project Manager at NYSERDA
Over the summer 24 kids at the THINQubator at the Tech Valley Center of Gravity designed prosthetic hands for kids born without hands or who lost hands due to trauma. Students from the University at Albany led the workshop and prosthetics were designed and tested at the TVCOG and produced in UAlbany labs.
It's incredible to see what kids are capable of. I think adults generally cast off kids as not ready, not experienced enough, not hardworking enough, not fast enough. But given the chance to do sophisticated work, they rise to the occasion every time. It takes patience and a sense of humor! But the real key to seeing what is possible is to treat each child like an intellectual equal. That is truly the heart of the Growth Mindset philosophy to me. It has made all the difference.
This Is Not A Test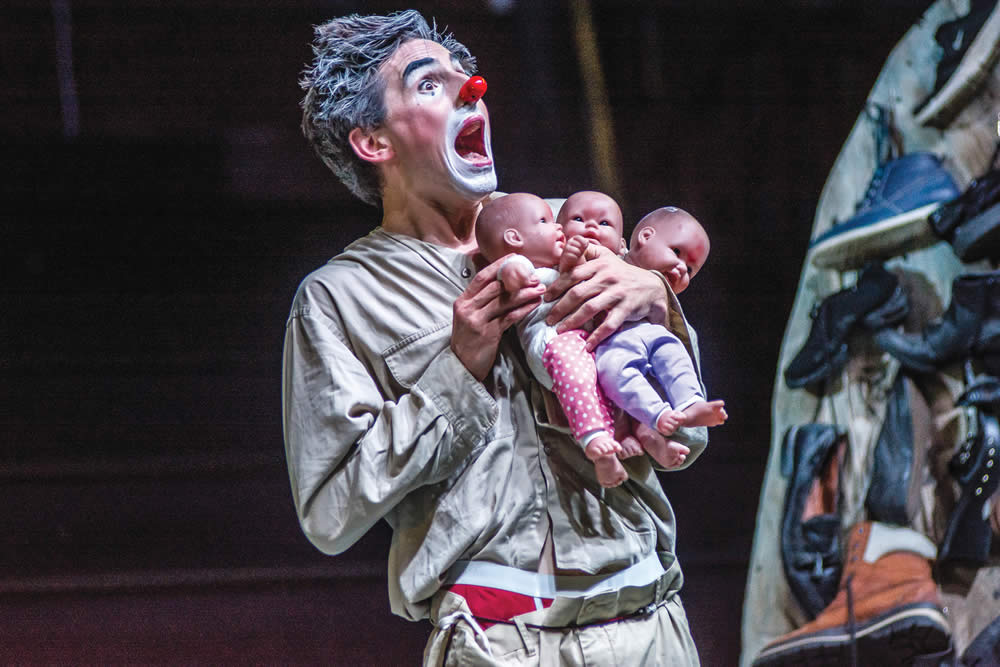 photo: Thom Williams
Aaron Marquise - Executive Artistic Director of Marquise Productions
My solo show This Is Not A Test was probably the most interesting thing I made in 2017. It took me out of my comfort zone from being not only the Executive Artistic Director of Marquise Productions but to being the actual artist on stage with an audience. I'm really proud of this one.
The show is a one hour-long solo with my clown surviving in a decrepit theater at the end of the world. It's a show about loss, war, loneliness, and attempting to find happiness and laughter in dark places. This piece is so close to me. As a clown you are truly vulnerable on stage, everything is stripped away and it's just you and the audience. Usually I'm performing internationally in countries with a bunch of people I've never seen or met. This time here I was in front of my friends and family... it really challenged my limits of comfort.
The Dollhouse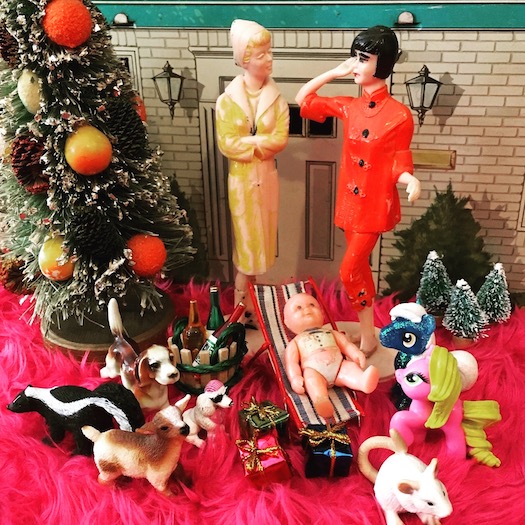 Megan Gailbraith - writer and artist
The Dollhouse began as a fun project, but when I stepped back from it I realized I was "playing out" feelings, ideas, and views I had about feminism, politics, motherhood, home, and identity.

Play allows me to be "once-removed" -- a feeling I identify with as an adoptee -- and it offers many freedoms to act and do. I like to think the dolls, which are highly sexualized archetypes of women from the 1950s and 60s, are given voice.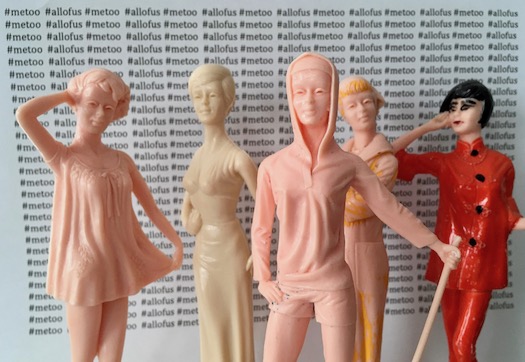 I use writing and art as social commentary. "The personal is political" was a rallying cry of second-wave feminism and endures as one of its most inclusive statements. As you can imagine, since the election there have been many flashpoints. In short, what I made in 2017 was a different venue for my personal to be political.
Megan Gailbraith is a writer and artist. Her work has been listed as Notable in Best American Essays 2017, and her essays, poems, and art have been published or are forthcoming in "My Body, My Words," Longreads, The Coachella Review, Reservoir, (b)OINK, Catapult, Beyond, ROAR, Hotel Amerika, among others.
Choreography for "Married" from Cabaret
Greg Marsh - educator/choreographer
I have been fortunate enough to be able to create many beautiful pieces of performance art. As a choreographer, bringing dance to a story allows me to be able to showcase even more sides to human expression.
Sometimes a project comes along that you just cannot pass up. This was the case with Cabaret [at SLOC]. Having done the show before, I thought it was a great opportunity to approach the story with new perspectives and motivations. With our current political climate, I thought that I had a responsibility to say something with my work.
The choreography for the song "Married" came out of my own personal desire to make a political statement. On the surface, the song is about the desires of a Jewish man to marry his German love interest. I saw it as so much more. It became very important to me that I showcase all kinds of love and relationships, including same-sex and interracial relationships. The romantic and provocative choreography was brought to life beautifully by dancers who also saw the necessity of showcasing love in many forms. What came to life on stage has truly become one of my proudest artistic moments.
RISSE gallery show
Corey Aldrich - Owner at 2440 Design Studio and Electric City Couture
In early March of this year I had the privilege of producing an event for RISSE refugees at Capital Repertory Theatre. During one small gallery opening we were able to raise over $6,500 that helped to support programs that assist refugees in integrating into their new home in the United States. Hearing some of them speak about their appreciation, and their hopes and dreams, was heartwarming. Definitely one of my favorite projects of 2017.
Troy Foundry Theatre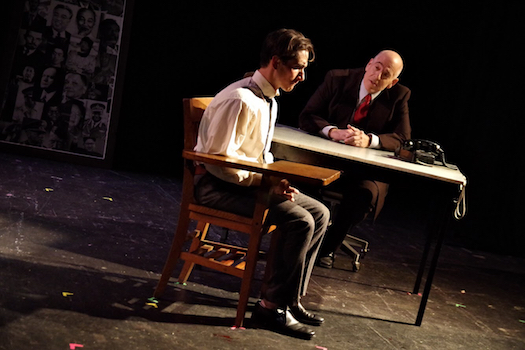 From the October production of New World Order, a reinterpretation of six short plays by Harold Pinter. / photo: Byron Nilsson
David Girard - Troy Foundry founder/artistic director
So, I created, or better, founded (with two very special colleagues and friends) the Troy Foundry Theatre. I'm excited because, first, I got to do it with some wonderful artists who are also dear friends. I'm also thrilled because I feel that we launched in a way that really defined our mission, which is to collaborate with a variety of artists from multiple disciplines to produce and perform new work, reinterpreted classics through the means of new writing, devise new work, and develop immersive performances, etc.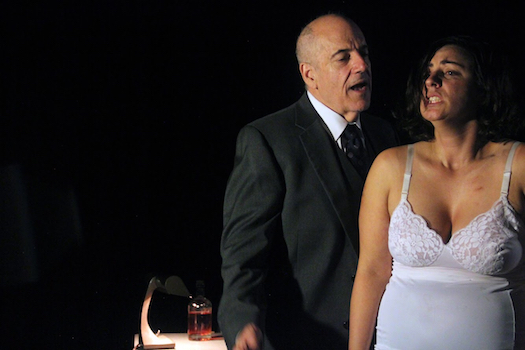 The fact that Troy is experiencing a renaissance is certainly a catalyst for why we've launched now versus two or three years ago. I've also made Troy my home in the last year, and have made new connections, new friends, reunited with old friends, and have built a network of incredible people in a very short time. It's really a very special place and I'm absolutely ecstatic to be part of such a burgeoning community.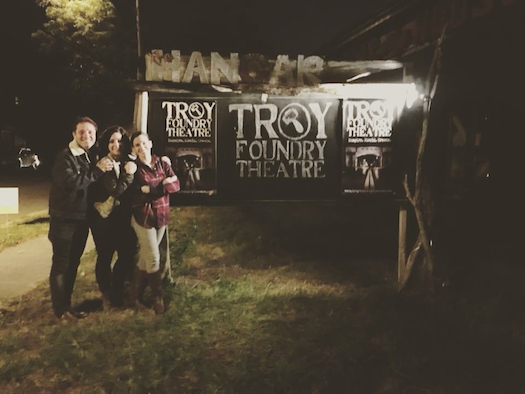 Left to right: David Girard, Emily Curro, Alexandra Tarantelli
I can't take sole credit for founding this company. Certainly, my colleagues Emily Curro (Artistic Associate) and Alexandra Tarantelli (Business Manager) have been integral to our initial success. We work great with one another, and pick up the slack whenever one us has our attention elsewhere. It's very serendipitous to work with such like-minded folks who are also some of your closest friends.
____
That Was 2017
+ Interesting stories to cover in 2017
+ Favorite local foods 2017