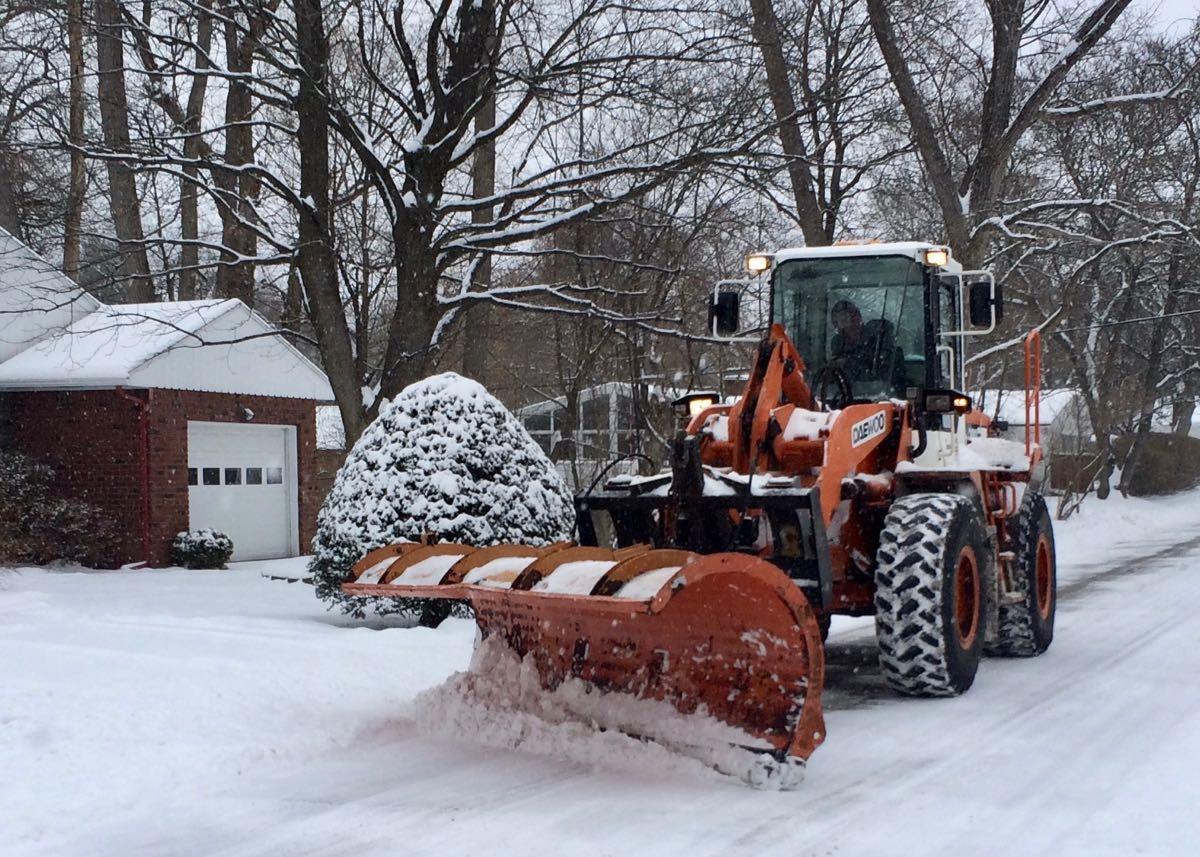 It snows here. Sometimes it snows a lot. And often when it snows a lot, people have questions about how the city of Albany clears all that snow.
On Wednesday the city unveiled a new GPS system that it's using to track snow plows in real time. The hope is that the system will allow the city to more quickly understand where there are problem spots and figure out faster ways of plowing streets.
So we took the opportunity Wednesday morning to get a peek at the system -- and ask city officials some questions we frequently get from people about when, where, and how the city plows snow...
The challenge facing the city and what it has to work with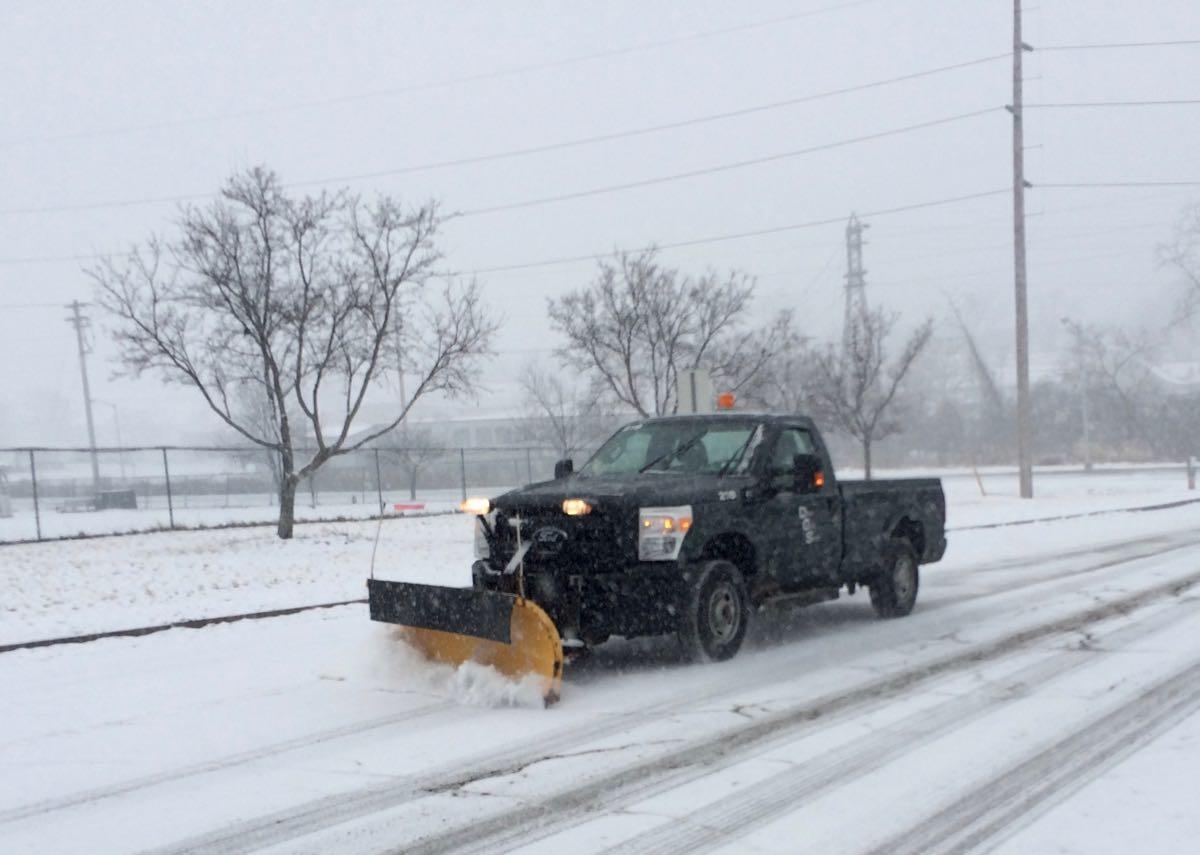 The city of Albany has roughly 650 miles of streets. For the storm this week, Department of General Services Commissioner Daniel Mirabile said the city has:
+ 40 trucks with plows and salters
+ 14 trucks with plows
+ and it would be contracting to bring in six more large plow trucks Wednesday afternoon
How it deploys those pieces and prioritizes streets
DGS deploys those trucks two ways:
+ Main thoroughfares: These city's main roads, including routes to the hospitals, get first priority and there are dedicated crews in charge of keeping those thoroughfares clear.
+ Neighborhood zones: Beyond those main roads, DGS assigns crews to clear snow from neighborhoods by zone. So a plow truck or trucks will work within that zone and then move onto the next one.
How it tracks all those pieces on the board, and adjusts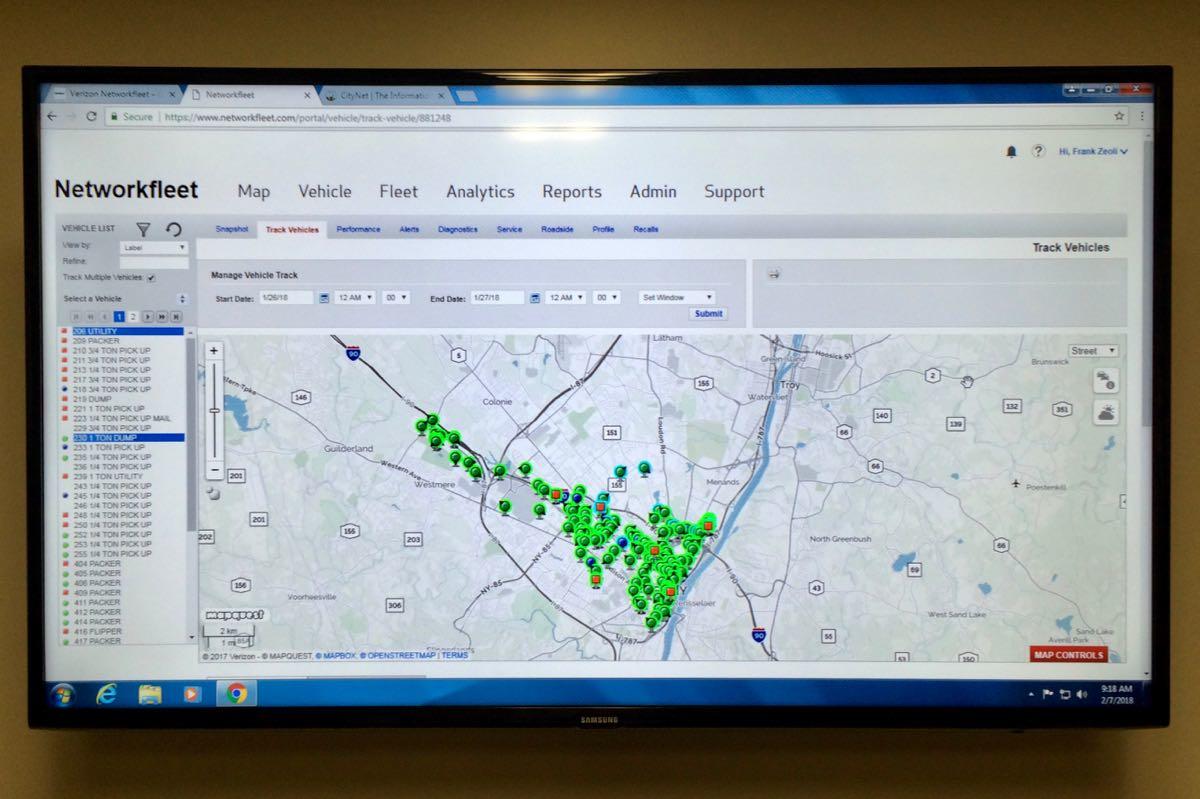 The new real time snow plow tracking display.
Until recently, DGS tracked the deployment its snow removal trucks on a large map/whiteboard. It kind of looks like a giant game board with magnetic pieces that can be moved around.
But during the past year the city started tracking its trash and recycling trucks in real time using a GPS system. And it's now added snow removal to that system. So on Wednesday there was a large flat screen monitor in a conference room at DGS headquarters showing the position of every truck as it moved through the city. It's like upgrading from a board game to a video game.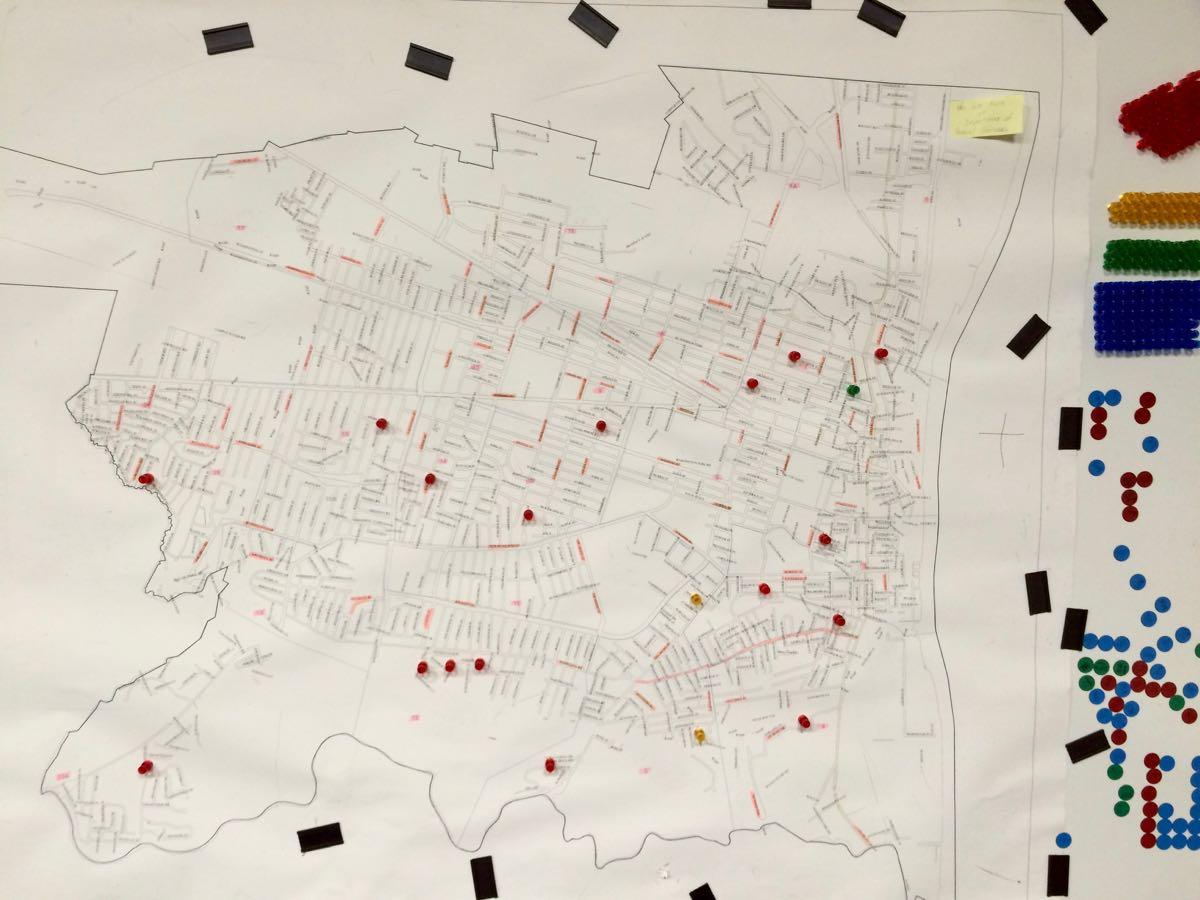 The old whiteboard.
So what's the big deal about that? Well, mayor Kathy Sheehan said being able to track every truck's progress as it's happening allows the city to recognize problem areas and more efficiently deploy resources.
The mayor pointed to last year's blizzard -- and its roughly two feet of snow -- as an example of how the system should be able to help.
"The snow fell so fast and there were so much of it. And some of the smaller trucks just were not able to keep up with it," she explained. "And we would have been able to see that in real time as opposed to waiting for phone calls and then trying to figure out where somebody was and relay that information."
The system also logs where trucks have been, which Sheehan said will enable the city to better respond to complaints and adjust as needed.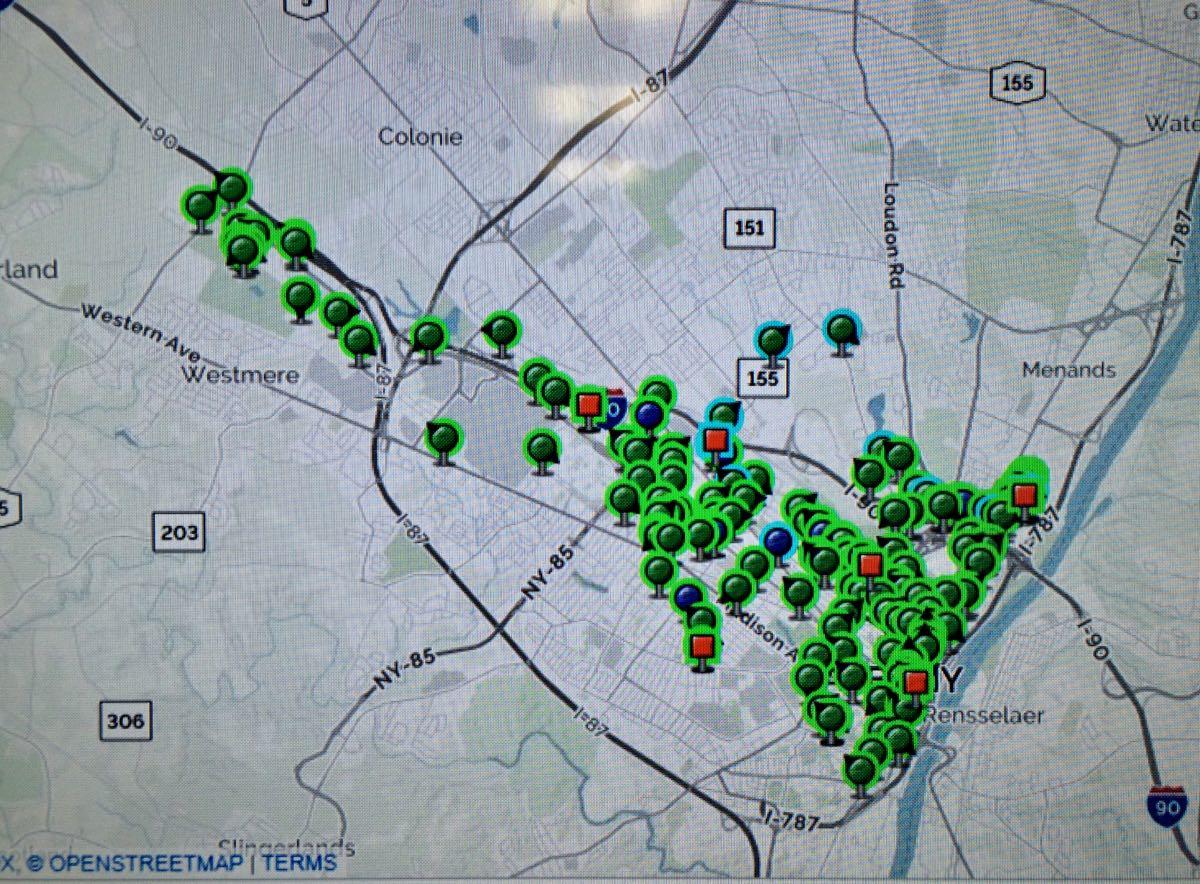 "So the person who says, you know, my street didn't get plowed for three days -- we'll be able to see whether a plow went down their street or not," the mayor said. "And one of the things that we'll need to look at is if we do see that there are areas that are not getting cleared as quickly as possible it will help us to understand do we need to add a truck, are we redeploying our trucks efficiently? If we've got an area where the apparatus that's responsible for that zone is able to do two sweeps through in the same time that it takes one in another area, that allows us to look and say all right, well maybe we need to redeploy the zones a little bit."
This real time tracking system is an internal system. But it'd be great to eventually see something that the public can also check in on. As we've said before, people handle these sorts of situations better when they can understand what's happening and what to expect.
How is the decision made to issue a snow emergency?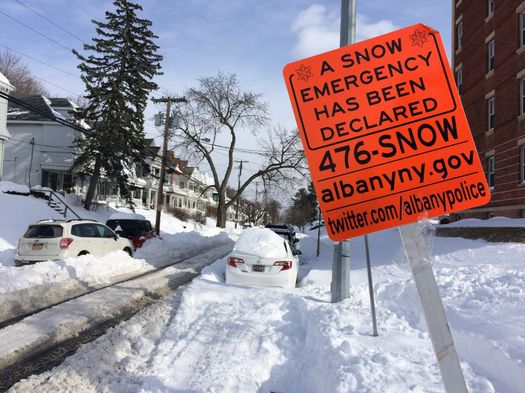 After last year's blizzard.
We got a question in a comment this week about how the city makes decisions about whether or not to declare a snow emergency, so we posed that question to the mayor.
Sheehan said the city doesn't usually declare a snow emergency until there's something in the range of 8 inches of snow. But the factor on which the decision mostly hinges is whether the snow is piling up along roadways, impinging on the ability of people to use the streets, and needs to be trucked away. If that's the case, the city declares a snow emergency so it can get machines into spots such as Center Square or Arbor Hill to literally pick up the snow and cart it out.
The mayor said the city does not start a snow emergency while the snow is still falling due the fact that so many people park on streets. Starting the emergency after the snowfall allows the city to open lots and gives people a chance to move cars.
What are reasonable expectations?
When it snows a lot, there are going to be inconveniences. That's just the reality of winter here. So what's a reasonable expectation for how the city responds?
"One of the misconceptions is that when it's snowing the road should be clear and free of any snow or slickness and that's just unrealistic," Kathy Sheehan said Wednesday morning. "While it is snowing we plow and we do the best that we can to keep up with it. We salt, we do all of the things that we need to be doing. But during the actual snow event it will be dangerous to drive. And so we encourage people to stay off the roads."
"One of the misconceptions is that when it's snowing the road should be clear and free of any snow or slickness and that's just unrealistic ... While it is snowing we plow and we do the best that we can to keep up with it. We salt, we do all of the things that we need to be doing. But during the actual snow event it will be dangerous to drive. And so we encourage people to stay off the roads."
We asked Daniel Mirabile, the DGS commissioner, about how long people should reasonably expect it to take to have snow cleared from a residential street during a typical storm. And the answer was, like many things in life, it depends.
"If the 6-8 inch snow storm falls in a 24-hour period it's a lot different if it falls in a 12-hour period," he said. "So intensity of the storm as well plays into it. That actually plays more than the actual amount of snow because if it's coming down slower we can keep a handle on it."
In the case of Wednesday's storm, which was forecasted to end around 9 pm, Mirabile said it'd be reasonable to expect that streets could be cleared by Thursday morning. But, again, conditions will affect how that plays out.
There are other factors that can affect the response, too. One of the biggest is just whether a plow can make it down a street. Sheehan said one of the problems during last year's blizzard was that abandoned or stuck cars made it impossible for trucks to get down some streets.
How to help
A few points Sheehan and Mirabile made about how people can help during snow storms:
+ Stay off the roads if you don't need to be out. The less traffic there is, the easier and faster it is to plow. And it's safer for both drivers and plow operators.
+ Don't clear snow into the street. Mirabile said doing so creates unsafe conditions in streets, and when the plow comes along it's just going pile all that snow back onto the curb and sidewalk. So he urged people to move snow away from the street where possible.
How to complain
Pretty much whenever we get a complaint here at AOA about snow plowing or something similar, our first response is to ask if the person has complained directly to the city. We believe in the power of a polite, specific complaint because the city can't address a problem it doesn't know exists. And if you do that and nothing happens -- well, it usually doesn't hurt to (politely) complain again. Persistence often pays off.
So if you have a question -- or complaint -- about snow removal, you can call DGS at 518-434-2489. Kathy Sheehan also on Wednesday encouraged people to use SeeClickFix and the SeeClickFix mobile app to file complaints with the city. She noted that the app allows people to send in a picture with their issue ticket, which can be a helpful way to flag, say, a big pile of snow that needs to be removed.

And if you see a problem that reoccurs when it snows -- like maybe there's a spot the plow usually misses in your neighborhood, or people just don't have anywhere to put the snow they're shoveling -- say something to your neighborhood association or Common Council member. There's no reason the city and neighbors shouldn't be able to work together ahead of the next storm to plan for a better response.
Sidewalk shoveling violations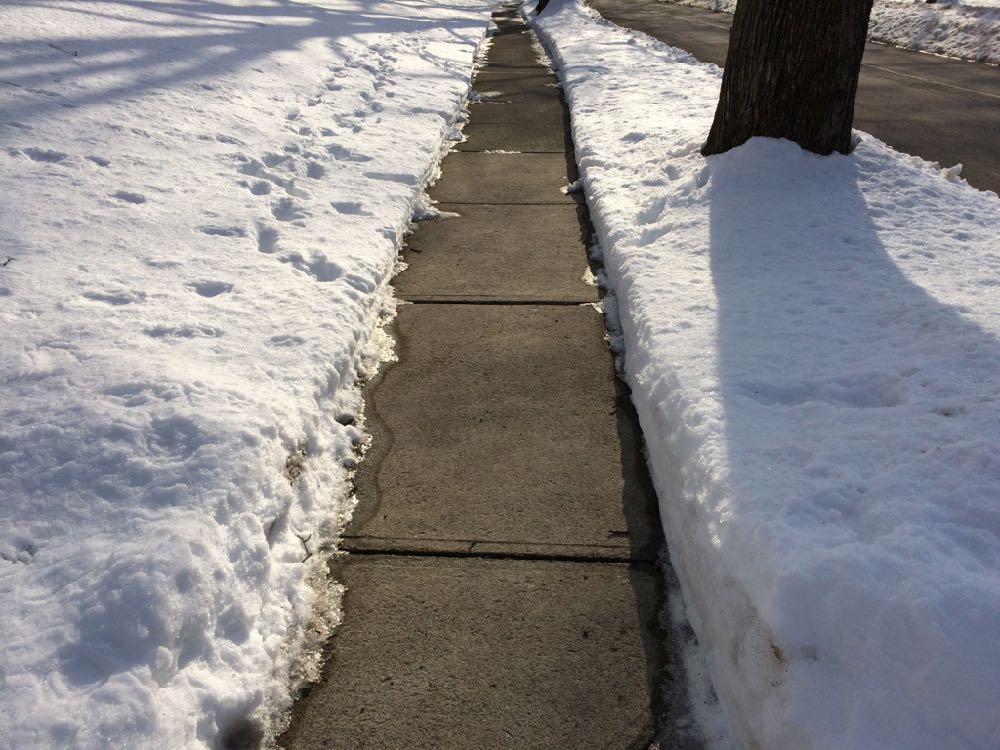 That's how it should be done.
As you know, the city requires property owners to shovel their sidewalks within 24 hours after the end of a snow storm. And this past December, the rules were tightened so the city can now issue a violation for not doing so without first issuing a warning. As we noted when looking at this issue recently, the system is largely complaint driven.
As of January 29, city hall officials say DGS has gotten more than 500 complaints about snowy sidewalks and has already issued 156 violations. (For the entire winter of 2016-2017, there were 69 violations issued.)
Remember, a snow storm is an opportunity to be a good neighbor.
Earlier
+ On uncleared streets and expecting better
+ Here's every violation issued by the city of Albany over the last three winters for not shoveling a sidewalk
Say Something!
We'd really like you to take part in the conversation here at All Over Albany. But we do have a few rules here. Don't worry, they're easy. The first: be kind. The second: treat everyone else with the same respect you'd like to see in return. Cool? Great, post away. Comments are moderated so it might take a little while for your comment to show up. Thanks for being patient.