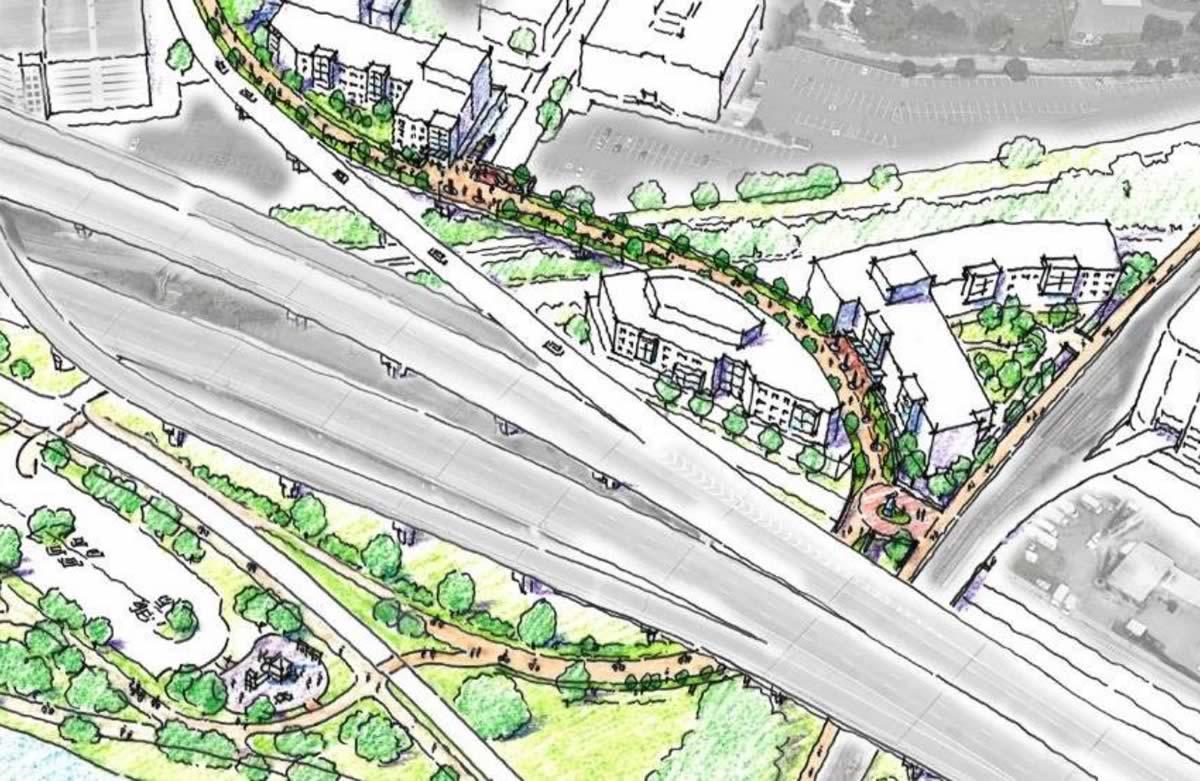 Three million dollars has a way of changing people's perspective of what's possible.
The idea behind the Albany Skyway -- to convert a lightly-used off-ramp from I-787 to Clinton Ave in Albany into a connection between Broadway and the riverfront -- first popped up in plans for the Corning Preserve and downtown four years ago. It was, as mayor Kathy Sheehan said at a public planning meeting Thursday evening, a "sort of pie in the sky, almost dream" idea.
The almost dream is now almost reality thanks in large part to $3.1 million in funding the Cuomo administration announced for the project this week, a surprise boost that now has the planning moving forward.
"We're in a unique position of starting off on a planning exercise that ... doesn't have have us going out at the end of the day and hoping to make this project a reality," Sarah Reginelli told the crowd. She's the president of Capitalize Albany, which has been heading up the planning. "This project will be a realty."
So that's what members of the public, along with all sorts of officials, got together to talk about.
Here are a bunch of bits about what people said they'd like to see happen, along with a few thoughts about this project.
Presentation slides
Slides from the short presentation at Thursday's meeting are above in large format -- click or scroll all the way up.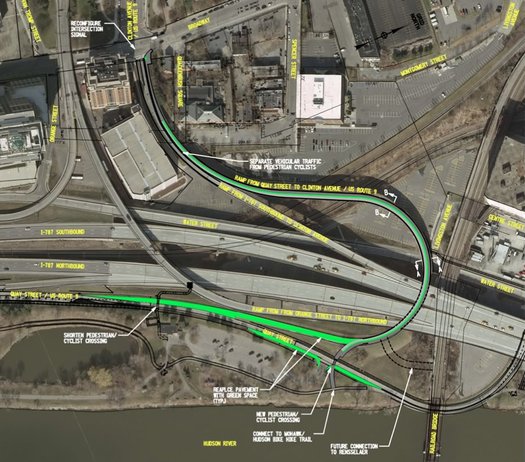 The green marks that ramp that would be repurposed.
Survey
Here's an online survey to gather public input for this project.
Crowd priorities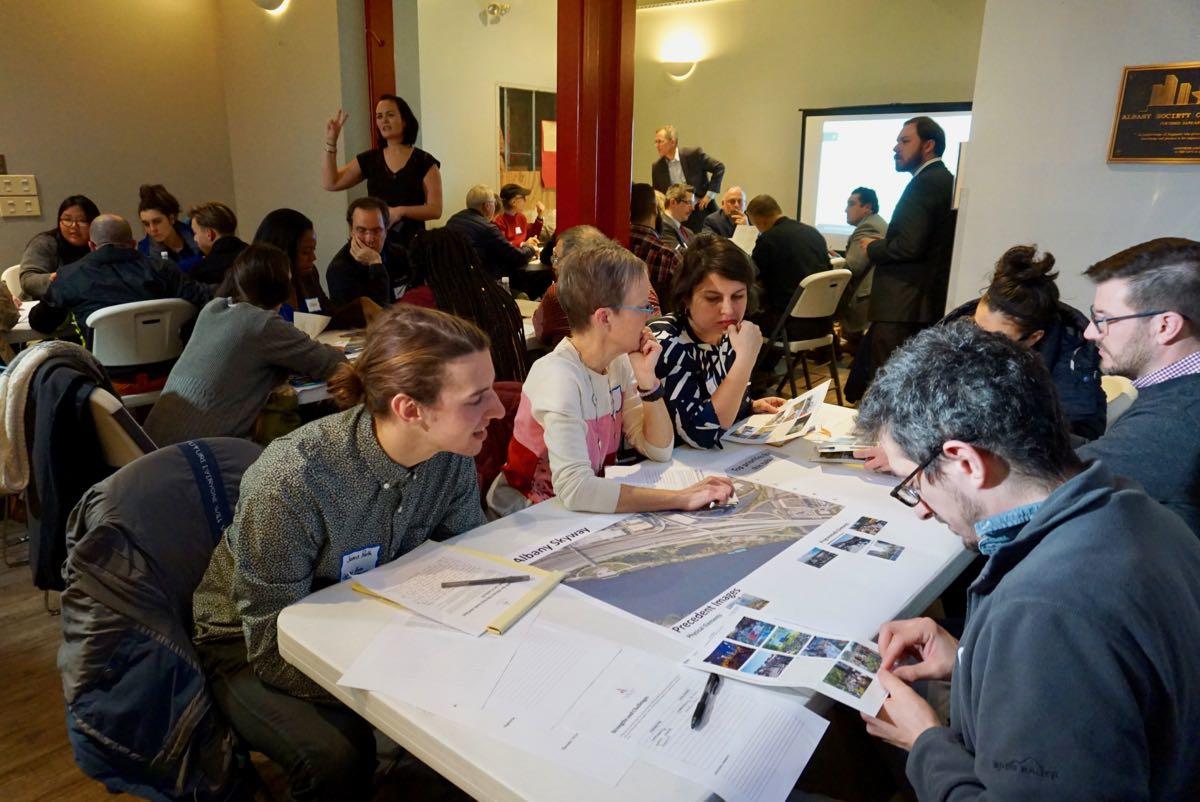 The packed planning session -- there were easily 50 members of the public -- at the Albany Heritage Area Visitors Center at Quackenbush Square followed a familiar format: a quick introduction from officials; a short overview from Stantec, the engineering firm that's facilitating this phase; groups sessions at which members of the public talk about what they'd like to see and mark up maps with suggestions; and then short group presentations.
Here's a condensed list of the priorities that groups mentions during their presentations:
Air quality and noise
Multiple groups mentioned air quality and noise concerns related to the future linear park's position next to vehicle and train traffic, and a desire to see measures taken to mitigate exhaust and traffic sounds.
Green space
Related to the air and sound concerns, multiple groups said they'd like to see the skyway incorporate greenery, including native plants. One group said they'd like to see the skyway have a park-like feel. And others said they'd like to see place for people to sit.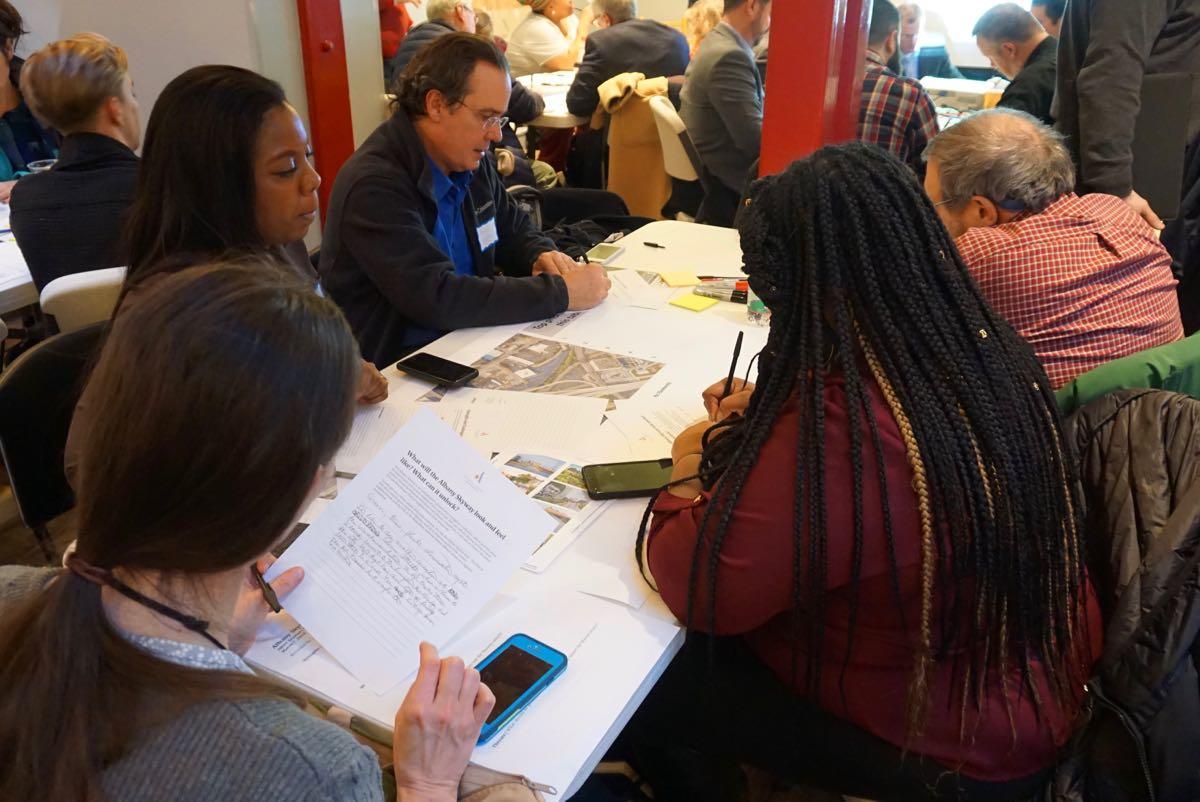 Connections
A popular topic was how to connect the skyway to what's around it -- other trails, neighborhoods, local businesses. Martin Daley was there to continue the campaign for a bike/pedestrian walkway on the next Livingston Avenue Bridge, and the idea of somehow connecting the skyway this possible future walkway came up.
An exit
The ramp is about half mile long and the idea of providing some way for people to exit the skyway at, say, the midway point came up a few times. A set of stairs and an elevator were both mentioned.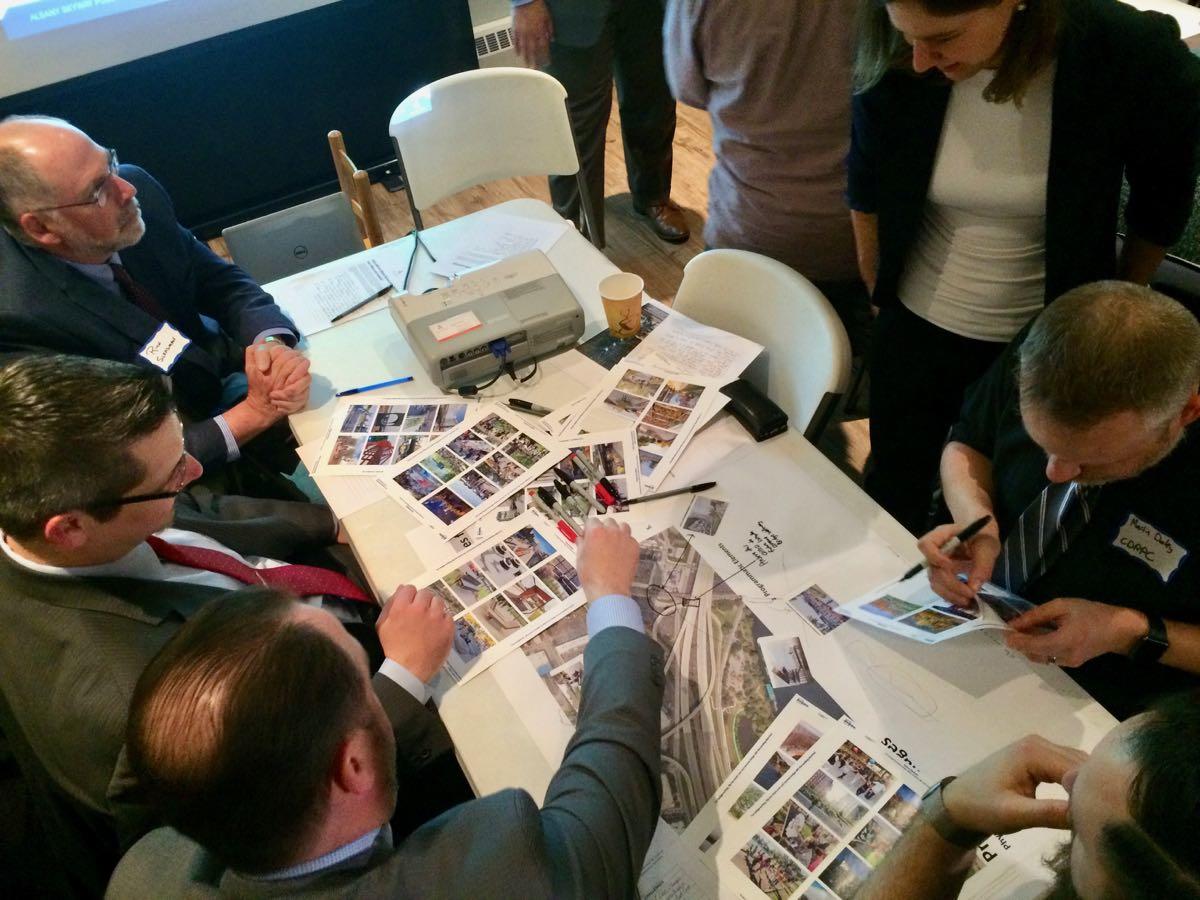 Stuff to do and see
Having things for people to do on the skyway -- programming, in planner speak -- was another popular topic. People mentioned ideas that included food trucks, a beer garden, playground-type space, art, and yoga. And there was a desire for attractions that would draw people year round. Also: One group mentioned bathrooms.
Safety
Safety -- specifically people feeling safe to use the skyway at night -- also got a mention, with a nod toward lighting and cameras.
A few thoughts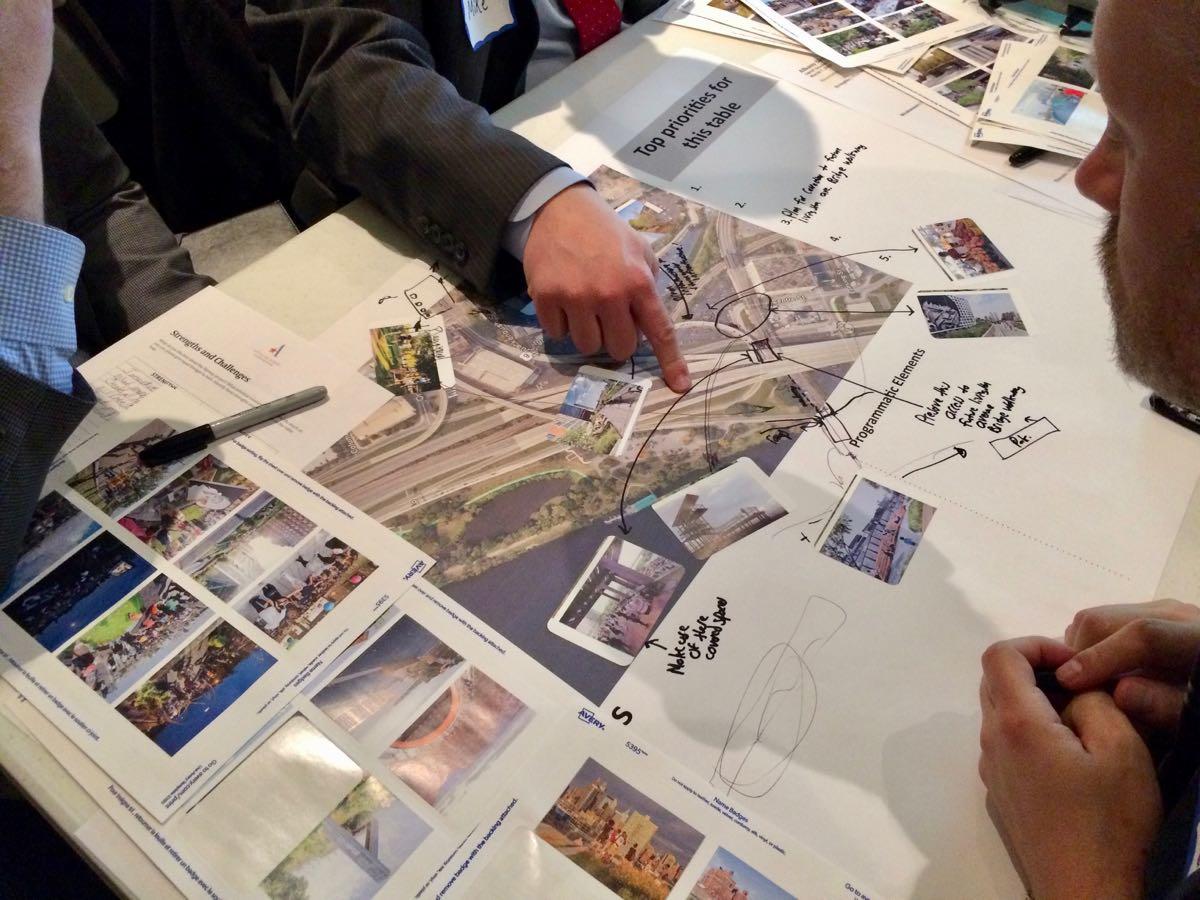 A few quick thoughts we had after listening and talking to people Thursday.
Is this a place to be -- or a way to get from one spot to another?
There are a few basic ways to think about the skyway. One is that it's a long, skinny piece of park land (a "linear park," the sort of place that people will draw people to hang out for a while or use for activities. Another way to think about is that this is just essentially another bridge to get people from downtown to the riverfront.
In reality, the answer will probably be "both." But getting a sense of how people will actually use the skyway could go long way toward figuring out the best way to spend money and resources on various features and amenities.
The wider picture
There is a lot already in progress for this section of Albany, with more in the works, including some significant mixed-use development just up Broadway and some potentially important housing revitalization a few blocks up Clinton Ave. And on Thursday officials talked about how they see this project as a way of continuing that momentum.
So maybe a good way to think about this project is to imagine it extending beyond its actual length. Doing so might be especially helpful in figuring out ways for the skyway to benefit people already living in nearby neighborhoods such as Arbor Hill and Sheridan Hollow. Building out robust neighborhood connections -- like high-profile pedestrian amenities or protected bike lanes -- beyond the end of the ramp could go a long way. (There's already been some thinking about developing this area as gateway into the city and between neighborhoods.)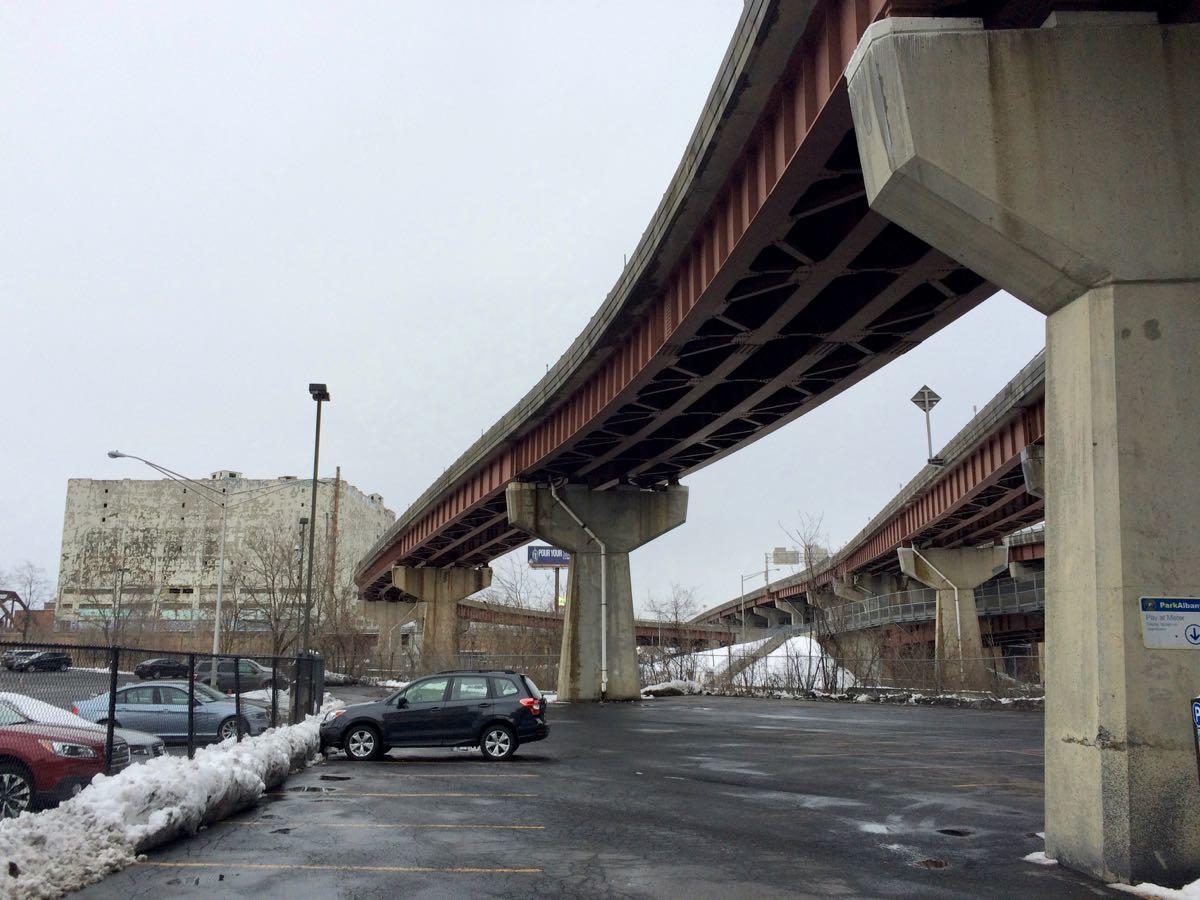 Paying for it
Any public space is going to need maintenance -- and that's especially true for a half-mile park built atop an elevated portion of concrete. And that maintenance will add up over time.
So, who pays for that? And how do they cover the cost? It's something that was clearly on the minds of officials and members of the public at Thursday meeting. And we get the sense the answer will probably involve fitting together multiple pieces of a puzzle that include both public and private money.
The 787 elephant
You can't really talk about this project without talking about the future of 787. Mike Franchini, the head of the Capital District Transportation Committee, was at the meeting to give a short a preview of the long-developing 787 corridor study that's set to be released in draft form next week. And his overall message was consistent with what he and others have said before -- the future of 787 is complicated.
A handful of people here at AOA mentioned in comments this week that they thought the $3.1 million for the skyway project was a consolation prize for a future that very much includes 787 as it currently stands. And others saw it as a distraction from what they believe should be real goal: tearing down 787.
So your view of the Albany Skyway project is probably going to depend in part on what you think is realistic for the future of 787 and the timeframe for that future. Because that will influence whether you think the city should work with the highway -- or instead plan for a day when it's radically different.
The open house for that 787 corridor study is Tuesday, March 13 from 4-7:30 pm at the Albany Public Library Washington Ave branch. A summary of the study is now online.
Earlier
+ The Albany Skyway gets a big lift, and there's a chance to offer input this week
+ That long awaited report about the future of 787 is almost ready and there's a chance coming up to learn more and make your voice heard
Say Something!
We'd really like you to take part in the conversation here at All Over Albany. But we do have a few rules here. Don't worry, they're easy. The first: be kind. The second: treat everyone else with the same respect you'd like to see in return. Cool? Great, post away. Comments are moderated so it might take a little while for your comment to show up. Thanks for being patient.