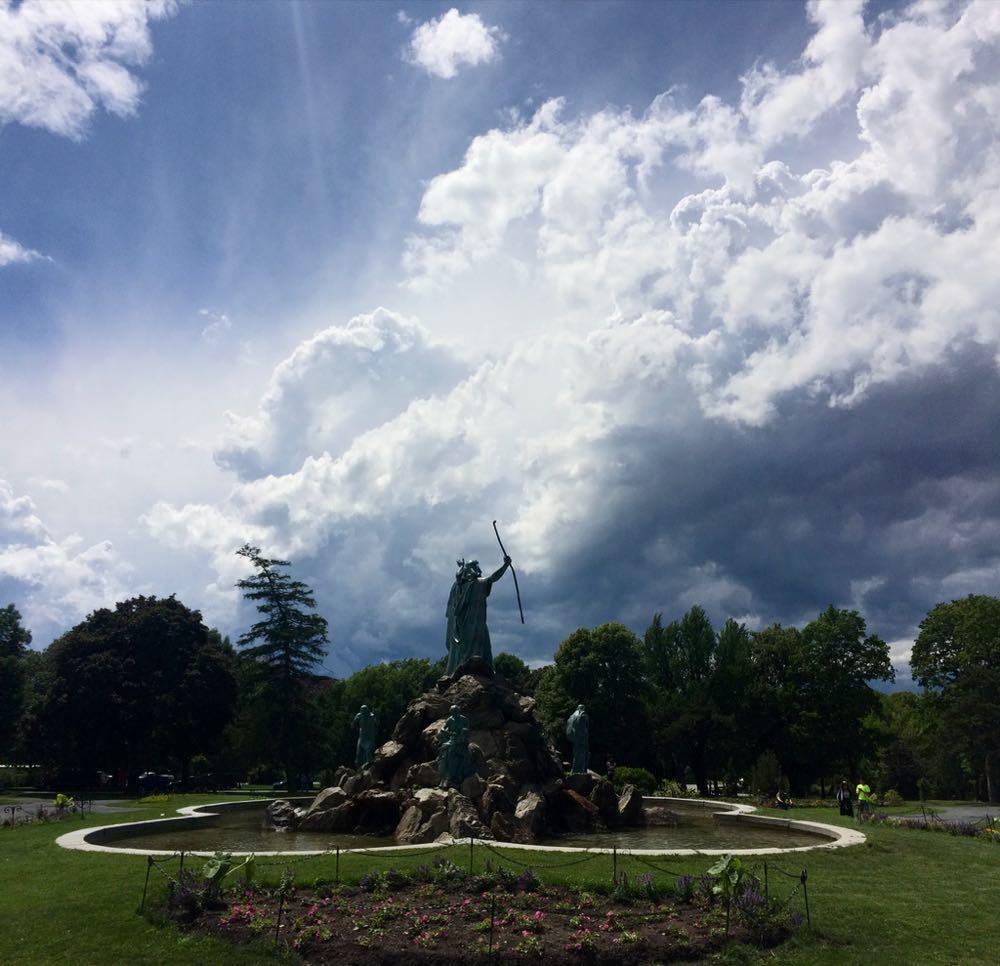 By Jason Gough
You no doubt know Jason from his many years as a meteorologist on TV here in the Capital Region. He's helping us nerd out on some local weather stuff. Got a question about how local weather works? Send it along!
I was an on-air meteorologist for 17+ years and during that time I visited over 200 schools to give weather talks. The most frequently asked question was: "Why/how did you get in to meteorology?"

The answer is simple: thunderstorms.
Damn things used to freak me out, especially at night. You're like six years old, the whole room lights up and then, BOOM. No, thank you. Didn't want any part of that mess.
But one day my father took me down to the main branch of the Albany Public Library to learn about thunderstorms, and that's exactly what I did. I quickly found out how simply amazing thunderstorms are. And by the way, so is the rest of our weather.
I was hooked, and always will be.
The water cycle on steroids
My most typical visits to schools were to elementary grades, and most commonly I'd explain the water cycle.
The process has 3 parts: evaporation, condensation and precipitation.
It's the condensation piece that is the decider between a few puffy clouds and a nasty, noisy thunderstorm.
You know what condensation is -- it's the water drops on the side of your glass on a hot, humid summer day. When water goes from its gas phase ("humidity") to a liquid phase, it releases heat to do so. This is how a cloud forms, as they are made of minuscule droplets of liquid water and, in the case of thunderstorms, frozen water, too.
There are many ways to get storms going yet you could also have all but one ingredient in place and end up with barely a cloud in the sky. Weather always does its own thing, you dig?
That said, let's make ourselves a nice little storm.

A thunderstorm viewed from a plane. / photo: NOAA/AOML/Hurricane Research Division (CC BY 2.0)
For starters, we measure the amount of moisture in the air (again, "humidity") using what is called a de wpoint; it is the temperature at which condensation occurs -- 50 is comfortable, 60 is a bit muggy, and 70 is tropical-like and causes widespread complaining in these parts. For our storm, let's say the dew point is 71 degrees at 10 am.
Also at 10 am, we have lots of hot sunshine and lots of colder air over our heads. The sun heats the ground, which heats the air above it, and that air begins to rise. As that warm/humid air rises into that cooler air, condensation occurs. Higher dew points (71 degrees, for example) equal more condensation, and more of that aforementioned heat is being released. It is this heat that keeps air rising farther up, creating more condensation and so on. Before you know it, you've some impressive clouds starting to show up.
As these cumulonimbus clouds continue to develop, they rise into sub-freezing air. (Remember, it's way cold the farther up you go in our part of the atmosphere). Inside the cloud is chaotic; you have wind/air drafts moving all over the place. This is why pilots don't like to fly in these clouds... bumpy to say the least. The drops of liquid water freeze, and with all of the chaos in the cloud, they bump in to each other. This creates a charge -- static electricity. Same idea as rubbing a balloon on your head and sticking it to a wall or seeing little lightning bolts in the dark by moving your wool blanket around. Lightning in a storm however is a bit stronger.
As this static electricity continues to build up, so too does the difference in charges between the cloud base (negatively charged) and the ground (positively charged). Mother Nature, in an effort to always attain the goal of equality on earth, then says, "We need to get these two charges together!" But air is a terrible conductor of electricity, so for lighting to make it 1000-2000 feet on its jagged path takes an unimaginable amount of power. It's also hot. The surface of the sun is about 10,000 degrees. The core of a lightning bolt can be five times hotter.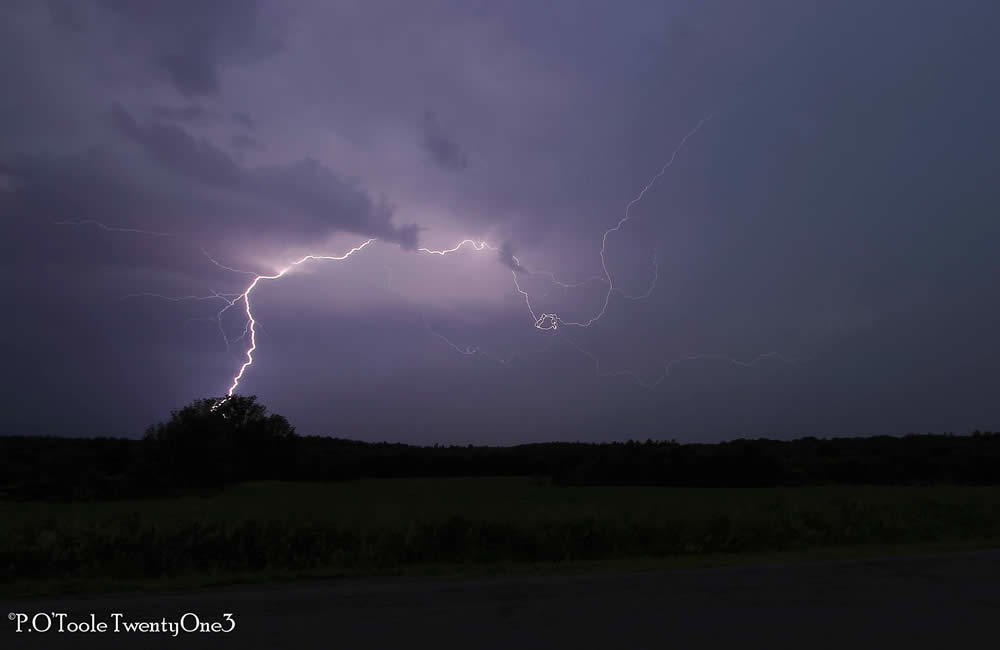 Photographer Patrick O'Toole (Twentyone3) took this photo in Schuylerville in 2015. He explained to AOA how he captured it.
Enter thunder.
That hot lightning flows down what's known as a channel, and when it does, it heats the air around it very quickly. When it heats, the air expands, creating a shock wave. There's your thunder.
And for crying out loud, there is no such thing as "heat lightning." All lightning is derived from heat (as you just read). If you see lightning but don't hear thunder, the sound waves have simply dissipated before they got to your ears. Whoever is under that storm can most definitely hear thunder.
Chill out
So, our storm gets ripping along, it will last 20-30 minutes or so. If there are other storms (cells) nearby, it may seem like it's one long, continuous storm but it's actually a few different ones in concert.
Eventually, a storm will chill out, literally. Rain falling from the storm will cool the air in and around it, eventually down to the ground. That cool air will choke off the storm's energy source -- that rising, warm, humid air. This is why it can feel cool around a thunderstorm, more after than before. That cold air coming down toward the end of the storm's life is called outflow. If the atmosphere is ripe enough, that cold air may even help to spark a new storm!
Watch for warnings
I'll leave you with this as we get in to thunderstorm season: you WATCH for a WARNING. A thunderstorm watch means it could happen. A warning means it is happening or it will happen. (This goes for other sorts of weather events, too.) Just get out of the way and let nature do its thing.
Next up, I think you'll get a kick out of what a funny, and sometimes outright goofy, relationship we have with our TV meteorologists as I live to tell about it.
Until then, watch out for those storms. They are not to be messed with.
Peace out.
Jason Gough is not a TV meteorologist anymore, but he's forever a weather geek.
Earlier:
+ So, let's talk about the weather this spring
+ Nor'easters and model behavior
+ Very well acquainted, too, with matters mathematical, they are the very model of a modern forecast meteorological
Say Something!
We'd really like you to take part in the conversation here at All Over Albany. But we do have a few rules here. Don't worry, they're easy. The first: be kind. The second: treat everyone else with the same respect you'd like to see in return. Cool? Great, post away. Comments are moderated so it might take a little while for your comment to show up. Thanks for being patient.