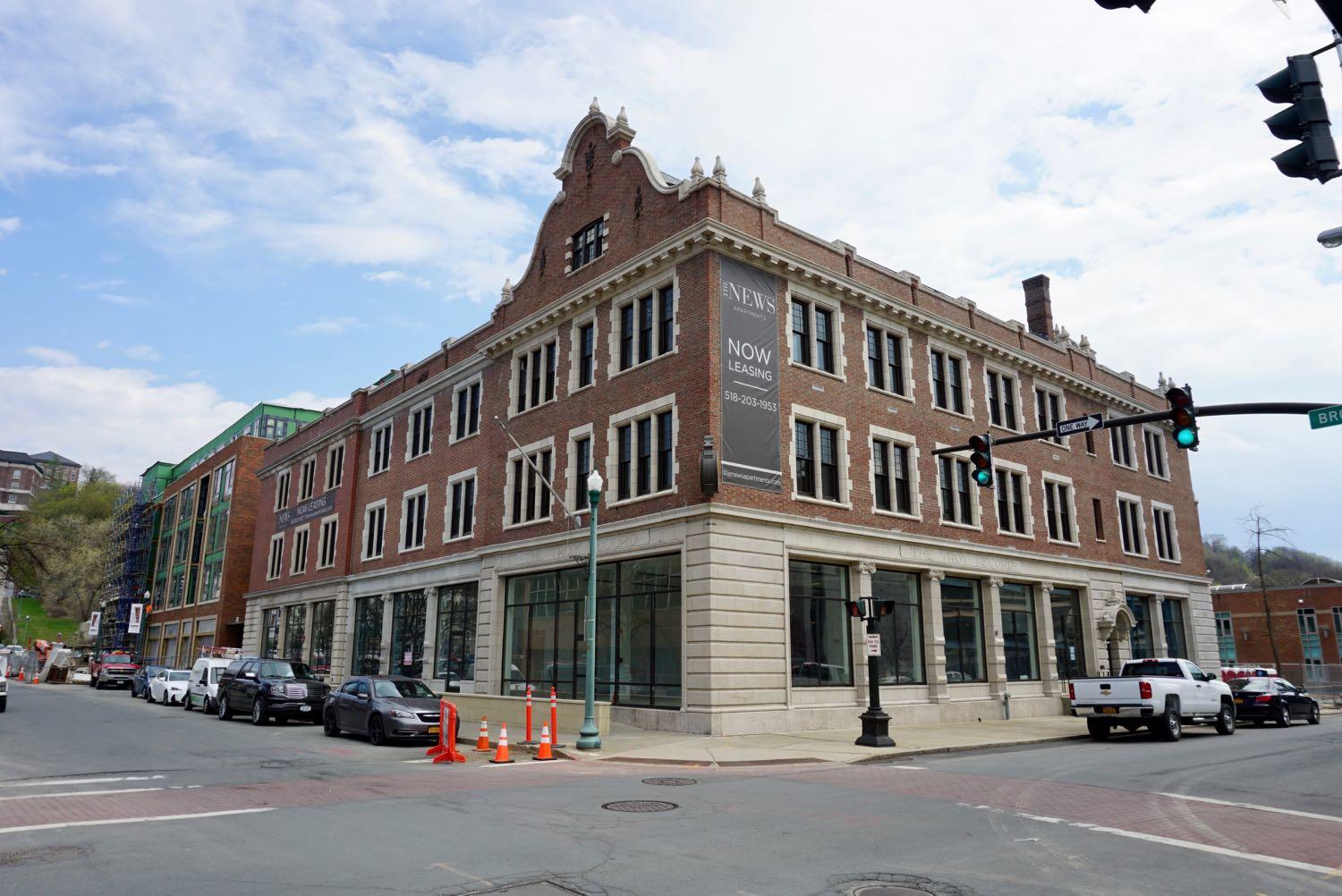 The new board game cafe that's been in the works for downtown Troy -- Bard & Baker -- now has a location.
The developers behind the new News Apartments announced this week that Bard & Baker will be taking one of the retail spaces in the old Troy Record building at Broadway and 5th Ave.
The cafe's owner is Charlotte Guyton, who was a key member of the team at Clark House Hospitality (Peck's Arcade, The Confectionery). And Bryan Connor, who was a pastry chef at Peck's Arcade, will be the cafe's kitchen manager.
Guyton first publicly announced the plan for the cafe during last year's AOA Startup Grant content, in which she was finalist. Even though she didn't win, the judges were very impressed by both her and her methodical approach. And Guyton got a boost last month when she won a $1,500 grant in the business plan competition for the Capital Region Chamber's Entrepreneur Boot Camp. She's aiming to open in September.
So we're curious to hear about how thing are coming along, and what to expect when the cafe opens this fall. And we figured you might be, too...
Quickly
+ Guyton says she picked the News Apartments space because of its proximity to RPI -- college students a large part of the target market -- and the nearby parking garage that's free on nights and weekends.
+ They've been visiting board game cafes in other cities to pick up ideas. One of the things they're hoping to add to the concept: a focus on hospitality and interesting food and drink.
+ The beverage menu will be centered around tea. Bubble tea, tea lattes, tea cocktails. They're also planning to offer beer and wine.
+ Guyton said they'll start out with 350 board games. For a $5 cover, you'll be able to play as many games as you want, for as long as you want, all day.
+ One of the things that's pleasantly surprised her: How enthusiastic people have been about the idea. She said people have been reaching out to her about working at the cafe, and people just seem excited about the concept.
Interview
Now you're signed up for this space, at The News Apartments. What was it about that spot that attracted you?
So we looked at a number of places in downtown Troy and they didn't fit the bill due to location, proximity to college campus, wasn't close enough -- the RPI and Russell Sage students being a large portion of our target market. Or parking wasn't adequate.
But once when we found the News Apartments location we met with Jeff Mirel, VP of Rosenblum, and really he was enamored by the concept. They were very thoughtfully interviewing potential commercial tenants there and really wanted to bring some unique commercial options to their residential tenants.
And we love the proximity to RPI, it's right at the base of the corridor going downtown Troy. That corner of Fifth Avenue and Broadway is relatively underdeveloped until this project and we're very excited to be involved in something that's up and coming in that specific neighborhood. And [Rosenblum's] commitment to sustainability was really important to us. We're looking to get a lot of Energy Star-compliant equipment, instituting a composting program with Food Scraps 360 in our kitchen, and using a lot of biodegradable compostable to-go containers, too. So it just to sit in line with everything that we were looking for.
Obviously the foot traffic is ideal for us as well with the 101 units that are going to be above us with the residents. And then we're right across the street from the Fifth Avenue parking garage, which is free parking on nights and weekends which will hopefully help us with the parking in downtown Troy.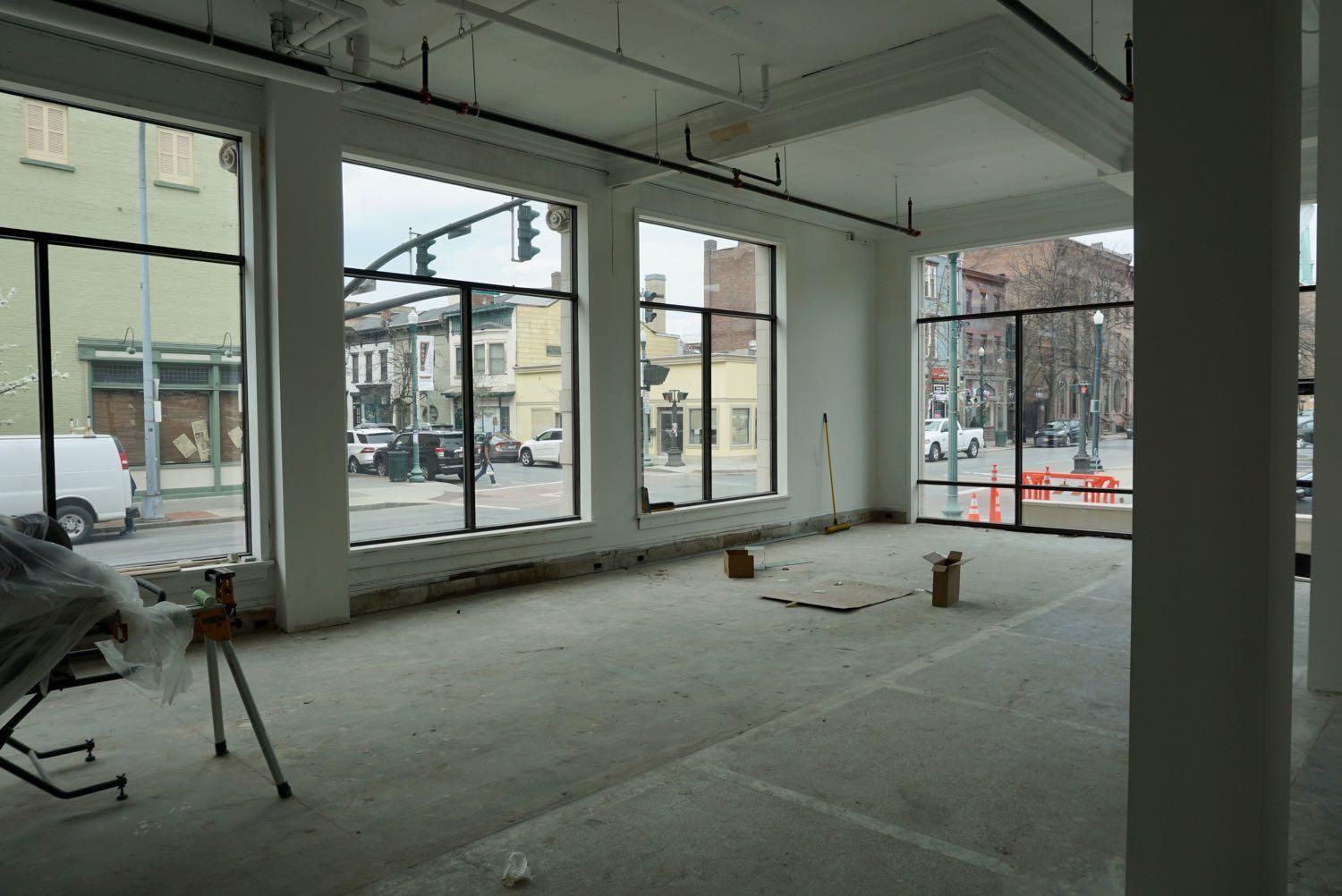 The space Bard & Baker will occupying at The News Apartments.
I've gotten the sense from seeing some of the things you've posted on social media and other places that you've been doing a lot of research with other cafes that are like this. What have you learned from them?
Yeah. So we've been enamored by the concept for well over a year at this point and found that the best way to kind of learn about it would be hands-on. So we've been traveling around visiting other cafes that have opened in closer proximity to us.
Recently we went to Toronto to visit Snakes and Lattes [a play on Snakes and Ladders, the British name for the Chutes and Ladders board game], which was the first board game cafe actually to open in North America in 2010 and arguably has been the most successful execution of the concept. They're on their third location at this point in downtown Toronto and are often absolutely just packed with people playing games. It was really beautiful to see.
When we were visiting all these other spaces we found that while this space had really great energy in regards to knowledge and passion for the games, service was great. What it was missing was hospitality and a really fun food and beverage program. And myself and my partner, Bryan Connor, that's where our strength lies: hospitality, food and beverage. Bryan's a classically-trained pastry chef. We've both been in the industry for 10-plus years. So we really feel that our background in hospitality and food and beverage and games will really create a special place that will be certainly unique to the board game cafes around the country.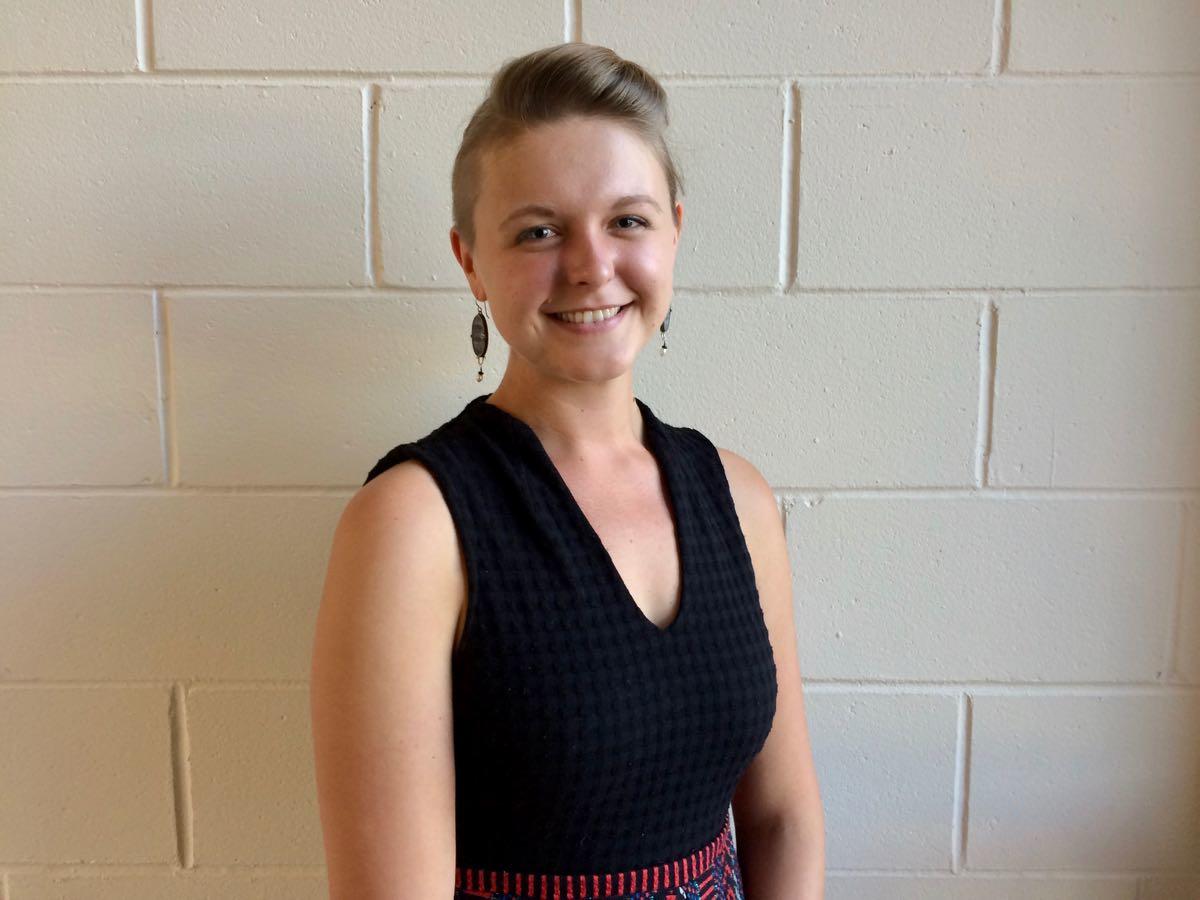 Charlotte Guyton at last year's AOA Startup Grant final.
What can people expect when they come in?
So board game cafe is exactly what it sounds like. It's a traditional cafe concept with the focus being on the entertainment value of board games.
We're finding in our market research that a lot of the cafes that are opening up around the country they're opening with about upwards of 1000 to 1200 different games. Which, when we go to these spaces, is a wonderful wow factor, but you almost get overwhelmed as a guest and a consumer. So we're going to be starting off with a little less, we're starting off with about 350 titles to start. It's a little more digestible for people when they come in. And it also allows our staff that we'll be bringing on to be able to learn these games, learn the rules, and be able to recommend new games to play, help you find your favorite a lot more quickly, and also teach you the rules of a lot of these games as well. So we really want to elevate the overall experience that you're getting in there.
So for a small game cover charge, five dollars, you get access to the full library of games for as long as you want, for as many games as you want, for that day. And that five dollar cover charge allows us board game cafes to be able to maintain our inventory. Because a lot of these games are meant to be played three to four times a year, if that, when you break it out with family during family reunions or holidays. They're not meant to play 10-12 times a day with these cafes. So they get a lot of wear and tear. We are going to be varnish spraying the boards to make them a little more water resistant, sleeving a lot of the cards, organizing the pieces in a box with rubber bands, bags, etc., and then reinforcing the boxes and ordering replacement pieces because inevitably they're going to get lost.
And I remember that you're going to focus the beverage menu around tea?
Yes, that is still correct. We have found that the coffee culture in Troy is elevated and thriving and really fantastic. So we want to add to the tea culture. And tea is something that both Brian and myself are very passionate about, we both enjoy and have our whole lives.
And we really became enamored with bubble tea. There's a place down in the city called Boba Guys that actually we are kind of modeling our program after.
A lot of bubble tea is commercially processed powders, shaken up to combine them. And it's really tasty but it often tends to be very sweet. And this is what turns off a lot of people to bubble tea. So we're going to be focusing on, similar to Boba Guys, freshly-brewed tea, house-made simple syrups, fresh milk, just making it really fun. Tea lattes, cocktails that are focused around tea. So we will be applying for a full liquor license, as well, for beer, wine, and cocktails. And we're actually going to be partnering with a great spot in Albany -- Short and Stout Tea Lounge -- which has a great bubble tea program themselves, really cares about how they're sourcing their teas, will actually travel out of the country to visit a lot of their tea vendors as well. And we think that we'll have a really good partnership with them.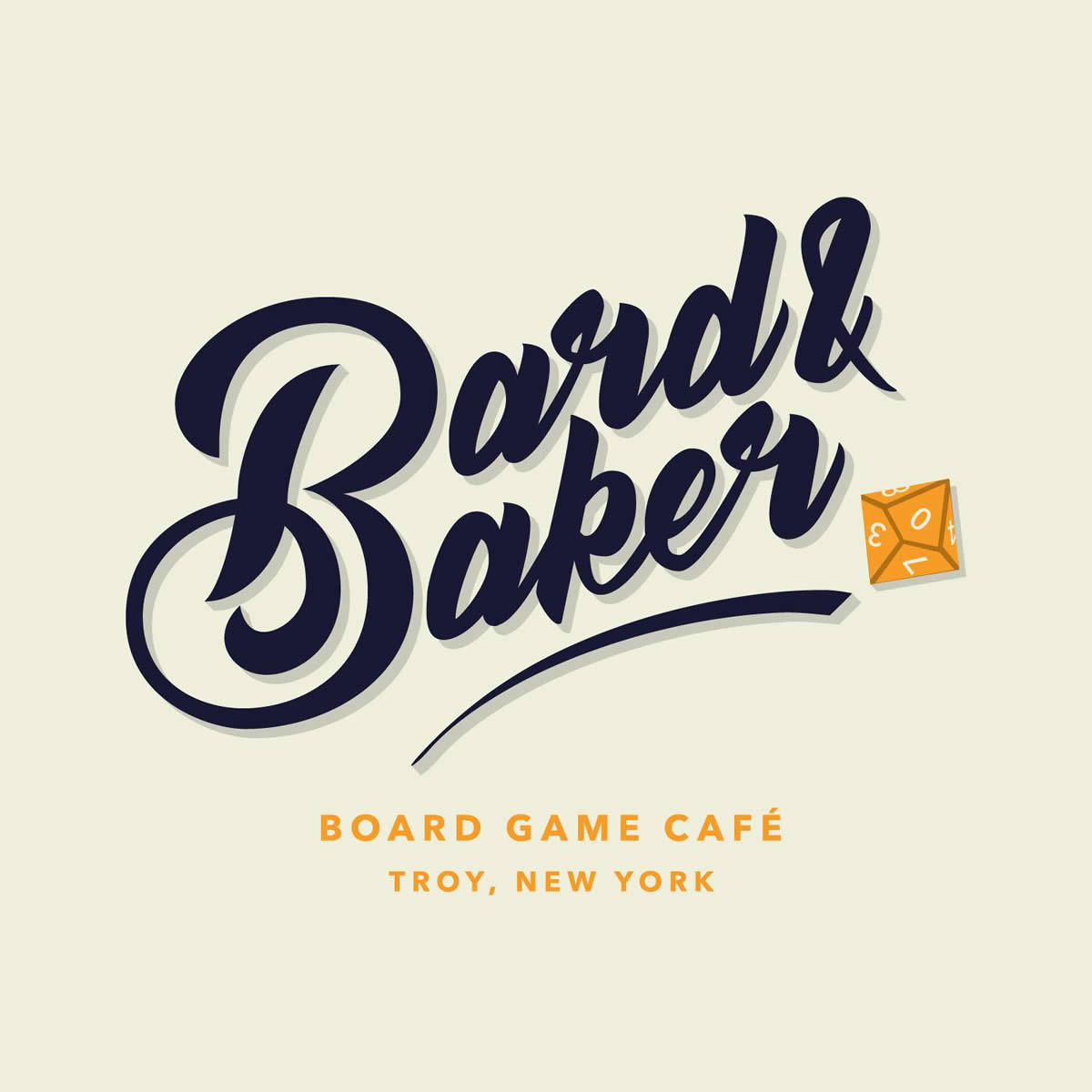 Going back to the Startup Grant, one of the things that really impressed me about you during that was how organized and deliberate you seemed about it. From what I understand, that was one of the things that bolstered you during the chamber competition. And I've been impressed with how deliberately you have gone about this and how much lead time you've laid out for yourself to make sure that you're prepared. So... given all that, that you've tried nail everything down and be really organized -- is there anything along the way that surprised you?
That surprised us? As silly as it sounds what has surprised me the most has been just the overwhelming excitement of people in the area for this concept.
We were excited about it. We knew it would be really fun. We knew that people would enjoy it. But since our announcement in the Times Union about a month ago of winning the business grant competition, people have been reaching out to us via Instagram, Twitter, Facebook, email directly asking to work for us. They're so excited for the concept, just thanking us for bringing it to the area. Telling us what are their favorite board games to play. And it's really creating this just beautiful sense of community and collaborative gameplay which is even more than we could have hoped for. And I think that was sweet.
When we went through the All Over Albany grant competition, we were overwhelmed by the support there, with a crowd vote that was over 1200, which was absolutely fantastic. And that has really just... it's kept going and just kind of snowballing into people getting really excited about this project. And that has been the biggest, wonderful surprise.
This interview has been lightly edited and condensed.
Earlier: A look around The News, the latest large residential project in Troy
Say Something!
We'd really like you to take part in the conversation here at All Over Albany. But we do have a few rules here. Don't worry, they're easy. The first: be kind. The second: treat everyone else with the same respect you'd like to see in return. Cool? Great, post away. Comments are moderated so it might take a little while for your comment to show up. Thanks for being patient.