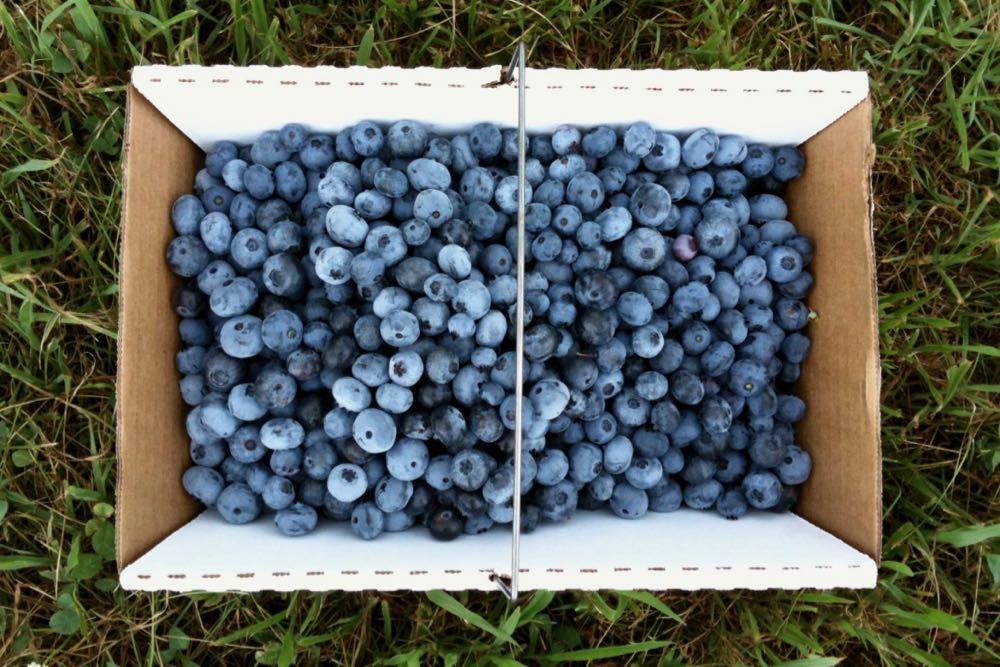 Mid summer is here, which means it's blueberry season around the greater Capital Region. And there are a bunch of places where you can pick your own.
Blueberries are are easy to pick (on bushes about waist high), relatively cheap (usually about $3 per pound), and they freeze beautifully, so you can stock up for later in the year. Picking them on a beautiful summer morning is almost meditative.
Here's a list of farms around the region for PYO blueberries, along with a few details.
Important: You should call ahead (or check the farm website/Facebook) the day you're heading out to get the conditions.
Also: Wear sunscreen or a hat or both -- because the blueberries only grow about waist high, there's usually little or no shade in the fields. Bringing water is a good idea, too.
Albany County
Indian Ladder Farms
342 Altamont Rd, Altamont, NY (map)
(866) 640-7425
Wednesday-Thursday 9 am-1 pm / Friday-Sunday 9 am-4 pm
Blueberries are $4.75 per quart. Indian Ladder also currently has PYO raspberries -- red and black -- for $6.50 per quart. Be sure to call the PYO hotline (the number above) to check on availability.
Columbia County
Samascott Orchards
5 Sunset Ave, Kinderhook, NY (map)
(518) 758-7224
Wednesday-Monday 8 am-6 pm
Samascott has multiple large blueberry fields, with different varieties. They're $3 per pound. (There's a $5 minimum for PYO.)
Samascott also currently has black raspberries ($5 per pound), sour and sweet cherries ($3 per pound), strawberries ($3 per pound), and a range of other PYO vegetables. (Cherry season will be ending soon.)
The Berry Farm
2309 Route 203, Chatham, NY (map)
(518) 392-4609
Open daily 8 am-5 pm (farm store open every day 8 am-6 pm)
The Berry Farm currently has blueberries and raspberries (red and black). It also has PYO raspberries. "Before venturing into our berry fields, please visit the front register inside the farm store for instructions on picking. Picking containers are provided."
Also: "All of our berries are pesticide-free!"
Love Apple Farm
1421 State Route 9H, Ghent, NY (map)
(518) 828-5048
Every day 10 am-5 pm
Love Apple has PYO blueberries for $3 per pound. It also currently has PYO cherries (sweet and tart), blackberries, and raspberries. Love Apple also offers PYO peaches, which are a little late this year because of the winter -- keep an eye out for them in the next few weeks.
Thompson-Finch Farm
750 Wiltsie Bridge Rd, Ancram, NY (map)
(518) 329-7578
Check website (usually 8 am-noon on days it's open)
Thompson-Finch runs PYO hours based on berry availability, so watching the farm website and Facebook page is a must if you're looking to pick there. (The farm also has strawberries now, but that season will be running out soon.)
Also: Thompson-Finch is a NOFA-NY Certified Organic farm.
Rensselaer County
Hay Berry Farm
1176 Babcock Lake Road, Hoosick Falls, NY (map)
(518) 285-9039
Wednesday-Saturday 7:30 am-3 pm, Sunday 11 am-3 pm
PYO blueberries start July 11. Hayberry grows multiple different varieties of blueberries. Keep an eye on its Facebook page, where the farm posts updates about which varieties are in season. Also: Hay Berry also offers PYO lavender, which we haven't seen anywhere else.
The farm is a member of the Northeast Organic Farming Association of New York.
Saratoga County
Bowman Orchards
141 Sugar Hill Rd, Rexford, NY (map)
(518) 371-2042
Monday-Saturday 9 am-5 pm / Sunday noon-5 pm
PYO blueberries are $4.29 per pound. Keep an eye on the orchard's Facebook page updates.
Eagle's View Farm
2089 Route 29, Galway, NY (map)
(518) 882-9199
Monday, Wednesday, Saturday 8-11 am
PYO started this week. Blueberries are $2.50 per pound. Eagle's View grows multiple varieties of blueberries that ripen as the summer progresses.
Note: cash only, no bathrooms, no pets.
Winney's Blueberry Farm
113 Winney Dr Schuylerville, NY (map)
(518) 695-5547
Every day 8 am-6 pm
PYO season started July 4. Blueberries are $3.10 per pound PYO.
We've heard in past years that Winney's grows 19 different varieties (!) of blueberries, and is said to have one of the largest plantings of blueberries in the state. The varieties tend to have staggered harvest times through mid August. Keep an eye on the farm's Facebook page for updates.
Washington County
Hicks Orchard
18 Hicks Road, Granville, NY -- (map)
(518) 692-2376
Saturday-Monday 8 am-5 pm
Hicks started PYO blueberries July 4. The farm grows four varieties of blueberries and the season there typically extends through the end of August. Hicks also has PYO tart cherries, though check ahead because the season is short and is probably ending soon.
Hand Melon Farm
533 Wilbur Avenue, Greenwich, NY -- between Schuylerville and Greenwich (map)
(518) 692-2376
Wednesday-Friday 8 am-5 pm, Saturday-Sunday 8 am-4 pm
PYO blueberries are $3.50 per pound. Hand also PYO raspberries for $4.25 per pound.
Of course, the farm is also where the Hand Melons are grown. And you've never had one of the melons, you should give them a try. They're fantastic. When the melons become available, usually a little later in the summer, you can get them at the farm stand across from the Washington County Fairgrounds.
Stu-Berry Acres
1483 County Route 49, Argyle, NY (map)
(518) 638-8926
Every day 8 am-6 pm
Stu-Berry was expecting PYO blueberries to start this week (around July 11) -- they'll be $3.25 per pound. Stu-Berry also grows different varieties of raspberries ($4.50 per pound). Check the Facebook page or call for availability.
Also: Payment is cash or check only.
____
Know of a good place not on this list? Please share!
Picked too many blueberries? Freeze 'em.
We mentioned that blueberries freeze well. Here's a good way to do it:
+ Rinse the berries, picking out stems and damaged berries.
+ Pat the berries dry with a clean towel -- you don't have to get them super dry, but do what you can without smooshing them.
+ Spread them on a sheet pan, in a single layer if possible, and pop them in the freezer uncovered. Let them freeze hard -- usually 3-4 hours or overnight.
+ Bag the berries -- most of them will have frozen individually -- in a zip bag or other container, trying to get out as much air as possible. Pop them back in the freezer.
+ Enjoy months later. The berries won't be exactly like fresh, but they hold up well. And you'd be hard pressed to tell the difference after you've baked them in a crumble or pie, or even make pancakes with them.
Also, crumble them
Fresh blueberries are often delicious just on their own, but if you picked a bunch of them (it's easy to pick too many) and are looking for something to do with all those berries -- crumble them!
Say Something!
We'd really like you to take part in the conversation here at All Over Albany. But we do have a few rules here. Don't worry, they're easy. The first: be kind. The second: treat everyone else with the same respect you'd like to see in return. Cool? Great, post away. Comments are moderated so it might take a little while for your comment to show up. Thanks for being patient.