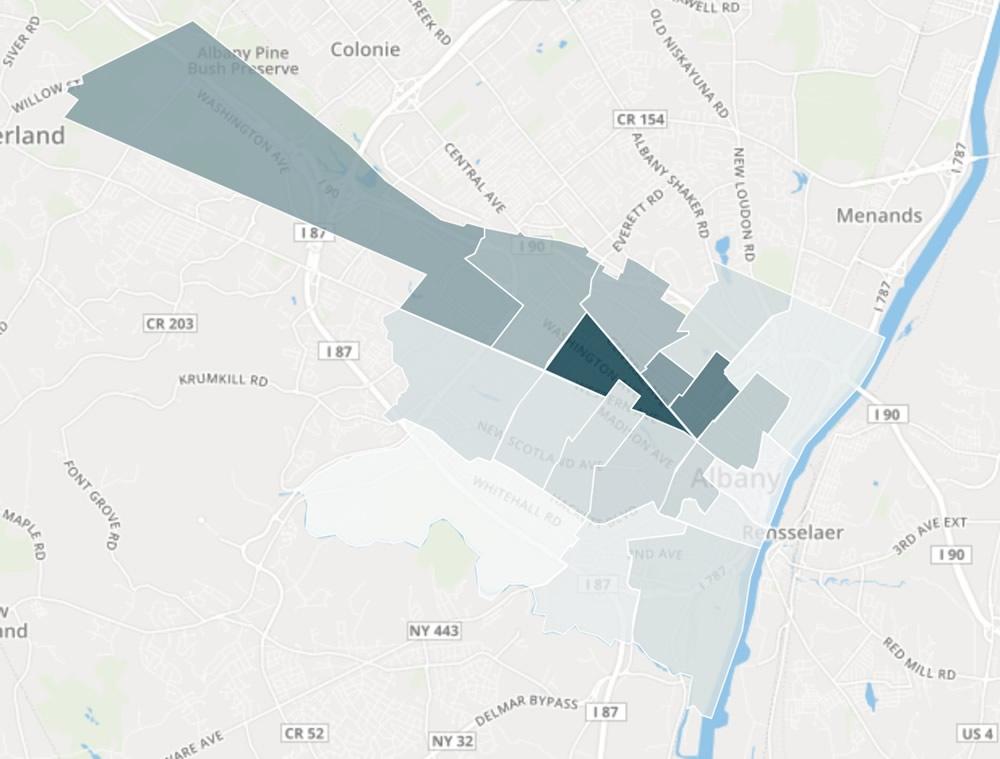 The Albany Police Department has gotten reports for 7,853 crimes over the past year.
It's cited 1,144 drivers for some sort of speeding.
And officers have used a taser 13 times during 2018.
Those bits of info are from a new public data portal the Albany Police Department unveiled this week. It includes 15 datasets that cover everything from arrests to traffic citations to documented interactions between officers and the public, much of that data coded by geographic zone. Press release blurbage:
"Throughout the years, the Albany Police Department has worked very hard to build trust, legitimacy and a meaningful relationship with members of our community," said Albany Police Chief Robert Sears. "The launch of this interactive online data portal reinforces this department's commitment to maintaining and improving residents' trust through transparency and accountability. It is my belief that by making data widely available, we will surely strengthen community partnerships, equip the public with real-time data, and allow the Department to define and achieve operational goals more effectively. I'm excited to share this new site with the Albany community and look forward to its success."
Data about what governments do -- and how -- is a wonky, but important topic. As we've argued before, having access to this sort of data is becoming a new civil right. And policing should involve plenty of public oversight.
Here are a few quick thoughts after looking around the new APD portal...
This will make things a bit easier
The portal is built on the same platform the city has used before for public data projects (it's called Socrata), and it's pretty easy to use. You can directly look through different datasets online, which is good because it doesn't require people to download a file and open a spreadsheet program. And you can even make charts and other visualizations online if you'd like. (You have to sign up for an account to save them.)
But you can export the data in formats such as csv and xls if you'd like, and there's even an API. (An API is basically a way for developers to pull data from something and use it in some sort of application.)
This sort of access should be useful to people. There has no doubt been many a neighborhood association meeting where people have wondered how many speeding citations have been issued (or some similar question) in the neighborhood over the past year. And now that info should be a lot easier to get.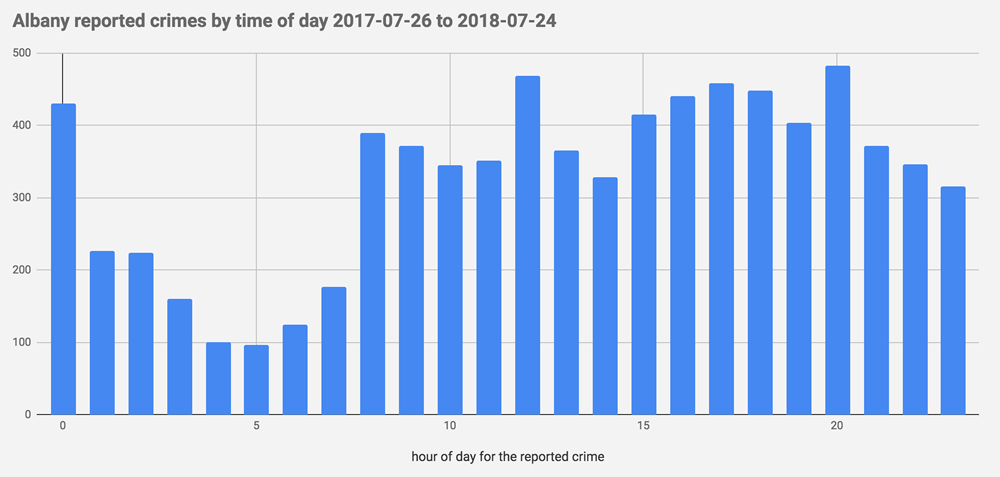 We rolled together this graph from a download of the crime report data.
How specific and how useful?
There's a lot of info posted on the portal. It will be interesting to see if people are able to look through the APD's data for purposes beyond things like simple counts of traffic citations or crime reports.
One of the frustrations people might encounter is that geographic categorization stops at the neighborhood or patrol zone level. If you're trying to get a handle on, say, the calls for service connected to a vacant house down the street, that level of detail isn't to going to be helpful.
There are some good reasons for the data to lack that sort specificity, privacy issues primary among them. It's an issue in the same vein as some of the questions the department considered when putting together its body camera policy.
Questions rather than conclusions
It can be tempting to think that this sort of data can provide answers about complicated situations. And it probably can to some superficial extent. But more than anything it's probably best to think about it as a way to prompt good questions about what's happening and why.
For example: Of the 2,596 field interview cards documented by the department over the past year, 61 percent of the interactions have been people whose race was coded as black by the department. That's a prompt to start asking why that is and what's the context for these encounters.
Another example: The zone map of traffic citations indicates that the wedge of the city north of Western Ave is the site of the majority of these citations. Is that because the zones include high-traffic thoroughfares such as Washington Ave and Central Ave? Are there more patrols there? Maybe some combination of both?
There are a bunch of different societal threads that wind together at policing -- politics, race, geography, economics. A dataset isn't going to be able to provide the full context for some of these complicated questions, but it can be a place to start.
Evolution
The unveiling of this data portal is one of the last official actions by acting police chief Bob Sears, whose last day is this Thursday. He's part of a line of three chiefs from inside the department -- Steven Krokoff and Brendan Cox before him -- who have emphasized community policing. They have done and said things that would probably would have been unexpected a decade or so ago, pursuing goals like diverting people with substance abuse or mental health issues from the criminal justice system or rolling out officer body cameras via a series of community forums.
There is no doubt still work to be done, over time scales short and long. In the near term the city has been dealing with a flare up of violence this summer. And over the long term, people still show up at forums to talk about how they like what they're hearing from APD leadership -- they're just not confident it's totally filtering down to street level.
Even so, it's worth noting the evolution. And it's something for the next chief to build on.
____
Earlier:
+ A few takeaways from one of the public forums about the next Albany police chief
+ Albany now has a better sense of how many vacant buildings it has -- and a common starting point for taking on the problem
+ openAlbany
Say Something!
We'd really like you to take part in the conversation here at All Over Albany. But we do have a few rules here. Don't worry, they're easy. The first: be kind. The second: treat everyone else with the same respect you'd like to see in return. Cool? Great, post away. Comments are moderated so it might take a little while for your comment to show up. Thanks for being patient.