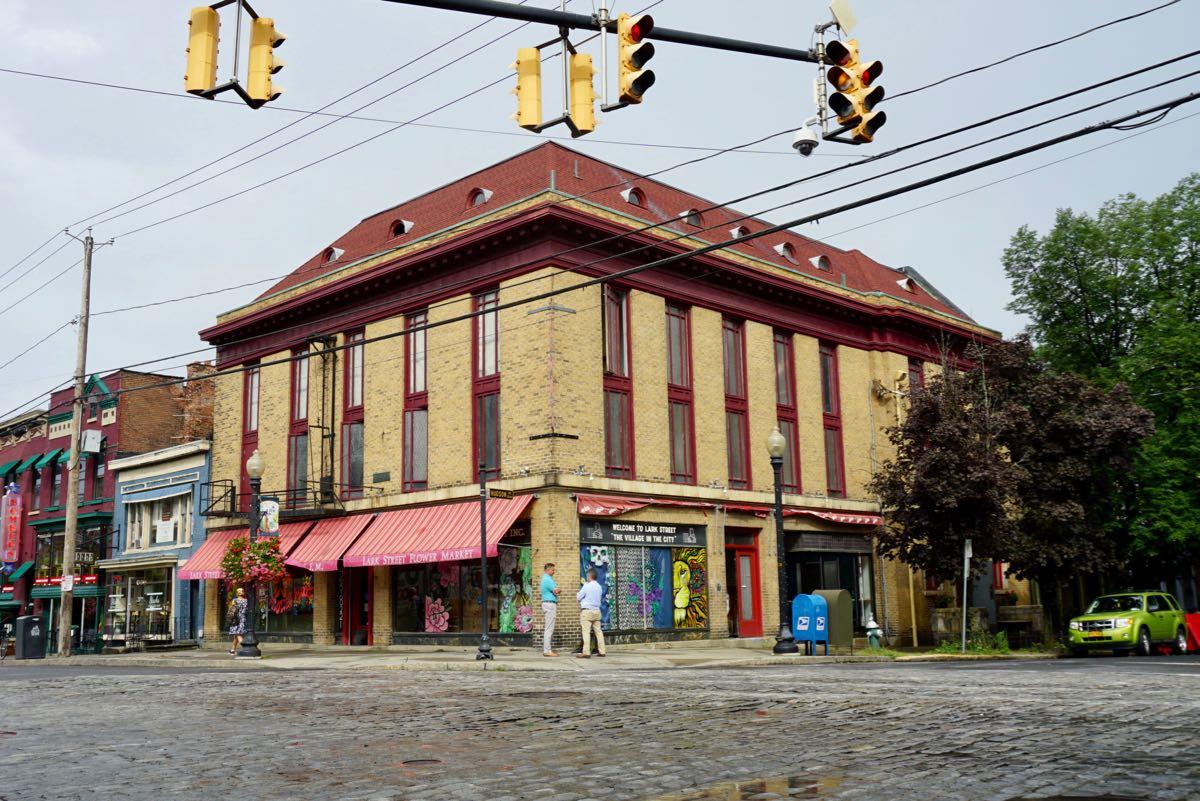 AOA is on summer break. So we'll have new follow-ups with people we've met and covered during the last year (or so)
Back in February 2017 word surfaced that 351 Hudson Ave -- AKA the EBA Building, at the corner of Lark and Hudson -- was going up for auction.
The eventual buyers: A team made up of Jeff Buell, a local developer, and the married couple Justin and Jennifer Miller (an attorney and teacher / yoga instructor, respectively). They didn't have an exact plan for the landmark building, but they were excited to get started.
Well, that part took a little longer than expected -- a year, in fact. But the group does now own the building -- which they're calling Lark Hall -- and work is moving along on renovations. (The Lark Street Flower Market is still there.) First up: a yoga studio to be run by Jennifer Miller. A juice bar will follow after that. And then there's the large auditorium space upstairs.
We stopped by 351 Hudson to talk with Jeff Buell and Justin Miller about what's been going on, how they're planning to use that auditorium, and the Lark Street neighborhood.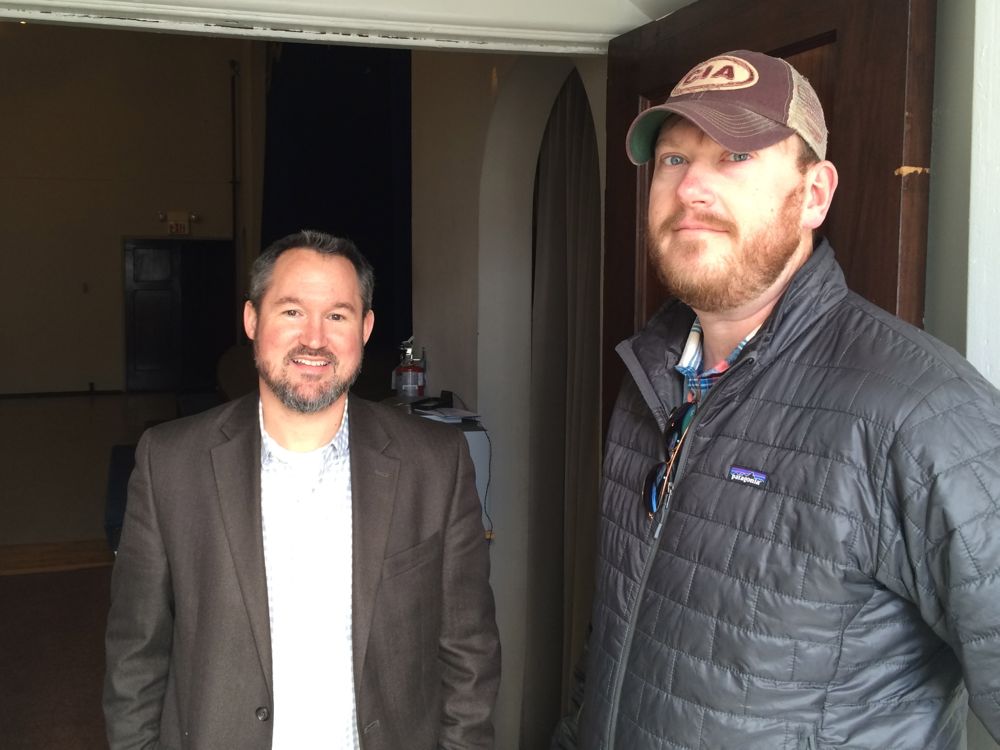 Justin Miller and Jeff Buell in March 2017.
So it's been a while since the last time we talked to you guys. That was when you were in the process of buying the building and thinking about what you wanted to do with it. So what's been up since then?
Jeff Buell: It was a fun process to get through the actual purchase of it. When you buy something from a non-profit it has to be blessed by the [state] attorney general and that process took a little bit longer than we were expecting. We ended up buying it March 14th of this year. So it took a year to close the building.
Then it was how do we get to work right away. And we knew the first use was Jen's yoga studio. And so we went about creating a new vibe in the entrance way. And we wanted to get that started and get it finished in a couple of months. And we're putting the finishing touches on it right now. So the yoga studio -- and the front entrance way will be a juice bar -- is almost complete. We spent about $150,000 in the first couple of months just to kind of put in a new storefront and freshen it up and make it up to code energy-wise.
Yeah, it's been a process, a few bumps in the road along the way, but so far it looks good and that's the important part.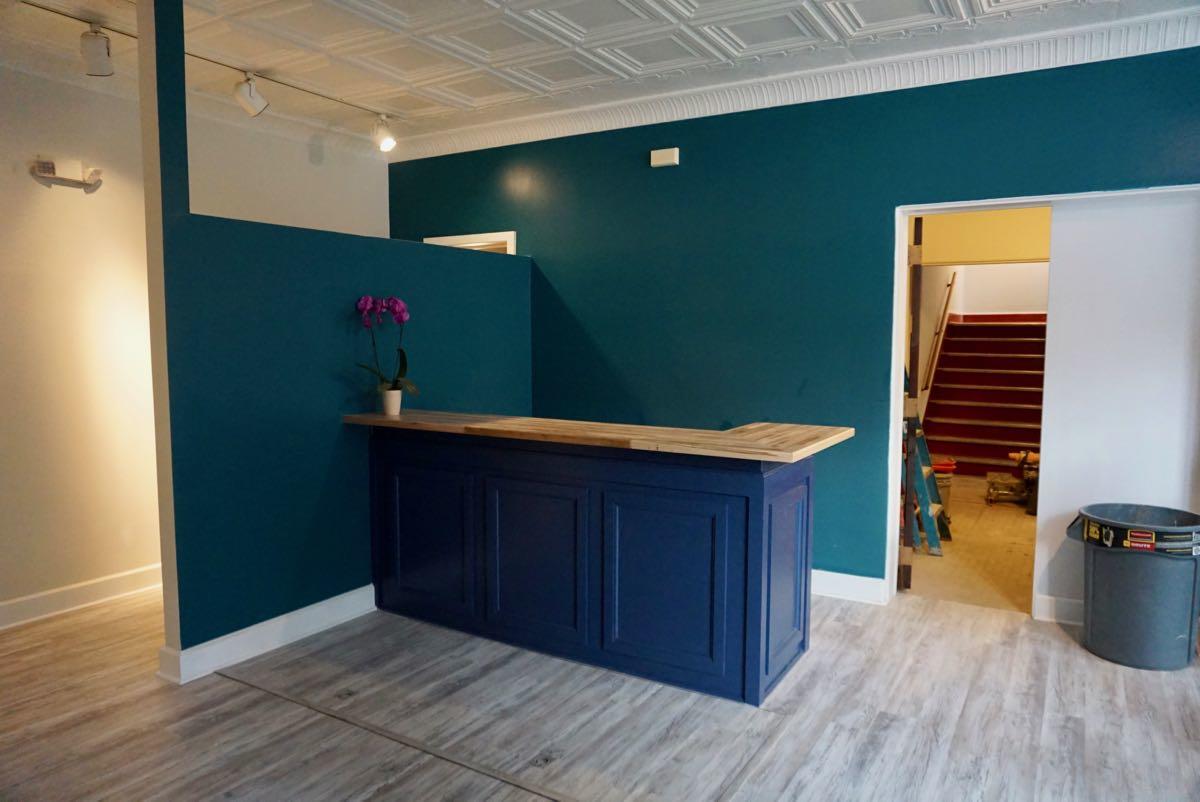 It seems like one of the upsides to having that time between when you expressed your intent to buy the building and when you actually closed is that you had a lot of time to think about what you wanted to do with it. And I know that you guys had some ideas [back then]. But now I'm guessing you have a little bit of a firmer plan?
Justin Miller: We know what the building needs. The value of time was getting to know the building and how to make it functional in a way that we ultimately want it to function with people in the space and how different businesses will interact and use the same spaces. That's been a huge benefit to plan. And we're still looking at design options for upstairs in terms of where things will go and how they'll fit. That's been kind of an evolving conversation for 16 months.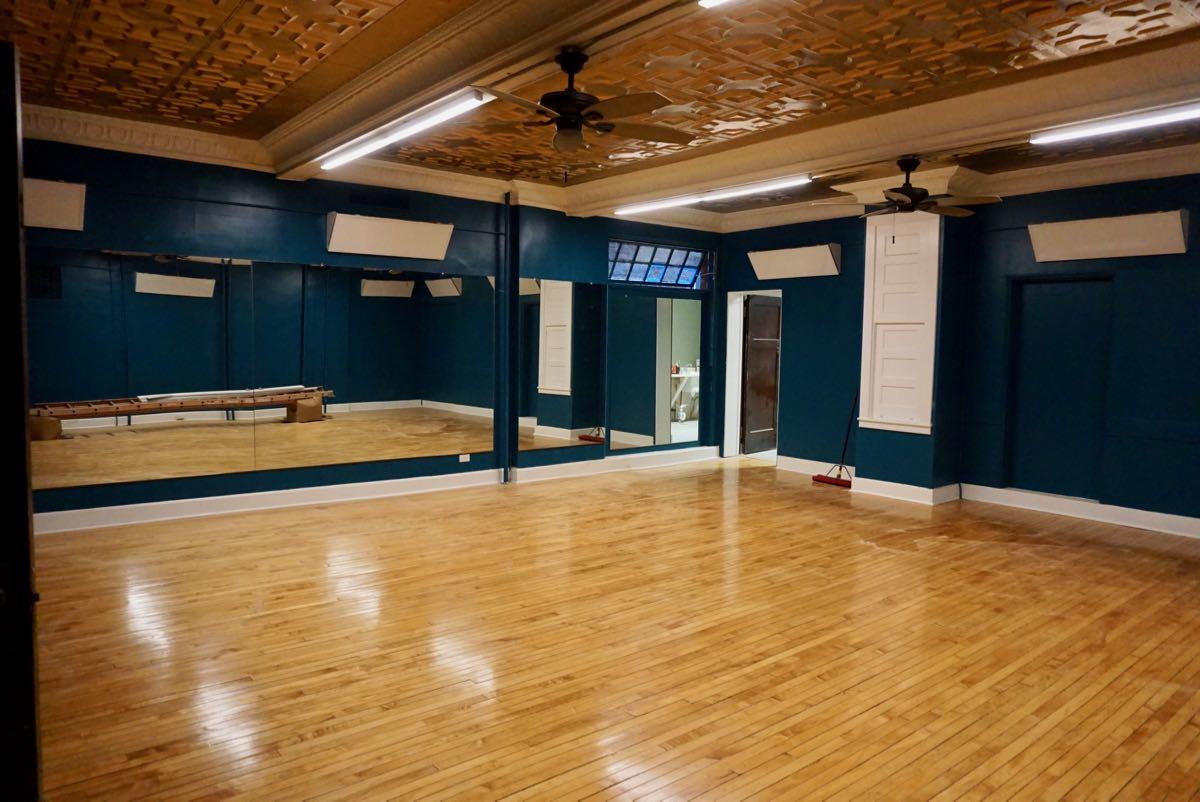 Yoga studio space.
Jeff Buell: Yeah. Personally, I think you're less apt to make a mistake when you have more time but you're also less apt to act. Especially in real estate sometimes it's ready, fire, aim. And this was always a passion project, so now the passion still exists but we've had the time to really look at all these issues. Long term it's probably a benefit even with the short term frustration.
So that upstairs auditorium space is obviously really interesting and it's kind of unique for this neighborhood. So what's your thinking on what you're going to do up there?
Justin Miller: We've been focusing on a community and performing arts venue which could be community meetings, weddings, and group events -- and occasional live music -- as a primary way to fill the room and get it utilized. That comes with a lot of responsibility and a lot of thinking as well. So we've been focusing on, again, how do you interact here and how do you coexist with established neighborhoods that like to have things certain ways and not be interrupted, and design a business or a plan here that is kind of useful and kind of the highest and best use for the building -- but at the same time that's something that's not going to be a negative impact. So we've spent a lot of time thinking about that stuff.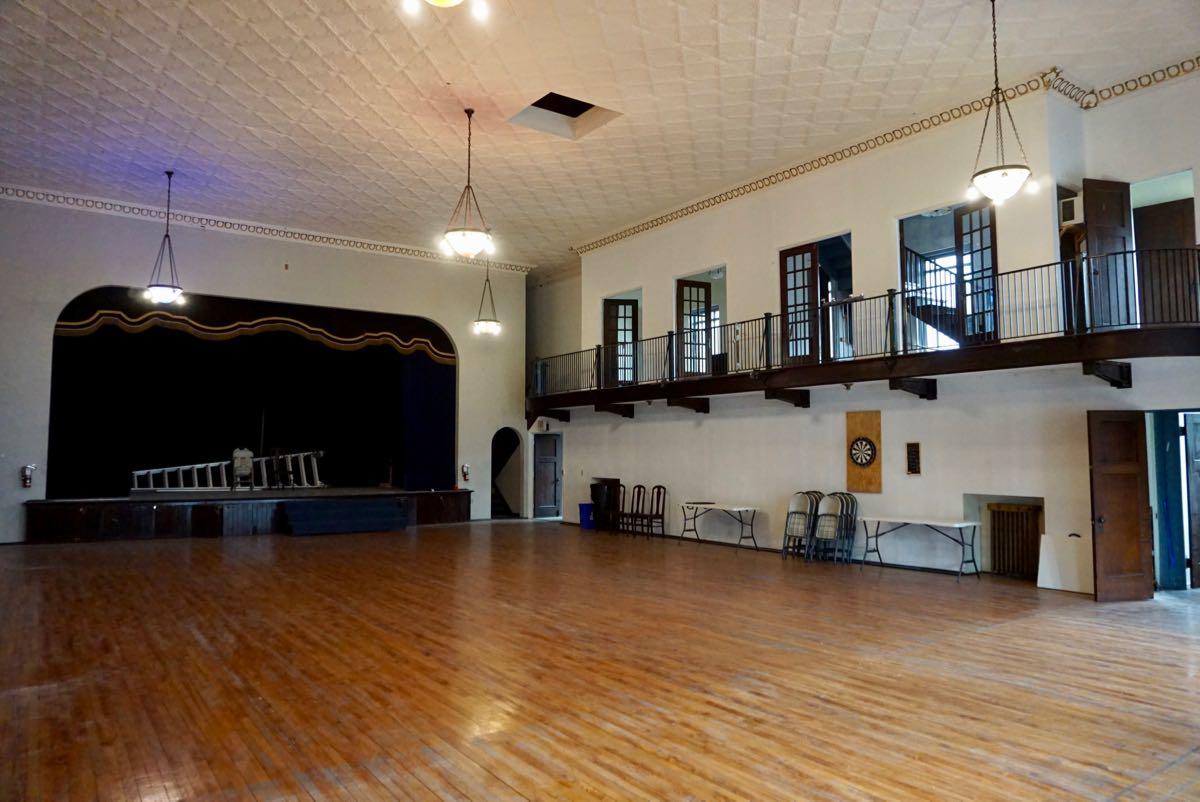 Jeff Buell: So for me, from the historical perspective because that's what we're so passionate about, the building was built 102 years ago with the second floor being created as a gathering and venue space in a neighborhood that was a tightly gathered, walkable community. Because that's what the world was. The world is now shifting back to that. And so I think that that space is screaming to be used as it always was intended. And that's still our focus. And now, how do you do that in a completely different era?
Once you start talking about events and music I think you probably get a reaction from the neighborhood that's like two sides of the same coin. On one hand there's going to be a lot of excitement, people are going to be really interested in that. The other side of that coin: there are going to be people concerned about noise and crowds and parking and all that goes along with that. So what have you been doing to try to talk with the neighborhood and understand where it's coming from?
Jeff Buell: We met with some neighborhoods really early on and said we're buying this building and we're not really sure how we're going to do it, yet. And then it took a year to close it -- verifying that we didn't know how we were going to do it, yet. I think we're getting closer to being able to say here's our plan and here's how we're going to go about it. And then that opens up the discussion of, well, how are you going to address this, this, and this. And in a neighborhood that historically is sometimes good and sometimes bad at balancing the commercial/residential interactions, it's going to be an interesting conversation.
"... the building was built 102 years ago with the second floor being created as a gathering and venue space in a neighborhood that was a tightly gathered, walkable community. Because that's what the world was. The world is now shifting back to that. And so I think that that space is screaming to be used as it always was intended. And that's still our focus. And now, how do you do that in a completely different era?"
But I think one of the things that we both said early on was it's very important to us that we both sleep well at night. And the way to sleep well at night is being a good neighbor. Across our entire portfolio we've had a handful of neighborhood complaints -- and tens of thousands of square feet of development. We take our relationships with our neighbors very seriously. As long as we keep that as our focal point I don't see us having very many problems.
Justin Miller: We met with all three neighborhood groups that kind of overlap here -- Washington Park, Center Square, Hudson/Park. We've met with all of them, talked with them. They actually had a joint meeting here to get to know the place and kind of realize that it's here. A lot of people walk by the building and don't even realize the upstairs is part of it.
Jeff Buell: I was just walking in and there was a guy who clearly looked like he was on an afternoon date or a walk with the dog, and he said to the girl, "Oh, there's a really cool venue upstairs. Nobody knew it was there but I went there a couple of weeks ago."
So it was funny to hear just in passing. But I think at that [neighborhood open house] I gave very brief remarks, but it said something along the lines of what I just said to you: This was built this way and so it should function this way. And there was overwhelming support from people who were there of, yeah, that's right, that's what this should be.
And Lark Street is *the* original street. And so let's just do something here that makes a lot of sense. We can do something incredibly cool here that brings vibrancy to the neighborhood without disrupting the lifestyle and living capabilities of those that call this place home.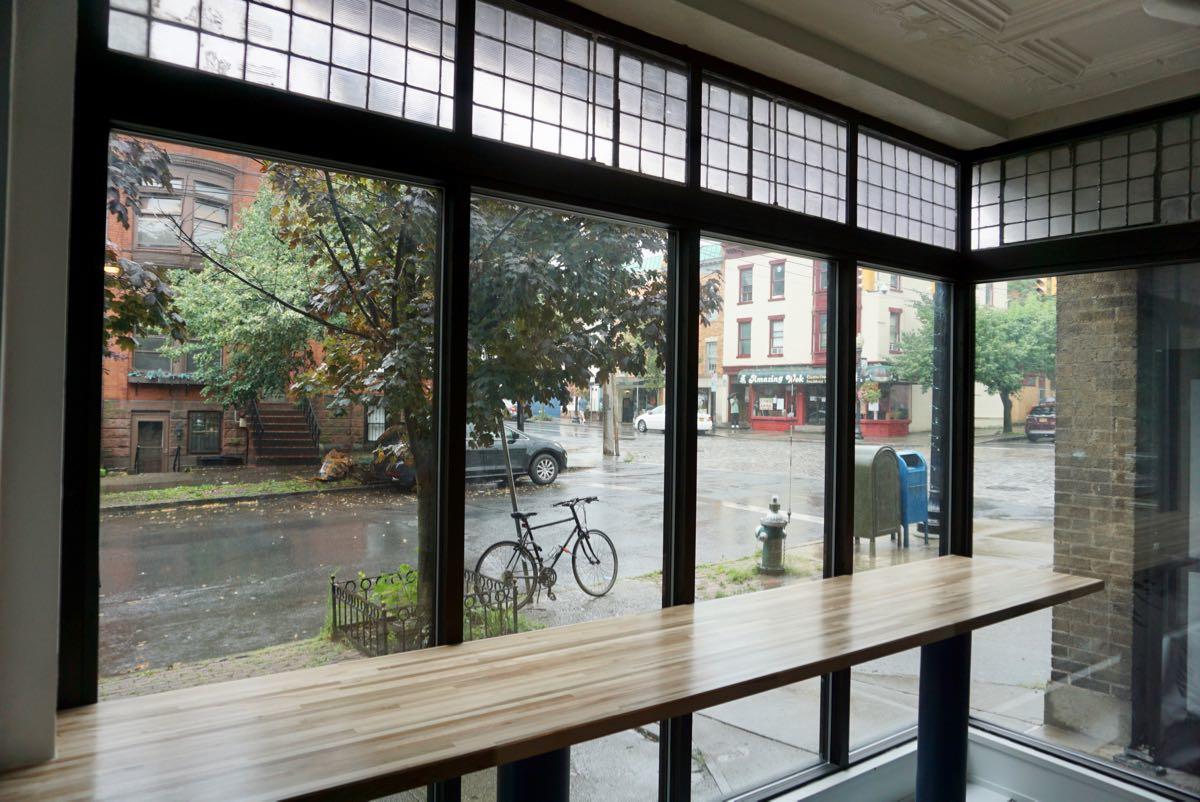 Do you guys have a target date or time frame for figuring out how you're going to program that space?
Justin Miller: That's a moving target sometimes, too.
Jeff Buell: We're waiting on construction estimates now. The opening date is going to be based on how much money are we putting into this. So, the elevator has a cost, the sprinkler system has a cost, and air conditioning system has a cost. All these things are desperately needed in the place. And so once we get that final number and look at what it actually looks like -- because it can function as a space right now. We had 150 people in here and it wasn't crowded. It was functional and it worked. But what aesthetic are we trying to create?
Right now, I'll say that we're pricing the home run aesthetic. What does it cost to hit a grand slam here. And then we'll back into that and see where we go from there.
And what counts as a grand slam for you?
Justin Miller: Having the place as functional and built up as we possibly can do it. A lot of the time that we've had realizing what the building needs to be a modern amenity. An elevator is absolutely critical to function at that level and serve not only just a wedding or a band or a holiday party, but also just comfort. Sprinklers, air, bars, mezzanines, bathrooms. The list is kind of exhaustive at some point.
Jeff Buell: Yeah, for me it's an experience. The grand slam is I want somebody to come in to this space for whatever reason they're coming here and if they're here for three hours when they walk out the front door they'll say to themselves, wow, I can't wait to go back there and do something again. Whereas if you walk in there today and there was something going on upstairs and it's 86 degrees outside you're going to want to walk out after seven minutes and never come back. So we have a balance that we need to we need to find.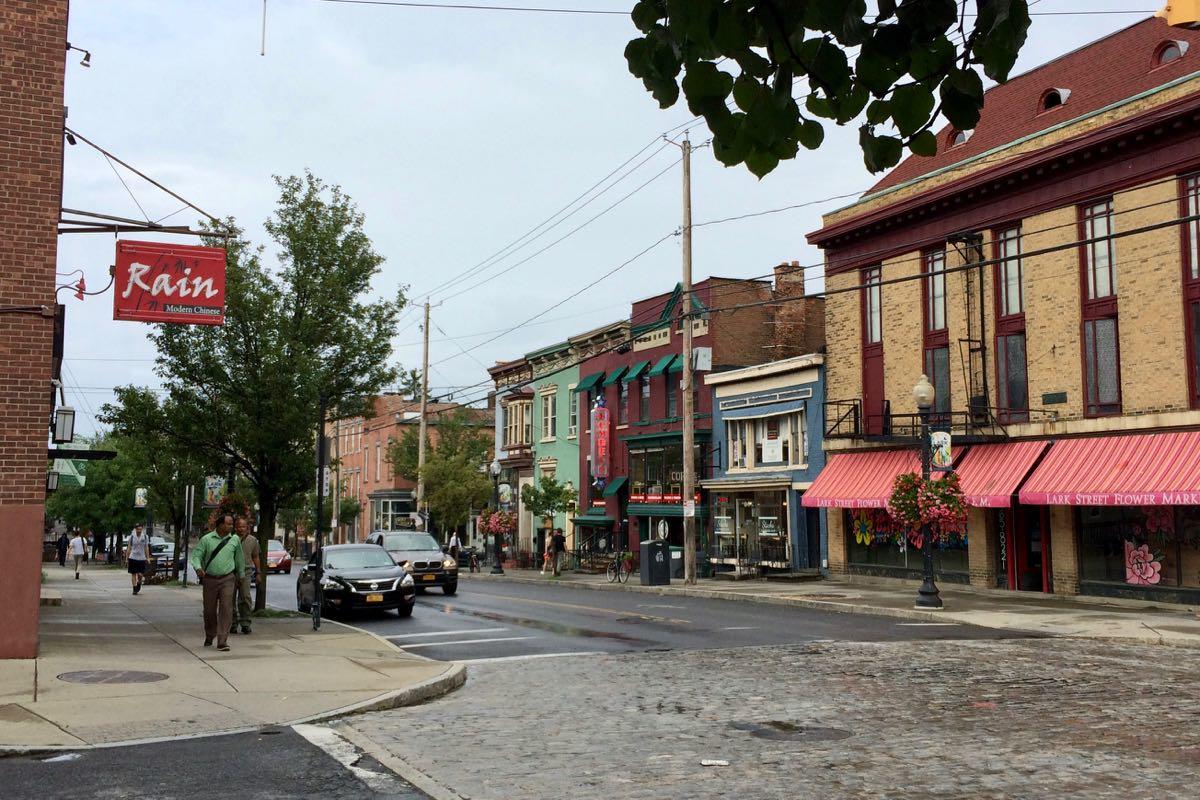 One of the ongoing conversations in Albany is the state of Lark Street and people's feelings of what the direction of this corridor is. As of right now how do you feel about it?
Jeff Buell: I spend all my time thinking about urban neighborhoods. So I think one of the reasons that I do that is I had such a good experience on Lark Street when I was 18, 19, 20 years old. This is where we hung out. It was fun, it was great. You couldn't afford to live here because we had no money. And it was like... maybe someday. So for me the heartstrings get tugged when you talk about Lark Street.
I think the discussion of Lark Street's, let's say downswing, which is what some people say, is more of a byproduct of other cities being on an upswing. And so if everybody else was still kind of deflated and not functioning well no one would be talking about Lark Street in that way.
But downtown Troy's boomed. Downtown Saratoga is its own universe. Downtown Schenectady is having hundreds of millions of dollars in development. And so all of these things are happening and that's where you strike this balance of the Center Square area, if you look at rental income, is incredibly strong. There's no vacancies. Everybody still wants to live here. So it's not talked about in the same way. It doesn't mean that the street is any different, it's just not talked about the same way. So part of that is perception and storytelling, which can be corrected pretty easily.
And then part of it is the vibe has changed. It was once on the edge, that's where things are happening, right? And I think a little bit of that was a Metroland thing. Metroland was here and they were talking about things. This was the heart of action in the Capital District. It's not anymore. And it doesn't need to be. It can be something else. And that's a whole other story for me about regionalization. You know, neighborhoods can have different things. And I think that the depressive side of the talk about Lark Street is more a focus of other places doing things different.
Justin Miller: And there was a lot of investment I think in the mid 90s here that led to really like a heyday. So I think that was realized for a period of time and then there was a cycle of disinvestment and a lack of use and maybe a little depreciation here and there.
What I'm seeing now is a lot of new investment, not only financial but personal, I think, on the street with businesses that have a little bit more staying power, seem more stable, a lot less vacancies. I think the [business improvement district] has done a great job connecting people. And I think we're kind of a function of that swing back in the other direction. It's not just personal investment financially, it's more kind of pouring yourself into it a little bit.
This interview has been lightly edited and condensed.
Find It
Lark Hall
351 Hudson Ave
Albany, NY 12210
Say Something!
We'd really like you to take part in the conversation here at All Over Albany. But we do have a few rules here. Don't worry, they're easy. The first: be kind. The second: treat everyone else with the same respect you'd like to see in return. Cool? Great, post away. Comments are moderated so it might take a little while for your comment to show up. Thanks for being patient.