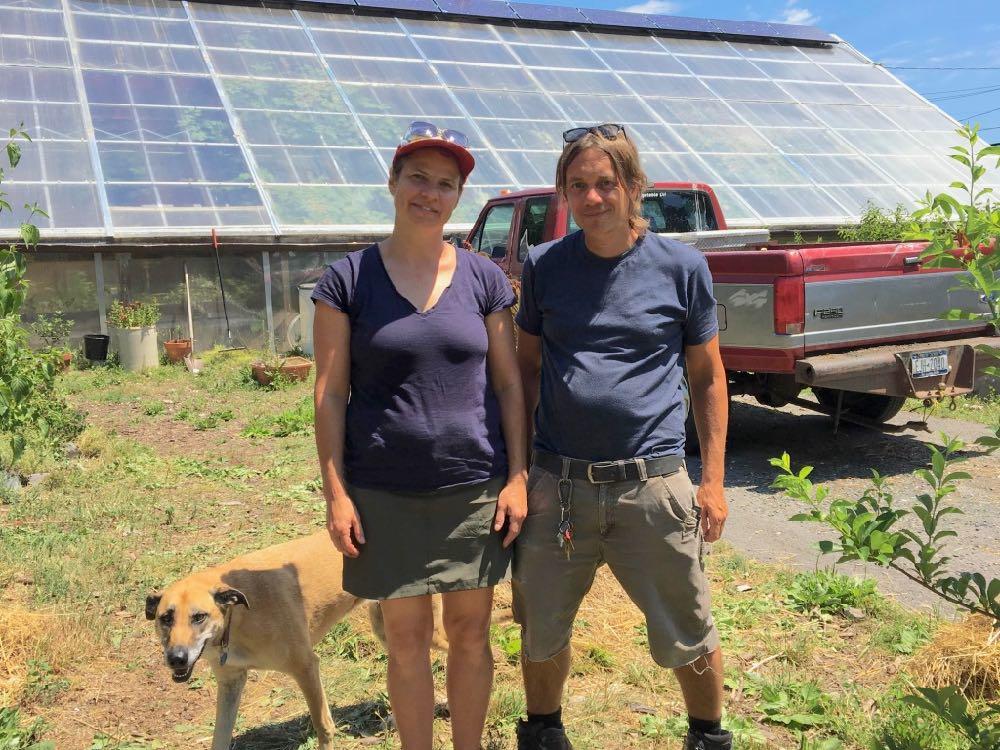 AOA is on summer break. So we'll have new follow-ups with people we've met and covered during the last year.
A little more than seven years ago Scott Kellogg and Stacy Pettigrew won the very first AOA Start Up Grant competition with their plans for an aquaculture to grow fish and watercress at the [then] new Radix Center for Ecological Sustainability. They were in the midst of constructing an 18-foot greenhouse on a corner of Grand Street in Albany's South End.
Almost a decade later the greenhouse is overflowing with plants, they're selling fish and watercress, running a composting business, raising animals, partnering with neighborhood organizations, and teaching students and city dwellers about their connection to nature -- all while raising two daughters and working on their PhDs.
And still, they found time to talk with us about how things at Radix are going.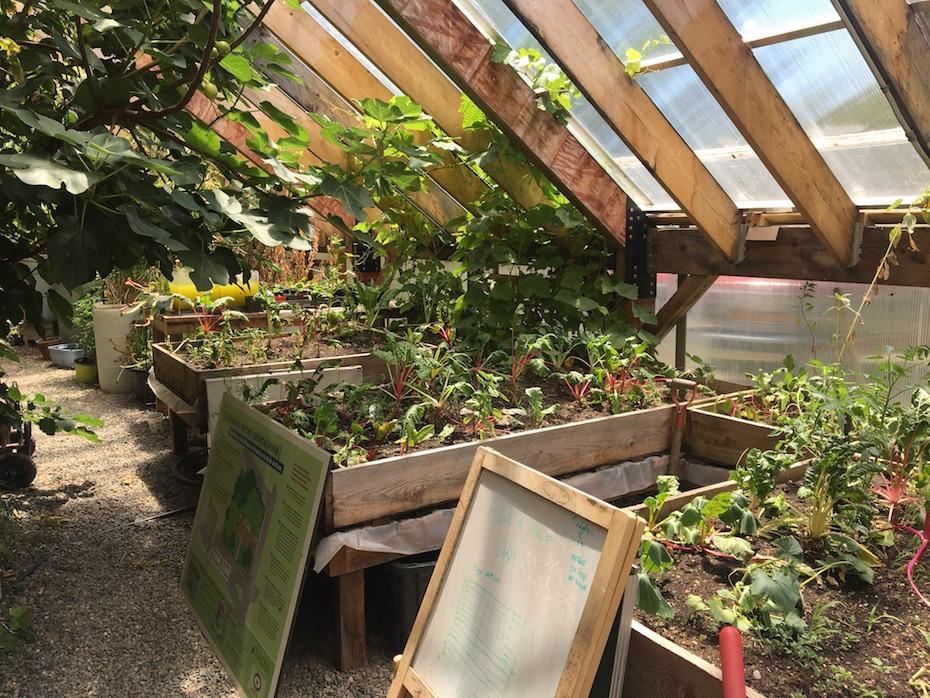 Catch us up. What's new at Radix?
Scott: A lot of great stuff. Albany County donated a half-acre parcel a couple of years ago, so we tore up the asphalt and have been building up garden beds, planting fruit trees and berry bushes in the ground.
We're really developing the youth program that runs throughout the year to help us with our farm share -- they're helping with everything from the planting, harvesting, to accounting. We do an eco-justice summer program in conjunction with Albany's summer youth employment program, so we have a group of 15 or 16 high school students with us doing a variety of activities. We're really trying to combine job training work readiness, by working in the gardens and farms all throughout the South End community, but also offering environmental justice education and fun field trips. We bring guest speakers to talk about a variety of different topics relevant to environmental issues in the South End and they go on field trips. Kayaking at Peebles Island, hiking on the Albany County Rail Trail. We go to visit the new sheep farming project in Tivoli Park. Really sort of teaching that you know there's nature in socio-ecological systems right here in Albany that are interesting and valuable and worth studying and to teach them that nature doesn't have to be something out there -- that it is something right here that we can learn from as well.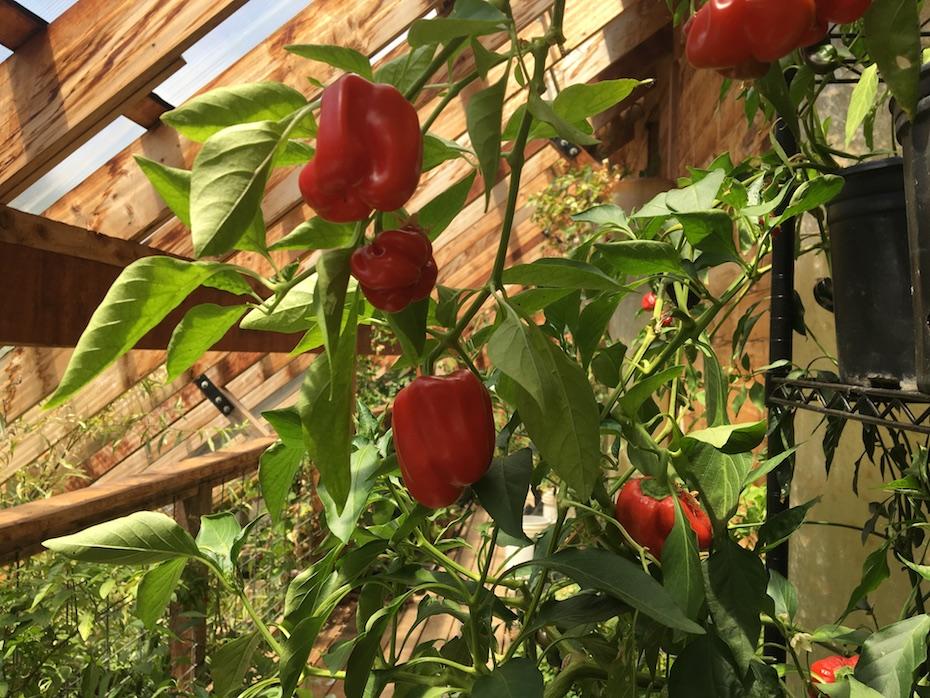 We're pairing high school students from the eco-justice summer program with SUNY students and they're doing research projects together throughout the neighborhoods on a whole variety issues -- food access issues to environmental justice questions. We're working really closely with A Village, a grassroots neighborhood organization in the South End, on a number of projects including the South End Healthy Market. They're set up on Saturdays at the Capital South Campus Center and have the ability to take food stamps and EBT, and they are doing what they can to help reduce barriers to access to food in what is otherwise a food desert neighborhood. We're also working with A Village on Our Children's Gardens, Six Blocks Garden, Creighton Storey Garden, and other gardens. And the goal there is really to get neighbors working in those spaces and help them out with access to whatever resources they need, whether it's information, soil, or plants, and to get good community and neighbors set up and growing food on their own.
We got an award from the Albany Water Board to create a floating island -- an artificial floating constructed wetland designed to remediate combined sewage overflows in the Hudson River. There is a central dock framed of cedar lumber on a solar panel that powers an air pump. Air from the pump is diffused underneath two rafts on either side of the dock that support wetland plants. The air supports a beneficial microbial community that, working with the plants, help to transform water borne nutrients into a harvestable plant biomass.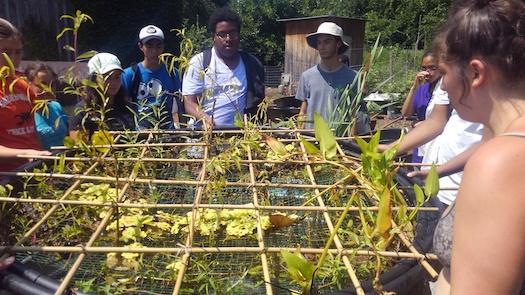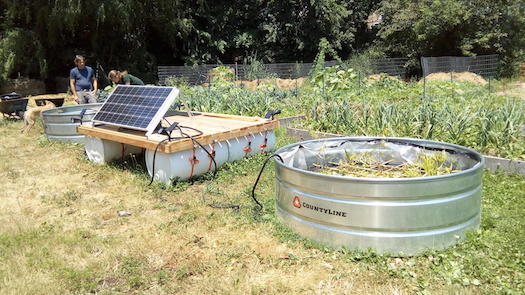 Students and professors from RPI, Skidmore, Siena, and the SUNY School of Public Health all contributed to the design.
The composting program is going great. We're increasing the number of customers that we have in the city of Albany. We got a grant from the New York State Pollution Prevention Institute which allowed us to, one, really sort of expand the reach of the program to do a lot surveying restaurants, but also really excitingly to purchase an e-bike and a trailer. So we're doing at least the downtown collection route with essentially a solar-powered bike.
How's the aquaculture coming along?
Scott: Good. It's going good. Yeah, we've got the fish and the water cress totally continues to be one of the backbones of our farm share operation. Most of our customers are individuals but City Beer Hall purchases our watercress.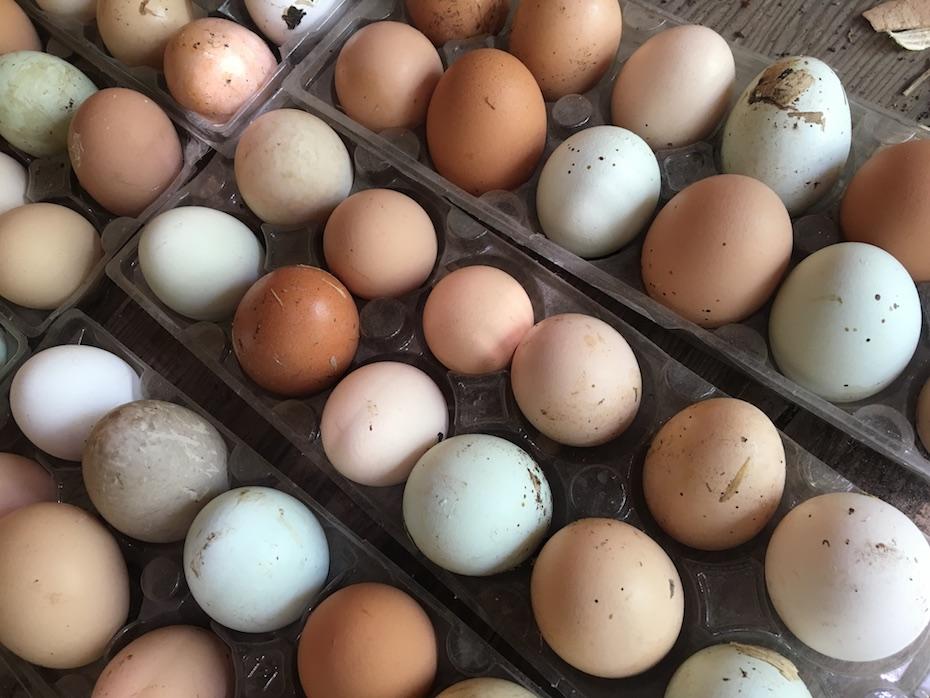 So what have you learned by doing all this?
Scott: Oh gosh, so much. I've just finished my PhD at RPI I was really able to basically build a dissertation around the work that we're doing here which was really lucky. My work reaffirmed a lot of the work we're doing -- asking the question like "Sustainability for whom?" and making sure that the benefits of sustainability, particularly urban sustainability, are distributed equally among a city's populace.
Stacy: We've also learned that the day-to-day operation is a lot of work. It's a lifestyle. After I put the kids to bed I do the accounting. There's so many different facets to it. It's really good to be able to delegate and have interns and people that are helping and can take on some of the work. And we've been able to create some paid positions and some of their colleges are paying them to work with us, which is fantastic. But at some point it's almost more work to try to figure out things and get people things to do. You have to find that balance of having the thing to do and then having the person and training the person.
Scott: It takes that meta structure to figure out how to best plug people in to all the different aspects and have it all worked out in a way where everybody's being productive.
Stacey: You want them to have more than that experience -- you want them to be leaving with more than weeding and watering.
Scott: You want it to be a meaningful experience for them.
Stacy: You want them to be learning something, So you're trying to find other activities as well and research projects and things like that.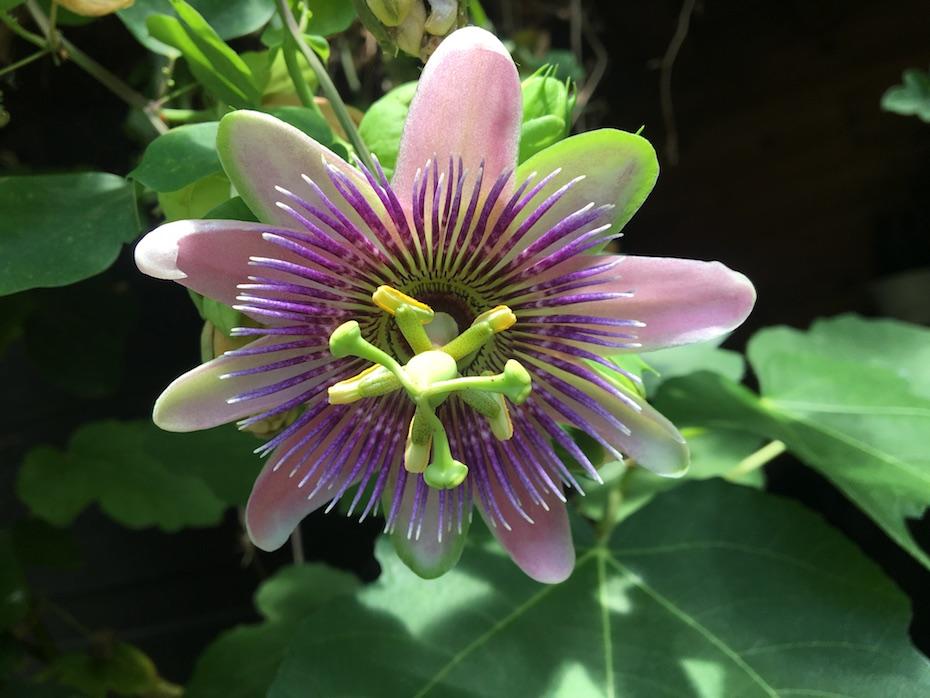 What has felt like a win?
Stacey: I think that Earth Day this past year was amazing. There were 200 volunteers that came and signed up and then went out and cleaned gardens around the neighborhood. I mean, that is just fantastic. I think another thing is just really the partnerships that we've been building -- the partnerships with Trinity Alliance and A Village. We started working together six years ago trying to increase access to healthy food in the South End. Those partnerships have just really made it possible to do so much more.
Scott: There's a boy who lives in the neighborhood who comes over with the [South End] Children's Cafe -- he's like eight -- and on Earth Day I looked around at one point and he was actually leading tours of adults throughout the center and explaining all the different systems and how they work. And just the fact that he was comfortable enough and familiar with this space enough to the point where he could do that -- I mean, that's to me like a mark of success in sort of bringing in this younger generation of people to make them feel like they have a place here, a sense of ownership and familiarity. To me that's nice. That's a real mark of success that we're really kind of trying to expand out into a broader level of community involvement.
Is there a frustration that if you could just wipe it away it would make things so much easier?
Stacy: Aphids. Mexican bean beetles. They're a problem. We get ladybugs and release ladybugs to eat them. But it's an issue over the winter in the greenhouse. But I mean a steady source of funding would be, you know...
Scott: There could be a very long list. Litter.
Stacy: Scott spends a lot of time picking up trash that just blows. There are no garbage cans down here.
Scott: A huge part of what we're trying to do here is to challenge the alienation that a lot of people feel towards ecological systems. We put an emphasis on working with youth -- whose hearts and minds are really open and just, you know, hunger for knowledge and have this beautiful natural curiosity. It gets a little more difficult as you work with older children. And those attitudes tend to solidify a little more in adulthood.
So I wish I wish I was more effective in maybe breaking those barriers down for adults. I also wish I had easier access to more children. Maybe maybe transportation barriers. Even kids on the other end of town would have to pay like $120 to charter a bus to come down here -- so some of those institutional barriers that make it difficult. Maybe figure out how to how to bring it directly into schools or set up something similar like this and actual school campuses could have an ongoing daily relationship with it.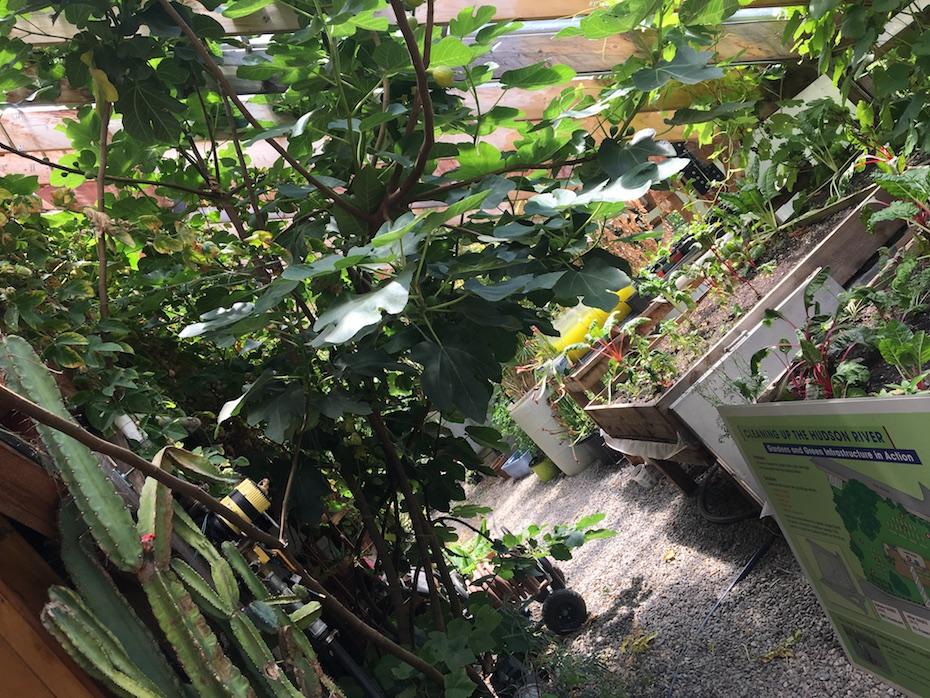 What's next?
Scott: We'll be continuing this program with the sociology department at SUNY. A class will be working with high school students doing research projects in the South End neighborhood throughout their four weeks together.
Stacy: We got an Innovation Fund award from the Alliance for Better Health for an intensive greening and community building pilot in the South End. We're going to try to really beautify a six block area, work with a partners on vacant lots and buildings and work on leadership. We'll measure people's health before and after.
So, if you knew then what you know now, would you do it again?
Stacy: Definitely.
Scott: Oh yeah, definitely.
Stacy: We don't know what else we'd do.
Scott: Yeah. I don't know what I'd be doing with my life. I mean it. For me it's a labor of love, but emphasis on the love part. It's a full-time job, not always one that necessarily pays the bills or even comes close, but it sustains me on a lot of other levels. You know? Just to feel like I'm doing something purposeful with my life.
Say Something!
We'd really like you to take part in the conversation here at All Over Albany. But we do have a few rules here. Don't worry, they're easy. The first: be kind. The second: treat everyone else with the same respect you'd like to see in return. Cool? Great, post away. Comments are moderated so it might take a little while for your comment to show up. Thanks for being patient.