AOA is on summer break. So we'll have new follow-ups with people we've met and covered during the last year (or so).
Just over a year ago, The Mop & Bucket Company -- the Capital Region's longest running improv troupe -- took a leap of faith. Troupe founder Michael Burns and his wife and partner Kat Koppett purchased an abandoned firehouse on North Jay Street in Schenectady, renovated it, and created the MopCo Improv Theater.
They had hopes of creating not just a place for improv performance, but a community space for all sorts of performance, classes, and a hub for creativity. A year later they're creating new improv formats, playing to sold-out houses, expanding their repertoire of classes, and hosting a wide variety of performers from improv to storytellers to sketch comedy.
Oh, and last week, Amy Schumer paid them a visit for a sold out pop-up show.
Michael Burns, who's also MopCo's artistic director, talked with us about this last year of making things up.

What's new since we last talked?
It seems like everything is new. The Mopco keeps changing and growing. Of course, ever since we opened we've been all about great improv. Now, there is more of it: more people, more formats, audience. We're working out a really exciting new format, Missed Connections based on Cragislist. That is really exciting, and so far audiences have loved it. We are also putting together a live improvised Twilight Zone, and a format based on the role playing game Fiasco. Crime Alley sketch troupe has become a regular. Amy Schumer, came by to do a pop-up show. We wish she'd become a regular, but alas, she mostly works much bigger rooms.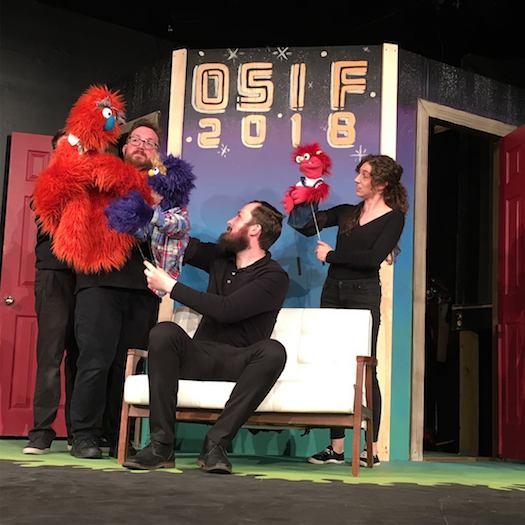 The Mopco is becoming what we (Kat Koppett and I) envisioned: A center for development, not just of our business and art, but others' as well. Electric City Puppets -- a puppet improv troupe -- is a great example of that, as is our growing collaboration with Pilates For Infidels, a wonderful two-person team (Walt Batycki and Jen Lavenhar).
Our classes are growing, with more offerings and more students. This was central to the business model that we planned, and it is actually happening, which is thrilling. It's fantastic to see more and more people discover the joys of improv.
What have you learned so far in this venture?
It is absolutely insane to buy an old firehouse and convert it to an improv theatre. And it may be the smartest move we've ever made. We were once two businesses: Koppett, Kat's organizational development consultancy, and Mopco, a tiny little improv troupe. We knew that if we made this theatre happen, these two separate but related ventures would support each other. Koppett is most known for using story and improv in leadership development, executive coaching, and training.
In order to create the theatre, we went from very low overhead to huge overhead, but after a scary start, the revenue is growing, and we are seeing what we thought we would see: shows yield students, Koppett clients, and special event rentals, and all of those things bring more people to shows. At this point the Koppett side of things is still the big money producer, but the theatre is catching up according to plan, and that is very gratifying.
I spent three years really focused on the building -- the design, the financials, the acquisition, the renovation, etc. Then, we opened... and I suddenly realized how many holes there were in my business knowledge. So, I took an excellent leadership development class that is sponsored by the Small Business Administration. The course helped me face my strengths, weaknesses... and ignorance.
Today, one might find me in the theatre in rehearsal or class, or at my desk happily wading through spreadsheets, or working with a sales person, or managing a new marketing push. Things I once thought I could never enjoy, but I love it all.
Neither Kat nor I ever have enough time to get everything done -- I know a lot of people in business share that dilemma. Even still, sometimes, even though people tell me that I "shouldn't," I mop the floor of the theatre. Other people could, and I am told they should, because I am so busy with "more important things," but I choose to. It gives me a few minutes to think and look around at details that might need attention or tweaking, and finally -- and this is how I came to really accept that in fact the artistic director should mop the floor -- it's a lot like being a parent giving a baby a bath... it's just the best feeling in the world to use your hands to clean and nurture something that you love. And after all, we are the Mopco...
What has surprised you?
Maybe the biggest surprise: the audience doesn't make many suggestions based on politics at our shows. I think they are just totally burned out on the dismal national/international scene and they just need to laugh! I love that people from really different backgrounds sit together and laugh together at the Mopco. One night not too long ago, we had a group of young Jewish professionals, a large Persian extended family, and a group from a Catholic college all laughing together at once. Nobody remarked on it, and it was kind of awesome.
What's a frustration that, if you could wipe it away, would make things easier?
We still are working on visibility. The Capital Region seems to be somewhat Balkanized -- people from Troy don't try things in Schenectady, people from Schenectady don't want to go to Troy. The cities are only 11 miles apart! I wish more folks felt free to explore the rich offerings of the whole region!
What has felt like a win?
Coming up on two years since we opened the doors, and they are still open! That is a win!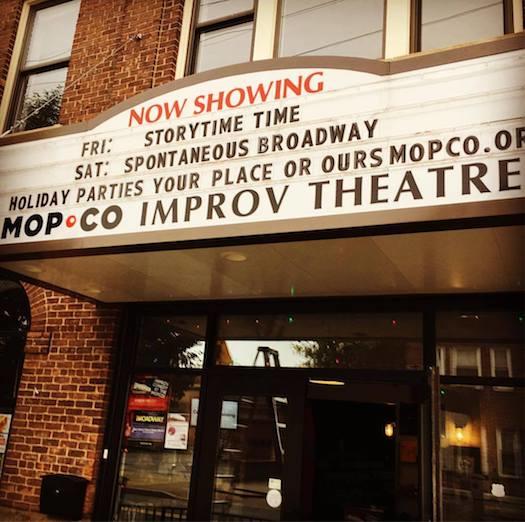 What's next?
The Mopco is a fantastic setting for a party, and we are looking forward to a great holiday season with a lot of rentals; running both our Theatresports and Spontaneous Broadway shows this fall, and we expect more experimental/developmental work to open up Thursdays as a performance night. And... who knows? That's part of the joy of it all!
____
AOA Mary performs with The Mop & Bucket Company and The MopCo Improv Theater advertises on AOA
Say Something!
We'd really like you to take part in the conversation here at All Over Albany. But we do have a few rules here. Don't worry, they're easy. The first: be kind. The second: treat everyone else with the same respect you'd like to see in return. Cool? Great, post away. Comments are moderated so it might take a little while for your comment to show up. Thanks for being patient.