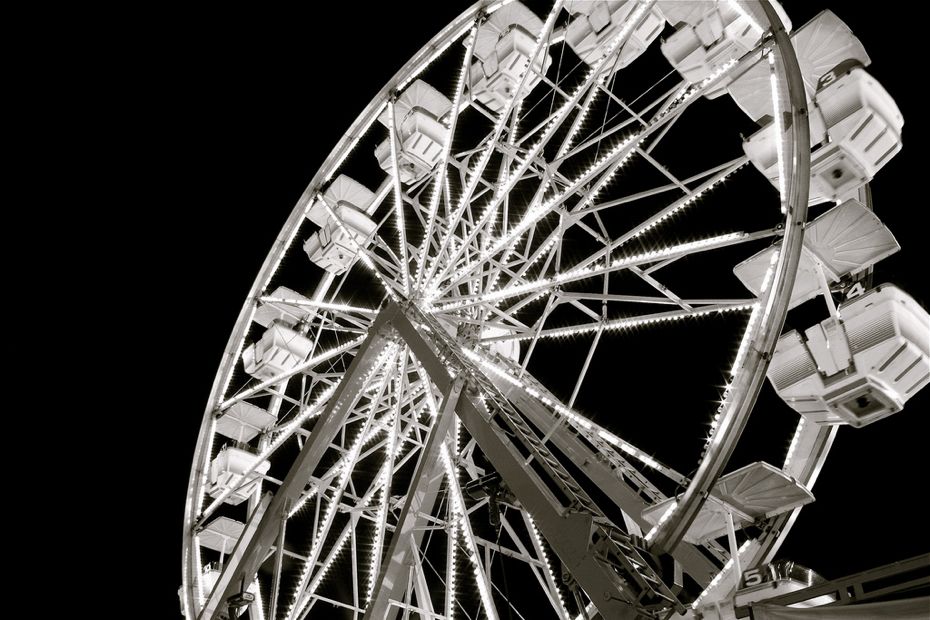 Gather your summer weekend fun while you can. This weekend is overflowing with music, summer theater festivals, fair food, Ferris wheels and more.
Here's our list of stuff we thought you might like to try this weekend. Doing something you don't see here? Tell us about it in the comment section.
And whatever you're up to, have a fantastic weekend.


Altamont Fair
Thursday-Sunday: County fair season continues with the Altamont Fair. It's the county fair for Albany, Schenectady, and Greene counties. Tuesday-Sunday various times -- various admission prices
Philadelphia Orchestra
It's the last week of the Philadelphia Orchestra annual run at SPAC. This week's schedule:
+ Thursday: Captivating Classics
+ Friday: star violinist Joshua Bell
+ Saturday: The Red Violin with Joshua Bell
Farming Man Fest
Saturday: Indian Ladder Farms hosts its first Farming Man Fest, a family-friendly day of local music, food, and beer and cider. Saturday 11 am-11 pm -- $25 advance / $35 at gate
Saratoga Arts Celebration
Saturday: The Saratoga Dance Museum hosts the annual Saratoga Arts Celebration, featuring 100 invited artists selected locally and from across the country and Canada. Paintings, photography, drawings, prints, sculptures, mixed media, jewelry, ceramics, fiber, metal and glass and more will be displayed for show and sale. Saturday 10 am-5 pm -- free admission
Saratoga Race Course
Racing continues this weekend at the Saratoga Race Course. Saturday is the 138th running of the Alabama Stakes.
ValleyCats
Thursday: The ValleyCats continue their stand against against Connecticut . Post-game fireworks. Thursday -- $6.50 and up
Albany All Stars Roller Derby
Saturday: The Albany Brawl Stars take on the Worcester Roller Derby at the Albany Capital Center. Saturday 7 pm -- $12 advance / $5 for kids under 10
Polo
Friday and Sunday: Saratoga Polo Association is hosting matches on Friday and Sunday this week. Matches are played on Whitney Field or on adjacent fields. Here are some hints for novice polo spectators.Friday and Sunday 5:30 pm -- various prices
Rodeo
Friday: The Double M Rodeo in Ballston Spa is open for the season. Friday 8 pm -- $15 / $5 for kids
Drag Me to the Disco
Friday: Trojan Womyn Productions and Retold Dance Company team up to present Drag Me to the Disco, a combination drag show + silent disco at The Bradley on 4th Street in Troy. Friday 8 pm-1 am -- $20 includes headset and $3 off a beer or well drink
Free summer concert series
Free summer concert season continues...
Upbeat on the Roof
Thursday: The Upbeat on the Roof series at the Tang Museum on the Skidmore campus has Fenimore Blues. Thursday 7 pm -- free
Freedom Park
+ Saturday: Anthony Fallacaro. Saturday 7 pm -- free
+ Sunday: Ellen Sinopoli Dance Company. Sunday 7 pm -- free
Music
Thursday: Larry Carlton Quartet at Caffe Lena
"Nineteen-time Grammy nominee, Four-time Grammy winner Larry Carlton, a.k.a. Mr. 335 (named for his iconic 1968 Gibson ES-335) is indisputably one of the all-time guitar greats and it's a massive honor and treat to welcome him to Caffe Lena's intimate stage." 6:30 pm and 9:15 pm -- $75
Friday: Shun Ng & Magic Dick at Caffe Lena
"Magic Dick, the legendary harmonica player for the J. Geils Band, partners with acoustic guitar sensation and soul singer Shun Ng." 8 pm -- $25
Friday: Kimono Dragons, Tsunamibots, Surfer R Cool at Pauly's
"An evening of salty surf rock." 8:30 pm -- $7
Saturday: Eilen Jewell at Caffe Lena
"Queen of the minor key." 8 pm -- $25
Saturday: The National Reserve at The Hangar
"The National Reserve mine an archetypal musical seam, marrying gutbucket R&B, Laurel Canyon lyricism, New Orleans funk workouts, late night soul, and boozy rock n roll to create their own timeless brand of American music." 8 pm -- $10
Saturday: Jaimeo Brown Transcendence at MASS MoCA
"Musician Jaimeo Brown, performing with his ensemble, Transcendence, fuses jazz, hip-hop, and blues. Presented in confluence with Allison Janae Hamilton's exhibition, Pitch, the evening will include Brown's provocative piece Work Songs -- which samples the sounds and music of unknown laborers." 8 pm -- $14 ahead / $24 day of
Sunday: Luke Bryan at SPAC
Country star. With: Jon Pardi and Morgan Wallen. 7 pm -- $36.50 and up
Sunday: 10 String Symphony at Caffe Lena
Bluegrass. 7 pm -- $20
Sunday: Zan & The Winter Folk at Round Lake Auditorium
"[L]ullabies for the lonely, anthems for the revivalists, ballads for the hopeful." 6 pm -- $12
Sunday: The Kyle Bourgault Band at Revolution Hall
Country. A benefit for Raphael Metzler. With: Josh Casano, McArdle & Macdonald. 3-7 pm -- $10
Stage
WTF
Tuesday-Sunday: The Williamstown Theatre Festival wraps up its season with a production of the Carson McCullers play The Member of Wedding (Tavi Gevinson is part of the cast) and Dangerous House, a new play by Jen Silverman (Samira Wiley is part of the cast). Thursday-Sunday various times -- various prices
Hairspray the Musical
Friday- Sunday: Consortium Actors present Hairspray, The Musical at Siena College. Thursday-Saturday 7 pm, Sunday 2 pm -- $10-$18
Sister May Ignatius Explains It All For You/The Actors Nightmare
Thursday-Saturday: Tony Award winner Harriet Harris is at Berkshire Theater Festival's Unicorn Theater playing the lead role in Christopher Durang's dark comedy Sister Mary Ignatius Explains It All For You. The play is part of a double feature with Durang's The Actor's Nightmare. (Friday and Saturday are already sold out, the plays run through August 31.) Thursday-Saturday, various times and prices
She Loves Me
Thursday-Sunday: The Theater Barn in New Lebanon presents a production of Bock and Harnick's She Loves Me. It's a musical version of The Shop Around the Corner, which was remade as You've Got Mail. Thursday-Saturday, various times and prices
Park Playhouse
Tuesday-Saturday: This is the last week for The Park Playhouse youth production of the satire How to Succeed in Business Without Really Trying in Washington Park. Tuesday-Saturday 7:30 pm -- lawn seats free / reserved seats $14 and up
The Wedding Singer
Friday-Sunday: The Mac-Haydn theater presents The Wedding Singer, the musical based on the film of the same name. Friday-Sunday, various times, $15-$40
Comedy
Improv Jam
Thursday: MopCo Improv Theater hosts an Improv Jam. Come watch improv games and learn to play them yourself. Part party, part class, part show. Thursday, 7 pm - 9 pm -- $5
Preacher Lawson
Friday-Saturday: America's Got Talent's Preacher Lawson comes to the Albany Funny Bone this weekend. Friday-Saturday-- various times and prices
Kevin Downey Jr.
Friday-Sunday: Comedian Kevin Downey Jr continues a long run at The Comedy Works in Saratoga. Friday-Sunday various times and prices
Four-prov
Friday: The MopCo Improv Theater presents four improv groups for the price of one. Friday 8 pm -- $10 / $6 students and seniors
Summer league TheaterSports
Saturday: The Mop and Bucket Company kicks off its summer league TheaterSports tournament. Teams of improvisors compete by creating songs, scenes and games based on audience suggestions. Saturday 8 pm -- $10 / $6 for students and seniors
Film
Deconstructing The Beatles' Revolver
Thursday: Proctors is screening Deconstructing the Beatles' Revolver." Deconstructing The Beatles' Revolver explores the groundbreaking production techniques that went into creating this landmark piece of music history." Thursday 7 pm -- $6
Youth FX at Basilica Hudson
Thursday: Basilica Hudson's Non-Fiction film series will screen a slate of films by student filmmakers from Albany's Youth FX program. Thursday 8 pm -- free
Movies Under The Stars: The Last Jedi
Friday: The free Movies Under the Stars series continues at Sage College with a screening of The Last Jedi. Music and family activities before the film. Friday activities at 7:30 pm, film at 8:30 pm -- free

Saturday Morning Cartoon Cereal Bowl
Saturday: It Came From Schenectady screens a morning of old school Saturday morning cartoons that were based on movies. Comfy couches, beanbags, prizes and all the sugary cereal you can eat. Saturday 10 am -- $9 / $6 for kids, students and seniors.
Drive-ins
Here's what's playing at the drive-ins:
+ Malta: Screen 1: The Meg, The Spy Who Dumped Me / Screen 2: Mile 22, Mission Impossible: Fallout
+ Hollywood: Mile 22, The Meg
+ Jericho Drive-in: Christopher Robin, Mama Mia
Swimming
Local swimming pools and spray pads are open for the season.
Corn maze
Thursday-Sunday: Fort Ticonderoga has opened its corn maze for the season. The maze is two miles of winding trails of corn stalks. Thursday-Sunday 10 am-5 pm (last entry at 4:30 pm) -- various prices
Museums/galleries/talks/walks
C.J. Chivers
Thursday: Pulitzer Prize-winning journalist C.J. Chivers will be at Northshire Saratoga to talk about his new book The Fighters, "an unvarnished account of modern combat, told through the eyes of the fighters who have waged America's longest wars." Thursday 7 pm
The Jazz of Physics
Thursday: The Speakers @ SPAC series has theoretical physicist/cosmologist/jazz saxophonist/author Stephon Alexander talking about "The Jazz of Physics." Thursday 8 pm -- $20
The Great Fire of 1848
Friday: Historic Albany has a walking tour about the 170th anniversary of "Albany's Great Fire of 1848." It'll be led by city historian Tony Opalka with the Albany Fire Department Lt. Tim Blaney and Lt.Bill Tobler (retired). Friday 5:30 pm -- $25
Colonial Ice Cream Day at Crailo State Historic Site
Saturday: Crailo Historic Site in Rensselaer hosts a colonial ice cream day. Interpreters will show how colonists in the Hudson Valley made ice cream in mid-summer without the benefit of freezers or electricity. Saturday 11 am-4 pm -- $3 for adults / free for kids 12 and under
Edible Plants in Your Backyard
Saturday: Peebles Island State Park hosts a program to help identify edible plants that grow around the Capital Region. Saturday 11 am-3 pm -- free
St. Rocco's August Reading
Saturday: Hudson River Coffee House hosts poets Cole Heinowitz, Caroline Crumpacker, and Aimee Harrison for the monthly St Rocco's Reading. Saturday 4:30 pm -- free
Intro to Laser Cutting
Saturday: The Tech Valley Center of Gravity is offering an Intro to Laser Cutting Class for beginners or those looking for a refresher. Saturday 1 pm -- $65 non-members / $50 for members
Garden Work Party
Saturday: The Stephen and Harriet Myers Residence is hosting a garden work party. Volunteers will plant flowers and help fix up the grounds of the historic site. Saturday noon to 3 pm
Millay Nature Poetry Ramble
Sunday: Steepletop, the home of Edna St. Vincent Millay, hosts a Poetry Ramble -- a walk led by author/naturalist Nancy Castaldo, during which participants will use their senses to develop an acute awareness of their surroundings. Along the way Castaldo will stop and read poems of Millay and others. Wear comfortable clothing and shoes. Sunday 2:30 pm -- $10 (pre-registration encouraged)

Rails to Saratoga Springs and to Mount McGregor
Sunday: Author Richard Chait will speak at Grant's Cottage on Mount McGregor on the bygone era of Saratoga Railroads. Sunday 1 pm -- $5 suggested donation
Albany Institute
The Albany Institute of History & Art has three new exhibitions this summer: Thomas Cole's Paper Trail, Birds & Beasts: The Scary, Magical, and Adorable Animals of the Albany Institute, and A Menagerie of Whimsey: The Art of William B. Schade.

UAlbany Art Museum
The UAlbany art museum continues Younger Than Today: Photographs of Children (and sometimes their mothers)by Andy Warhol. It's part of a series of five Andy Warhol exhibitions being presented at five Hudson Valley College Museums this year. (On display through September 15.)
Also on display:
+ Mickey Mouse has grown up a Cow: Videos by Kalup Linzy, Yoshie Sakai, Frances Stark, and Abbey Williams
+ Triple: Alex Bradley Cohen, Louis Fratino, and Tschabalala Self.
The Fields Sculpture Park
The Art Omi Fields Sculpture Garden has its new summer exhibition on display. It's a fun exhibit of outdoor sculptures. It's free and open to the public.
The Clark
The Clark's two summer exhibitions Women Artists in Paris, 1850-1900 and The Art of Iron: Objects from the Musée Le Secq des Tournelles, Rouen, Normandy.
Saratoga Auto Museum
The Saratoga Auto Museum in Spa State Park has a cars of the 1950s exhibit.
USS Slater
The USS Slater is open for the season.
State Museum
The State Museum has a few new exhibits: "A small fort, which our people call Fort Orange" and Art of the Erie Canal.
Free Fitness in the Park
Sunday: Free exercise classes in Troy's Riverfront Park. Sunday 9-10 am -- free admission
Champlain Canalway Trail Bicycle Tour
Sunday: The Champlain Canalway Trail and Adirondack Ultra Cycling host the Champlain Canalway Trail Bicycle Tour. Sunday 9 am -- registration $35-$60
40 & Fabulous Summer Birthday Blast
Thursday: The Schenectady Armory Center hosts a 40 & Fabulous Summer party to celebrate the 40th anniversary of Downtown Schenectady Improvement Corporation. Music, food by Mazzone and Villa Italia. Thursday 5:30 pm-8 pm -- $75
"World's Largest Yard Sale"
Saturday: Saratoga County Fairgrounds hosts a giant yard sale with more than 200 sellers. Saturday 10 am-4 pm -- free admission
Farmers markets
+ The Troy Waterfront Farmers Market is outdoors on River Street. Saturday 9 am-2 pm
+ The Delmar Farmers Market is outside at Bethlehem Central Middle School. Saturday 9 am-1 pm
+ The Saratoga Farmers' Market is outside at High Rock Park. Saturday 9 am-1 pm
+The Colonie Farmers' Market is at The Crossings. Saturday 9 am-1 pm
+ The South End Healthy Market opens its season at the Capital South Campus Center. Saturday 10 am-3 pm
+ The Schenectady Greenmarket is outdoors around City Hall. Sunday 10 am-2 pm
+ The Spa City Farmers' Market is outside at the Lincoln Baths. Sunday 10 am-2 pm.
Troy Makers Market
Saturday: Local craft vendors will display and sell wares at the Troy Makers Market in conjunction with the Troy Waterfront Farmers Market. Saturday 9 am to noon
MopCo, The Albany Institute of History and Art, and MopCo advertise on AOA.
Say Something!
We'd really like you to take part in the conversation here at All Over Albany. But we do have a few rules here. Don't worry, they're easy. The first: be kind. The second: treat everyone else with the same respect you'd like to see in return. Cool? Great, post away. Comments are moderated so it might take a little while for your comment to show up. Thanks for being patient.