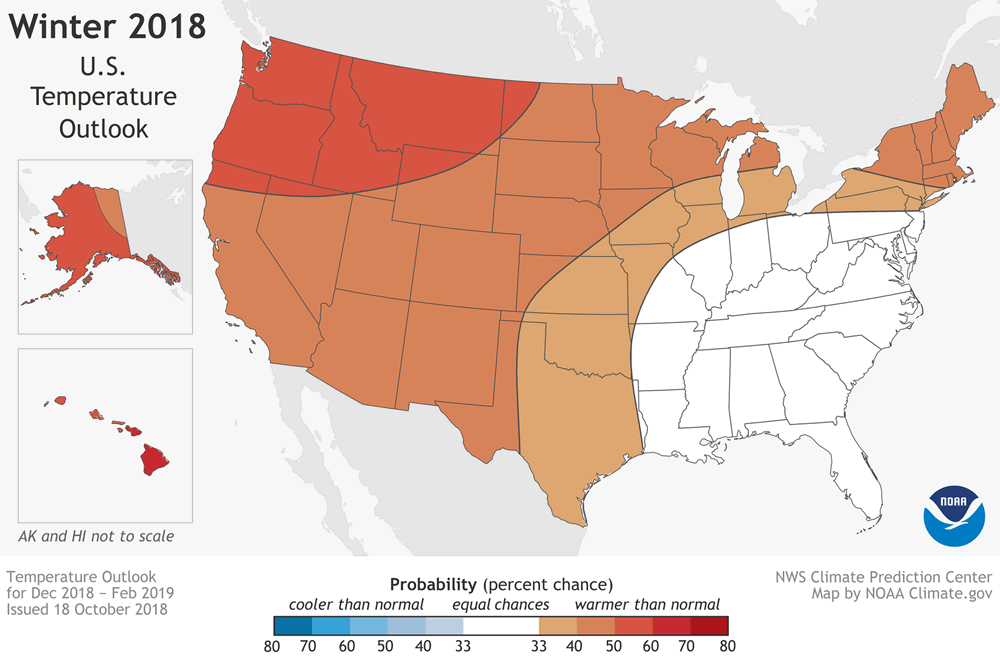 The federal government's Climate Prediction Center released its outlook for the upcoming winter in the United States today and it's pointing to a relatively warmer winter in this part of the country. Overview blurbage:
A mild winter could be in store for much of the United States this winter according to NOAA's Climate Prediction Center. In the U.S. Winter Outlook for December through February, above-average temperatures are most likely across the northern and western U.S., Alaska and Hawaii.
Additionally, El Nino has a 70 to 75 percent chance of developing. "We expect El Nino to be in place in late fall to early winter," said Mike Halpert, deputy director of NOAA's Climate Prediction Center. "Although a weak El Nino is expected, it may still influence the winter season by bringing wetter conditions across the southern United States, and warmer, drier conditions to parts of the North."
The outlook pegs Upstate in the "equal chance" category for a drier or wetter winter.
Here's a quick video that walks through the outlook and includes an explanation for the prediction maps.
Noted: "[T]he outlook does not project seasonal snowfall accumulations. Snow forecasts are generally not predictable more than a week in advance. Even during a warmer-than-average winter, periods of cold temperatures and snowfall are still likely to occur." As you well know, all it takes is for a few Nor'easters to track toward the coast and we can end up with feet of snow.
Last winter
The Climate Prediction Center outlook for the previous winter pegged the odds being in favor of a warmer than normal winter for this part of the country. And that's how it ended up: The average temperature for the last meteorological winter -- December, January, February -- was 1.3 degrees warmer than the normal (31.4 degrees).
By the way: Four of the warmest winters on record for Albany -- that is, since 1820 -- have occurred since 2000. And 2015-16 is the warmest on record.
Hi there. Comments have been closed for this item. Still have something to say? Contact us.