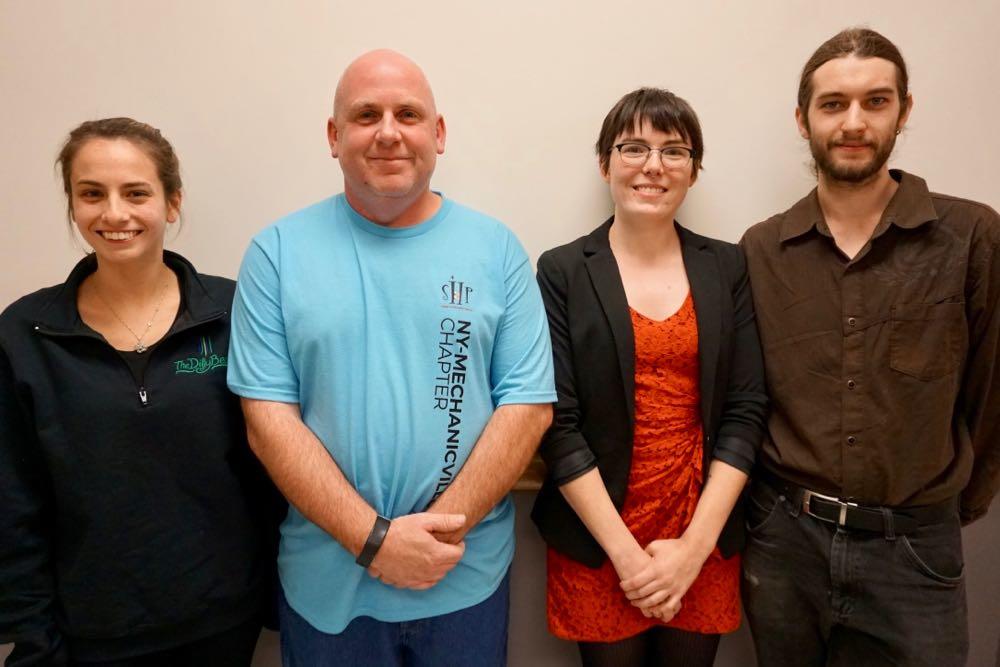 There were a bunch of interesting, worthwhile projects submitted for this year's $2,500 AOA Startup Grant.
But we could only have three finalists.
And one winner.
The 2018 AOA Startup Grant is sponsored SEFCU, CDPHP, and the College of Saint Rose
Judges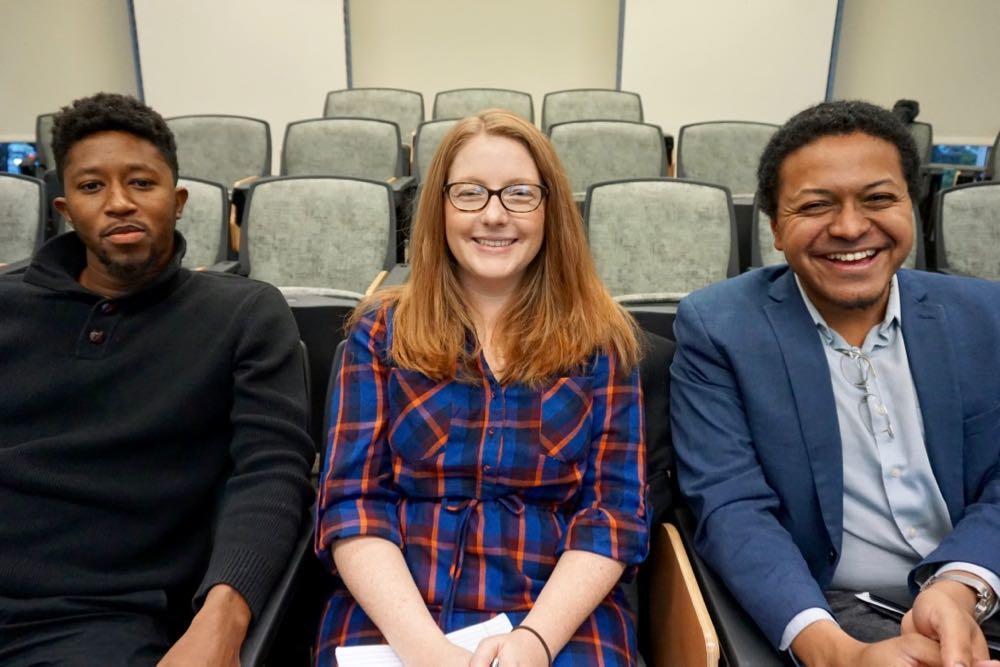 Left to right: Johan Matthews, Rhea Drysdale, Joe Bonilla.
The judges for this year's final presentations at the College of Saint Rose:
+ Johan Matthews: a training and technical assistance associate with the Community Loan Fund of the Capital Region.
+ Rhea Drysdale: CEO of the marketing firm Outspoken Media.
+ Joe Bonilla: managing partner of the public relations and events firm Relentless Awareness.
Here are a few thoughts from the judges about each of the finalists' projects, along with a few bits of advice...
Sleep in Heavenly Peace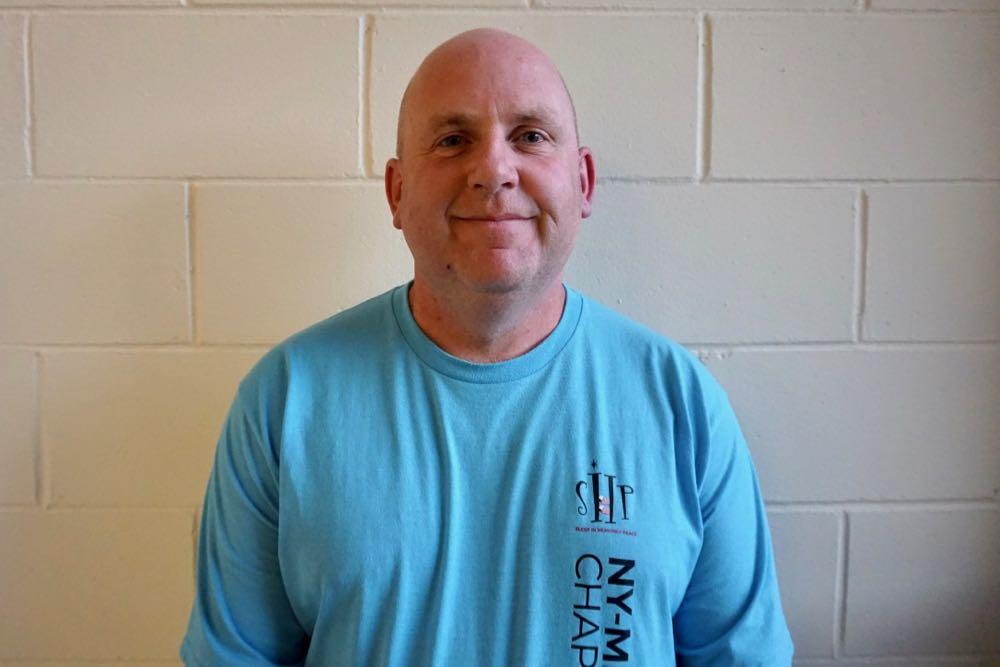 James Welch's plan is start a local chapter of Sleep in Heavenly Peace, an effort to build beds and provide bedding to children who are in need. His project got the most crowd votes. As he said of his project ahead of his presentation:
It's all volunteer, 100 percent. It's all donations, a hundred percent. We want to get out there and get kids off the floor. We want to give them a better life. Give them a place to sleep. Give them a sense of security. It's a sense of ownership.
He plans to use the money to buy new tools that volunteers would use when constructing the beds.
Judges' thoughts
The judges liked that Sleep in Heavenly Peace is trying to solve one specific problem, and that the local chapter would be part of a well-organized national effort. The proposed use of the $2,500 for tools got a thumbs up for having a clear connection to the success of the chapter.
They also saw James's background as a veteran as a plus, noting that he had a passion for this project.
Most of their questions were focused on how the local chapter will be able to handle an influx of requests for beds and whether it will be able to keep up with the fundraising necessary to sustain itself over the years. As one judge noted, this local chapter of Sleep in Heavenly Peace is probably looking at having to raise something on the order of at least a few thousand dollars per month. (James told the judges that it costs about $350 to build and deliver a bed.)
Because the judges believed this idea will get a lot of media attention, and there will be demand for the beds. So they wanted to see that James will have a local structure of support with him to handle all the tasks that will come along with that demand, such as raising money, organizing volunteers, dealing with logistics, handling media, and if demand exceeds the org's ability to produce beds, figuring out a system for prioritizing requests.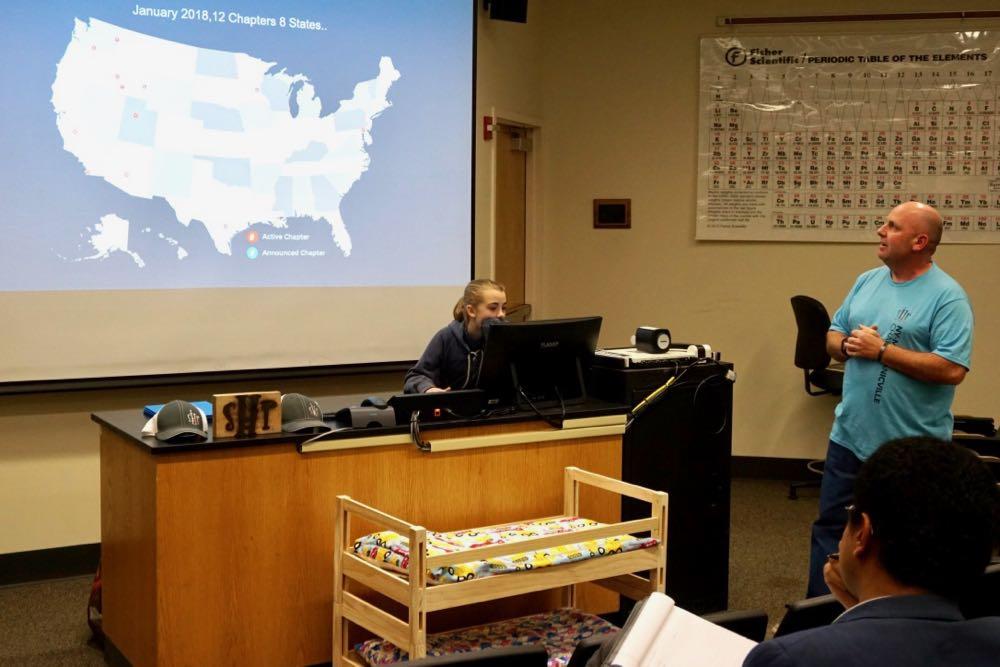 Judges' advice
+ Have a formal, diverse, intentional board of advisors.
+ Be careful about growing too fast. Focus on getting up and running and being sustainable.
+ Have a formal screening process in case requests exceed the number of beds the org can deliver.
+ Try to understand the point at which this effort grows beyond one person and be ready to delegate.
ZeBra Bras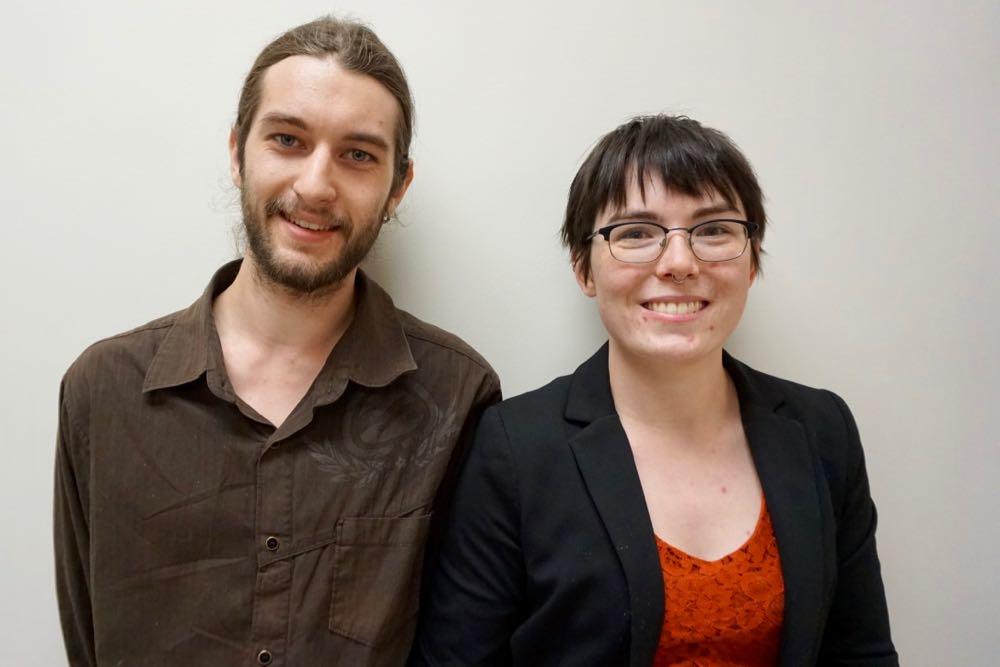 Hannah Johnson and Ben Smith are using 3D imaging to take very precise measures of people's torsos, and then using those measurements to 3D print components of custom bras. They're based out of a storefront in Troy. ZeBra Bras was the editor's pick for the final.
Said Hannah Johnson ahead of their presentation:
We make absolutely everything, it's all completely custom. We don't have anything in stock or ready to go. And we're the only company really doing business the way that we do.
So everyone walks in and just tells me what they want and walks out with exactly what they ordered.
ZeBra is also focusing on serving people with unevenly-sized breasts, people recovering from breast cancer, and transgender people.
It would use the money for sewing machines and marketing.
Judges' thoughts
The judges were very interested in ZeBra's use of technology, and were impressed with how Hannah and Ben have been applying their engineering background to this problem. They were also appreciative of ZeBra's focus on market segments that might currently be underserved.
They recognized that there is a potentially very large market for custom bras. As one judge said, there's an opportunity to potentially make a lot of money doing this.
They also had some reservations. Chief among them was a concern that ZeBra needs to work more on its processes, especially if the business is going to scale. Specifically, they said they'd like to see ZeBra get some help with plotting out a plan for marketing, as well as for manufacturing in larger volumes. And they'd like to see a higher aesthetic quality in the bras themselves.
But, again, the judges thought this was a very interesting idea.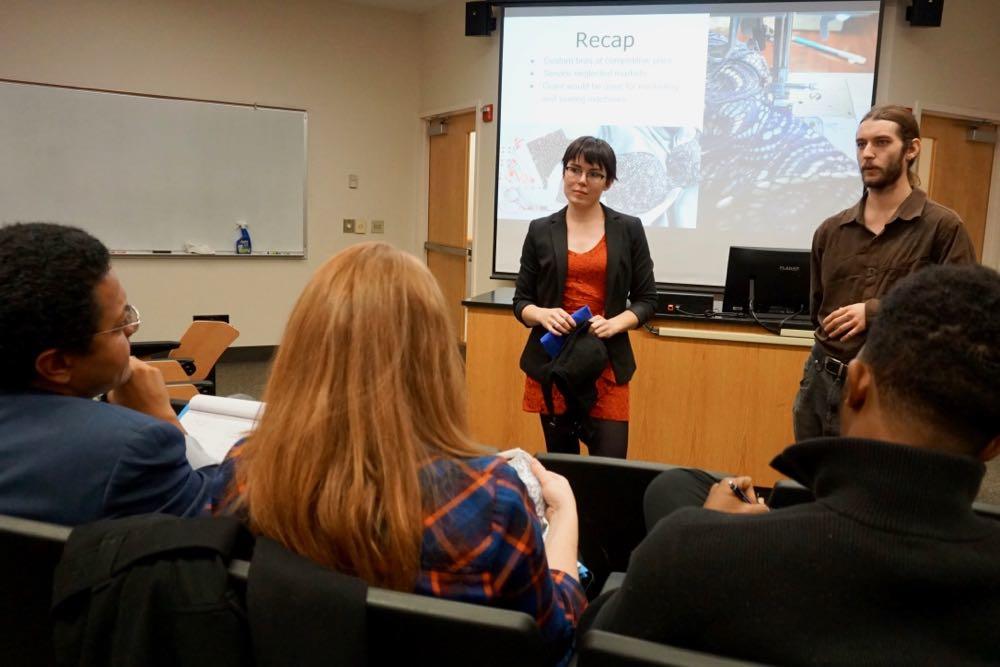 Judges' advice
+ Focus on a one-year plan, don't focus on expansion until they really have the process down and have a good handle on the financials.
+ Find a design partner and a manufacturing partner.
+ Do more community partnerships and learn more about marketing to both new and returning customers.
The Dilly Bean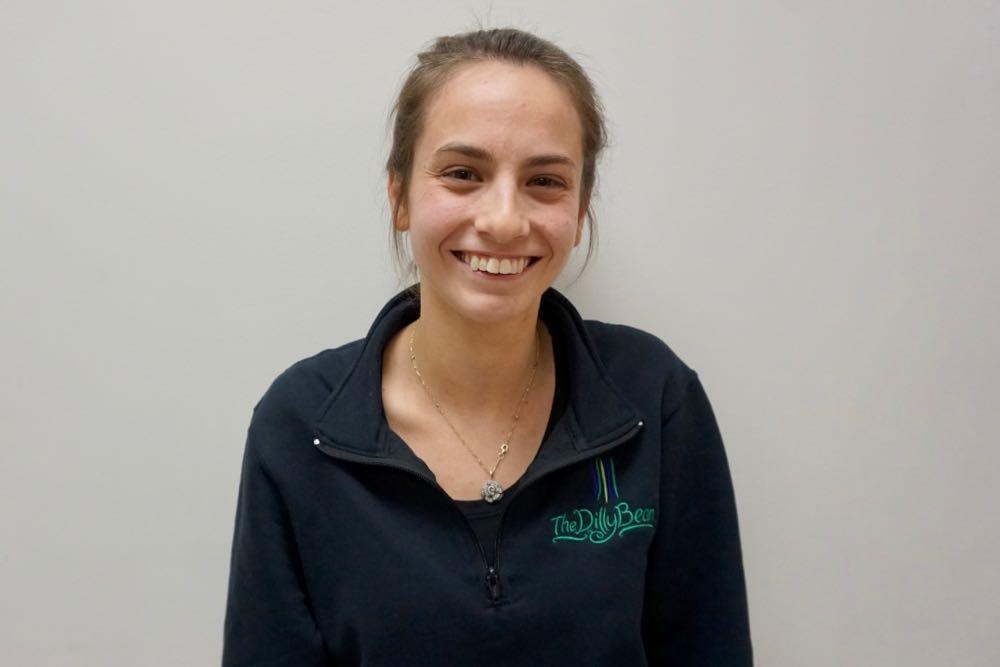 Abigail Rockmacher has a local market in downtown Schenectady, The Dilly Bean, that also sells her own housemade fermented vegetables. The Dilly Bean was the second crowd pick for the final.
As she said ahead of her presentation:
I make an all-natural pickle. It's called lacto-fermenting. Nobody in the Capital Region really does what I do, and I promote healthy living.
I'm super community oriented and I'm proud to be part of Schenectady and the Capital Region as a whole.
The Dilly Bean would use the money to stock new products in the store.
Judges' thoughts
The judges praised Abigail for being tenacious and smart with good instincts for business. And they liked that she knew her numbers for things like markup and profit margin on various items. She appears to be off to a good start on revenue growth.
As one judge said, "She's an entrepreneur."
The judges were intrigued by Abigail's idea for potential expansion of the business to be something more like a grocery store for downtown Schenectady and its growing residential base. There was some concern, though, about whether the store's current Jay Street location would be a good fit for that.
And while they liked her energy, they also worried about burnout, as she's largely been handling most things herself so far.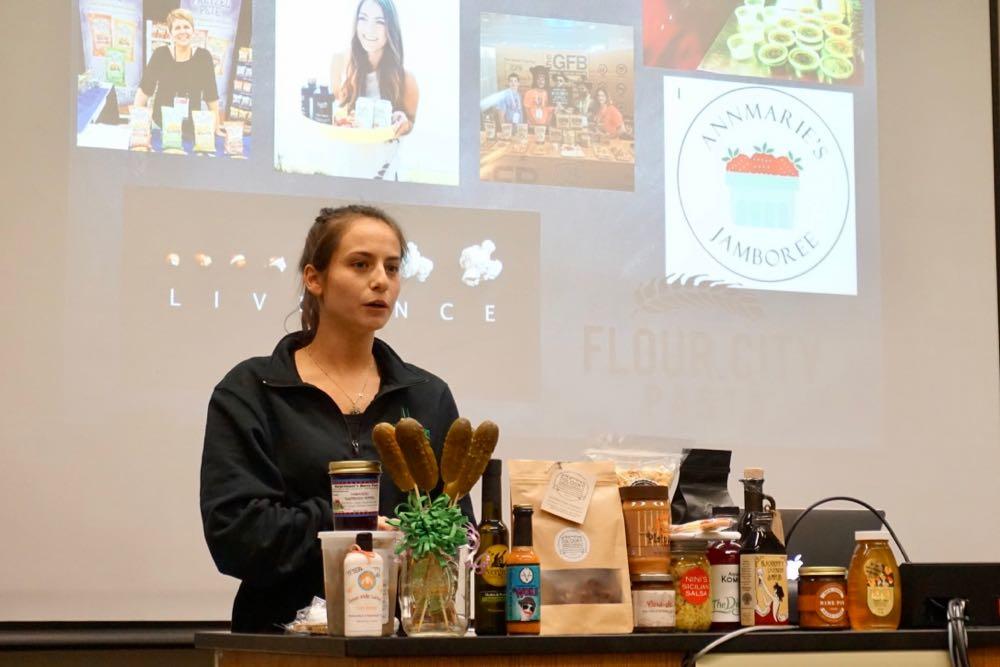 Judge's advice
+ Look to hire people.
+ Expand the monetization of the shop's commercial kitchen.
+ Lean in to the products that are selling well. Think about selling products to other businesses.
+ Use seasonality to build excitement.
+ Pop-up events with vendors, cooking classes.
+ Have a clear plan for overall financials, planning, and strategy.
And the winner is...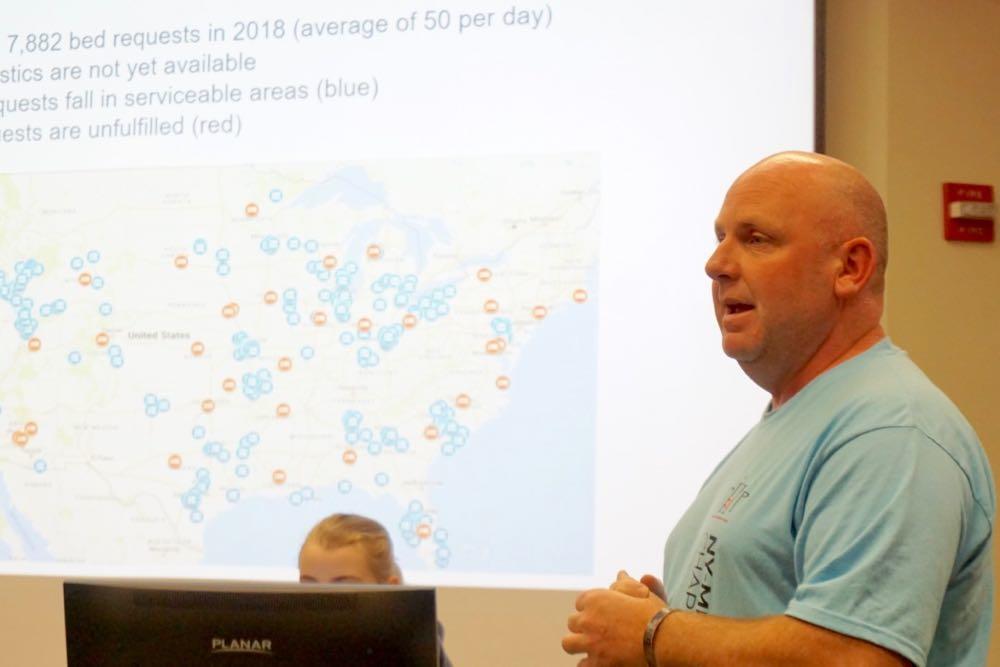 Sleep in Heavenly Peace
The local chapter of the non-profit takes the $2,500 prize. Congrats to James!
The judges picked Sleep in Heavenly Peace in a unanimous vote, praising James for preparation and purpose. They also liked that it's a non-profit that can help many different types of people and work along all sorts of other non-profits.
As one judge said, "This is going to mean something."
But wait, there's more...
The two runners-up in this year's contest -- ZeBra Bras and The Dilly Bean -- don't leave empty handed. The Community Loan Fund has graciously offered each of them free admission to its entrepreneurship class.
Thank you
The Startup Grant is one of the things we most enjoy about working on AOA. So we're grateful for everyone who's submitted an application. There were some interesting and strong projects that didn't make the finals. And we wish you all a lot success as you pursue your goals.
Big thanks to John Dion from the Huether School of Business at the College of Saint Rose for again providing coaching to this year's finalists. John has been a very encouraging presence for the finalists and we greatly appreciate his involvement for another round.
And thank you to this year's judges: Johan Matthews of the Community Loan Fund of the Capital Region, Rhea Drysdale of Outspoken Media, and Joe Bonilla of Relentless Awareness.
____
The 2018 AOA Startup Grant is made possible with the help of SEFCU, CDPHP, and the College of Saint Rose. Thank you!
Say Something!
We'd really like you to take part in the conversation here at All Over Albany. But we do have a few rules here. Don't worry, they're easy. The first: be kind. The second: treat everyone else with the same respect you'd like to see in return. Cool? Great, post away. Comments are moderated so it might take a little while for your comment to show up. Thanks for being patient.