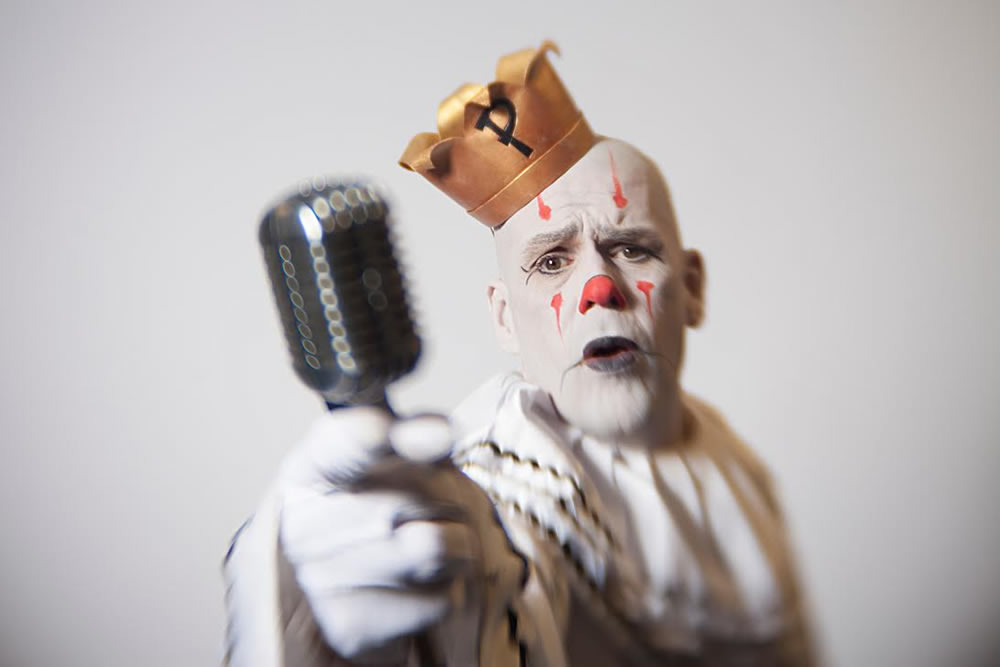 Guess what: We're two weeks away from Thanksgiving.
So before the holiday crazy sets in, you may want to chill this weekend and do a few things you want to do. We've pulled together a list of things we thought you might like to try. Doing something you don't see on our list? Tell us about it in the comment section.
And whatever you're up to, have a fantastic weekend.



Ignite
Thursday: The Ignite volunteer festival is at the Albany Capital Center. It's kind of like a job fair but for volunteer opportunities. More than 30 orgs will there with info and reps ready to talk about how you can lend a hand. The evening also includes speakers (including Albany mayor Kathy Sheehan), music, and food from local restaurants. Thursday 5:30-8 pm -- free
Nine Pin Pressing Party
Saturday: Nine Pin Cider hosts its annual pressing party at which you can watch the crew press over 100 varieties of apples, and enjoy all things pressed -- cider, coffee from Electric City Roasters, burgers from Burger 21, body presses from massages from Albany Massage, t-shirt pressing from Compas Life, an apple jug bench press competition, a pie eating contest and more. Saturday 11 am-6 pm -- $15 (includes a pour of cider) / $30 (includes a pour of cider and 2017 bottle of Cider Monster) / $5 designated driver
Food
Cooking classes
Before Thanksgiving, here are some cooking classes that could be helpful for the season:
+ Thursday: Caroline Barrett is teaching a Vegetarian Thanksgiving class at Different Drummers Kitchen. Thursday 6 pm -- $65
+ Friday: Market Bistro is hosting Not Your Grandmother's Thanksgiving Sides, a class focused on switching up the traditional flavors of Thanksgiving. Friday 6 pm -- $60
Discover Saratoga Restaurant Week
Thursday-Sunday: Select restaurants around Saratoga County are offering $10 lunches and $20 and $30 dinners as part of Discover Saratoga Restaurant Week.
Music
Thursday: The Wood Brothers at Troy Music Hall
Blues, folk, and roots. 7:30 pm -- $29.50 and up
Thursday: Tommy Castro & The Painkillers and Tinsley Ellis at The Egg
Blues. 8 pm -- $34 and up
Thursday: Seven Lions at Upstate Concert Hall
EDM DJ. With: MitiS, Jason Ross, Brunch Boyz. 8 pm -- $20 ahead / $25 day of
Thursday: Chase Atlantic at Lucky Strike Jupiter Hall
Alt pop rock. With: Cherry Pools, Riley, logan, MNNX & Balcony. 6:30 pm -- $15 ahead / $18 day of
Thursday: Ripe at The Hollow
Dance funk. 9 pm -- $14 ahead / $18 day of
Thursday: Stellar Young at Parish Public House
With: The Afternoon Edition. 9 pm
Friday: Everlast at Upstate Concert Hall
Whitey Ford still singing the blues. 8 pm -- $20.50 ahead / $25 day of
Friday: The Ghost of Paul Revere at The Hollow
Folk. With: Charlie Parr. 8 pm -- $12
Friday: Brett Dennen at Troy Music Hall
Folk pop. 8 pm -- $30
Friday: Yarn at The Hangar
Americana. 8 pm -- $15
Friday: Studebaker John & The Hawks
Blues. 8 pm -- $18
Saturday: New Politics at Upstate Concert Hall
Alt rock. With: The Score, Bikini Thrill. 8 pm -- $20 ahead / $23 day of
Saturday: Ornettiquette at Sanctuary for Independent Media
"Trumpeter Chris Pasin performs the music of Ornette Coleman with Adam Siegel, Michael Bisio, Harvey Sorgen and special guests Creative Music Studio founders Karl Berger and Ingrid Sertso." 7 pm -- $20
Saturday: David Bromberg Big Band at Troy Music Hall
Blues/Americana. With: Loudon Wainwright III. 8 pm -- $25.50 and up
Saturday: Sister Sparrow & The Dirty Birds at The Egg
"[B]acked by fiery brass- and gospel-infused R & B, Sister Sparrow & The Dirty Birds' rhythmic wheelhouse combines big-city grit seasoned with a dose of down-home Americana." 8 pm -- $34.50
Saturday: Kat Wright at The Linda
"Kat Wright, whose voice is both sultry and dynamic, delicate yet powerful; gritty but highly emotive and nuanced, has been described as 'a young Bonnie Raitt meets Amy Winehouse'." 8 pm -- $15
Saturday: Wurliday at The Hollow
Album release party. With: Dark Honey. 8 pm -- $12
Saturday: Everything Turned to Color at Caffe Lena
Folk/jazz. 8 pm -- $18
Saturday: Red Sun Rising at Lucky Strike Jupiter Hall
Rock. With: Spirit Animal. 8 pm -- $16 ahead / $18 day of
Saturday: Albany Symphony Orchestra, Albany Pro Musica Chorus & Goldie at Proctors
Proctors famed organ will accompany the ASO and Albany Pro Musica in Benjamin Britten's War Requiem . Saturday 7:30 pm -- $36-$60
Sunday: Puddles Pity Party at The Egg
The "sad clown with the golden voice." 8 pm -- $35 and up
Sunday: Slothrust at Lucky Strike Jupiter Hall
Alt rock. 7 pm -- $15
Sunday: Chris Robinson Brotherhood at Upstate Concert Hall
From The Black Crowes. 8 pm -- $25 ahead / $28 day of
Sunday: Front Country at The Hollow
Progressive bluegrass. With: The Sea The Sea. 8 pm -- $10 ahead / $12 day of
Sunday: Bobby Long at Caffe Lena
Singer/songwriter. 7 pm -- $18
Sunday: Estonian Philharmonic Chamber Choir & Tallinn Chamber Orchestra at Troy Music Hall
"One of the best-known choirs in the world!" 3 pm -- $45 and up
Stage
From White Plains
Friday-Saturday: Creative License Theater Collective presents the regional premiere of Michael Perlman's contemporary character drama From White Plains at the Albany Barn. Friday and Saturday 7:30 pm -- $15
Songs for a New World
Thursday-Saturday: The College of Saint Rose presents a very timely version of Jason Robert Brown's song cycle Songs for a New World. Thursday-Saturday 7 pm -- $12
Million Dollar Quartet
Thursday-Sunday: Park Playhouse presents Million Dollar Quartet, featuring the music of Elvis Presley, Jerry Lee Lewis, Johnny Cash, and Carl Perkins at Cohoes Music Hall. Thursday-Sunday various times -- $27 / $17 for age 17 and under
The Fall of the House of Usher
Saturday: MASS MoCA hosts a production of The Fall of the House of Usher, a stage adaptation of Edgar Allen Poe's short story using puppets, musicians, actors, and projections. Saturday 8 pm -- $16 ahead / $20 day of
Every Brilliant Thing
Thursday-Sunday: Curtain Call presents a production of Every Brilliant Thing, Duncan MacMillan's one-man show with audience participation that weighs the light and darkness of life. Thursday-Saturday 8 pm, Sunday 3 pm -- $17
Gloria
Friday-Sunday: Albany Civic Theater presents a production of Gloria. The play about dynamics in the workplace among a group of young, jaded magazine writers was a Pulitzer finalist. Friday and Saturday 7:30 pm, Sunday 2 pm -- $18 / $10 students with ID
Lips Together, Teeth Apart
Friday-Sunday: The Local Actors Guild of Saratoga presents Terrance McNally's Lips Together Teeth Apart. The dark comedy is an examination of isolation and mortality among four straight couples on Fire Island in the late 1980s. Friday and Saturday 8 pm, Sunday 2 pm -- $20
Frankenstein
Thursday-Sunday: The Siena College Creative Arts Department and Stage III present a new stage adaptation of Mary Shelley's Frankenstein at Siena's Foy Hall. Thursday-Saturday 8 pm, Sunday 2 pm -- $15
Two Left Feet
Saturday: Proctors hosts Two Left Feet, an evening of dancing with circle, square, and contra dancing. Saturday 7 pm -- $8 / $5 students and seniors
Comedy
Amy Schumer at The Palace
Thursday: Amy Schumer kicks off the first leg of her new stand-up tour at The Palace. Thursday 7:30 pm -- $32 and up

Tracy Morgan
Friday: Tracy Morgan brings his stand-up show to Rivers Casino & Resort in Schenectady. Friday 8 pm -- $50 and up
Jo Koy
Saturday: Jo Koy is at The Egg for a stand-up show. 6 pm -- $47.25 and up
Kevin Farley
Thursday-Saturday: The Comedy Works in Saratoga hosts Kevin Farley this weekend. Thursday-Saturday, various times and prices.
Tim Dillon
Thursday-Sunday: The Albany Funny Bone hosts stand-up comedian Tim Dillon this weekend. Thursday - Sunday -- various times and prices
Escape the Night: Heroes vs Villains
Thursday: MopCo Improv Theater hosts Escape Night, Heroes vs. Villains, in which Disney heroes and villains go head to head in a one of a kind show that is part cabaret, part competition. Thursday 7 pm -- $10
TheaterSports
Friday: The Mop & Bucket Company presents TheaterSports -- part improv show, part competition. Teams of improvisors compete against each other Friday 8 pm -- $10 / $6 for students and seniors
Film
Just Like Being There
Thursday: The Opalka Gallery is screening Just Like Being There, a documentary about the gig poster community. Thursday 6:30 pm -- free
Zombies
Thursday: The It Came From Schenectady series at Proctors is showing Black Magic II: Revenge of the Zombies. Thursday 7 pm -- $9 / $6 students and seniors
Silent film
Friday: Proctors will be screening The Great Buster, a Peter Bogdanovich-directed documentary about Buster Keaton. Friday various times -- $9 / $6 students, seniors, kids
Warren Miller's Ski & Snowboard Movie
Friday-Saturday: The Palace is screening Face of Winter, Warren Millier's latest ski movie. Friday and Saturday 7:30 pm -- $24
All Quiet on the Western Front
Saturday: Proctors will screen the 1930 version of All Quiet on the Western Front, a film that follows a group of German schoolboys talked into enlisting in the military at the beginning of World War I. Saturday 11 am -- $6

Free Men
Saturday: The Troy Public Library hosts a screening of the French film Free Men. "In Paris during World War II, an Algerian immigrant is inspired to join the resistance by his unexpected friendship with a Jewish man." Saturday 1 pm -- free (registration requested)
Breyo Observatory
Saturday: Siena College hosts a grand opening for the new Breyo observatory. There will be a lecture and opportunities to view the night sky through the largest diameter telescope in the Capital Region. (In case of cloud cover, the viewing will be moved to Sunday.) Saturday 6-9 pm -- registration is required
Game jam
Friday-Sunday: The Tech Valley Center of Gravity hosts the Get Along, Jammit Digital Game Jam, in which students, faculty and developers of all ages and abilities can gather to produce prototype digital games that promote cooperation. Friday 6-10 pm , Saturday 10 am-11 pm, Sunday 10 am-6 pm -- free
Museums/galleries/talks/walks
Free speech
Thursday: Skidmore wraps up a series of events centered on the topic of free speech with "And We Talked," a film viewing and community conversation. Thursday 7 pm -- free admission
Esmeralda Santiago
Thursday: Author Esmeralda Santiago -- "a founding mother of Nuyorican literature" -- will be at UAlbany to talk about her career as the part of The Creative Life series and the NYS Writers Institute visiting writer series.. She'll be having an on-stage conversation with WAMC's Joe Donahue. (There's also a craft talk at 4:15 pm.) Thursday 7 pm, uptown campus, Campus Center Ballroom -- free
Finding 48
Thursday: Historic Albany Foundation architectural historians Doug Bucher and Walter Wheeler and architectural conservator Bill Brandow will be talking about the discovery that 48 Hudson Ave is Albany's oldest building. They'll be talking with Matt Malette -- Mr. Albany Archives -- as part of a conversation recorded at Overit. Thursday 5:30 pm -- $24 HAF members / $48 non-members
The World of Global Commerce - The Rule of Law and International Trade
Thursday: The College of Saint Rose hosts a program on The Rule of Law and International Trade, with an address by the Honorable Loretta A. Preska, Senior United States District Judge of the United States District Court for the Southern District of New York, and a panel discussion with jurists and lawyers. Thursday 5:30 pm
Evenings with the Dudley Observatory
Thursday: The Dudley Observatory at miSci hosts an evening of skywatching and education. Thursday 6:30-8 pm -- $12 / $8 kids / $10 seniors
Vintage
Friday: The Saratoga Auto Museum hosts an opening reception for its newest exhibit, Vintage, an in-depth look at vintage ports cars. Friday 6-8 pm -- $10
Leonard Bernstein at 100: The Educator and Intellectual
Saturday: Leonard Bernstein's son, Alexander Bernstein, will be at Skidmore for a concert and panel discussion about his father. Saturday 7 pm -- tickets are free but reservations are required
Sci-Fi at miSci
Saturday: miSci hosts a Star Wars-themed event which you can attend dressed as your favorite Star Wars character, and have a meet-and-greet and photo op with characters, play retro Star Wars video games, and tour the new toy exhibit. free with museum admission
Volume reading series
Saturday: The Volume Reading Series returns to Spotty Dog Books and Ale. Readings by physician and writer Chaya Bhuvaneswar, author Madelaine Lucus, and author Jessica Hornik headline the evening. Following the readings there will be book signings and a DJ set by Danniel Schoonebeek. Saturday 7 pm -- free admission
Schenectady County Forest - A Brief History
Saturday: Mabee Farm Historic Site hosts Lorrie Runnels for a discussion on the mysteries of Schenectady County's nature and historic preserve. Saturday 2 pm -- $5
Wild and wiley turkeys
Saturday: The Albany Pine Bush hosts Wild and Wiley Turkeys, a program about the lives of wild turkeys. Saturday 11 am -- free but reservations are required
State Education Building Tour
Saturday: Take a free tour of the NYS Education Building. Saturday 12:30 pm and 2:30 pm -- free (pre-registration required)
Sunny Sundays
Sunday: The Dudley Observatory at miSci hosts Sunny Sundays -- a chance to take a safe glimpse at the sun from the roll top roof observatory. Sunday 1-2:30 pm -- $12 / $8 kids / $10 seniors
Screenprint Biennial
The 2018 Screenprint Biennial is now on display at the Opalka Gallery on the Sage Albany campus. On display through December 14.
Artists of the Mohawk Hudson Region
The 2018 Artists of the Mohawk Hudson Region exhibit is on display at the University Art Museum on the uptown UAlbany campus. On display through December 8.
State Museum
The State Museum opens the new exhibit The Historic Woodstock Art Colony: The Arthur A. Anderson Collection on Saturday. "Long before the famous music festival in 1969, Woodstock, New York, was home to what is considered America's first intentionally created, year-round arts colony--founded in 1902 and still thriving over 100 years later. Collecting the remarkable range of work produced there has been Arthur A. Anderson's focus for three decades, resulting in the largest comprehensive assemblage of its type." It's on display through the end of 2019.
Albany Institute
The Albany Institute is currently exhibiting Thomas Cole's Paper Trail, Birds & Beasts: The Scary, Magical, and Adorable Animals of the Albany Institute, and A Menagerie of Whimsey: The Art of William B. Schade.
The Fields Sculpture Park
The Art Omi Fields Sculpture Garden is a good place for a walk in autumn. It's free and open to the public.
USS Slater
The USS Slater is still open for the season.
Visit some castles
Take a drive to check out one of the castles that are day trip from the Capital Region.
Red, White & Chocolate Gala
Thursday: The Albany and Troy Boys and Girls Clubs host their annual Red White and Chocolate gala at the Renaissance Albany Hotel. Thursday 6 pm -- $85 / $70 under age 35
Markets
Saratoga Holiday Art Fair
Saturday-Sunday: The National Museum of Dance hosts the Saratoga Holiday Art Fair, a juried fine arts and fine crafts show. Saturday and Sunday 10 am-4 pm -- free admission
Farmers markets
Farmers markets have moved indoors:
+ The Troy Waterfront Farmers Market is in the Troy Atrium. Saturday 9 am-2 pm
+ The Saratoga Farmers' Market is at the Lincoln Bathhouse. Saturday 9 am-1 pm
+ The Schenectady Greenmarket is indoors at Proctors. Sunday 10 am-2 pm
+ The Spa City Farmers' Market is at the Lincoln Baths. Sunday 10 am-2 pm.
Troy Makers Market
Saturday: Local craft vendors will display and sell wares at the Troy Makers Market in conjunction with the Troy Waterfront Farmers Market. Saturday 9 am to noon
The Albany Institute of History and Art, MopCo, The College of Saint Rose, Nine Pin, and Troy Music Hall advertise on AOA. And AOA is a sponsor of the Ignite volunteer festival
Hi there. Comments have been closed for this item. Still have something to say? Contact us.