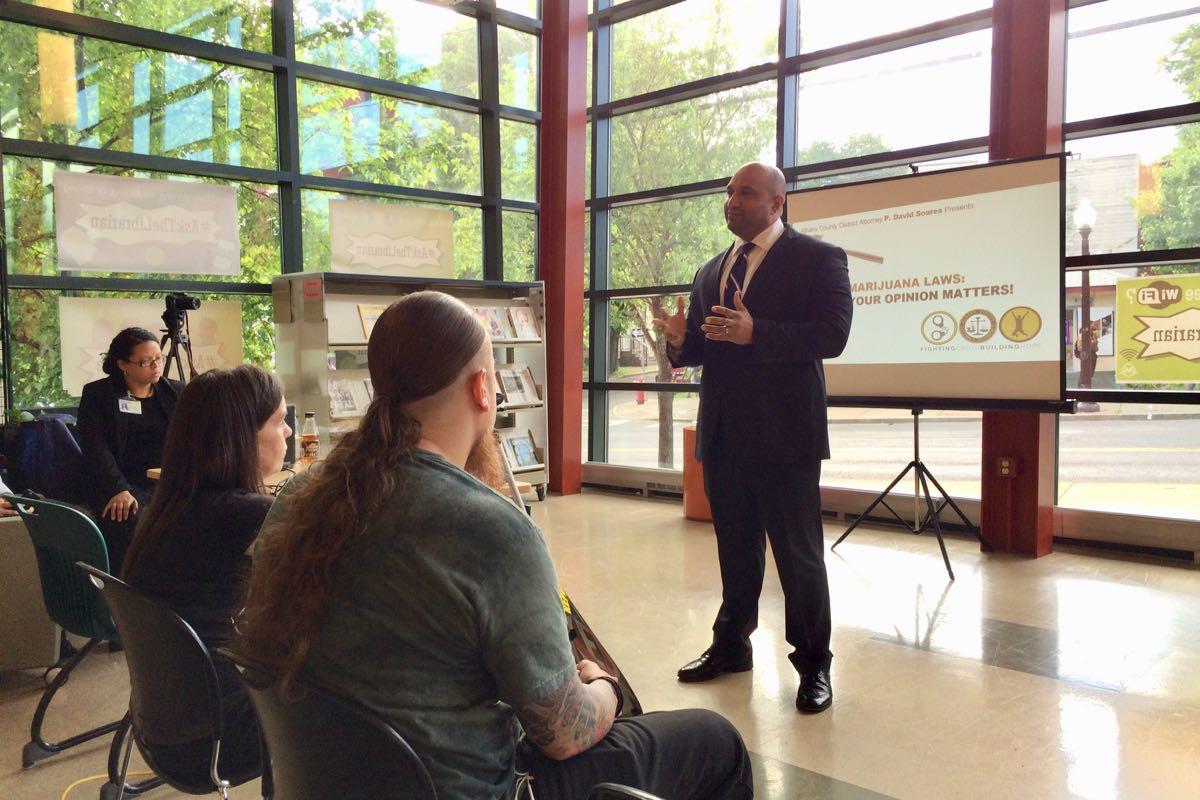 Albany County DA David Soares announced Thursday that his office will no longer be prosecuting people for "simple possession" of marijuana -- cases in which people are found to have less two ounces. The new policy starts December 1, and the DA's office says it will be seeking dismissals "where appropriate for cases currently pending where these are the sole charges."
The new policy does not cover cases in which people are openly using pot in public or in a car, or near children.
Soares held a series of community meetings about changing views toward marijuana earlier this year. And the announcement today's change referenced those meetings. Press release blurbage:
This policy has been developed after conducting a number of public meetings across the county in order to hear from the people we represent. In conjunction with the public meetings, we sought the opinion of residents via our website. The vast majority of our constituents indicated that they wanted to see a shift in the legal status of recreational adult use marijuana and in the enforcement of existing laws. Given the near certain impending changes in the law, and given the sea change in society's views of the issue, it is no longer the best use of our resources to prosecute these low-level marijuana offenses.
Recreational marijuana use is now legal in Vermont. And Massachusetts is in the process of starting recreational marijuana sales.
Here in New York, a Siena poll reported earlier this year that a majority of people favored allowing recreational marijuana. Cynthia Nixon made it a plank in her gubernatorial campaign. And a state Department of Health report released this past summer argued for legalizing recreational pot.
It would not be surprising to see a move toward legalization of recreational marijuana in New York State now that Democrats will control both chambers of the state legislature.
Past convictions
One of the important angles in the shift towards legalizing pot is the thousands of people who have been prosecuted in the past for something that is now being decriminalized or may even soon be legal.
With that in mind, the DA's office is pointing to a "Clean Slate" program. Press release clip:
Therefore, our office will begin accepting applications for our Clean Slate program for expungement of past marijuana convictions through CPL 440.10 applications. The criteria for consideration will be the same criteria under our policy: we will only consent to expungement of covered marijuana-only, simple possession offenses with no special aggravating factors. Please visit the Clean Slate area of our website to learn more about our sealing and expungement efforts in this regard.
Navigating any program involving the legal system can be complicated. So a lot of people are probably going to need some assistance. That Clean Slate page notes the DA's office is "seeking assistance from those in the legal profession who may be able to offer free or low-cost services to those seeking relief."
Pot and driving
Also as part of Thursday's announcement, Soares said his office will be adding Driving While Ability Impaired (DWAI) by Drugs to its DWI policies. Press release clip:
Changes in our prosecution strategies must not have an adverse impact on roadway or overall public safety. Where an individual is charged with a marijuana offense in connection with a DWAI-drugs charge, the marijuana offense will still be aggressively prosecuted along with the DWAI.
Legal recreational marijuana use is only a few years old in most states that allow it, so there's not a large amount of data so far about legalized pot and driving. But Colorado has seen a rise in auto deaths connected to pot use. And there's some research pointing to a rise in the number of crashes in states that have legalized recreational pot.
One of the issues connected to pot and driving is a lack of standards about how to measure whether (or to what extent) a person is high. There isn't currently a commonly accepted standard like blood alcohol content.
Community meeting
The Albany County DA's office has a public meeting to talk about marijuana laws and prosecutions December 12 at the Albany Public Library Washington Ave Branch. it's at 6 pm.

Say Something!
We'd really like you to take part in the conversation here at All Over Albany. But we do have a few rules here. Don't worry, they're easy. The first: be kind. The second: treat everyone else with the same respect you'd like to see in return. Cool? Great, post away. Comments are moderated so it might take a little while for your comment to show up. Thanks for being patient.