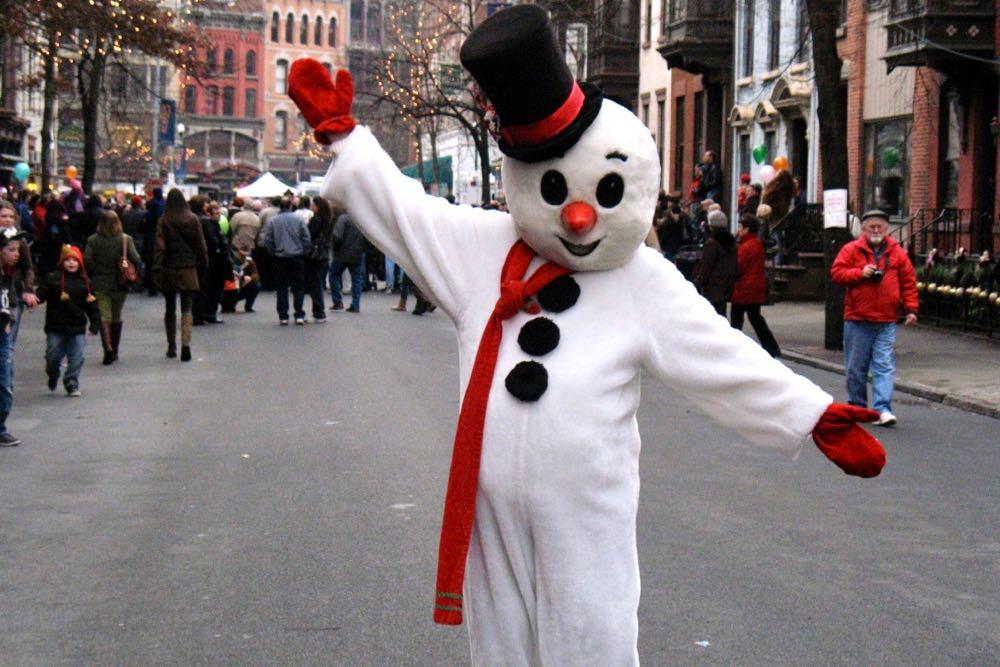 And just like that, we're in the midst of the holiday season -- when people start to use words like 'tis and mirth and deck is something you do to halls.
On this weekend's list of stuff to do: tree lightings, Victorian strolls, enchanted nutcrackers, and more.
We've pulled together a few holiday and non-holiday type happenings we thought you might enjoy. Doing something you don't see here? It's the season of sharing, so tell us about your plans in the comment section of this post.
And whatever you're up to, have a fantastic weekend!



Troy Night Out
Friday: It's Troy Night Out, with a shop-local theme. Shops and galleries in downtown Troy will be open late with holiday shopping, art, music and surprises. A few of the things to check out:
+ The Photography Center hosts "Taos Journey," an exhibition of photographs by George Nicholson from the desert high country of New Mexico, with an opening reception from 5-9 pm. Free and open to the public.
+ The Holiday Shop opens at the Arts Center of the Capital Region, with gifts from local artists and crafters
+ Artist Tom Nelson opens a new exhibit: "From NY to LA: inspired by and for the holidays"
Ice skating
Friday: The ice skating rink on the Empire State Plaza is scheduled to open for the season late Friday afternoon (weather permitting). Skating is free, and skate rentals will be free that day and throughout this first weekend. Friday 4:30-8 pm
Holiday
Victorian Streetwalk
Thursday: The annual Victorian Street Walk returns to downtown Saratoga Springs. Broadway will be closed to car traffic for all sorts of holiday whatnot. Thursday 5-10 pm -- free admission
Annual Holiday Greens Show
Thursday-Sunday: The Rensselaer County Historical Society hosts the annual Holiday Greens Show at the Historic Hart-Cluett House. It's a holiday display of decorations that incorporate "fresh evergreen trees, greens and flowers to create an interactive experience that warms hearts, brightens eyes and fills the air with the fresh aromas of winter woods." (Thursday is the free community night from 5-8 pm.) Thursday-Sunday various times -- various prices
Saratoga Festival of Trees
Thursday-Sunday: The Saratoga City Center hosts the Festival of Trees with hundreds of decorated trees, visits from Santa and more. Thursday-Sunday various times -- $8 adults / $5 seniors / $3 children over 10 / children under 10 free
Albany tree lighting
Friday: The annual Albany city tree lighting is at city hall, with a reception inside the rotunda following. That same evening, the Fort Orange Holiday Market opens for the season at the Arcade Building and Fort Orange General Store. Friday tree lighting 5:30 pm / holiday market 5-9 pm -- free
Hudson Winter Walk
Saturday: The annual Hudson Winter Walk returns with street performers, roaming carolers, Santa, and fireworks over the Hudson. Saturday 5-8 pm -- free admission
Schenectady Festival of Trees
Saturday-Sunday: The Schenectady County Historical Society hosts the annual Festival of Trees, with holiday trees decorated in a variety of themes and styles. Saturday-Sunday 10 am-5 pm -- $6 / free for kids under 12
Northeast Ballet Nutcracker
Saturday-Sunday: The Northeast Ballet Company presents its annual production of The Nutcracker at Proctors. Saturday 7 pm, Sunday 2 pm -- $20 and up
Magic of Christmas
Saturday: The Palace hosts the annual Albany Symphony Magic of Christmas show. Saturday 3 pm -- $28 and up / kids $14 and up
The Klezmatics: Woody Guthrie's Happy Joyous Hanukkah
Saturday: Troy Music Hall presents The Klezmatics: Woody Guthrie's Happy Joyous Hanukkah, with the Hanukkah and folk songs of Woody Guthrie Saturday 7:30 pm -- $29 and up
Troy Victorian Stroll
Sunday: Downtown Troy celebrates the holidays with the annual Victorian Stroll. Holiday shopping, carolers, and performers around downtown Troy. Sunday 11 am-5 pm -- free
Empire State Plaza tree lighting
Sunday: The holiday tree lighting at the Empire State Plaza. There will be music, ice skating, and fireworks. Sunday events start 1 pm / fireworks 5:30 pm -- free admission
Great Train Extravaganza
Sunday: The Great Train Extravaganza returns to the Empire State Convention Center with more than 300 tables of model railroad layouts, parts, prints, books, scenery items, railroad memorabilia and more. Sunday 10 am-4 pm -- $7 / free for kids under 12
Capital Holiday Lights
Ongoing: The Capital Holiday light display in Washington Park is open for the holiday season. Sunday-Thursday 6-9 pm, Saturday-Sunday 6-10 pm -- $20 per car
Holiday markets
Round Lake Artisans Holiday Market
Thursday: The Round Lake Artisans Holiday Market is at the village hall. "Shopping Local and Handmade is made easy with our eclectic collection of gifts including cookies, pottery, skincare, fiber art, cards, creative critters, jewelry, honey, candles and more" Thursday 4-8 pm -- free admission
Fort Orange Holiday Market
Friday: The Fort Orange Holiday Market returns to the Arcade Building on Broadway in Albany every Friday through Christmas with a wide selection of vendors selling locally-made and -sourced goods, entertainment, art exhibits, and more. Fridays 5-9 pm each night
Saratoga Fair Trade Market Expo
Friday-Saturday: The Saratoga Fair Trade Market Expo returns to the Saratoga Springs City Center with 20 vendors from the USA and around the globe. Friday 3-7 pm, Saturday 10 am-4 pm
The Shop at the Arts Center
Friday-Sunday: Shop for gifts from local artists and crafters at the holiday shop at the Arts Center of the Capital Region. Friday and Sunday noon-4 pm, Saturday noon-5 pm
Hamagrael Craft Fair
Saturday: Hamagrael Elementary School in Delmar hosts the Hamagrael Craft Fair with more than 90 vendors. Saturday 10 am-4 pm
Half Moon Market Holiday Pop-Up at Flower Scout
Saturday-Sunday: The Half Moon Market Holiday Pop-Up at Flower Scout is this weekend, featuring 12 vendors with handmade goods. Saturday and Sunday 11 am-5 pm
Irish Christmas Market
Saturday: The Irish American Heritage Museum in Albany hosts an Irish Christmas Market with handmade jewelry, cakes, pictures, and other crafts, gently read books, soda-bread, shepherd's pie, and hot chocolate. Saturday 11 am-5 pm
Holiday Makers Market at Arlene's
Saturday:Holiday Makers Market at Arlene's
on Fuller Road features 6 different local artists and artisans and their unique creations. Saturday, 11 am-4 pm
Taste NY Holiday Market
Sunday: The NYS Museum hosts the 5th annual Taste NY Holiday Market. Sample and purchase a variety of foods, craft beer, wine and spirits made in New York. There will be music, a cooking demo, living historians in the museum galleries and a chocolate fountain. Sunday 11 am-4 pm -- free admission
Historic Holiday Market Trail
Sunday: Ten Broeck Mansion hosts the Historic Holiday Market this weekend. The market will be held in various places and times with artisans and crafters offering gifts for sale in decorated historic sites throughout December. This Sunday get a first look at the decked-out Ten Broeck Mansion, with light hors d'oeuvres and a visit from Sinterklaas while you shop. Sunday 2-4 pm -- $10
Music
Thursday: Generation Axe at The Palace
Steve Vai, Zakk Wylde, Yngwie Malmsteen, Nuno Bettencourt, and Tosin Abasi. 8 pm -- $34.75 and up
Thursday: The Wiyos at Caffe Lena
"Re-introducing the folk revival's old-timey style to today's folk audience, a Wiyos' show ranges from riotous rural novelty songs to Vaudeville, early swing, surf harmonies, and any other vintage sound that catches their fancy." (Also playing Helsinki Hudson Friday night.) 7 pm -- $20
Thursday: King Buffalo at The Low Beat
Psych rock. With: Front Business. 8 pm -- $10
Thursday: Gary Hoey at The Upper Room
Rock guitarist. 8:30 pm -- $15
Thursday: Marvel Years at The Hollow
Glitch-hop/electro-soul DJ. With: Evac and DJ Reddi. 8 pm -- $12
Thursday: Convictions at Lucky Strike Jupiter Hall
Christian metalcore. With: Roseview. 7 pm -- $12
Friday: Jason Mraz + Toca Rivera at The Palace
"Live In Stereo." With: Gregory Page. 8 pm -- $49.50 and up
Friday: Kaia Kater at the Massry Center
"African-Canadian roots phenom." 8 pm -- $30
Friday: Edmar Castaneda at Proctors
"Colombian-born harp virtuoso." Part of the Music Haven Passport Series. 7:30 pm -- $25
Friday: Coco Montoya at The Upper Room
Blues rock guitarist. 7 pm -- $20
Friday: Swift Technique at Lost & Found
"Philadelphia's fiery funk extravaganza." 10 pm -- free admission
Friday: The National Reserve at The Hangar
Americana/rock. 8 pm -- $10
Saturday: Stefon Harris & Blackout at The Egg
Acclaimed jazz vibraphonist -- and Albany High School grad. 8 pm -- $34
Saturday: David Crosby and Friends at The Egg
Crosby + Becca Stevens, Michael League of Snarky Puppy, and Michelle Willis. 8 pm -- $49.75 and up
Saturday: The Klezmatics at Troy Music Hall
"Woody Guthrie's Happy Joyous Hanukkah." 7:30 pm -- $29 and up
Saturday: Pop Fest 518 at The Linda
Sydney Worthley, Blockhouses, Sarah Kohrs and Coyote, Daniel Conley, and Sandy McKnight's Pop Clique. A benefit for the Columbia Arts Team. 8 pm -- $15 / $10 students
Saturday: Consider the Source at The Hollow
"[P]an-dimensional booty-shaking engine, powered by psychedelics and abstract math..." 8 pm -- $12
Saturday: The Wynotte Sisters at Caffe Lena
"The frontwoman and fiddle player of alt-country band Daisycutters; a bassist/ukulele player who has played everything from Hawaiian swing to noise rock; and a Norweigan power pop vocalist, all coming together to play holiday tunes? Well, Wynotte?" 8 pm -- $20
Sunday: Albany Symphony: The Magic of Christmas at The Palace
Annual holiday show. 3 pm -- $28 and up
Sunday: Seth Glier at Caffe Lena
Singer/songwriter. 7 pm -- $20
Stage
Miss Bennett: Christmas at Pemberley
Thursday-Sunday: The Rep continues its production of Miss Bennett: Christmas at Pemberley, based on characters from Pride and Prejudice. "In this charmingly imagined sequel to Jane Austen's masterwork, the ever-dependable Mary Bennet is growing tired of her role as dutiful middle sister in the face of her siblings' romantic escapades. When the family visits for Christmas, an unexpected guest sparks Mary's hopes for independence, an intellectual match -- and possibly even love?" Thursday-Sunday various times -- $22 and up
A Comedy of Tenors
Friday-Sunday: Curtain Call Theater presents A Comedy of Tenors. Friday-Saturday 8 pm, Sunday 3 pm -- $20
Dutch: a live and virtual reality performance
Friday-Sunday: Historic Cherry Hill hosts Dutch, an original play that uses virtual reality technology to bring to life the experience of the Rankin family of Cherry Hill in the first years of WWI. Friday 7 pm, Saturday 2 pm and 7 pm, Sunday 2 pm -- $30
The Snow Queen
Saturday-Sunday: The Theater Institute at Sage performs Hans Christian Anderson's The Snow Queen. Saturday 7:30 pm, Sunday 2 pm -- $15
Comedy
One Funny Mother
Thursday: Dena Blizzard -- AKA "the Target mom" -- will be at Proctors for the second of two performances of her comedic one-woman show One Funny Mother in the GE Theater. Thursday 7:30 pm -- $42.50
Kevin Downey Jr.
Friday-Saturday: America's Got Talent finalist Kevin Downey Jr. headlines at The Comedy Works in Saratoga this weekend. Friday-Saturday -- various times and prices
Adam Ferrara
Thursday-Sunday: The Albany Funny Bone hosts Adam Ferrara this weekend. Thursday-Sunday -- various times and prices
Crime Alley Sketch Comedy Show
Friday: Crime Alley, a Capital Region sketch comedy troupe, performs one of its newest story sketches at the MopCo Improv Theater. Friday 8 pm -- $10 / $6 for students and seniors

Spontaneous Broadway
Saturday: The Mop & Bucket Company continues its run of Spontaneous Broadway. Act one is an improvised backers audition in which performers invent songs based on audience suggestion. The crowd then votes for their favorite song. In act two improvisors create an entire musical based on that song. Saturday 8 pm -- $10 / $6 for students and seniors
Film
The Best Intentions
Friday: The NYS Writers Institute is screening the Ingmar Bergman film The Best of Intentions at Page Hall on the UAlbany downtown campus. Friday 7 pm -- free admission
Cinema Other double features
Saturday: It Came From Schenectady hosts a pair of Cinema Other double features. As with other ICFS events, expect prizes, surprises, comfy couches and themed drink specials.
+ Dolomite and Sweet Sugar -- Saturday 1 pm -- $10 / $6 for students and seniors
+ Boxer's Omen and Bastard Swordsman - Saturday 7 pm -- $10 / $6 for students and seniors
Hoops
Saturday: Siena basketball has a double header at the TU Center. The women's team takes on Florida Atlantic at 1 pm. And then the men face Harvard at 3 pm. a double header with Harvard at the TU Center. Saturday 1 pm and 3 pm -- $10 and up
Museums/galleries/talks/walks
Jodi Kantor and Megan Twohey
Thursday: The Museum of Political Corruption will be honoring Jodi Kantor and Megan Twohey with this year's Nellie Bly Award at the First Unitarian Universalist Society of Albany. The two New York Times journalists won the Pulitzer Prize this year in the public service category, along with Ronan Farrow, for "impactful journalism that exposed powerful and wealthy sexual predators, including allegations against one of Hollywood's most influential producers, bringing them to account for long-suppressed allegations of coercion, brutality and victim silencing, thus spurring a worldwide reckoning about sexual abuse of women." Kantor and Twohey will appear at the event via Skype and answer questions from the audience. The evening will also include a roundtable discussion about the #MeToo movement. Thursday 6 pm -- $40 / $15 students
Ali Stroker
Thursday: Actress Ali Stroker will be at Skidmore to talk about her career. Stroker has appeared on Glee and multiple other shows, and she was the first wheelchair-using actress to appear on Broadway. Thursday 6 pm, Filene Recital Hall -- free
Alvaro Enrigue
Thursday: Novelist Alvaro Enrigue will be at UAlbany for a talk about this work as part of the NYS Writers Institute visiting writers series. Thursday 4:15 pm, uptown campus, Science Library -- free
What we left unfinished
Thursday: Mariam Ghani will be showing a work-in-progress version of her film What we left unfinished at EMPAC (she's working on the film there). Afterward Ghani and the film's composer, Qasim Naqvi, will be talking about sound and images. Thursday 7 pm -- free
Ronald Kitchen
Friday: Ronald Kitchen will be at the Sanctuary for Independent Media to talk about his memoir My Midnight Years: Surviving Jon Burge's Police Torture Ring and Death Row. "In 1988, Ronald Kitchen was tortured by Chicago Police detectives into confessing to a murder he did not commit. After 21 years in prison and more than a decade on death row, he was finally exonerated. In My Midnight Years: Surviving Jon Burge's Police Torture Ring and Death Row, Kitchen and co-authors Thai Jones and Logan M. McBride tell his story." Friday 7 pm -- $10
Alice Isn't Dead
Saturday: Northshire Books hosts Joseph Fink, author of the podcast and new novel Alice Isn't Dead, for a conversation and book signing at Skidmore College. (He's also one of the creates of Welcome to Night Vale.) He'll be talking on stage with Mary Darcy. Saturday 7 pm -- $5 admission (ticket is good for $5 off a copy of the novel)
State Museum
The State Museum recently opened the new exhibit The Historic Woodstock Art Colony: The Arthur A. Anderson Collection. "Long before the famous music festival in 1969, Woodstock, New York, was home to what is considered America's first intentionally created, year-round arts colony--founded in 1902 and still thriving over 100 years later. Collecting the remarkable range of work produced there has been Arthur A. Anderson's focus for three decades, resulting in the largest comprehensive assemblage of its type." On display through the end of 2019.
miSci Toy exhibit
Saturday-Sunday: miSci hosts a 20th Century Toy Chest exhibit with a collection of toys, games, action figures and more.
Screenprint Biennial
The 2018 Screenprint Biennial is on display at the Opalka Gallery on the Sage Albany campus. On display through December 14.
Artists of the Mohawk Hudson Region
The 2018 Artists of the Mohawk Hudson Region exhibit is on display at the University Art Museum on the uptown UAlbany campus. On display through December 8.
Albany Institute
The Albany Institute has Birds & Beasts: The Scary, Magical, and Adorable Animals of the Albany Institute and A Menagerie of Whimsey: The Art of William B. Schade for a few more weeks. On display through December 30.
Visit some castles
Take a drive to check out one of the castles that are day trip from the Capital Region.
Saratoga Springs Firefighters vs. Police charity hockey game
Saturday: The Weible Avenue Ice Rink in Saratoga hosts the annual charity hockey game between the city's police and firefighters. Saturday 7:30 pm -- free admission with an unwrapped toy to donate to the Franklin Community Center
Farmers markets
Farmers markets have moved indoors:
+ The Troy Waterfront Farmers Market is in the Troy Atrium. Saturday 9 am-2 pm
+ The Saratoga Farmers' Market is at the Lincoln Bathhouse. Saturday 9 am-1 pm
+ The Schenectady Greenmarket is indoors at Proctors. Sunday 10 am-2 pm
+ The Spa City Farmers' Market is at the Lincoln Baths. Sunday 10 am-2 pm.
Troy Makers Market
Saturday: Local craft vendors will display and sell wares at the Troy Makers Market in conjunction with the Troy Waterfront Farmers Market. Saturday 9 am to noon
The Albany Institute of History and Art, Downtown Troy BID, Fort Orange General Store, and MopCo advertise on AOA. And AOA is a media sponsor of the winter events at ESP.
Say Something!
We'd really like you to take part in the conversation here at All Over Albany. But we do have a few rules here. Don't worry, they're easy. The first: be kind. The second: treat everyone else with the same respect you'd like to see in return. Cool? Great, post away. Comments are moderated so it might take a little while for your comment to show up. Thanks for being patient.