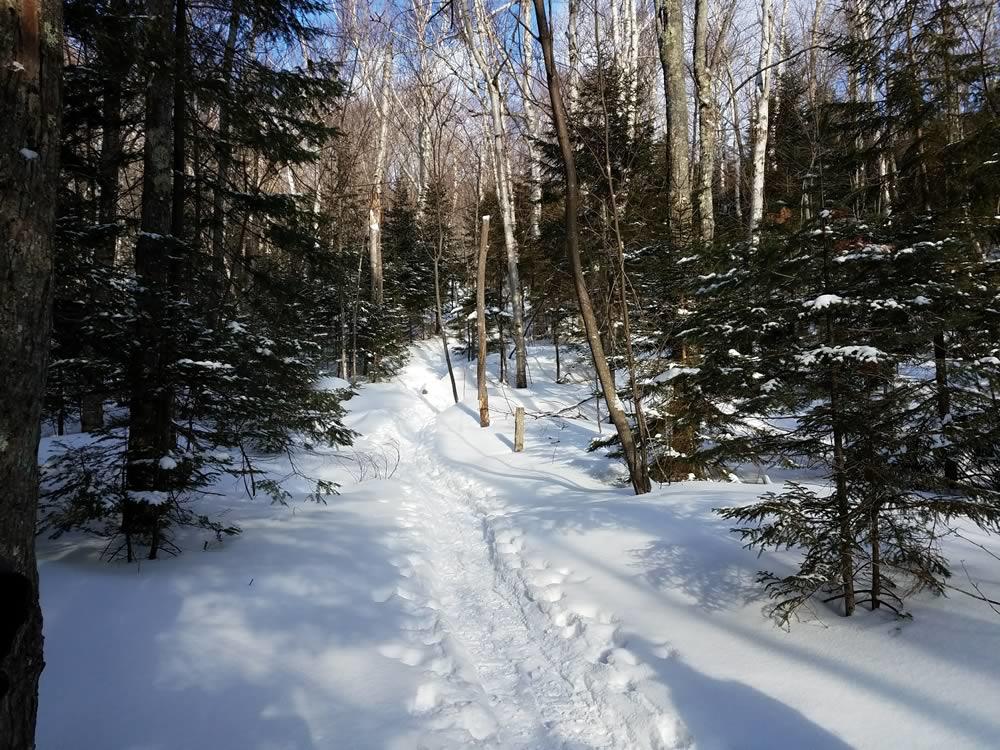 By Cristin Steding
We're very happy to congratulate Cristin on the publication of her new book Upstate Almanac: Outdoor Adventure in Upstate NY, which is now available as a paperback and ebook. To celebrate, we're sharing an adapted excerpt about some fun winter hikes.
If you think of hiking as a three-season sport, you're missing out. Hiking, snowshoeing, and getting outside in winter more generally, can improve your mood in the dark, dreary months of the year.
And one of the best parts of spending time outdoors in the winter chill is coming back inside and warming up with a hot chocolate.
With that in mind, here are some fun, easier winter hikes along with where to get hot chocolate nearby.
A note about getting started: Winter hiking is more risky than summer hiking, so make sure you are well-prepared. Here's a guide to help make sure you're ready. There's no substitute for proper preparation, clothing, and equipment.
Baker Mountain - Saranac Lake
The easiest and friendliest of the Saranac 6ers, this quick hike close to town is a great way to spend a leisurely morning. Typically crowded in the summer, by hiking it in the winter you'll encounter less crowds and summit views mostly to yourself. The gentle 1.7-mile round trip trail can be steep in places, but is generally considered an easy hike. Stay to the left leaving the trailhead for the gentler route to the top, or take the trail to the right for a shorter, steeper route. Trail map.
The trailhead is only a mile from Blue Moon Cafe (55 Main Street in Saranac Lake), where you can enjoy a menu of inventive takes on breakfast and lunch classics, as well as housemade hot chocolate.
Prospect Mountain - Lake George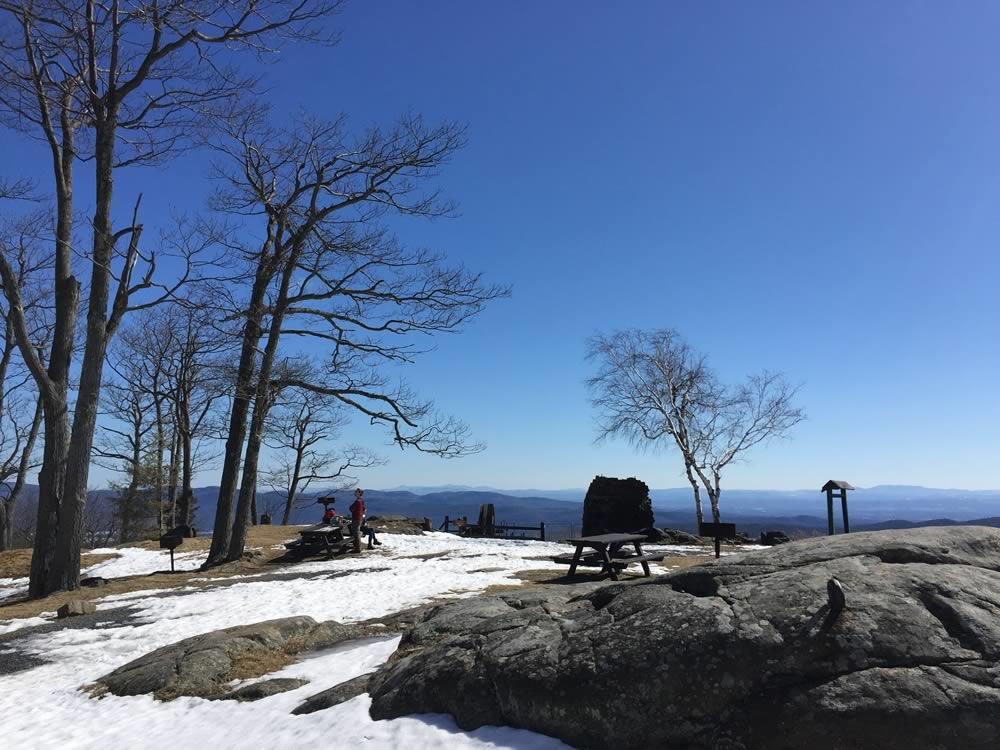 Prospect Mountain is a straightforward 2.8-mile roundtrip hike with a great view that leaves right from Lake George village. It also has the unique characteristic of having a road to the top. Combined, this makes it an insanely popular hike. In the summer you'll be sharing the summit with dozens of other hikers and car loads.
But happily for winter hikers, the road to the top is closed in the winter. The park-like summit feels luxurious when it's not crowded with other people. Enjoy your summit snack at a picnic table, admire the views and enjoy the serenity. Trail map.
Once you're back in town, head over to Kilwins Chocolates (143 Canada Street in Lake George) to warm up with a rich, gourmet hot chocolate.
Vroman's Nose - Middleburgh
A short and sweet hike that pays of with incredible views of the Schoharie Valley, it's easy to see why Vroman's Nose is popular. The hike, so named for the summit's resemblance to a giant stone nose, is a 1.7-mile loop that gains just under 500 feet of elevation. Because of the low elevation gain, most fit people can be on and off the mountain in an hour or two. Trail map.
Afterwards, stop by the Middleburgh Diner (122 Main Street in Middleburgh) for a classic American lunch and hot chocolate.
Mt. Jo - Keene Valley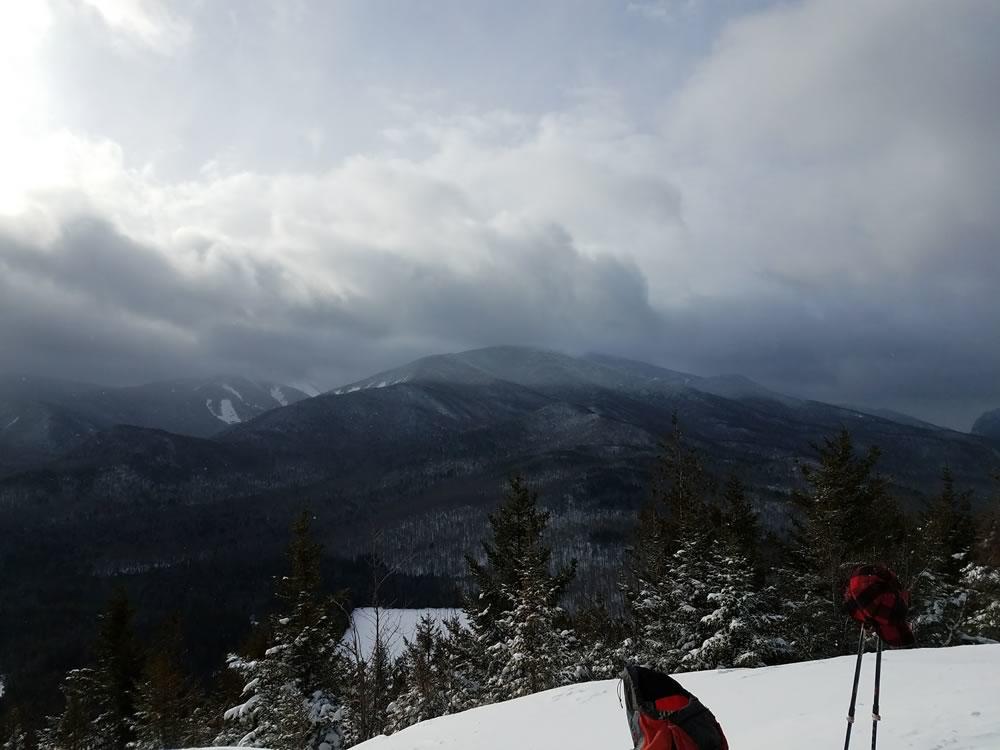 Mt. Jo offers spectacular views of the High Peaks without having to actually hike a High Peak. The short but sometimes steep 1.8-mile loop begins at the Adirondack Loj, follows the shore of Heart Lake briefly, then swings steeply up the mountain. Although it's challenging, Mt. Jo is a short ascent. And at the top you'll be rewarded with sweeping views of the High Peaks towering around you. Make your descent down the steep side of the mountain and you can butt-slide part of the way down the trail if the snow is deep enough. Trail map.
Get your post-hike hot chocolate (and a delicious meal) at the ADK Cafe (10915 New York Route 9N in Keene).
____
Cristin Steding is a freelance writer and author of Upstate Almanac, a guide to outdoor adventure in upstate New York. You can find her on Twitter and Instagram."
Earlier
+
Quick trip: Vroman's Nose
+
The Winter 46ers
Hi there. Comments have been closed for this item. Still have something to say? Contact us.