Items tagged with 'Dean Skelos'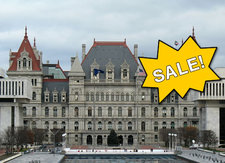 Here's the rundown of allegations made against Dean Skelos and his son, Adam, today by the office of US Attorney Preet Bharara.
If you've been following state politics over the last few years, all of it will sound sadly familiar.
Cue the Bharara corruption-in-state government soundbite: "By now, two things should be abundantly clear. First, public corruption is a deep-seated problem in New York State. It is a problem in both chambers; it is a problem on both sides of the aisle. And second, we are deadly serious about tackling that problem."
Cue the Skelos statement: "I am innocent of the charges leveled against me. I am not saying I am just not guilty, I am saying that I am innocent. I fully expect to be exonerated by a public jury trial."
The short story: The feds allege that Dean Skelos used his position in state government to set up, and sustain, a job and payments to his son in an arrangement involving a real estate developer and a company that made wastewater filtering tech.
The juiciest bits are in the complaint itself, including this section that must have had the federal investigators snorting with laughter:
On March 28, 2015, ADAM SKELOS placed an intercepted call to DEAN SKELOS (AS4.182), who relayed he was in Albany seeking to finalize the State budget. ADAM SKELOS complained that his father could not give him "real advice" concerning issues with the Environmental Technology Company because "you can't talk normally because its like fucking Preet Bharara is listening to every fucking phone call. It's just fucking frustrating." DEAN SKELOS replied, "It is."
The state Capitol media, of course, have saturation coverage of this: New York Times, State of Politics, TU Cap Con, Capital/Politico, Gannett, and many others.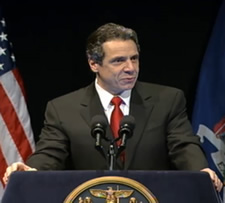 To much fanfare (and powerpoint) Andrew Cuomo presented his proposed state budget yesterday.
During the presentation he described the state as "functionally bankrupt," and remarked that he viewed his dental appointments for root canal as a welcome respite from the budget process. So, that gives you a sense of where the state's at.
We've read a bunch of the details and coverage of the budget so you don't have to. Let's get to it...
There will be much coverage of Andrew Cuomo's first State of the State speech all over the media. But if you're just looking for a quick overview of what he said, or just enough to not have a blank look when someone says, "hey, how about that State of the State? -- here's a quick scan...
New York Now has posted a condensed version of today's public state leaders meeting about the budget. (You might say it's a package of "highlights," but somehow that word doesn't seem appropriate for New York State politics.)
The meeting kind of reminded us of a really uncomfortable family dinner where a few of the people argue over some longstanding grudge while everyone else stares at their plates and contemplates the mashed potatoes.
Oh, and David Paterson would like Scottie to beam him up.
It should all be good material for Ira Glass.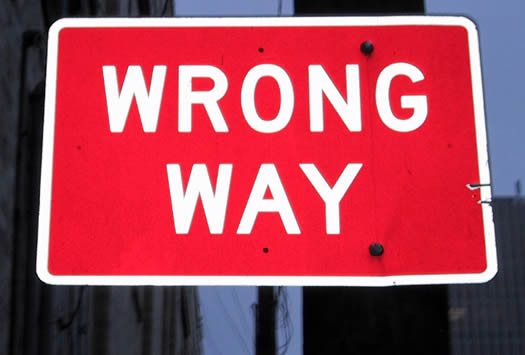 The Siena poll out today has some interesting -- if not necessarily surprising -- results.
People are still down on David Paterson (though marginally less so) -- but they've also turned against pretty much everyone else in state government (with one exception).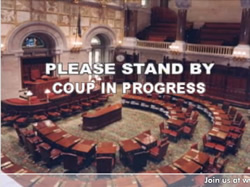 It looks like Republican have taken back control of the state Senate by getting two Democrats to caucus with them. Dean Skelos was voted majority leader (again) and Bronx Democrat Pedro Espada -- one of the two switchers -- becomes Senate president pro tem (he's also now the person who becomes governor if something happens to David Paterson). [TU] [NYDN] [AOA]
Here's a quick read of the coverage of yesterday's big switch...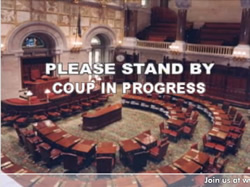 It appears the state Senate Republicans are in the process of taking control of the chamber again by getting two Democrats to switch parties. Pedro Espada and Hiram Monserrate appear to be the Dems who flipped, giving the Republicans a 32-30 majority. Dean Skelos will be majority leader again and Espada will become the Senate pro tem.
Republicans sent out a press release this afternoon telling the media to show up for "a historic change in leadership." Then as this was apparently all going down, the video feed from the Senate chamber was cut.
The move apparently caught Democrats -- including now-former majority leader Malcolm Smith -- by surprise.
As of 4:20 this afternoon, there was no mention of the switch on the Senate's web site or Twitter feed.
One of the immediate political consequences of the switch: the same-sex marriage bill now has probably no shot of passage this year.
Update: Malcolm Smith says the flip was "an illegal and unlawful attempt" -- and asserts that he's still majority leader.
Sources cited, in order: Capitol Confidential, Daily Politics, WNYT, Capitol Confidential, NYT