Items tagged with 'Jessica Bellflower'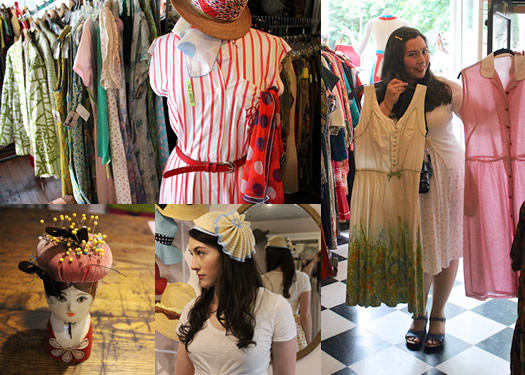 AOA's summer tour is headed to Hudson this weekend, so we thought it'd be fun to have Hudson Week on AOA. Each day we'll be featuring posts about things to do, see, and sample in this city on the river. Today, fashionistas and vintage aficionadas Kaitlin Resler and Jessica Bellflower take us shopping on Warren Street.
Kaitlin:
For me the draw of Hudson is the variety of vintage shops dotted around the area. Being able to hop around to several places full of treasures is a real treat (most of the time a given area has one, maybe two spots of this kind)! There is, though, a real variety of the shopping in Hudson, and that's part of what I really enjoy about it. There are a few spots that are must-go places for me on each visit, but I still find some new little shop tucked away!
And there are some neat specialty stores like a little hat shop -- the kinds of specialty shops you don't see much of in this area -- that take fashion to a different level.
Jess:
I always regarded Hudson as total eye-candy, but completely unattainable (for us). But then I re-explored Hudson with Kaitlin. Since she grew up in this area, she knew where we could shop that wouldn't break the bank. We did stand outside the windows of some of the high-end antique shops on Warren St and drool... but it was refreshing to find a few shops that could fit most budgets! Here's a heads up -- Hudson shopping has some tricky hours (lots of weekday closures or handwritten signs on the front doors that simply say "be back soon" or "reopening in July") and it has some seriously valuable antiques, but don't be intimidated: there's something for everyone there and you'll gather inspiration from all those swanky window displays!
Here are a few Hudson finds from our most recent shopping adventure...