Items tagged with 'Mario Cuomo'
The trailer for the upcoming WHMT documentary Governor Mario Cuomo: Poetry & Prose is embedded above. Blurbage:
Experience the memorable twelve years Mario Cuomo spent as New York's 52nd Governor including his initial run for this office in 1982 against Ed Koch, his lauded 1984 keynote speech at the Democratic National Convention, his flirtations with running for president that earned him the nickname 'Hamlet on the Hudson,' and his final political race versus George Pataki.
The doc premieres on WMHT October 3 at 9 pm. But there's also a free preview screening at the State Museum September 29 at 5:30 pm, with a discussion following (see the link to RSVP).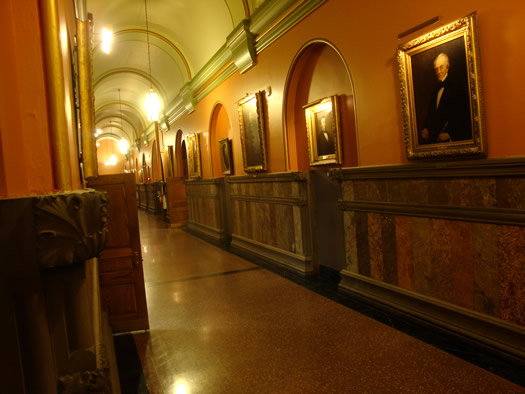 By Akum Norder
Architecture, at its best, creates buildings that not only shelter us, but that reflect something of our values or ideals. Churches inspire our eyes to soar upwards, awed by dappled light through stained glass. Banks are designed (well, they used to be designed) to look solid, strong, unshakeable.
State capitols usually feature a central, light-filled rotunda for this very reason. It's a manifestation of our democratic values: government as something open, transparent, accessible, welcoming to all.
And then there's New York.
"Open, accessible and welcoming" are words few would apply to New York's state Capitol. You're more likely to hear things like "labyrinthine," "dark," "can't get anywhere unless you already know where you're going." If we see architecture as a representation of government, then, well, you might say we have the state capitol we deserve.
With that said, it's an absolutely beautiful building. And now we can see a little bit more of it.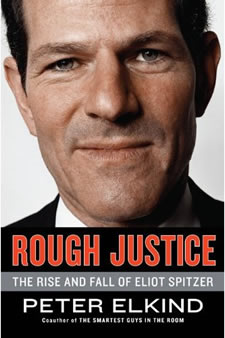 A soon-to-be published book about Eliot Spitzer includes some juicy details about the former governor's fall.
In Rough Justice, Peter Elkind reports that former AIG chairman Hank Greenberg and investment banker Ken Langone "remain the most obvious suspects" to have hired a detective to follow Spitzer looking for dirt. From an excerpt posted by Fortune:
Greenberg had a long-standing reputation for deploying clandestine methods; he had contacts in the CIA, and he had used detectives at AIG (AIG, Fortune 500). Langone had a palpable thirst for revenge. He had hired a private investigator to find political ammunition to use against Spitzer during the run-up to his gubernatorial campaign.
In high-level Wall Street circles, there are persistent rumblings that Langone hired someone to shadow Spitzer. Some of the rumblings come from those with ties to Langone; other people claim to have heard it in social settings directly from Greenberg. On July 17, 2009, Fortune writer James Bandler, interviewing Langone for a magazine profile of Greenberg, asked, Did you hire a gumshoe? "I'd say, 'No comment,' " Langone responded.
As you might expect, the book also contains some salacious details about Spitzer's, uh, consumption habits.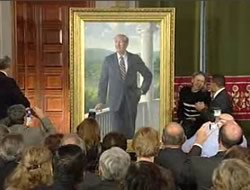 The official gubernatorial portrait of George Pataki was unveiled yesterday (here's a good picture).
NYT describes the portrait this way (emphasis added):
As with most portraits of past governors, Mr. Pataki's is regal. Wearing a dark gray suit and a thoughtful expression, he is resting his right hand on a banister. His left arm is cocked smartly, his hand on his hip. As opposed to a shelf of thick law books or a stately room in the Executive Mansion, the backdrop is the rolling hills of the Hudson River Valley.
You know, we keep looking at the portrait and all we can think is that Governor Pataki is scratching himself.
By the way: there's still no Mario Cuomo portrait -- despite Jack McEneny's threats.
screengrab: ny.gov